Chicken Karahi Dhaba Style or Kadai Chicken is a spicy, tangy Chicken dish that finds it's way in almost every Indian restaurant menu. But the good news is that you can make Chicken Karahi Dhaba Style easily at home with my secret spice mix. Watch the Kadai Chicken Recipe Video & make this loaded Chicken dish with so so much flavor at the comfort of your home.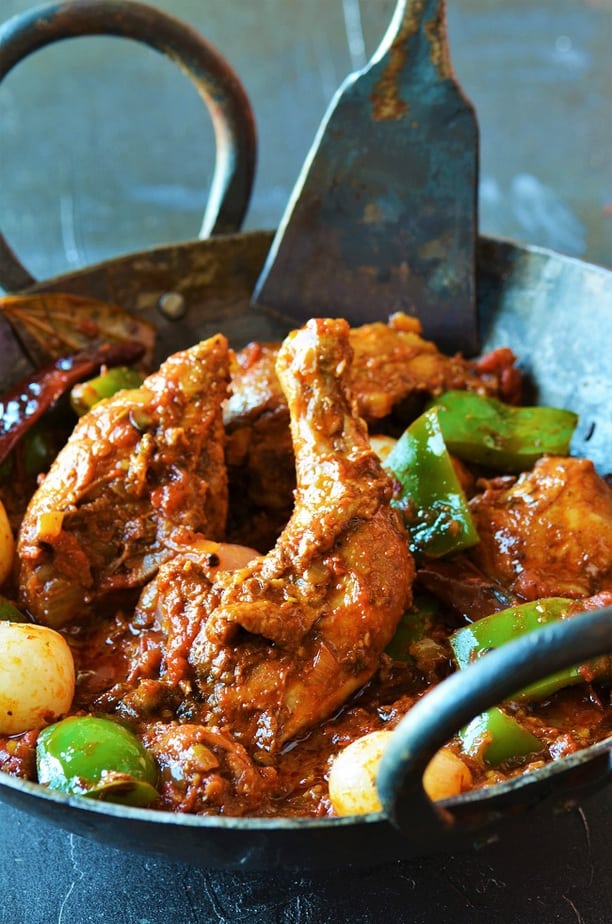 Kadai Chicken
Today's Kadai Chicken recipe with roaring flavors has all the right notes.
It's spicy (you can control that), tangy & screams a soothing fragrance that makes this recipe so much different than a normal Indian Chicken Curry.
Kadai Chicken also known as Chicken Karahi is that one dish that you can never go wrong with, only if you cook it with the fresh ground Karahi Masala.
This freshly ground Kadai masala has all the power in this recipe to boost its flavor remarkably. I am certainly not making any Karahi dish without my home-made Karahi Masala at all.
And I would not recommend you to replace the home-made version with any store-bought counterpart or to adopt any short cuts. Because honestly folks there's no short cut to a Kadai dish.
Moreover, the store bought Karahi masala won't give you the best flavors. So, make yourself a jar of authentic Kadai Masala at home by following my home-made Karahi Masala recipe (I've included a video too) & begin today's recipe from there.
It's that dry roasted & coarsely ground fresh home-made Kadai Masala that's the heart & soul of any Karahi Dish like Mutton Karahi, Paneer Karahi, Lamb Karahi etc.
Don't miss out the Secret Home-made Karahi Masala Recipe below:
My secret home-made Kadai Masala Recipe, the best you'll ever make. Don't miss out on the tips & tricks.

FoodiesTerminal.com
What is Kadai Chicken or Chicken Karahi?
Chicken Karahi is a spicy, tangy Indian Chicken dish that's prepared with a special home-made spice blend known as Kadai Masala & lots of juicy ripe tomatoes.
Generally no water is added to the dish & the process of cooking is Bhuna & cover-cook method. And yes, it's always cooked in a Kadai (Indian wok).
The speciality of an authentic Kadai dish lies in the fresh home-made ground Masala known as Karahi Masala.
Don't get confused, Kadai Chicken & Chicken Karahi are both the same recipe.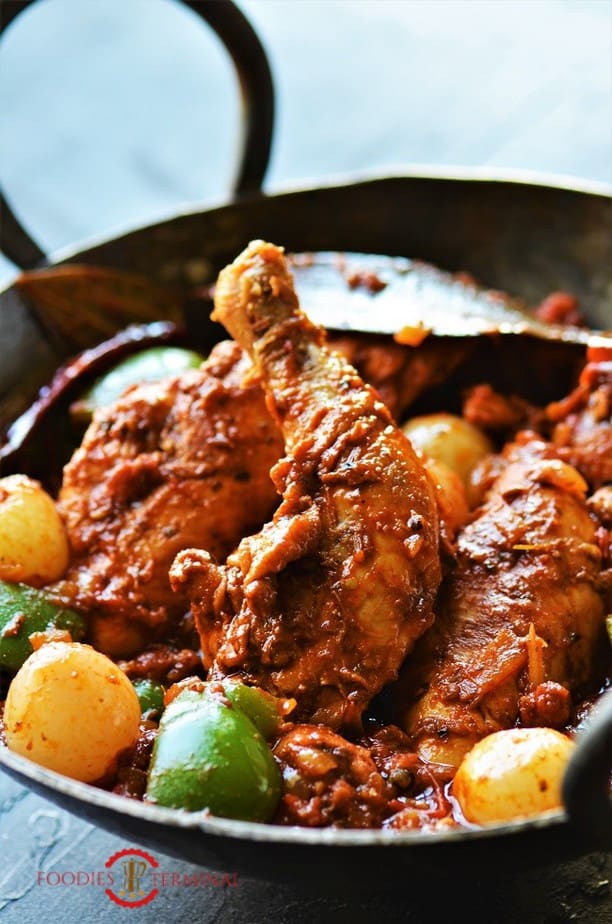 What is Kadai or Karahi?
Kadai or Karahi = An Indian wok made of either iron, steel or aluminum. It may or mat not have handles.
A Kadai or Karahi is an essential cooking utensil in every Indian household.
And we use it not only to make a Chicken Karahi Dhaba Style but also -
Crab Curry, Mutton Curry, Duck Egg Curry, Prawn Malai Curry, Doi Maach & several other Veggie dishes too like this Parwal Korma, Neem begun.
Chicken Karahi Dhaba Style Ingredients
Once you are done with the special spice blend or Karahi Masala you are all sorted for this Chicken Karahi Dhaba Style recipe.
Here's what you'll need:
The dry Fenugreek leaves or Kasturi Methi & ginger julienne are missing in the picture below, I forgot to add them in the shot 😛
But you will find them in the recipe video.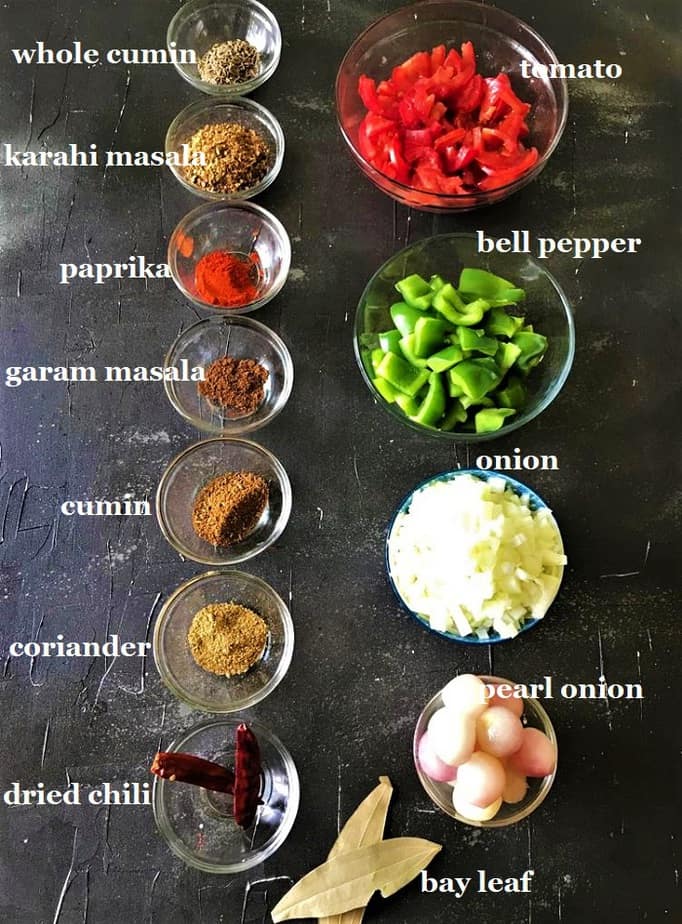 Chicken: Bone in Chicken gives the best of best flavors. So I highly recommend you to cook today's recipe with bone-in chicken pieces. But, in case you are unable to use bone-in chicken than make yourself a batch of boneless chicken karahi. The recipe remains the same. I used little Cornish hen (bone-in) to cook today's recipe.
Onion: It adds a slight sweetness to the Karahi dish & balances the spicy, tangy taste very well. I added two varieties - the regular chopped onion as the base of the gravy & than threw in some frozen, pre-cooked pearl onions at the end for some extra crunch, flavor & sweetness. You may totally skip adding the pearl onions but do add the regular chopped ones.
Tomatoes: You'll use a lot! Yes, you may even skip adding water (I added about ½ cup) to the gravy while cooking if you manage to find extra juicy, ripe tomatoes. The juice of the tomatoes will add the right amount of moisture & help cook the chicken. Go for extra juicy & ripe tomatoes always.
Veggies: Green Capsicum or bell pepper, pearl onions (optional). The capsicum or bell-pepper adds an extraordinary crunch, sweetness to the Kadai Chicken recipe & so does the pearl onions. And I love that gorgeous green pop of color. It certainly breaks the monochromatic order of the gravy. You may also add diced Serrano peppers. I do add them when I have them in the fridge. They also add slight heat & crunch.
Other spices: Garam Masala, Turmeric powder, coriander powder, cumin powder, red chili powder.
For Sizzling: Whole cumin, dried whole red chilies & bay leaves. They add a subtle smokiness to the Chicken Karahi Dhaba style.
Garnishes: Ginger Julienne, Dry fenugreek leaves crushed (Kasturi Methi), chopped coriander leaves (totally optional, I did not add any).
Oil: I cooked today's recipe in extra virgin mustard oil but you may also use canola, vegetable, olive or avocado oil.
Karahi Masala: The blend of this extraordinary home-made spices is the heart & soul of today's recipe. Do not skip adding this to the gravy. Also, if you are looking for the authentic flavors that is unbeatable & very bold never add the store-bought spice mix. Home-made Kadai Masala is your best bet. With this secret spice blend you'll make yourself a Chicken Karahi that's even better than your favorite restaurant.
My Secret home-made Kadai Masala Recipe below:
Secret Home-made Kadai Masala with tips & tricks! The best you'll ever make!

Foodiesterminal.com
Flash Marinating Chicken before Frying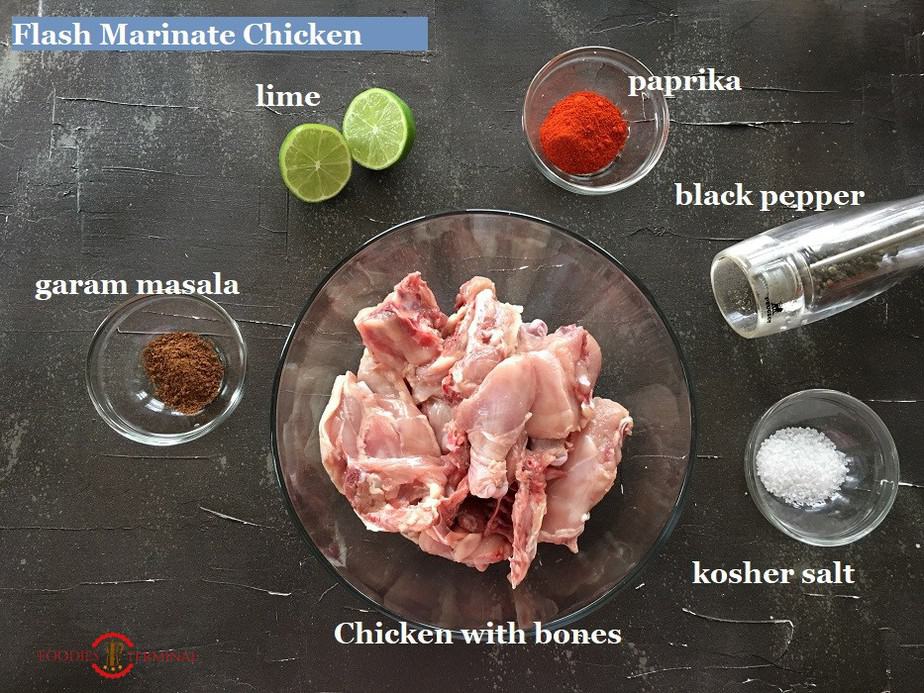 Garam Masala
Lime Juice
Paprika Powder or Kashmiri Red Chili Powder (available in Indian grocery store).
Crushed black pepper
Kosher salt
Add the ingredients, gently massage the chicken & let it sit in the marinade until you are done prepping the rest of the stuffs. This is how it looks after marinating.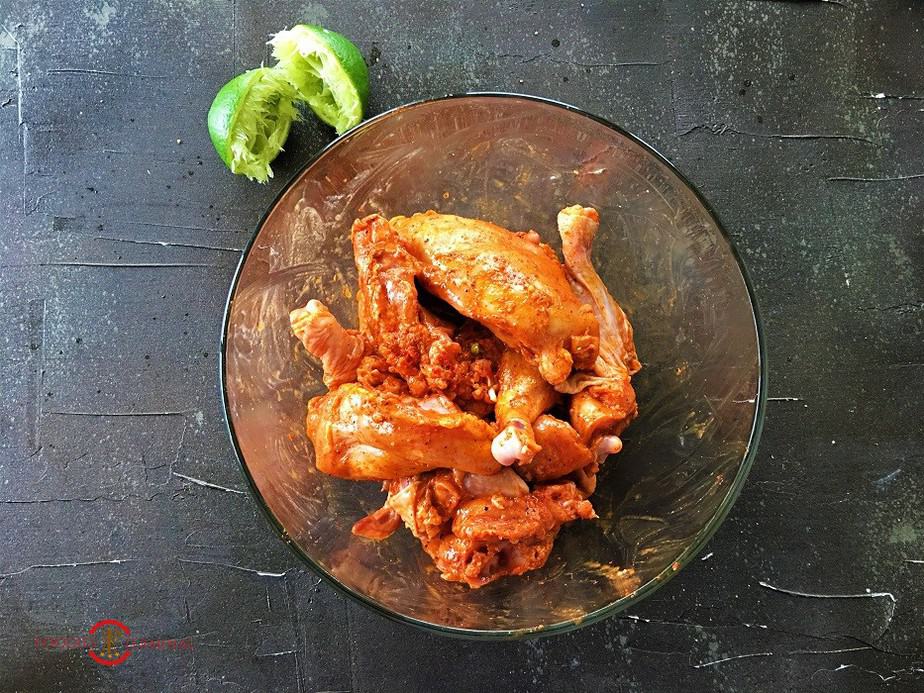 4 Tips to make the best Chicken Karahi or Kadai Chicken
Sauteing or Bhuna as we say in Indian language is the key for a lip-smacking good Chicken Karahi. You'll be sauteing a lot, but it's all worth your efforts.
Add ripe & the juiciest tomatoes you can find. An authentic Chicken Kadai recipe uses just drizzles of water or none at all. It's the juicy tomatoes that provides the right amount of moisture & helps to cook that chicken. You'll see in the Kadai Chicken recipe video that I did add about ½ cup water because I did not find the best tomatoes.
Never skip adding the home-made Karahi Masala. That's the one secret ingredient that'll reward you with outrageous flavors.
Fry the Chicken first until lightly brown. This way the chicken won't release unwanted moisture in the gravy, the meat will be almost cooked. Hence, you can Bhuna the masala well on high heat without worrying about uncooked chicken.
Some more easy & awesome Chicken Recipes you must not miss!
How to make Chicken Karahi Dhaba Style? Step by Step
Steps in words below pictures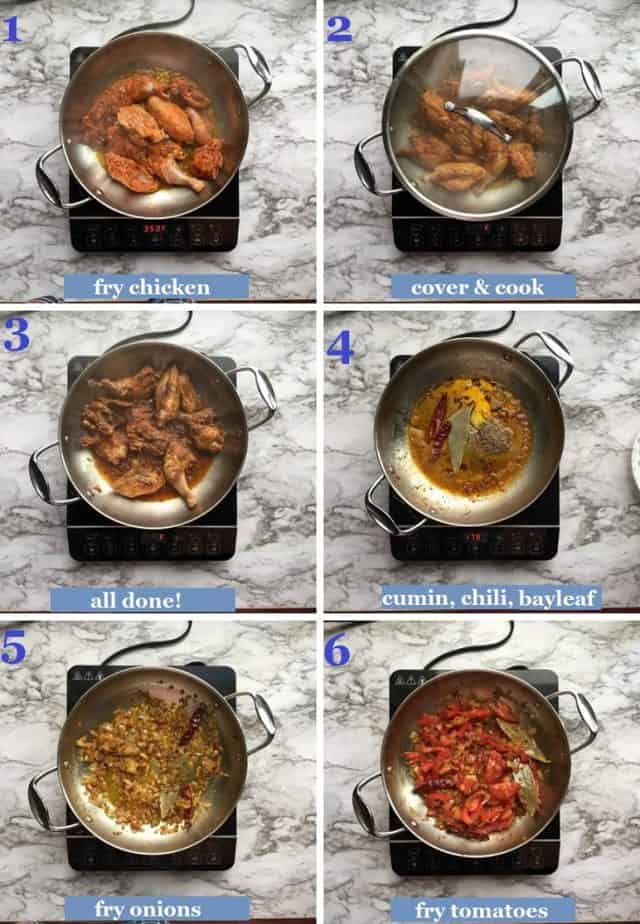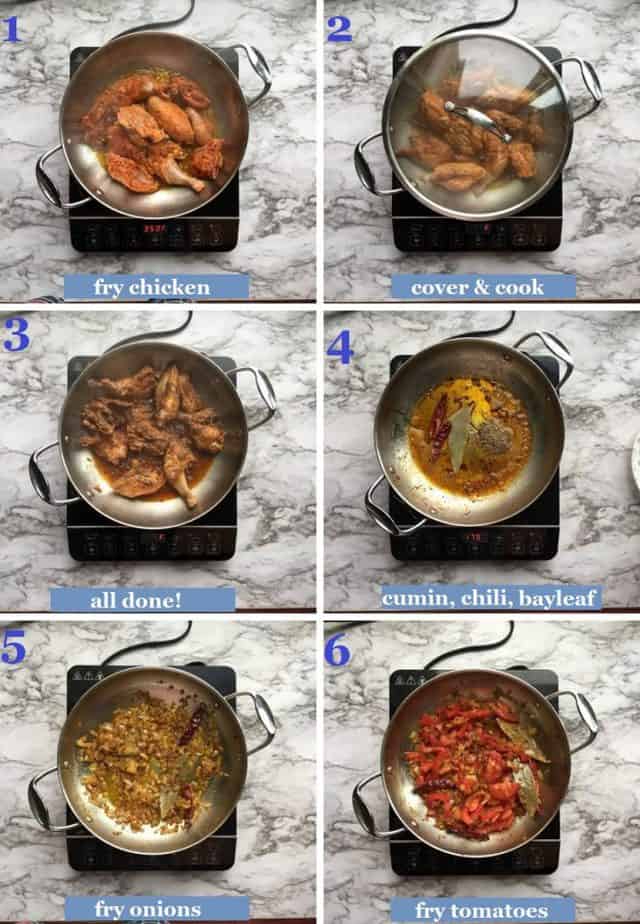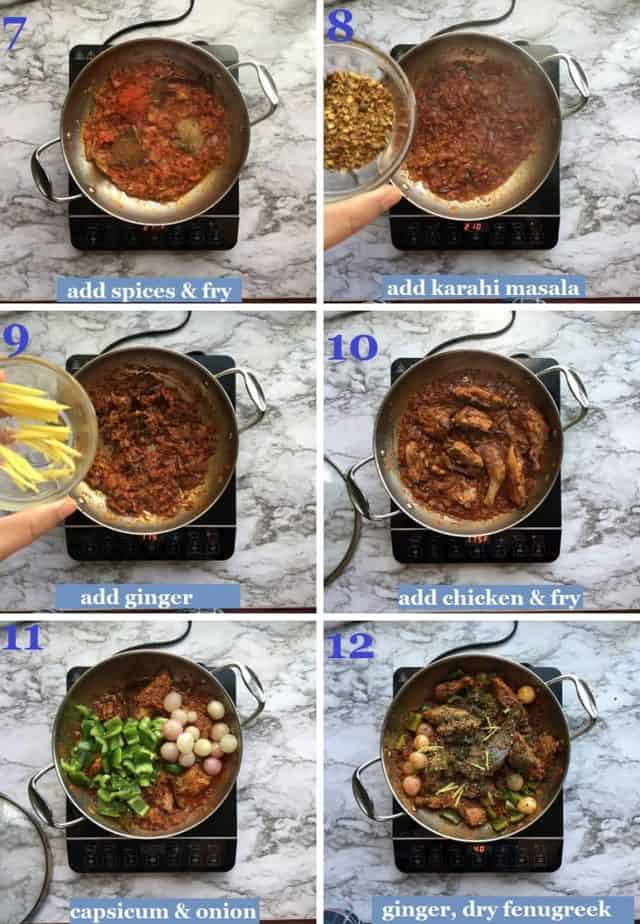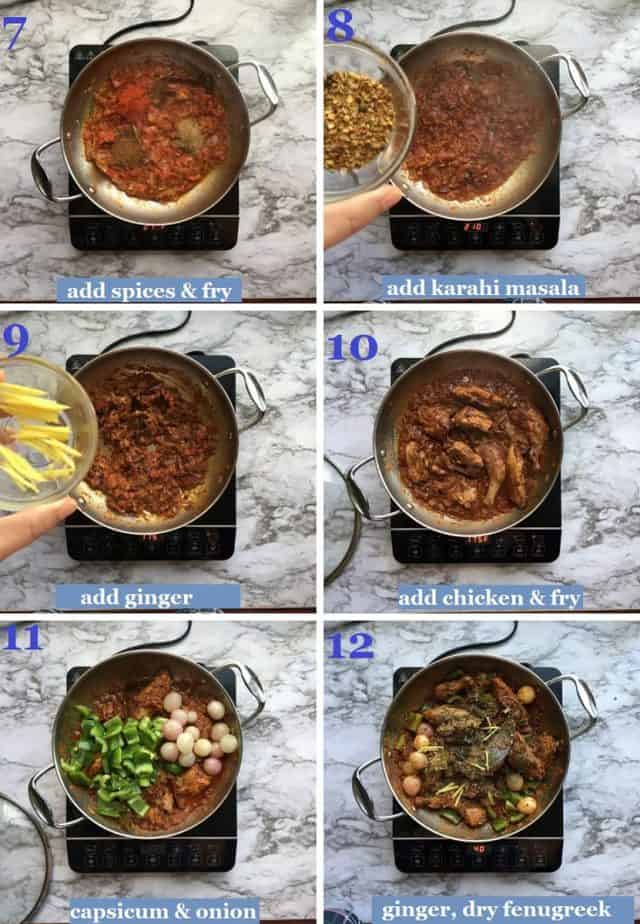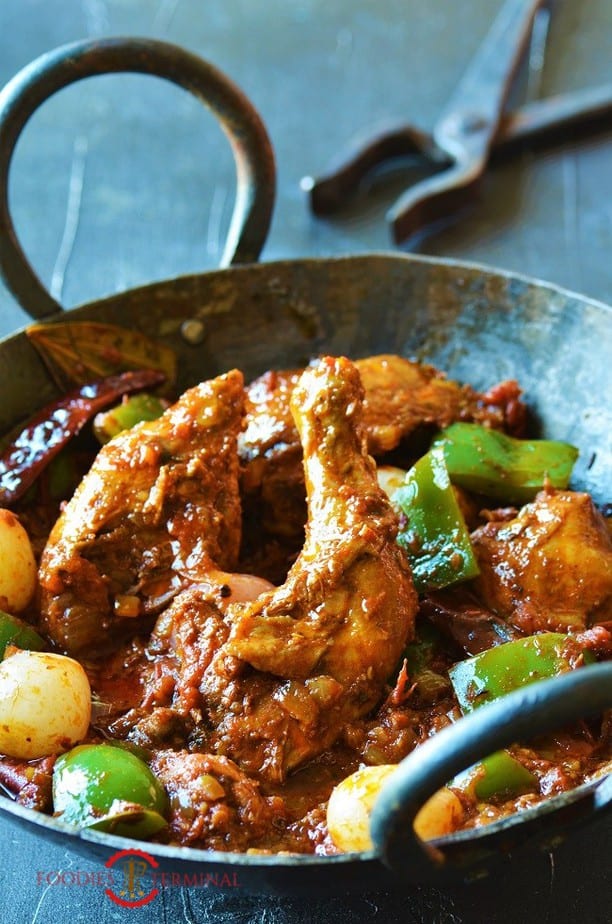 How to make Kadai Chicken
Fry the Chicken

Fry the marinated chicken until golden over high heat both sides.

Cover & Cook

Reduce the heat to medium & cover & cook the chicken for 3-4 mins.

The Chicken is done.

The chicken is well roasted at this point. Lovely golden & almost 80% cooked.

Temper the Oil

Throw in the cumin, whole dried red chilies & bay leaves. Allow them to sizzle for a few seconds until you get a nice roasted smokey aroma.

Fry the Onions

Throw in the chopped onions & saute until lightly golden. If you plan to add raw pearl onions do add them now. If using frozen pre-cooked pearl onions just as I did do add them along with the bell peppers or capsicum.

Fry the Tomatoes

Add the diced tomatoes & fry until mushy & the oil leaves the sides of the pan.

Add coriander, cumin, paprika powders

Throw these spices & saute until the raw aroma completely disappears & you get a nice roasted fragrance. Bhuna the masala very well. You'll see the oil oozing out.

Throw in the Home-made Karahi Masala or Kadai Masala

Add the home-made Karahi masala & mix.

Add the ginger

And mix well.

Throw in the fried chicken

Bhuna (Saute) well with the masalas. Bhuna style cooking is the key for today's Chicken Karahi Dhaba style recipe.

Add the Capsicum + pearl onions

We love crunchy capsicums & pearl onions in our Kadai chicken. Adding them towards the end will help them retain their crunch factor. But, if you love well cooked capsicums, add them in STEP no. 9 along with the ginger julienne. Mix everything well.

Garnish, Mix, Serve hot

Add Kasturi methi, ginger julienne, sprinkle some garam masala & some more Karahi masala. Mix well, serve hot! Adding these few stuffs at the end does magic, you'll get the fresh smell from the fragrant spices.

Enjoy the deliciousness !

Bookmark this page to never forget the recipe.
Chicken Karahi - FAQs
Is Chicken Karahi Spicy?
Yes, chicken karahi is generally served spicy.
But you can control the spice level when you make it at home.
Just go easy with the pepper powder, chili powder & chilies (if adding any) & skip adding the dried whole red chilies to the oil.
Today's Kadai Chicken recipe is not very spicy because I didn't add any chilies or chili powder.
But, yes it gets all the heat from black pepprs, the dried red chili & the garam masala powder.
What is Chicken Karahi Curry?
Chicken Karahi or Kadai chicken is also known as the Chicken Karahi curry. So, basically they are all the same recipe.
How to cook Chicken Karahi Pakistani style?
Follow the same recipe just skip using the onions.
How to serve Kadai Chicken?
Chicken Karahi Dhaba Style tastes best with Naan, Chapati, Paratha, Khamiri Roti.
Can you freeze Chicken Karahi Dhaba Style?
Yes, you can freeze the recipe for 1 month in an air tight container. But, skip adding the bell peppers or capsicums from the recipe.
When frozen, thawed & re-heated the bell peppers become ultra soggy & limp. They do not taste good at all.
If you really want to add them though I would recommend to add them while you re-heat the thawed curry.
You'll get the best of both worlds - a little freshness, crunch & flavor from the fresh capsicums.
How to Long can you store Kadai Chicken?
Kadai Chicken does wonderful for 7 days in the fridge when stored well in an airtight container.
The capsicums tend to become over cooked & soggy when you reheat the curry every single time.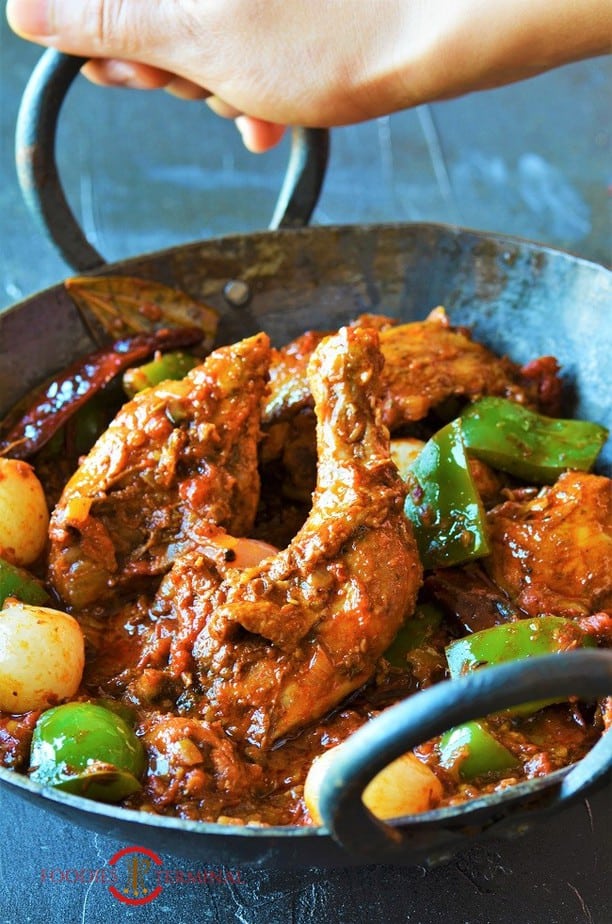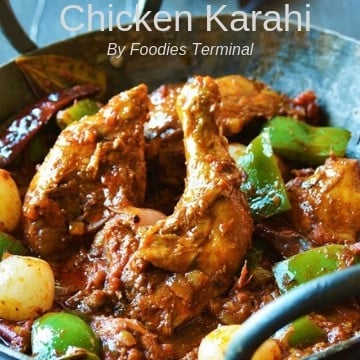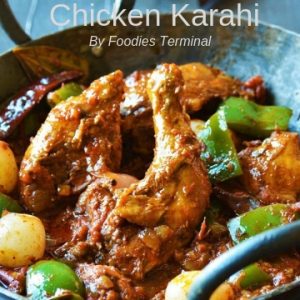 Chicken Karahi Dhaba Style
Print Recipe
Pin
Rate
Chicken Karahi Dhaba style also known as Kadai Chicken is a fantastic spicy chicken dish that's prepped with a special house blend masala known as Kadai Masala. Stock on the Karahi masala & make this lip-smacking good chicken Karahi even quicker.
Ingredients
For Flash Marinating the Chicken
For the Kadai Masala gravy
Want more Recipe Videos?
Check out our Youtube channel!
Instructions
How to Flash Marinate & fry the chicken
Smear the chicken pieces with garam masala, paprika, crushed black pepper, lemon juice & salt. Set aside while you chop the onions & bell peppers.

Set a skillet over medium high heat, pour mustard oil & fry the marinated chicken pieces both sides until golden.

Reduce the heat to medium, cover & cook for a few mins. When done set aside the chicken pieces on a clean dry plate.
How to make the Kadai Chicken Gravy base
Use the same pan & the same oil you fried the chicken pieces. De-glazing the pan while cooking the rest of the recipe will enhance flavors. Add some more oil if need be.

Set the skillet over medium heat & throw in the cumin seeds, dired hwole red chili & the bay leaves in the hot oil. Allow them to sizzle for a few seconds.

Throw in the chopped onions & fry until translucent & lightly golden. Add salt at this stage , it will get the onions done fast.

Next, throw in the chopped tomatoes and fry until they become mushy.

It's time to add the spices - paprika or kashimiri red chili powder, cumin & coriander powder. Saute until the raw smell disappears, the masala becomes nice & fragrant & oil begins to ooze out. You'll notice that the masala will slowly change color at this stage & begin to darken. It's a good sign.

Add the home-made coarsely ground Kadai masala & the ginger juliennes. Mix & saute well until fragrant.

Now, add the fried chicken pieces & bhuna (saute) well with the masala.

Add the chopped bell peppers & the pearl onions & mix. You don't need to saute much if you love crunchy capsicums in the gravy. The bell peppers will get slightly cooked in the residual heat. But if you prefer soft & well cooked capsicums than, saute for 1-2 mins more.

Garnish with kasturi methi or dry fenugreek leaves, sprinkle garam masala powder, add some more kadai masala powder & throw in some ginger juliennes. Mix every well for about 1 min or so.

Turn off the heat & serve hot. Enjoy!
Notes
Measuring cup used, 1 cup = 240 ml & 1 teaspoon = 5 ml.
Bhuna The masala well until the oil oozing stage is reached.
DO NOT skip the home-made KADAI MASALA. I've a whole awesome post & a video on Kadai Masala only for you guys. So, I would highly recommend that you make your own Karahi masala at home because no store-bought version can beat its taste!
Flash marinating the chicken & frying it adds tons of flavor to gravy & the chicken also gets cooked almost 80%. So, that's an added bonus.
You may skip adding the pearl onions. Or if you want to add raw pearl onions just add them while you bhuna the masala or when you add those tomatoes, so that the onions get some extra time to get cooked. I added pre-cooked & frozen pearl onions.
If you prefer soft & well cooked bell peppers do cook them for 1-2 mins more. We prefer crunchy peppers & this recipe contains crunchy peppers, they are not raw but slightly cooked with the crunch factor all intact. The residual heat helps them to get just cooked enough.
Nutrition Facts
Chicken Karahi Dhaba Style
Amount Per Serving
Calories 362
Calories from Fat 207
% Daily Value*
Fat 23g35%
Cholesterol 62mg21%
Sodium 149mg6%
Potassium 786mg22%
Carbohydrates 21g7%
Protein 20g40%
Vitamin A 2125IU43%
Vitamin C 166.6mg202%
Calcium 68mg7%
Iron 3.3mg18%
* Read our privacy policy - Calorie information is provided as a courtesy only and should be leveraged as an estimate rather than a guarantee.Percent Daily Values are based on a 2000 calorie diet.
Nutrition
Calories:
362
kcal
|
Carbohydrates:
21
g
|
Protein:
20
g
|
Fat:
23
g
|
Saturated Fat:
4
g
|
Cholesterol:
62
mg
|
Sodium:
149
mg
|
Potassium:
786
mg
|
Fiber:
5
g
|
Sugar:
10
g
|
Vitamin A:
2125
IU
|
Vitamin C:
166.6
mg
|
Calcium:
68
mg
|
Iron:
3.3
mg