Home-made Kadai Masala or Karahi Masala from a fresh batch of dry roasted whole spices. Unbeatable flavors & extraordinary taste guaranteed. Make this quickly at home for cooking all types of restaurant style Karahi or Kadai dishes.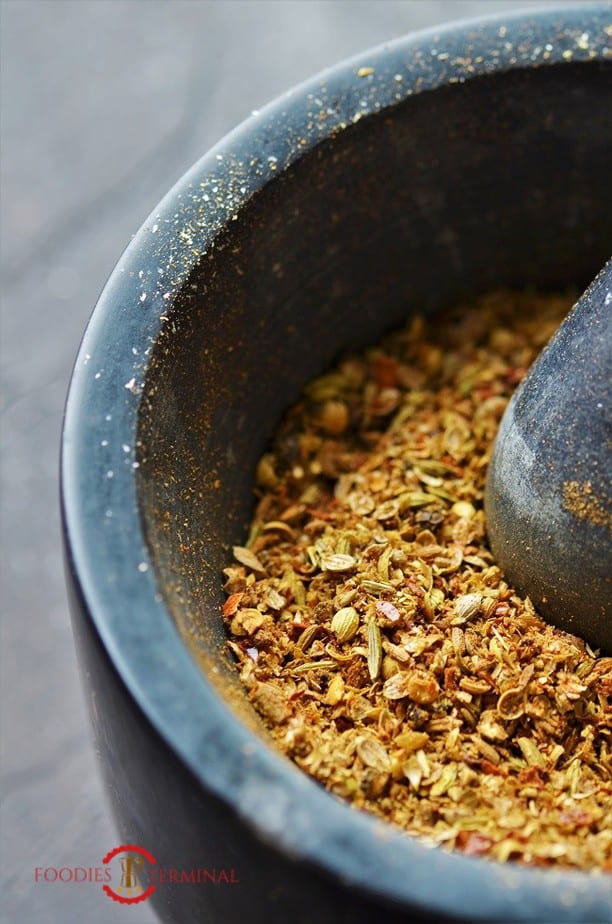 Watch Kadai Masala Video by Meghna for Foodies Terminal
Home-made Karahi Masala
If you love Kadai dishes & restaurant food than this home-made recipe of Kadai Masala is your holy grail 😉
Because this Karahi Masala powder recipe = Restaurant style Karahi dishes but Home-made.
If you lead a busy life I would recommend you that you make a fresh batch of this quick Karahi Masala at home & store it in an air tight container.
That way, you are always sorted for any Kadai dish any time. Just scoop the masala out & let the magic happen.
This Karahi Masala is the heart & soul of any Karahi dish. Without using this particular secret masala in your Karahi recipes you won't manage an authentic Dhaba style taste at all.
And when it's so easy to make at home with readily available whole spices than it makes all the sense to not skip the chance. Right?
Unfortunately, using just coriander, cumin & garam masala powder won't give you an authentic Kadai taste. This Karahi masala powder recipe is the secret to all the unbeatable flavors in a Karahi dish.
So, let's make it under 10 mins! Watch the Video of How to make the best Kadai masala at home (Video in the Recipe Card below)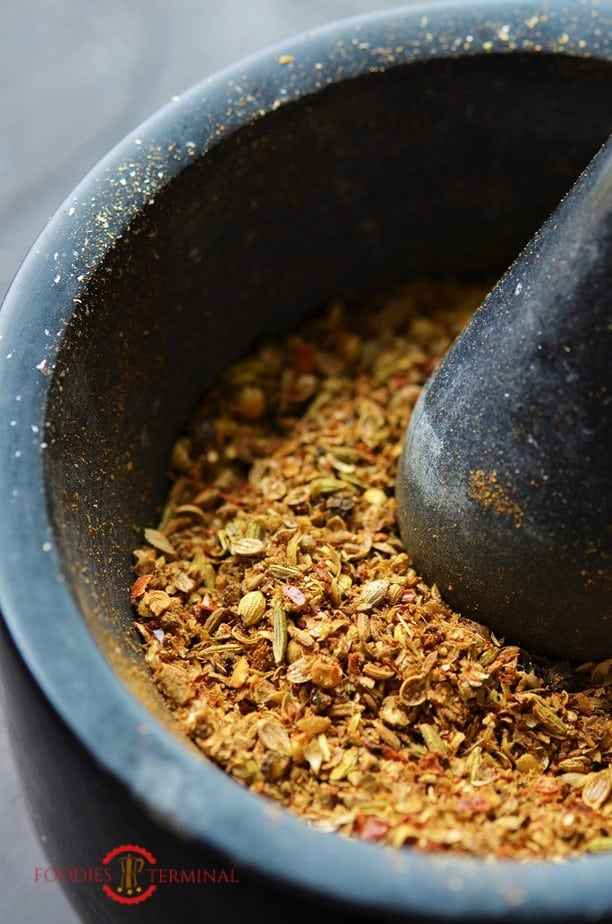 What is Kadai Masala or Karahi Masala powder?
Kadai Masala is an extremely flavorful blend of coarsely ground whole spices that's used extensively to prepare any Kadai or Karahi dish. Like, Chicken Karahi, Mutton Kadai, Kadai Paneer, Lamb Karahi etc.
A karahi Masala is the most important element of any Kadai dish & without this secret spice blend a Karahi dish is never complete.
It's very easy to make at home once you gather the whole spices.
There are only two steps to follow.
Dry Roasting the whole spices to the right amount of time.
Coarse grinding them. Super Important!
Kadai Masala Ingredients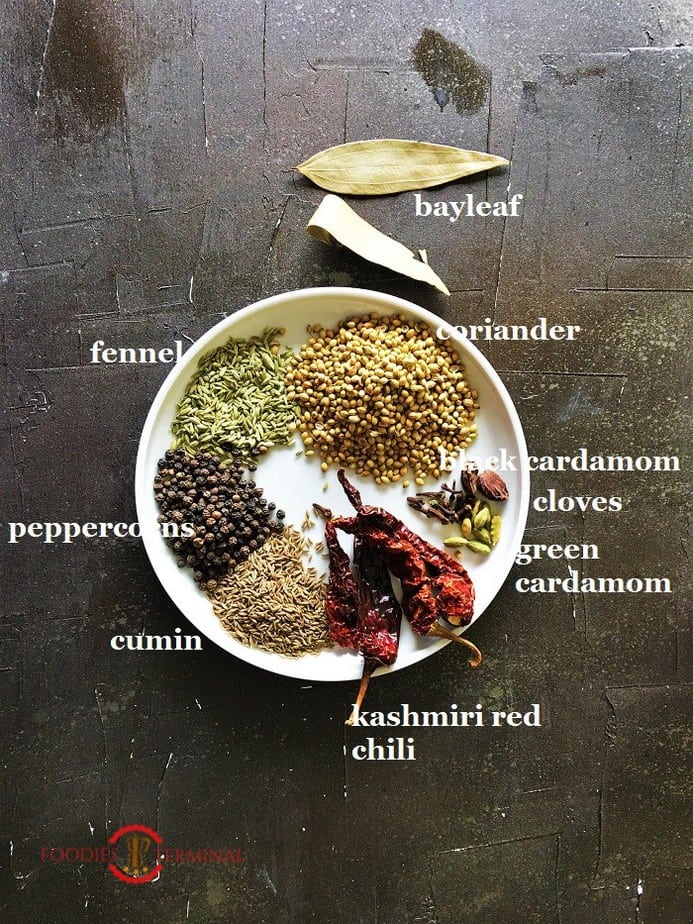 All the below mentioned ingredients must be used whole for dry roasting:
Coriander seeds
Cumin seeds
Black pepper corns
Fennel seeds
Green cardamoms
Black cardamoms
Cloves
Dry Kashmiri Red Chilies
Bay Leaves
This is the complete list of the secret whole spices that will give you the best Karahi flavors under 10 mins!
Follow the exact proportions and you'll cook the best Kadai dishes for your family every single time!
2 Tips to make the best Karahi Masala at home
Dry Roast the whole spices: Do this until lightly golden & fragrant & always over medium heat. It takes around 3-4 mins to get nicely roasted. Watch the video for a good idea.
Grind the spices Coarsely (SUPER IMPORTANT!): This is the TOP SECRET for a Kadai masala blend. Choose whatever method pleases to grind the spices but make sure that the end product is coarsely ground not a fine powder.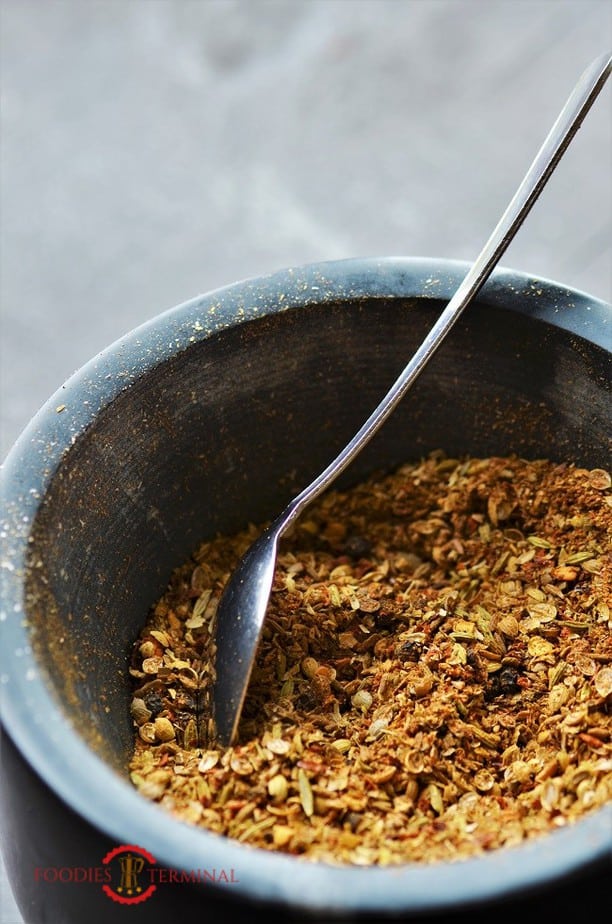 Mortar & Pestle vs Mixer grinder
Which of the above to use?
I'll certainly vote for mortar & pestle because that way you can have much better control over the texture of the spices.
That constant pounding will give you the best home-made kadai masala powder ever.
You just to need invest a little more time to grind the spices manually but it's all worth every effort.
And you'll always end up with perfectly coarse ground Kadai masala. Because you'll know when exactly you have to stop grinding them 😀
If you are like me who always end up over grinding the masala in a mixer grinder than, choose a mortar & pestle. Grind the spices in batches.
Beautiful result every single time!
How to make Kadai Masala or Karahi Masala at home?
Time needed: 10 minutes.
Home-made Karahi Masala Powder Recipe
Gather all the dry whole spices.

Follow the exact measurements from the recipe card below. This will guarantee that you the best flavors.

Dry Roast the spices.

Dry roast them over medium flame until fragrant & slightly golden. It should take you about 4-5 mins.

Grind them coarsely.

Use a mixer grinder or a mortar & pestle to coarsely grind the roasted spices. I prefer mortar and pestle as it not only saves you from accidental fine grinding but also blends the aroma and flavors more naturally. I just don't know why but mortar and pestle gives a superior flavor but remember, however you grind, the secret is to keep the masala coarse. The coarse masala drives the flavor and texture of the karahi recipes. 

Store the Kadai Masala

Store the Kadai masala in an air tight container for future use.

Keeps good for 1 month

Use as required. Never store it uncovered.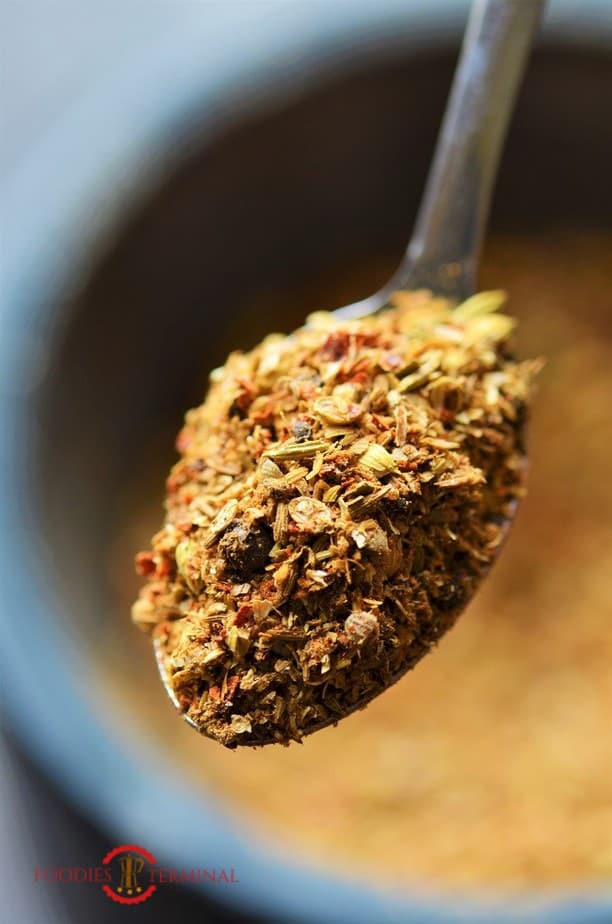 Check Out some Awesome Kadai Recipes by Meghna for Foodies Terminal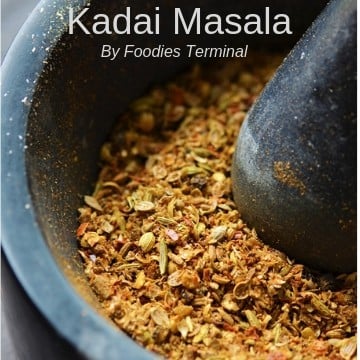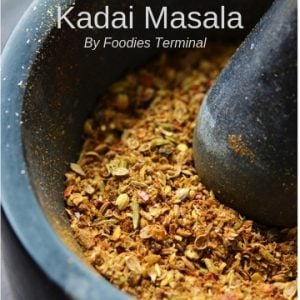 Kadai Masala
Print Recipe
Pin
Rate
Kadai Masala or Karahi Masala powder recipe is a quick home-made spice blend that's the heart & soul of an authentic Kadai dish. Make it in 2 simple steps at home & get the restaurant flavors in your Karahi dishes. The taste of this home-made Kadai masala is certainly unbeatable!
Want more Recipe Videos?
Check out our Youtube channel!
Instructions
Set a skillet over medium heat.

Add all the ingredients and dry roast over medium heat until lightly golden & fragrant.

Turn off the heat and allow the roasted spices to cool down.

Once, at room temperature coarsely grind them to a coarse powder. You may use mixer grinder or a traditional mortar & pestle to grind them.

Store in an air tight jar for 1 month.
Notes
Roast them very well until lightly golden, slightly crisp & fragrant. It should take you about 3-4 mins on medium heat.
Grind the roasted spices COARSELY & never into a fine powder.
If a mixer grinder is difficult for your to handle than choose a mortar & pestle for grinding them. I accidently always grind my Kadai masala to fine powder in a mixer & grinder. And hence, I always invest a little more time & grind the spices manually with the help of a mortar & pestle. That way you too will have much better control
Store in an air-tight jar for maximum potency.
You'll get maximum flavors for upto 1 month.
This recipe will yeild about 4 oz coarsely ground Kadai Masala powder or 113g approximately.
Measuring cup used, 1 cup = 240 ml & 1 teaspoon = 5 ml.
Pin it for Later!