Kadai Mushroom made with my Homemade Kadai Masala Powder tastes as good as this Chicken Karahi Dhaba style and Kadai Prawns. Diced mushrooms sautéed with onion, capsicums & tomato makes a wholesome, quick restaurant style Mushroom Kadai. It's gluten free, Vegan, Nut free & dairy free.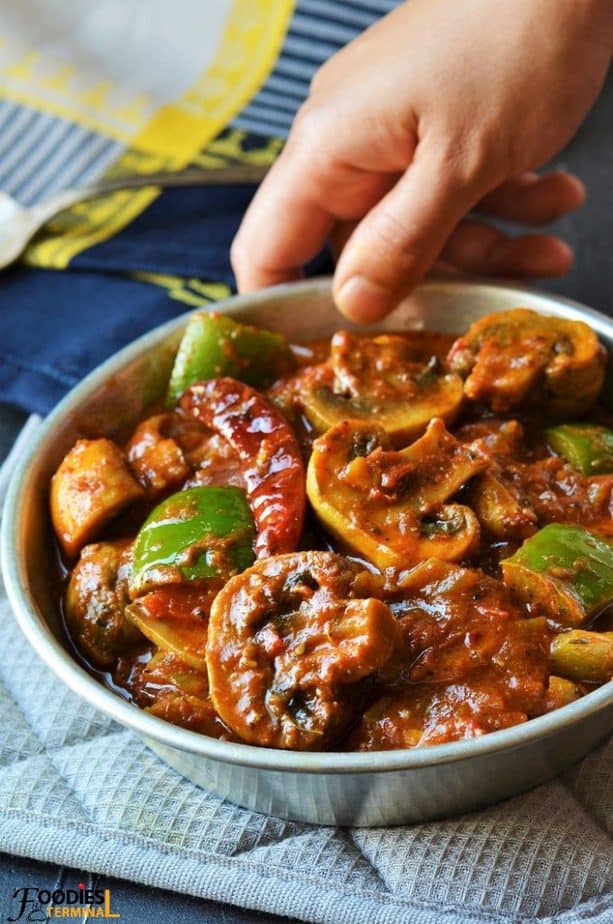 Recipe Video
Kadai Mushroom Recipe
If you are a huge fan of Kadai recipes and easy Indian dinner ideas and also don't know how to cook mushrooms than give todays recipe a try.
There are certainly better ways to eat mushrooms than to just skillet roast them, bake them or eat them raw 😀
Grab my Homemade Kadai Masala powder recipe from this blog (link shared above and below) and make today's restaurant style Kadai Mushroom quickly.
Your whole family will start loving mushrooms all over again 😀
This Indian Mushroom recipe is not daunting, never intimidating, overwhelming or complex.
It's.....
Quick
Easy (anyone can make it easy)
Delicious
Healthy
Wholesome
Vegan
Gluten free
Dairy Free
Nut Free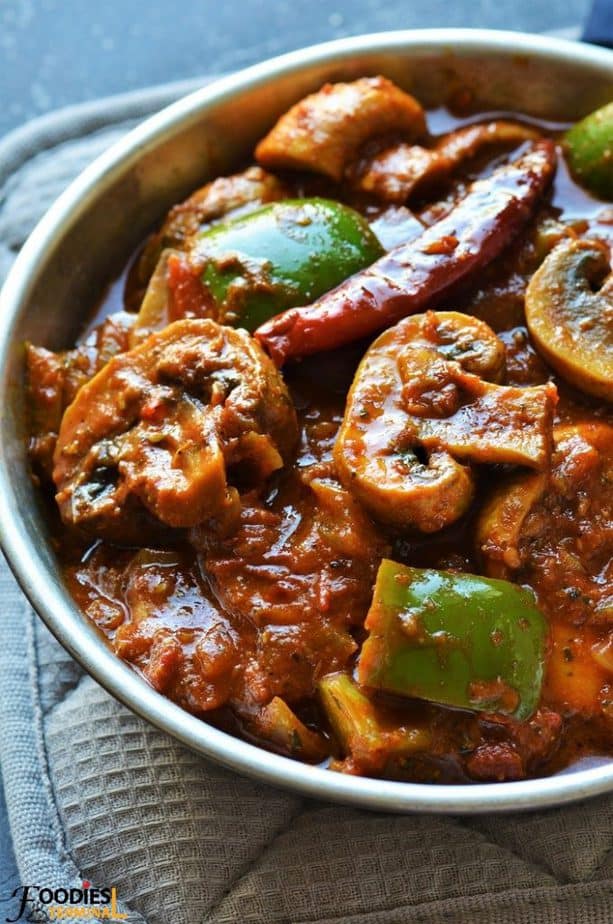 What is Kadai Mushroom?
Kadai Mushroom is a delicious Indian Style Mushroom gravy that is made with white button mushrooms, capsicums (bell peppers), onion, tomato and a special spice blend known as Kadai Masala.
It's the Kadai Masala that's so special in this recipe and packs the dish with a complex, unique and deep flavor. It's mildly spicy, slightly sour, sweet and quiet fragrant.
Note: Kadai Mushroom gets its name from the special utensil its cooked in, known as "Kadai" in Hindi. It's a special wok with or without handles popularly used in Indian cooking.
Recipe Ingredients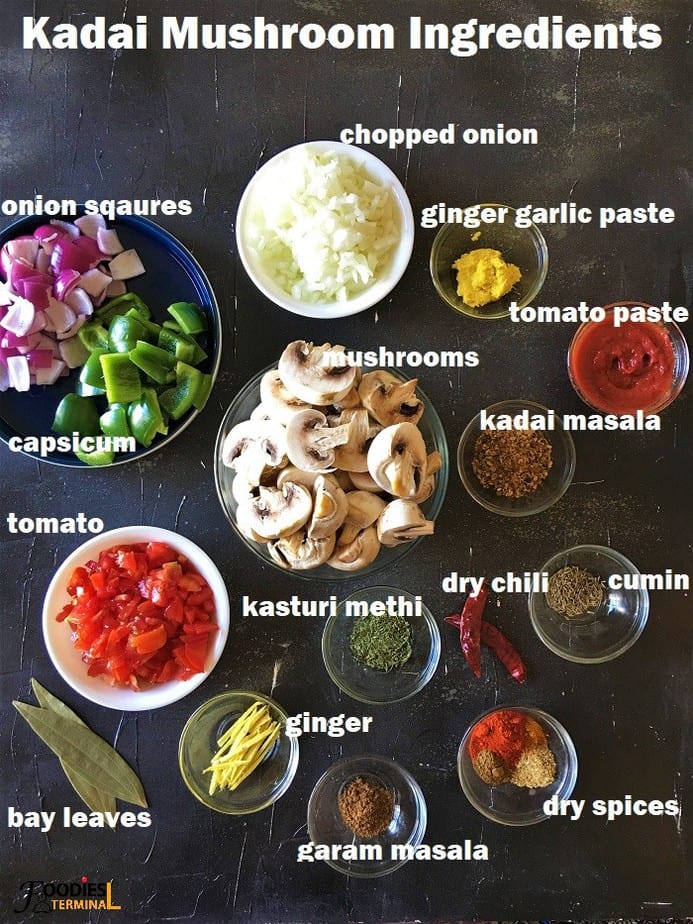 Mushrooms: White button mushroom works best. Wash them well so that they are completely free of muds and dust.
Tomatoes: I used both fresh tomatoes and store bought tomato paste. The tomatoes lend a dark, rich color to the gravy and also packs it with a hint of tang.
Capsicums: Also known as bell peppers. I have used green bell peppers. You may also use other colors.
Kadai Masala: I will highly recommend that you make the Kadai Masala at home. Try this Homemade Kadai Masala Powder recipe from my blog. Homemade version makes a huge difference and you can totally find it with the first sniff and taste test.
Other dry spices: Turmeric powder, Kashmiri red chili powder, coriander powder, cumin powder, garam masala powder.
Onion: Large squares and roughly chopped varieties.
Ginger Garlic paste: Grab this ginger garlic paste recipe from my blog. This is the BEST you'll ever make because it will last you the longest without turning green. Read the blog post it's packed with tons of tips and tricks.
Ginger Julienne.
Kasturi Methi: Dry fenugreek leaves.
For tempering: Whole cumin seeds, bay leaves and dry red whole chilies.
Oil.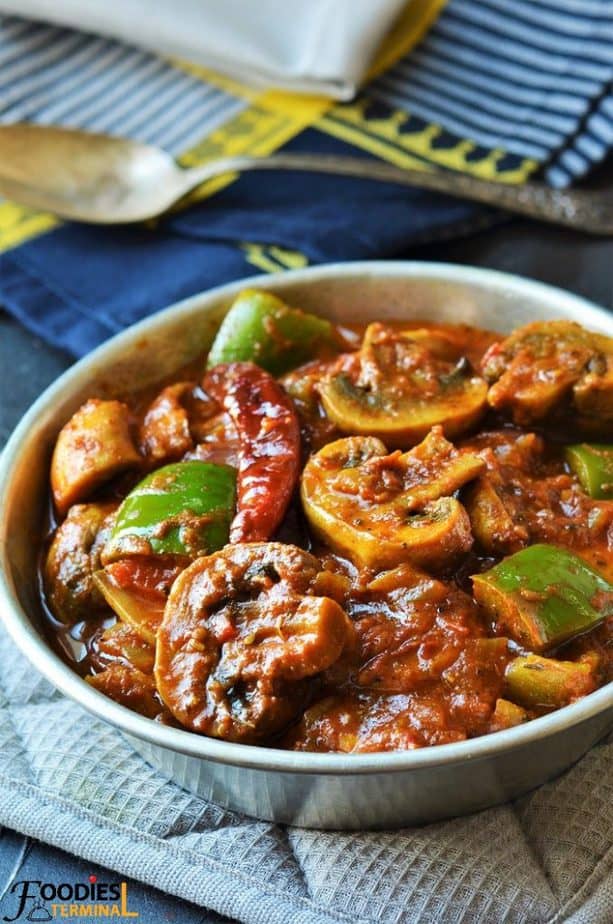 4 Tips to make the Best Kadai Mushroom Recipe
My Homemade Kadai Masala is the secret ingredient that'll elevate the flavors of todays recipe. Don't miss it ever. Grab the recipe from this blog. It's unmatched flavors are hard to compete. Made with the best whole spices in easy simple steps.
Do not fry the mushroom before beginning the recipe: This is so important. If you fry the mushrooms it will release lots of moisture & its tasty juices and shrink in size too. We will be adding the mushrooms directly to the gravy and allow them to cook in it's own juices for sometime. Bonus: taste and size preserved.
Less water or no additional water makes a great Mushroom Kadai recipe: You may add a few tablespoons water or just sprinkle some but do not add too much water. The juices from the tomatoes and the moisture from the mushrooms should be enough to make a delicious moist Kadai gravy.
Use juicy & ripe tomatoes: Soft, extra ripe and juicy tomatoes works as a great gravy base for todays recipe. They provide just the right moisture and tang to the dish. Tastes so great!
Best Homemade Kadai Masala Powder Recipe from Foodies Terminal.
How to make Kadai Mushroom step by step?
Steps in words below pictures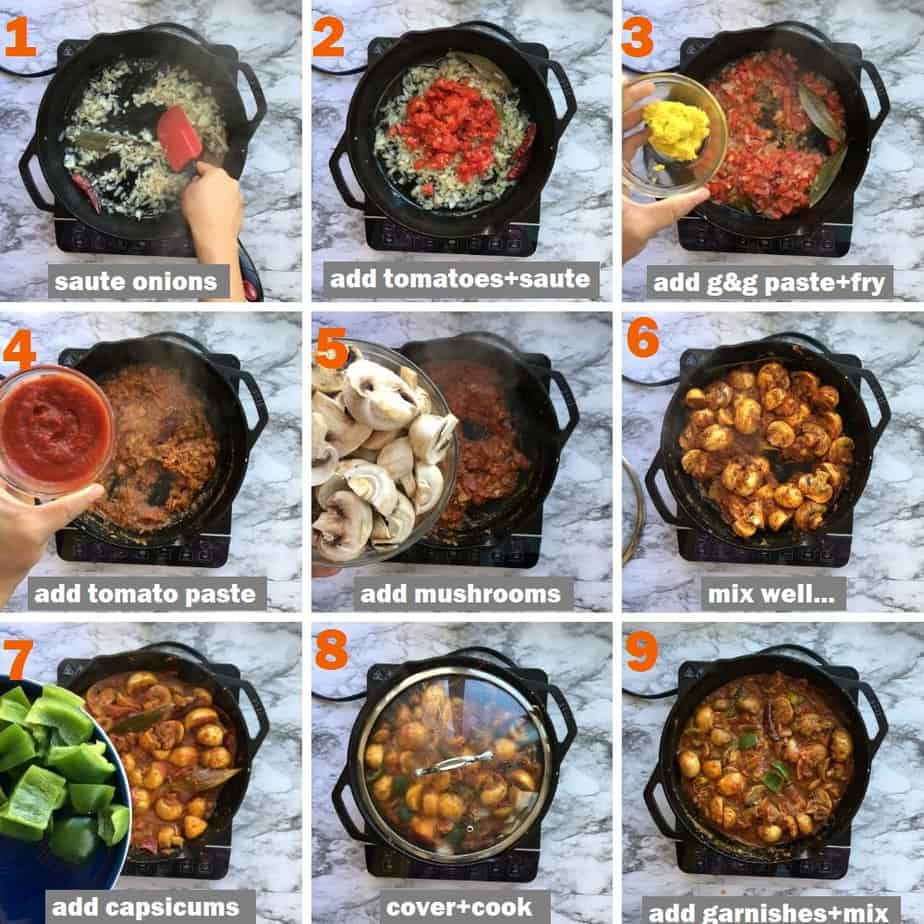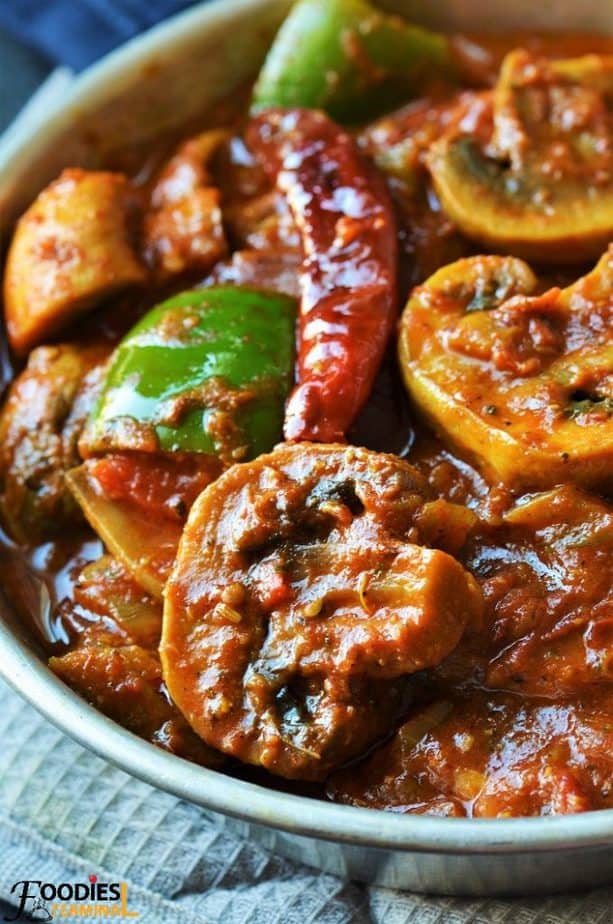 Time needed: 30 minutes.
How to make Kadai Mushroom?
Saute Onions unitil Translucent

Heat a skillet, add oil, sizzle the cumin, dry red chilies & the bay leaves, add chopped onions and saute until they turn translucent and soft.

Add tomatoes & saute until mushy

Throw in the chopped tomatoes and saute until they release the juices and turn mushy.

Throw in the Ginger Garlic paste and fry well

Add the ginger gralic paste and fry everything well until oil begins to ooze out and the raw smell of the ginger garlic paste completely disappears.

Add the dry spices and fry well

Now, add all the dry spices except the garam masala & fry everyhting well until oil begins to leave the sides of the pan.

Mix in the tomato paste

Add the tomato paste and mix well.

Add the Mushrooms and mix well

Throw in the diced mushrooms and coat them well with the bhuna masala in the pan.

Now, add the onion squares & some water, saute for sometime

Mix in the onion squares and pour just ⅓ cup water. Give everything a very good mix, the mushrooms will begin to release their juices. Saute everything for sometime.

Add the capsicums and cover and cook

Now, add the diced capsicums, mix everything well. Cover and cook for 5 mins. The mushroom will release lots of juices now.

Mix all the garnishes and serve hot

Add the garam masala powder, the ginger juliennes and the kasturi methi. Mix them well with the Kadai Mushroom gravy. Serve hot for best flavors.
How long can you store it?
You can store Kadai Mushroom for 3 days in the fridge in an air tight container.
What to eat with Kadai Mushroom?
This dish tastes great with the following:
Chapathi
Plain rice.
Jeera Rice.
Vegetable Pulao.
Plain Paratha.
Reheating tips
You can normally reheat Kadai Mushroom gravy in the microwave oven.
If you choose to reheat the dish on the stove top I would recommend that you sprinkle some water to the Kadai Mushroom gravy after adding it to the hot skillet. Warm it up over medium heat without covering.
Covering the skillet and reheating the dish will turn the crisp capsicums and onions soggy and limp.
Some more Kadai Dishes from Foodies Terminal.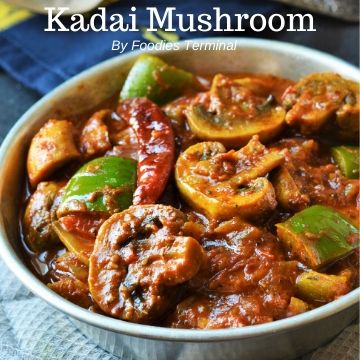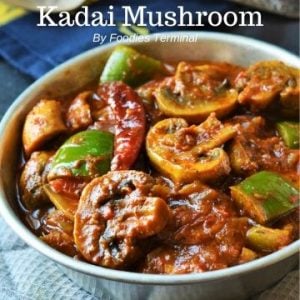 Kadai Mushroom
Print Recipe
Pin
Rate
Kadai Mushroom made with my homemade Kadai Masala powder tastes just as good as your favorite restaurants. This spicy Indian Kadai Mushroom restaurant style is easy to make & makes a great dinner anytime.
Want more Recipe Videos?
Check out our Youtube channel!
Instructions
Begin by washing the button mushrooms very well under running tap water. Carefully remove all the dirt and mud. Dice the mushrooms into halves. Set aside.

Set a heavy bottomed skillet over medium high heat and add oil. When the oil becomes moderately hot throw in the whole cumin seeds, dry red chilies and the bay leaves. Allow them to sizzle for a few seconds.

Next, add the chopped onions and saute until translucent.

Now, add the chopped tomatoes and saute until they just begin to turn mushy. Imeediately add the ginger garlic paste and saute until the raw smell completely disappears and oil begins to leaves the sides of the pan.

Add all the dry spices except the garam masala powder. Sauté until they are nicely roasted and oil begins to leave the sides of the pan.

Next, add the tomato paste and give everything a very good mix.

Add the diced mushrooms and mix them gently along with the Bhuna masala in the pan. The mushrooms should be well coated with the bhuna masala.

Next, add the onion squares and mix well. The mushrooms will begin to release juices at this stage. Add just ⅓ cup water and saute for a couple of mins.

Now, add the green capsicums and give everything a very good mix. The mushrooms will release a lot of juices at this stage. It's best to cover and cook the Kadai mushroom for 5 mins over medium heat.

After 5 mins open the lid and add the garam masala, the kasturi methi and the ginger juliennes. Give everything a very good mix. Turn off the heat and serve hot. Enjoy!
Notes
Measuring Units used, 1 cup = 240 ml & 1 teaspoon = 5 ml.
 NOTE: I used an Iron skillet to cook the Kadai Mushroom and hence the gorgeous dark color of the gravy. If you use any non iron skillet or pan the color of the gravy might be slightly reddish and not this dark.
Wash the mushrooms very well and remove all dirt's carefully. Mud left behind will make the dish gritty.
Grab the ginger garlic paste recipe, the Kadai Masala Powder recipe and the coriander powder recipe from this blog. Tons of tips and tricks shared in those posts along with videos.
Calorific details are provided by a third party application & are to be used as indicative figures only.
Nutrition Facts
Kadai Mushroom
Amount Per Serving
Calories 76
Calories from Fat 18
% Daily Value*
Fat 2g3%
Sodium 10mg0%
Potassium 487mg14%
Carbohydrates 12g4%
Protein 4g8%
* Read our privacy policy - Calorie information is provided as a courtesy only and should be leveraged as an estimate rather than a guarantee.Percent Daily Values are based on a 2000 calorie diet.
Nutrition
Calories:
76
kcal
|
Carbohydrates:
12
g
|
Protein:
4
g
|
Fat:
2
g
|
Sodium:
10
mg
|
Potassium:
487
mg
|
Fiber:
3
g
|
Sugar:
5
g
Pin it for later!