Ice-Cream Sandesh is a soft, mildly sweet dessert hailing from the state of West Bengal in the Indian sub-continent.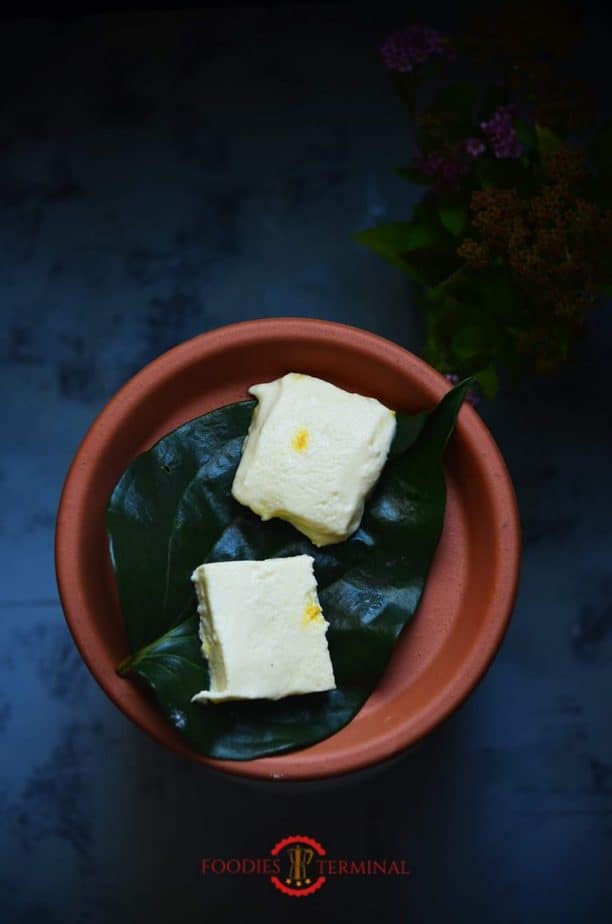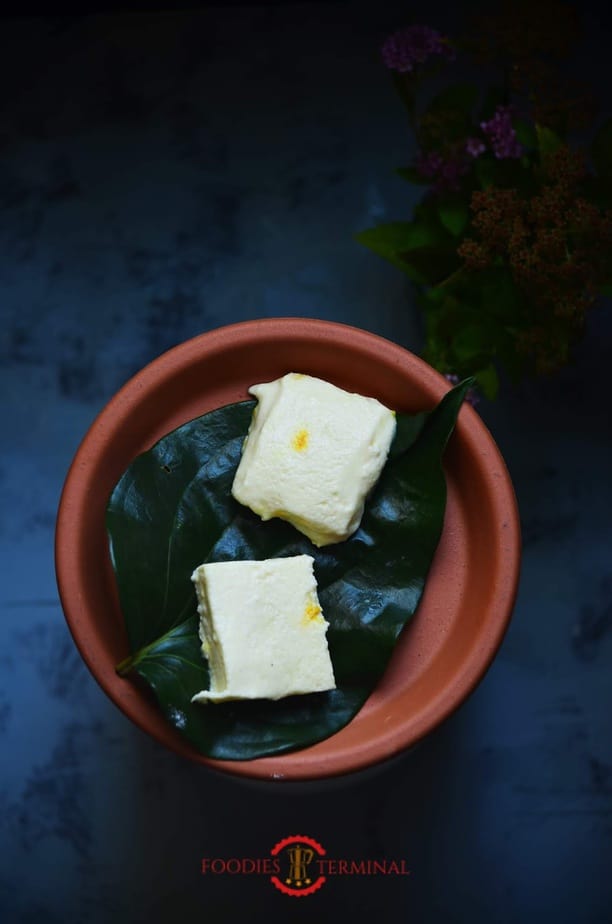 This milky white soft Indian dessert is insanely addictive. Hailing from the lands of West Bengal in the eastern part of the Indian sub-continent it's popularly known as "Sondesh or Sandesh". Prepared from freshly made cottage cheese and mildly added sweetness, this particular dessert is so intensely delicious that a sweet lover can enjoy many pieces at one sitting. And if you greet any Bong with a plate full of Ice-cream Sandesh and a glass of water on a scorching summer day that person will love you for the rest of your life!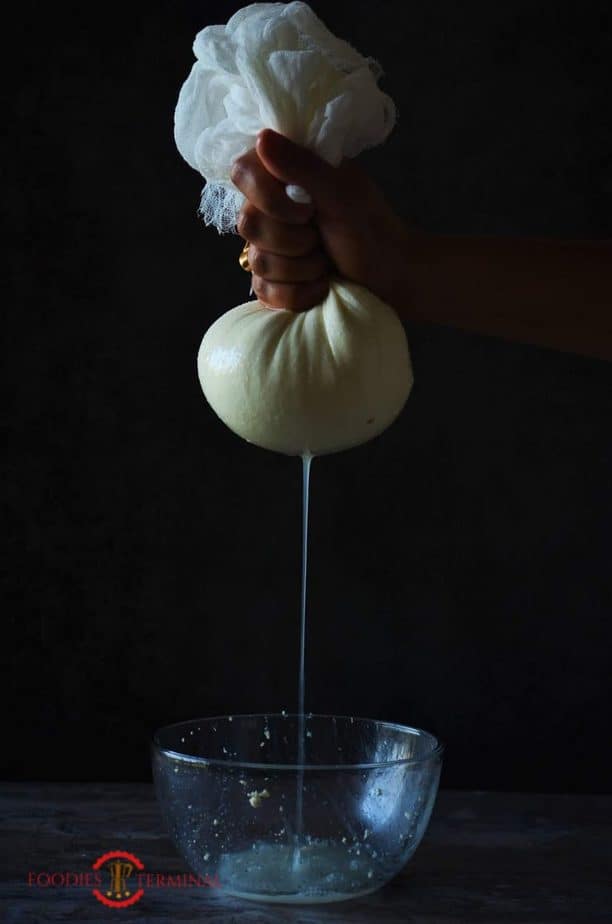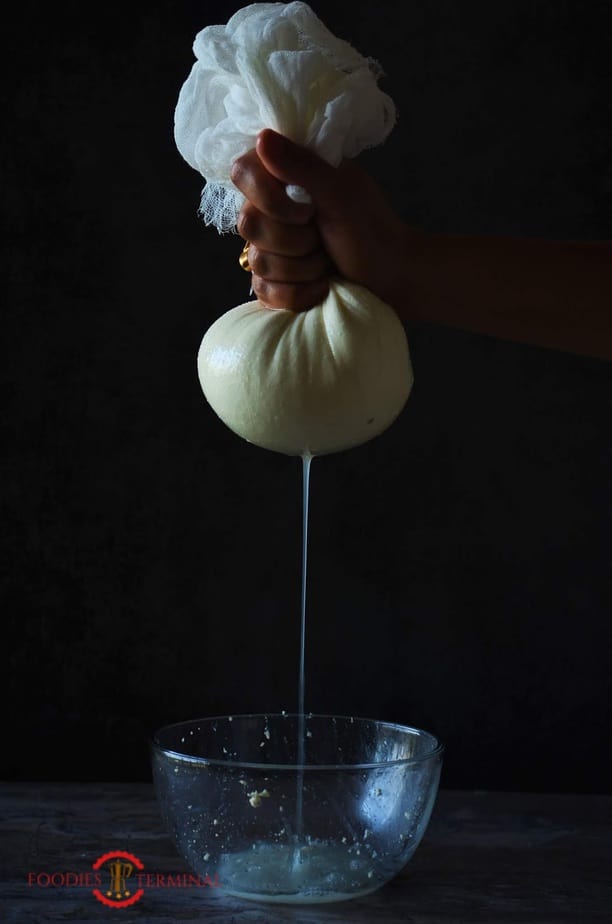 Why the name Ice-cream Sandesh? Does the recipe contain ice-cream? Yes, I Know your inquisitive mind is just waiting for so many answers! Let me tell you, this Ice-cream Sandesh has no Ice-cream in the recipe, it has ice-cream only in its name..Lol! It's known as ice-cream Sandesh because it's served chilled. That's how Bengalis or Bongs (people from the state of West Bengal in India) love to enjoy Ice-cream Sondesh – CHILLED!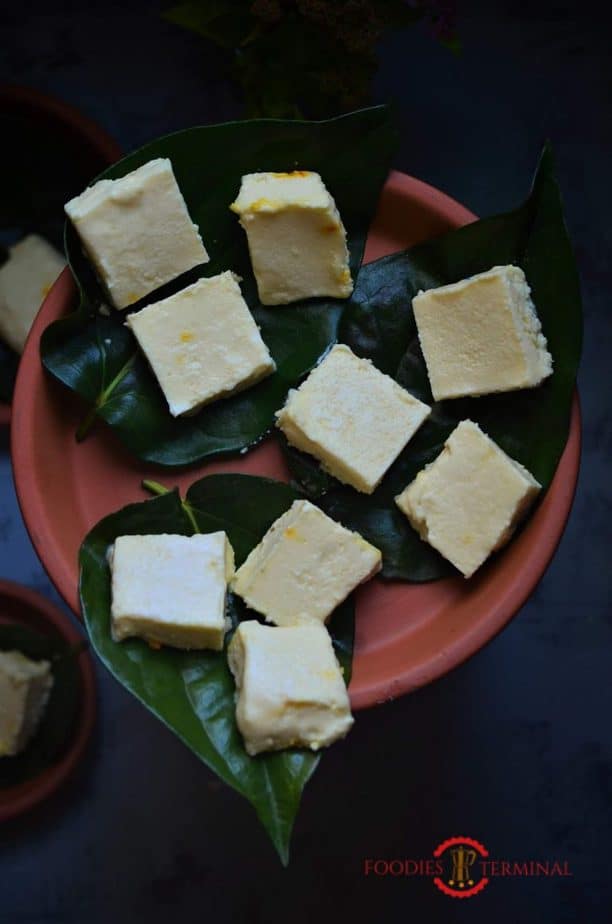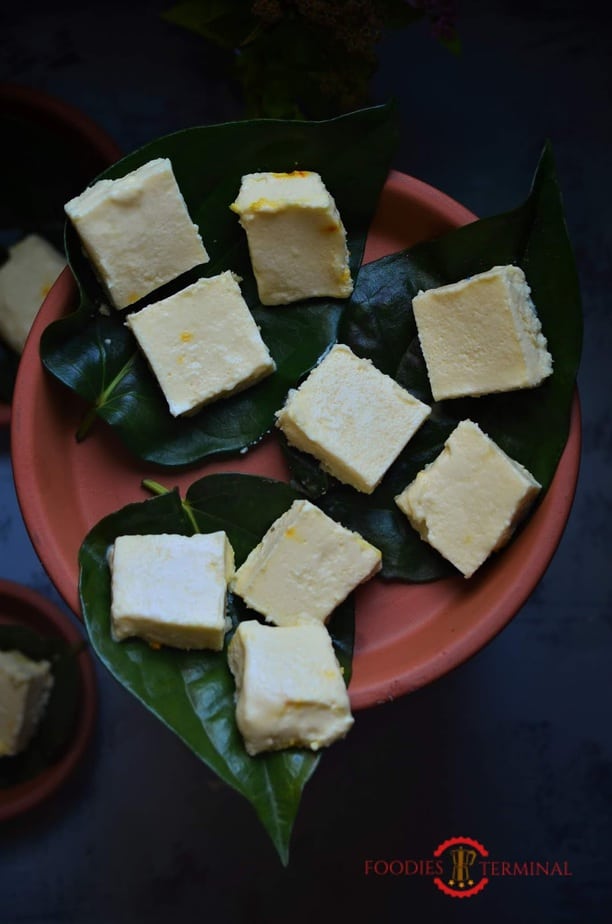 Growing up in a typical Bengali household my heart & soul belongs to all the Bengali sweets. Our meals are incomplete without sweets, our greetings are complete with a box full of sweets, our goodbyes end with sweets, our new relationships begins with sweets, our ceremonies are celebrated with sweets. To be precise in a bong household sweet predominately sway the way of life, it defines us. So, as you can estimate my extraordinary love for sweets from now on you may expect lots of various sweets recipes being featured on my blog because I have quite a bit of a sweet tooth and being a bong I have an exquisite weakness towards Indian sweets especially typical bong sweets.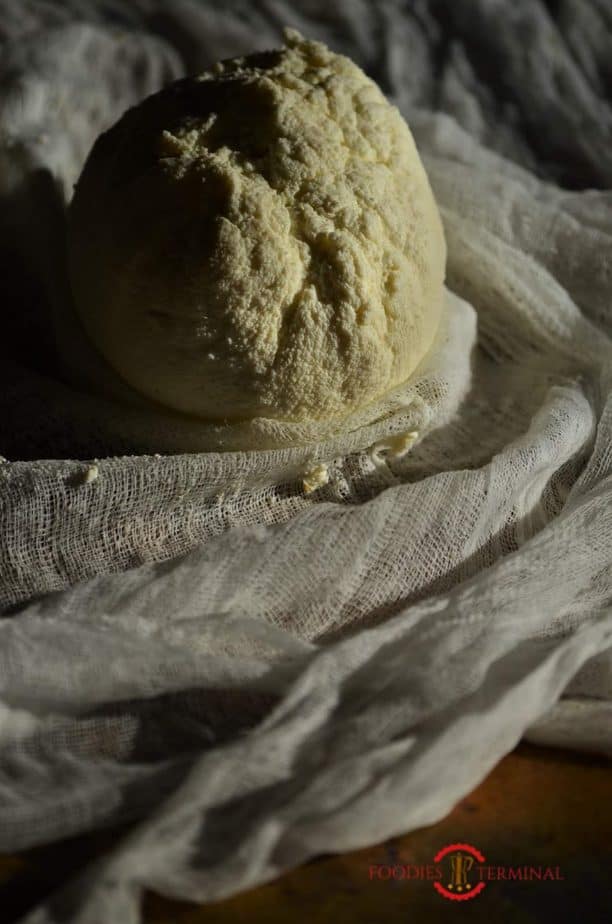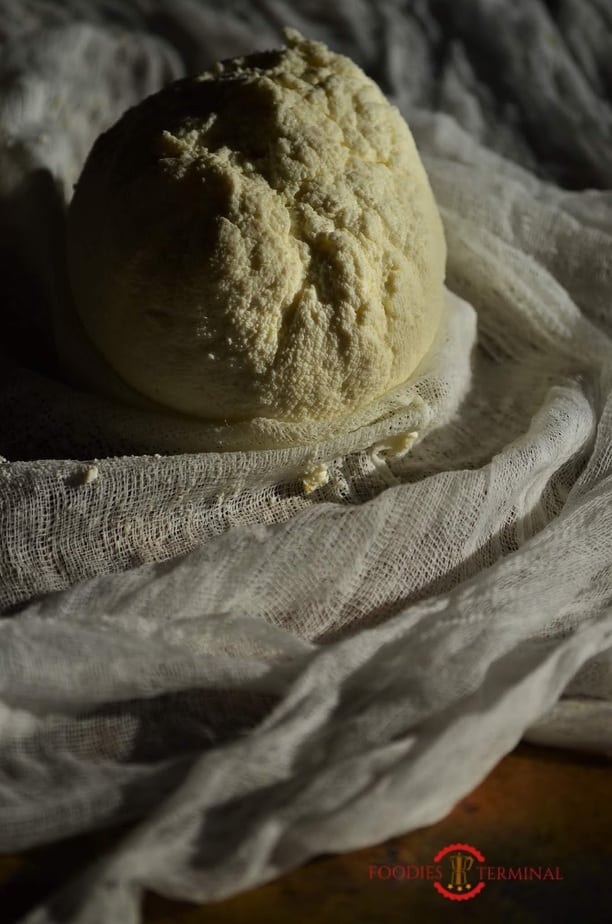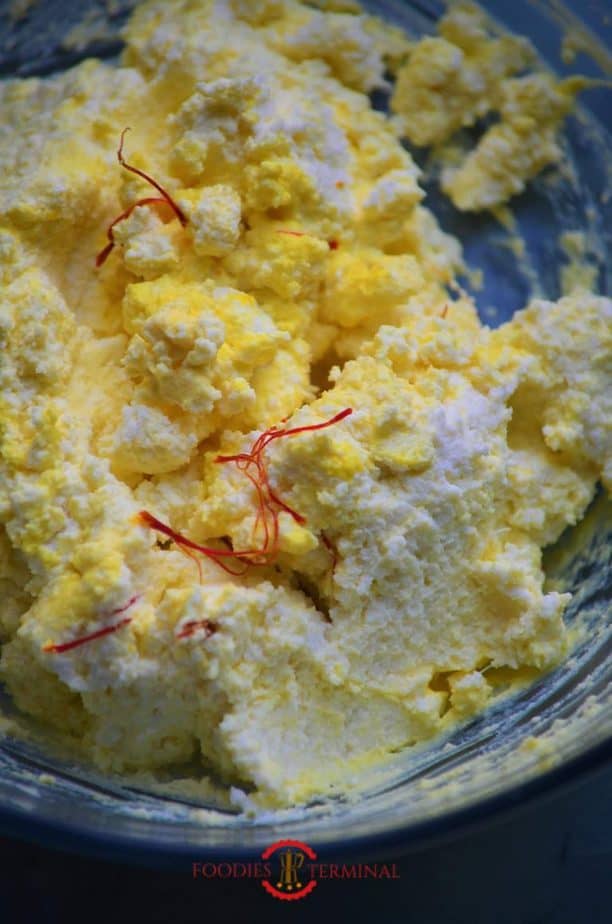 If you have ever had Sandesh in Kolkata from the few legendary sweet shops like Bhim Chandra Nag, Ballarum Mullick & Radharam Mullick etc. to name a few then you might know what's the actual taste of a Bengali Sondesh, it's creamy, mildly sweet & utterly light on the stomach and oh! yeah, a single serving is not enough. Ice-Cream Sandesh is addictive and best eaten fresh. It's made with fresh cottage cheese or Chenna | Chana | Paneer, kneaded into a silky & soft mess, then steamed to perfection in the water bath, finally served chilled.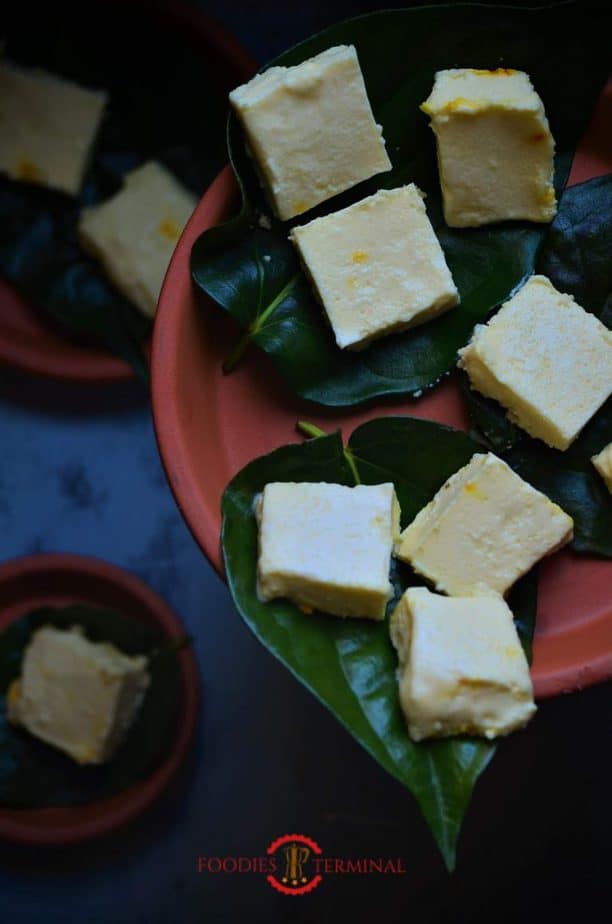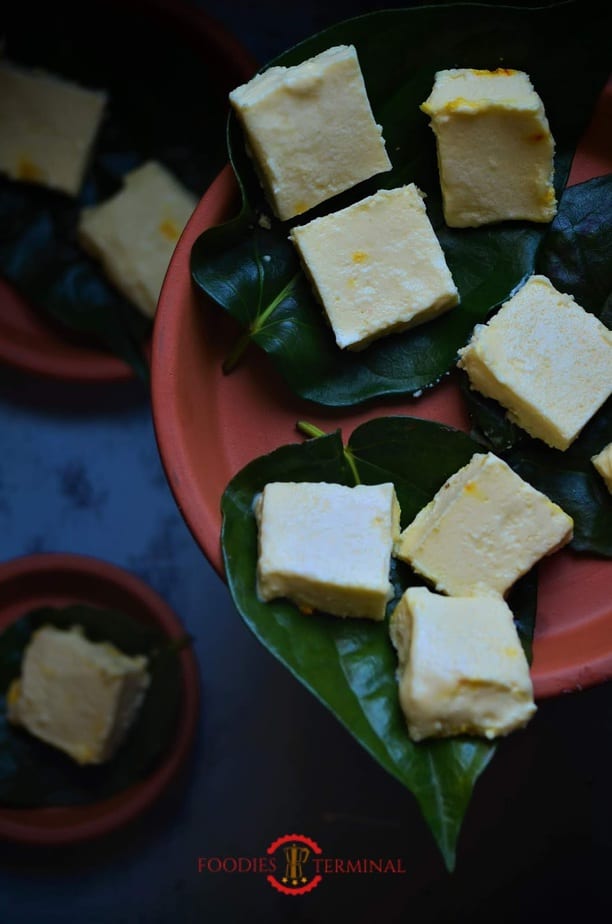 Why I make sweets at home?
Let me keep that answer safe for another sweet post 🙂

This ice-cream Sandesh is surely going to steal your heart and stun your taste buds, give this simple recipe a go and do let me know how much you loved it! Check out this Step by step Video Tutorial :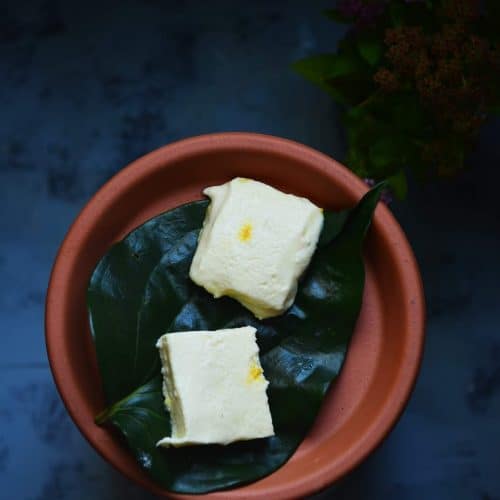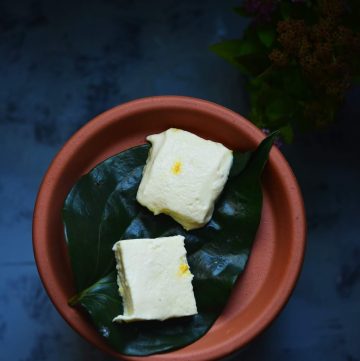 Ice-Cream Sandesh Recipe | How to make Bengali Ice-Cream Sandesh | Cottage Cheese steamed Fudge
Print Recipe
Pin
Rate
Ice-Cream Sandesh is a soft, mildly sweet dessert hailing from the state of West Bengal in the Indian sub-continent.It's extremely delicious and is made from freshly made cottage cheese.
Ingredients
1.89 Liters organic whole milk.

3 limes.

1/2 cup heavy whipping cream.

1 tablespoon milk.

1

tbsp

Ghee

(clarified butter.)
Want more Recipe Videos?
Check out our Youtube channel!
Instructions
1. In a heavy bottomed pan bring the whole milk to boil over medium high heat. After the first boil lower the heat and add the squeezed juice from 2 limes ( add more if need be) and stir. The milk will start to curdle.

2. Strain the Curdled milk in a clean muslin cloth and hang for 1-2 hours. After 1-2 hours you will have lovely ricotta cheese or "Chenna" or "Chanaa". Please note the Chenna should be completely dry, free of any water content. 1.89 L milk will yeild 2 cups of Chenna.

3. Soak 10 strands of Saffron in 1 tablespoon milk for 10-15 mins.

4. Next knead the ricotta cheese or chenna with your palm for 10-15 mins or until fully smooth and lump free, it will become a bit oily at this stage. Now add the soaked saffron and milk mixture into the kneaded chenna and mix and form into a smooth and lump free dough.

5. Next take the heavy whipping cream and the condensed milk in a clean dry bowl and blend well for 1-2 mins with a hand held blender. Now add the kneaded chenna to this mixture and blend well until creamy and smooth for about 2-3 mins.

6. Take a cake pan of your choice or any other heat proof pan and line it with an aluminium foil, grease the foil well with ghee or clarified butter. Pour the Sandesh batter into the greased pan. tap to set it well. Cover it with an aluminium foil and Set it aside.

7. On a large container bring about 2 cups water to boil and place an inverted plate or a pressure cooker metal stand or any kind of metal insert inside the boiling water. This will act as the stand for your container containing the Sandesh batter. Now put the pan on the metal stand or inverted plate. Please note that the water level should not touch the bottom of the pan. Now cover the large container and cook for 25 mins.

8. After 25 mins take out the container containing the sandesh batter and allow it to cool completely. Than put it in the freezer for 1-2 hours or in the freeze for 3-4 hours. Take it out, slice the Sandesh into square pieces and Serve it chill.


Enjoy!
Notes
The chenna or cottage cheese must be completely dry or water free before kneading it.
This is a mildly sweet dessert but if you want you may increase the sweet content by adding some sugar according to your taste preferences.
The whipping cream + condensed milk + the kneaded chenna must be mixed well until the creamy and silky stage is attained.
Cooking the Sandesh batter in a water bath method must be done carefully and water should not be allowed to touch the bottom of the sandesh Pan.
The Batter should be allowed to cool completely before putting it in the fridge or freezer.
1.89 liters of organic whole milk will yield 2 cups of Chenna or cottage cheese.
Ice-Cream Sandesh is best enjoyed Chilled and hence the name.
If you want you may sprinkle a few strands of saffron on the final sandesh batter before cooking it. This will impart a lovely orange and yellow hue to the Ice-Cream Sandesh.
Do not try to slice the hot Sandesh, it will fall apart. Allow it to cool down completely and than chill it in the fridge or freezer.
PIN IT!