Learn How to make the tastiest & easiest fresh strawberry popsicles recipe in just 5 mins! A healthy summertime snack for kids.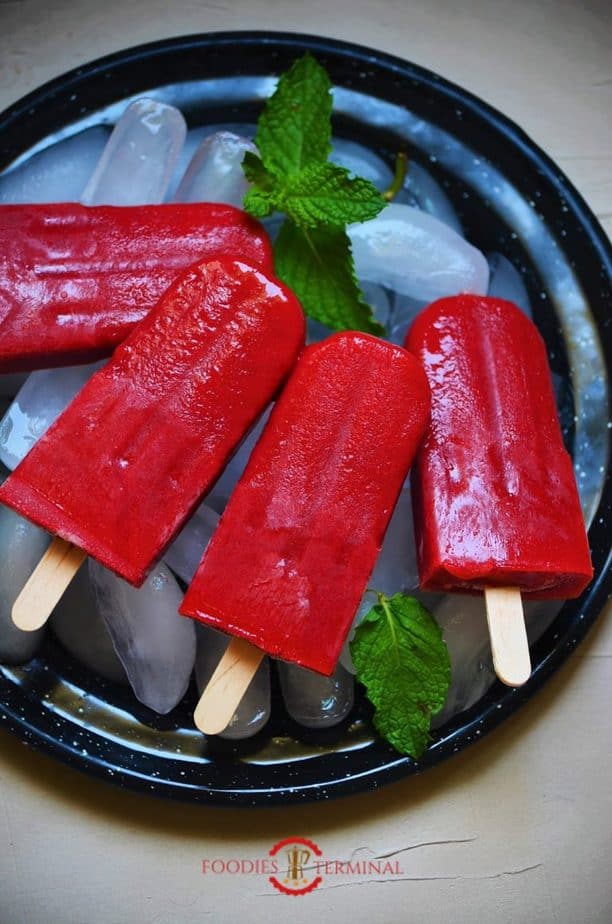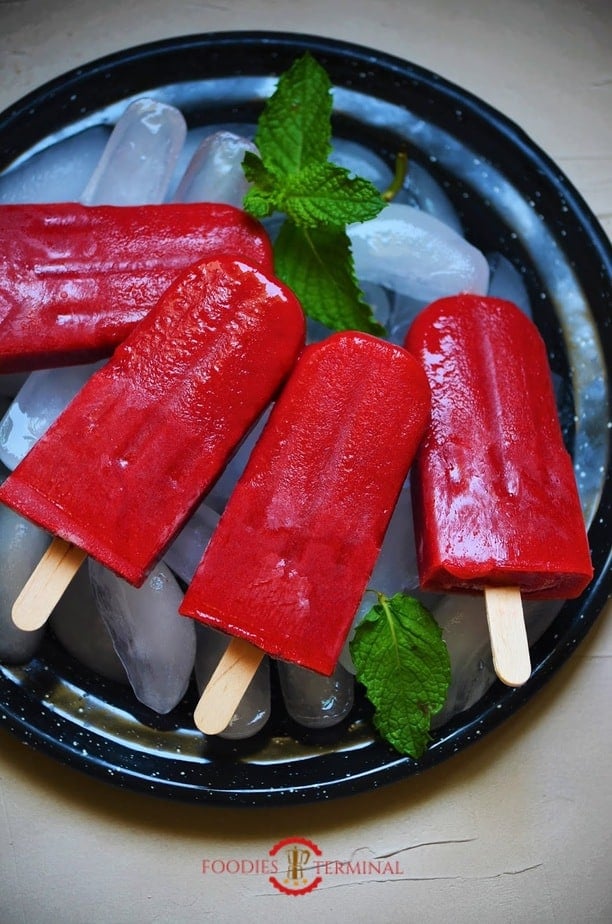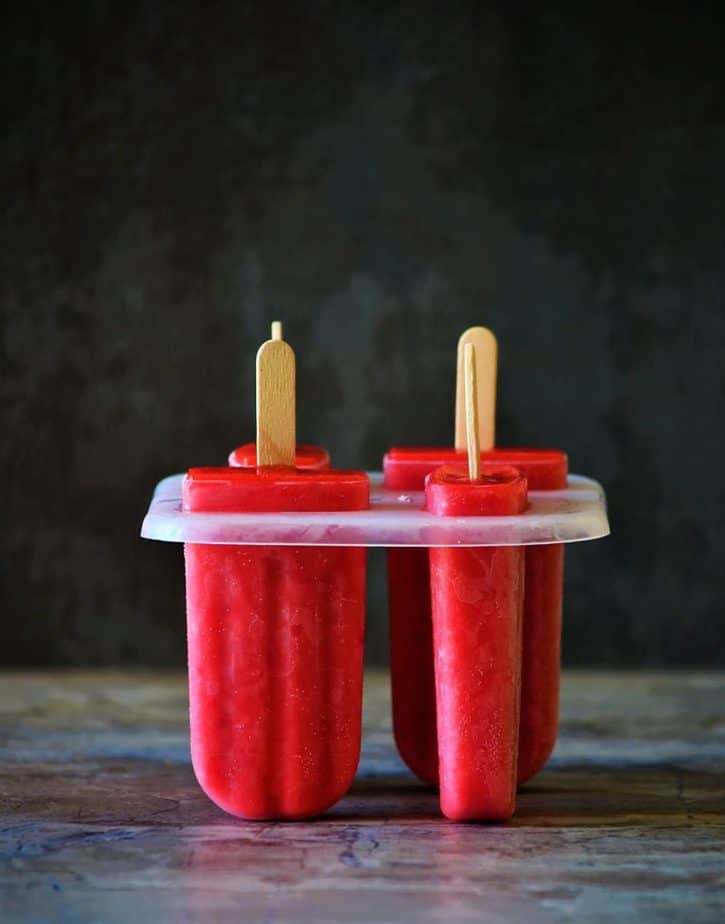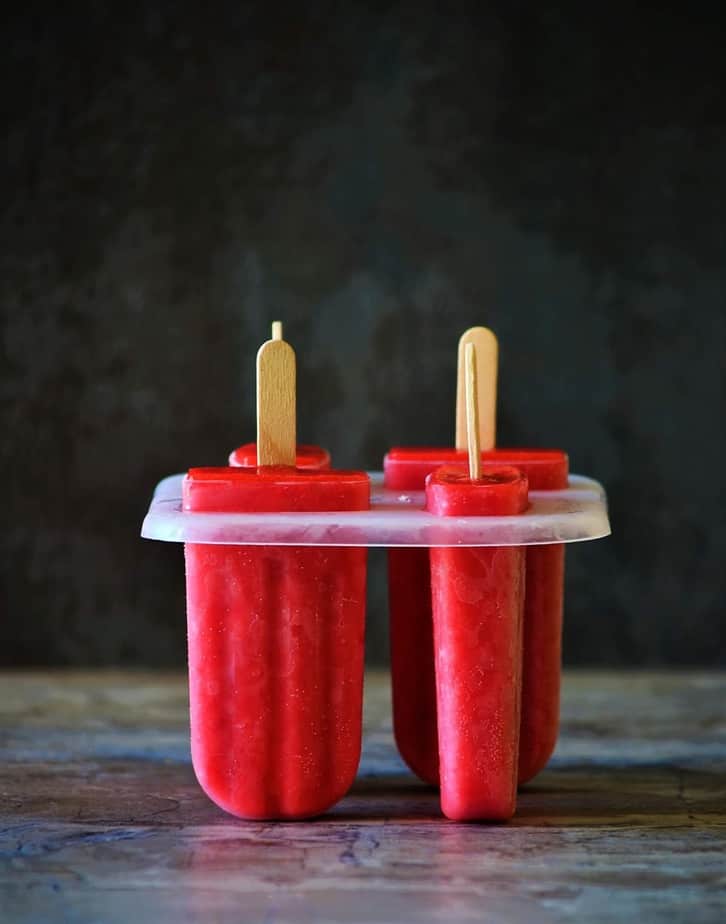 Strawberry Popsicles Recipe is all that you need this summer to keep your kids calm.
Trust me, they will thank you and you will thank yourself for churning up this easy peasy Strawberry Popsicles recipe!
Of course, you too can snag some to relish on a quiet summer afternoon, it's a perfect treat for adults too.
In my home it's a simple equation, mommy makes it so she gets to taste at least one of the popsicle 🙂
Are you rolling your eyes, seriously don't do that to me please… I AM a popsicle lover, can't change facts & no point hiding it because I have a blog now.
Summertime grocery store visits are a little scary, often times I get pulled to the colorful and attractive popsicle aisle by tiny hands.
And guess what?
The cute episode begins. Someone just kneels down on his knees and starts begging for the attractive summertime treats.
I am quite sure it happens to several families who have children at home.
If you are just like me who wants to feed their kids fresh and healthy all the time than I have wonderful news for you!
Now you can prepare popsicles in a jiffy, my recipes are super quick, fuss-free and will not consume much of your time in the kitchen.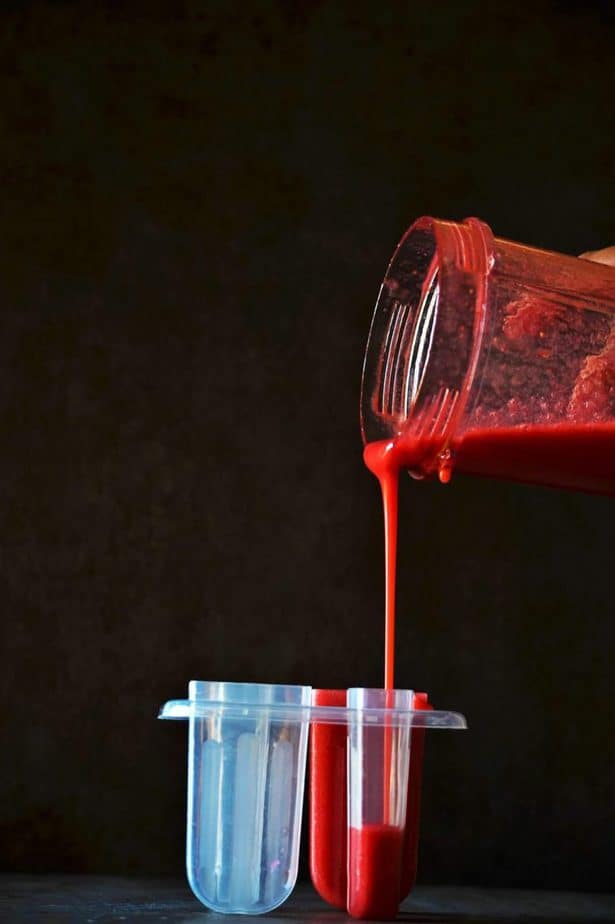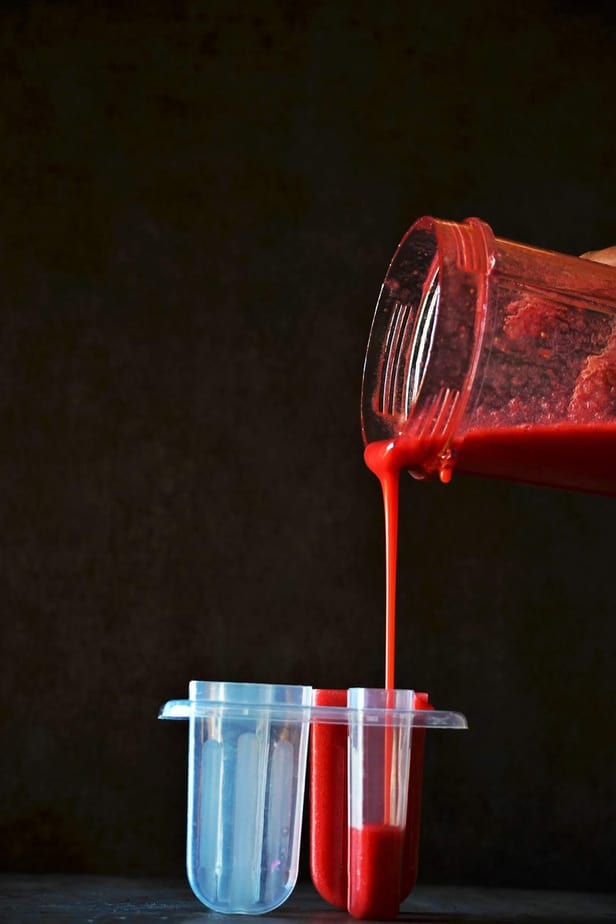 To keep my little munchkin away from artificial colors, additives & preservatives I churn up various sorts of easy popsicle recipes at home with absolutely fresh ingredients.
Trust me guys this is the best way to feed your picky eaters' fruits and veggies. They will never come to know the secret ingredients.
Today's strawberry popsicles recipe has no sneaky veggies.
It's a pure strawberry popsicle that's prepared minimally!
Things you will need to prepare strawberry popsicles recipe:
Fresh strawberries washed & hulled.
Sugar or maple syrup or honey.
Lemon juice.
If you are lucky enough to get hold of the sweetest strawberries in the whole wide world you may totally skip the sugar or honey part.
How do you make real fruit popsicles?
Real fruit popsicles are very straightforward to make. You need basically 3 ingredients & you are all set.
The main fruit, a sweetener like sugar, honey or maple syrup & lemon juice.
Lemon juice gives a nice tart flavor to the popsicles.
It also enhances the bright color of the fruits that you decide to use in the popsicles recipe.
Next, you blend everything in a blender & pour them into popsicles mold.
Allow them to set in the freezer!
How do you make homemade strawberry popsicles?
Blend strawberries, honey & lemon juice together in a blender to a smooth puree.
Pour them in the popsicle molds, put them in the freezer, wait for 15 mins.
Take them out and insert the wooden sticks to the popsicles.
Freeze for at least 5-6 hours. Taa Daa!
Your gorgeous, vibrant, attractive popsicle is ready for an attack from the tiny popsicle lover of the house.
I love making this strawberry popsicles recipe along with my super excited 5 years old.
This is a good way to keep him engaged and to make his happy soul happier!
How many calories are in a strawberry popsicles recipe?
There are 41 calories in a single serving of strawberry popsicles.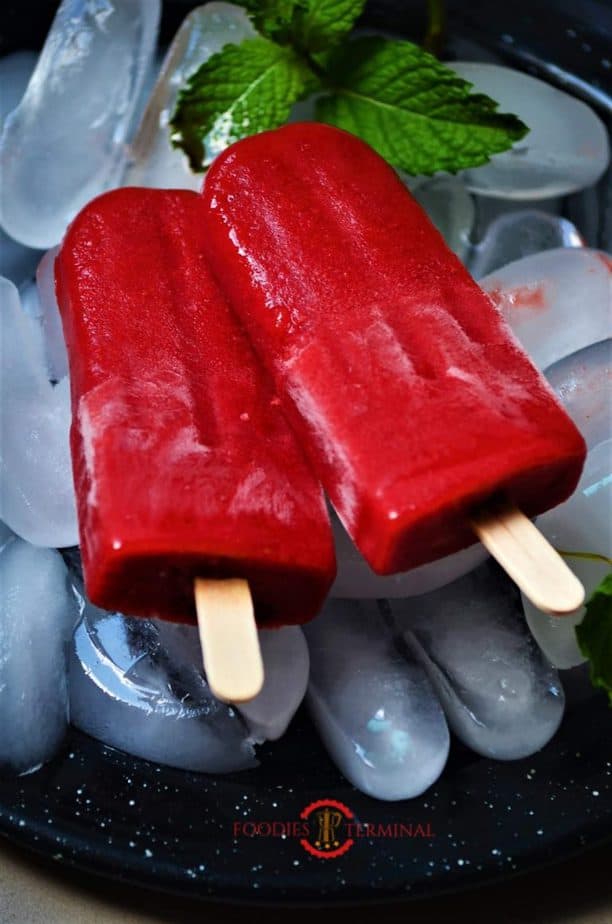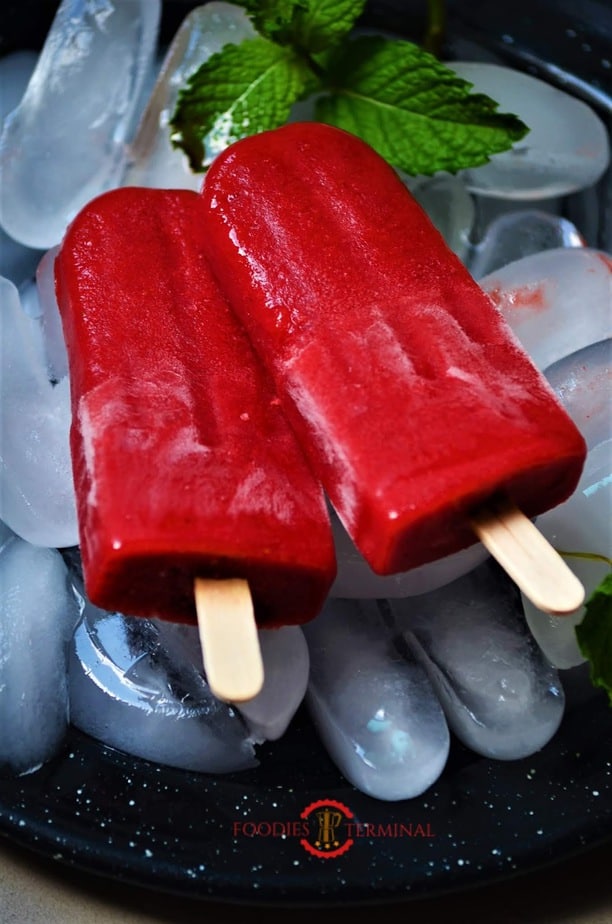 If you love this Strawberry popsicles recipe than you may also love my other tasty popsicle and delicious ice-cream recipes :

*Vegan Mango + Coconut Popsicle.
*Only 3 Ingredients Intense Vanilla Ice-Cream.
*No Churn White Chocolate & Roasted Raspberry Ice-Cream.
DID YOU TRY THIS RECIPE? Do not forget to give a STAR (*) rating. Just click on the stars on the Recipe Card below to rate!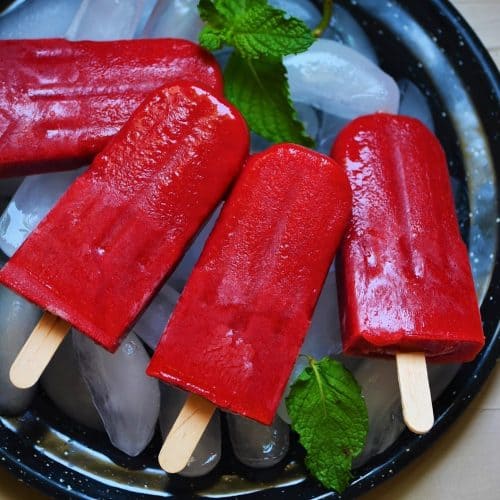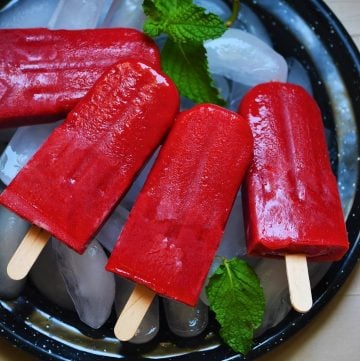 Strawberry Popsicles Recipe | 5 mins Strawberry Popsicles
Print Recipe
Pin
Rate
Learn How to make the tastiest & easiest fresh strawberry popsicles in just 5 mins! A healthy summertime snack for kids.
Ingredients
1-1/3 cups chopped fresh strawberries.

1/3 cup cold water.

1/4 teaspoon lemon zest (optional)
Want more Recipe Videos?
Check out our Youtube channel!
Instructions
1. Add all the above-mentioned ingredients in a blender and blend until a smooth puree.

2. Pour the puree in popsicle molds. Freeze for 15 mins & then insert the Popsicle sticks. Freeze for at least 5-6 hours.

Enjoy!
Notes
Fresh Strawberries can be substituted with frozen strawberries.
If using frozen berries add less water.
Insert the popsicle sticks only after freezing the puree for at least 15 mins, this will help the sticks to stay in put and straight from top to bottom. The puree when just poured in the mold is liquidy in consistency so if you insert the wooden pop sticks immediately the sticks will fall apart.
If the strawberries are very sweet you may not add any sugar or maple syrup or honey at all.
Blend the ingredients until smooth puree forms.
Lemon juice and zest adds a very good flavor to the popsicles. The lemon juice adds all the tang if you want them to be tangier than feel free to increase the amount of lemon juice in this recipe.
Adding palm sugar or coconut sugar will darken the color of the popsicles.
They melt very fast, so if you want to click some pics for your insta feed than you better do that at lightenings pace 🙂
Nutrition Facts
Strawberry Popsicles Recipe | 5 mins Strawberry Popsicles
Amount Per Serving
Calories 41
Calories from Fat 1
% Daily Value*
Fat 0.1g0%
Sodium 3.4mg0%
Carbohydrates 10g3%
Vitamin C 0.5mg1%
Iron 0.3mg2%
* Read our privacy policy – Calorie information is provided as a courtesy only and should be leveraged as an estimate rather than a guarantee.Percent Daily Values are based on a 2000 calorie diet.
Nutrition
Calories:
41
kcal
|
Carbohydrates:
10
g
|
Fat:
0.1
g
|
Sodium:
3.4
mg
|
Sugar:
7.1
g
|
Vitamin C:
0.5
mg
|
Iron:
0.3
mg
PIN IT!