You'll love this Easy Monkfish Curry Recipe made with coconut milk. This Monkfish Curry Indian Style is easy, delicious and you can make it several times during weeknight dinners.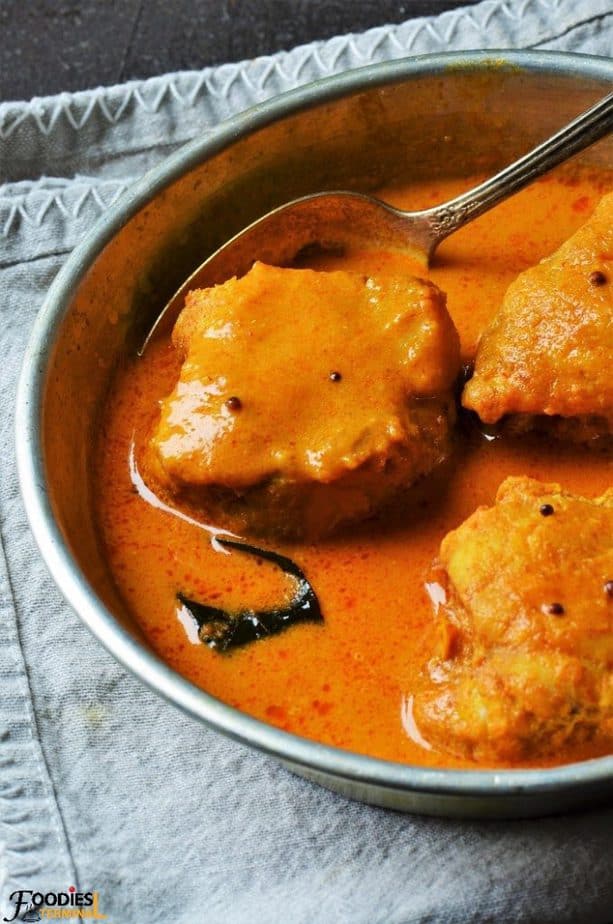 Monkfish Curry Indian Style
You'll love the meaty texture and sweet subtle flavor of Monkfish in a light & extremely delicious coconut milk based curry sauce.
The texture and taste of Monkfish is similar to that of Lobster. Perhaps, that's why Monkfish is also called "a poor man's lobster."
We love it's meatiness and always buy wild caught Monkfish, alas! it's certainly odd to trace wild caught fishes here in the USA on a regular basis.
If you are eager to find a similar variety do look at your local Whole Foods Market.
Also, you can cook Monkfish fillet in a wide variety of way & the meaty, firm texture makes the fish easier to handle in different kinds of recipes.
That's what we love the most about Monkfish! A winner in everyway.
You too will love this Indian Style Monkfish fillet recipe because it extremely approachable & all the more weeknight dinner friendly.
And the best part is that you can fix this Monkfish curry recipe with pantry staple ingredients.
If you love rice as an accompaniment you may make the curry sauce a little thinner just like today's easy Monkfish curry recipe.
Or else, if you fancy some crusty bread as a side I would recommend a thicker curry sauce.
You can cook this Monkfish fillet recipe with any neutral oil and also skip the curry leaves & mustard if you are not familiar with them.
They do add a lovely aroma and Indianize the recipe way more. Therefore, I will recommend them but again the curry won't be any less tasty without them!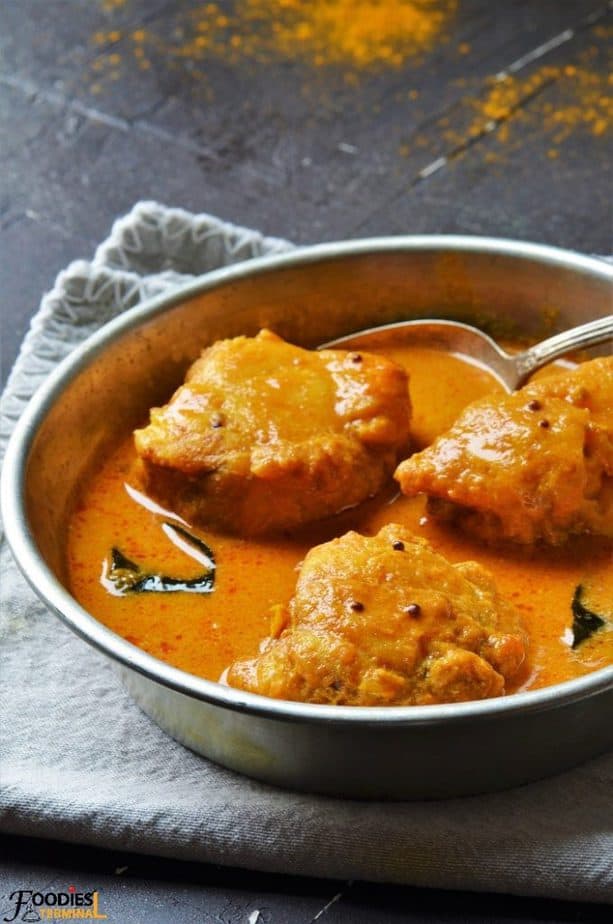 Monkfish Curry Recipe Ingredients
As I promised, the ingredients are all pantry staples 🙂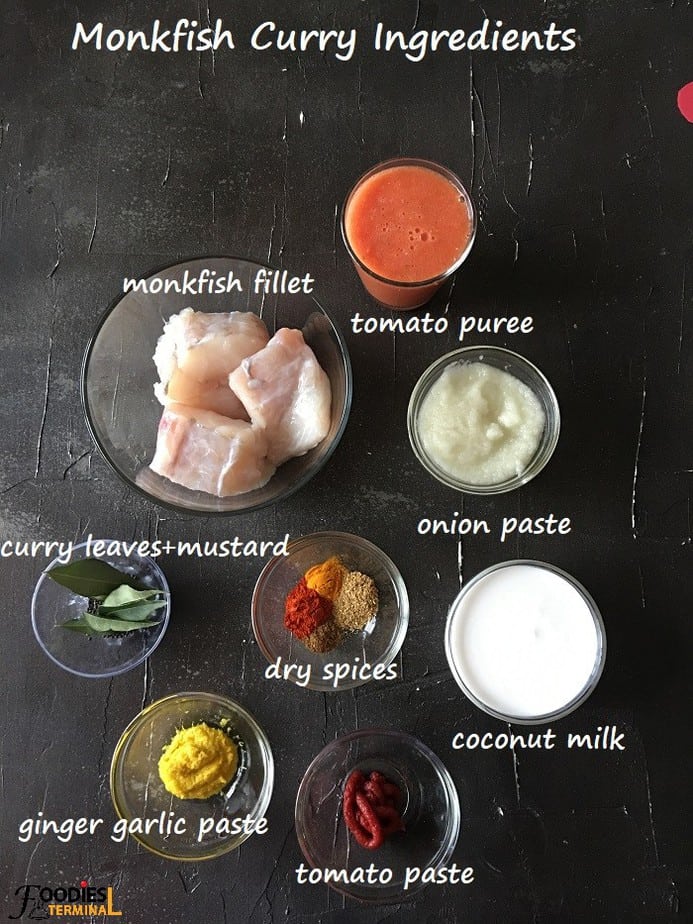 Monkfish Fillet: Go for wild caught Monkfish Fillet and dice it according to your preference. We love 2″ or 2.5″ chunks.
Onion: Made into fine paste.
Ginger Garlic paste: Try my homemade Ginger Garlic paste recipe. It'll last you the longest, you can freeze it and it won't turn green. You'll love it.
Tomatoes: Boiled, de skinned and made into a paste. Or you can make raw tomatoes paste too.
Tomato paste.
Coconut milk: Make it fresh at home or use store bought. Both methods work well for the recipe. I used store bought.
Spices: Turmeric powder, chili powder, cumin powder, coriander powder.
Any neutral oil.
For tempering: Whole black mustard seeds and curry leaves (Skip them if you want).
Easy Monkfish Curry Recipe – Tips & Tricks
Fry the Monkfish: 5 mins is all you need to fry the Monkfish fillets. This easy process adds tons of good flavors to the curry sauce.
Fry each ingredient until oil oozes out: This is a very important technique of Indian cooking. You must roast the spices, the onion, tomato and ginger garlic paste until oil begins to leave the sides of the pan. This in return will intensify the flavor of each ingredient & kill the raw smell too.
Mix well after adding the coconut milk: There should not be any masala lumps. Stir the sauce vigorously in clockwise motion and mix eveything well.
Do not over simmer the fish: This is extremely important. For flaky, meaty, juicy Monkfish simmer the fish in the curry sauce for not more than 5 mins on low heat.
How to cook Monkfish curry?
Steps in words below pics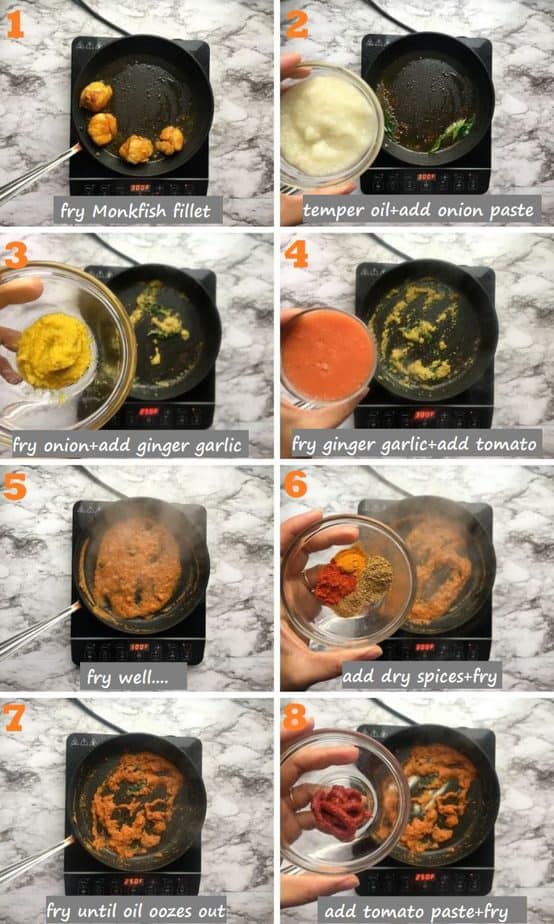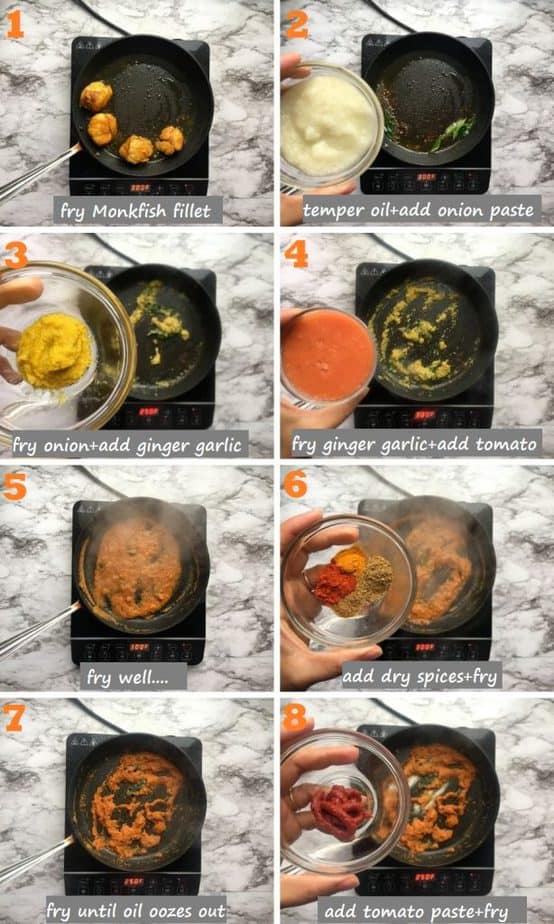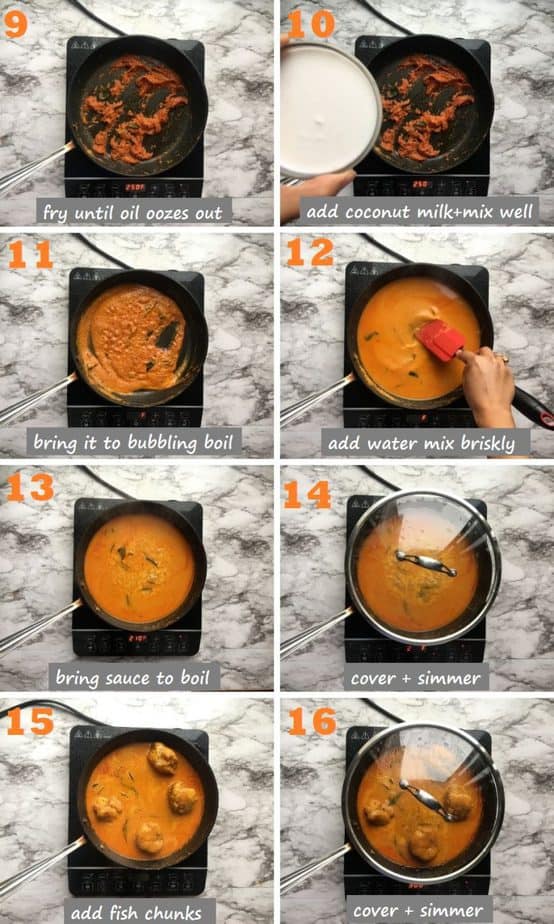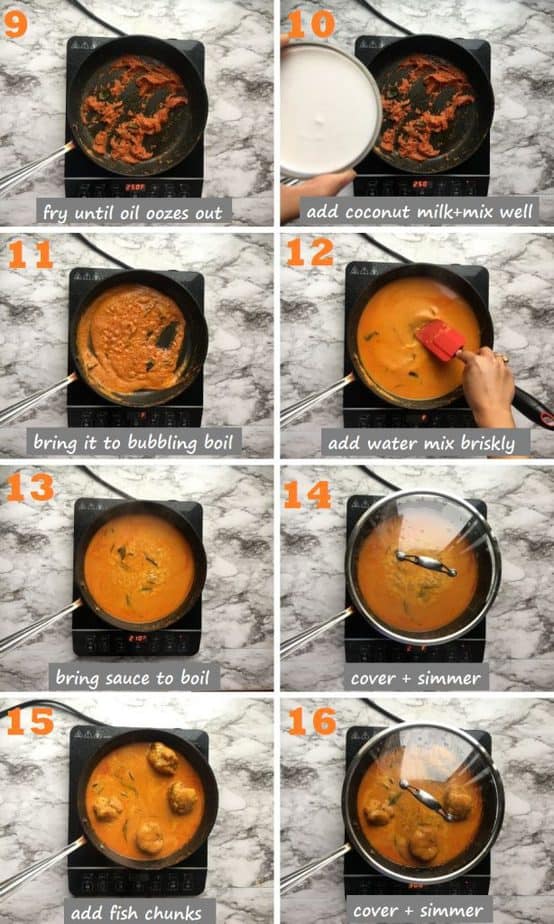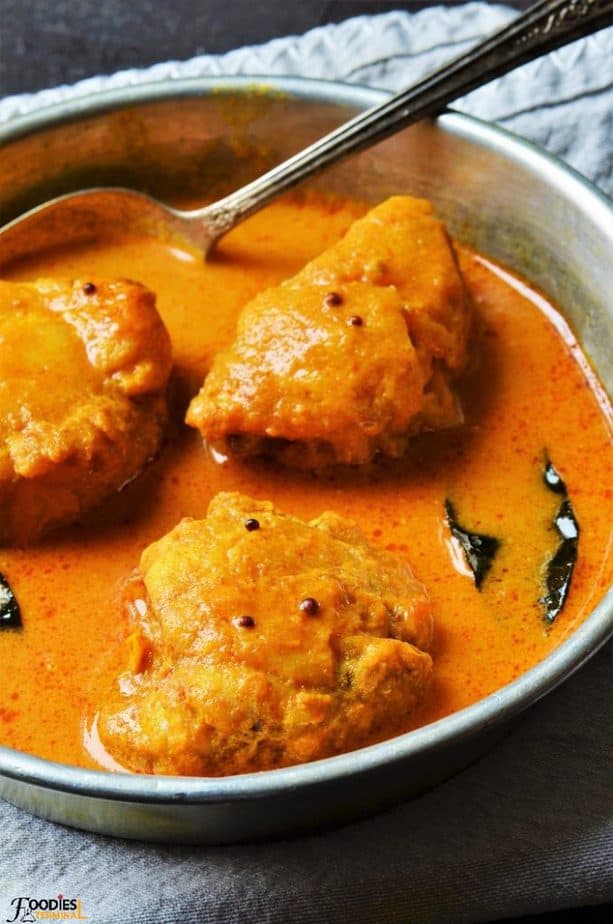 Time needed: 25 minutes.
How to make Monkfish Curry?
Shallow fry the Monkfish fillets

Smear the washed Monkfish fillets with turmeric, red chili powder & salt. Shallow fry them both sides on medium high heat.

Temper oil & add the onion

Sizzle the curry leaves & mustard, throw in the onion paste. Fry until the moisture from the onion begins to dry out.

Add the ginger garlic paste & sauté well

In goes the ginger garlic paste. Sauté until the raw smell disappears.

Throw in the tomato puree

Add the tomato paste, mix and saute for 1-2 mins.

Fry the spices

Add the dry spices and fry until oil begins to ooze out.

Mix in the tomato paste

Add the tomato paste and sauté well until oil begins to leave the sides of the pan.

Briskly mix the coconut milk

There should not be any masala lumps, incorporate the coconut milk very well.

Add water and mix well

Pour water and stir vigorously to mix the masala well. Bring the sauce to a boil. Cover and simmer for 5 mins on medium low.

Add fish to the curry sauce

Next, add back the shallow fried Monkfish fillets to the curry sauce and coat well.

Cover and simmer

Bring the fish curry to a boil, cover and simmer on low until the fish is cooked through. Serve hot.
What does Monkfish taste like?
Monkfish tastes like crab meat. It's meaty, subtly sweet, quiet dense, firm and a flaky fish with a texture also like crab meat.
How long to cook Monkfish Curry?
You need to cook Monkfish Curry until the curry sauce is done and the fish is cooked through. It took me 20 minutes approximately from start to finish.
How do you know when Monkfish is cooked?
The best way to judge whether a Monkfish is well cooked is by looking at the texture of the flesh. The flesh will become springy to the touch, the fish fillet pieces will also shrink a bit.
This is what you can do to check the doneness of Monkfish.
Insert a knife or a fork in the fish fillet and check if the knife comes out hot, that means that the fish is all cooked through.
Is Monkfish saltwater fish?
Yes, Monkfish is saltwater fish. Here's a good read all about Monkfish.
What to serve with Monkfish curry?
You can wash down a Monkfish curry with fluffy white rice, choose any variety that you love.
We also love it with white crusty sour dough bread and in that case I make the curry sauce a little thicker.
Can you freeze Monkfish Curry?
Yes, you can freeze Monkfish curry.
Here's how you can do so:
Cool the curry completely.
Make the curry sauce thicker, add less water. You can always add more water while re-heating the easy Monkfish curry.
Transfer it into freezer safe containers. We always love portion size containers, so easy to grab and re heat.
Freeze the Monkfish curry up to 3 months.
Note: If you use reduced fat coconut milk in the recipe there's always a slight risk that the sauce might separate a bit when you thaw it. But, in that case when you reheat the sauce it might re-amalgamate, if not it will still remain edible and will taste just as good.
Can you reheat Monkfish curry?
Yes, you can reheat Monkfish Curry just like any other curry.
Reheat in a pan, wok or saucepan on the stove top or take the help of your micro wave oven.
Pro Tip: If reheating on the stove top:- Thaw the fish curry overnight in the fridge. Bring it to a boil on medium high heat first, as soon as it begins to bubble reduce the heat to low & simmer until the fish is piping hot all the way through. If you let the fish curry boil hard the fish will become chewy & toughen.
Love Fish? Try Easy Fish Recipes from Foodies Terminal.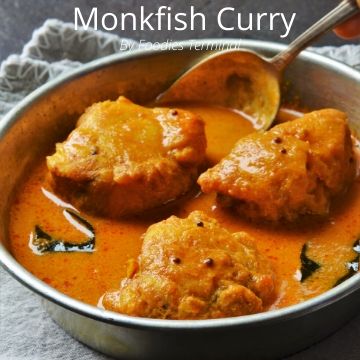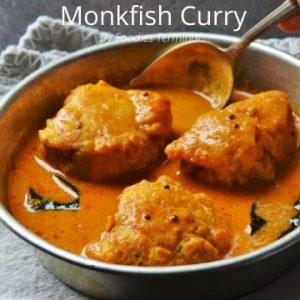 Easy Monkfish Curry Recipe
Print Recipe
Pin
Rate
Easy Monkfish Curry Recipe consists of meaty Monkfish fillets in a light coconut milk based curry sauce. This Indian Style Monkfish Curry is perfect for any weeknight meal. Just grab a bowl of rice or slices of crusty bread.
Ingredients
For Tempering
6

fresh curry leaves

(available in Indian grocery stores)
Want more Recipe Videos?
Check out our Youtube channel!
Instructions
Fry the Monkfish Fillets
Wash the Monkfish fillet very well under running tap water several times. Though Monkfish has no such distinct odor or fishy smell yet if you want you may dip the fish fillet in enough water with 2 tbsp vinegar and salt and leave it that way until you are done with the rest of the prep work.

Pat dry the washed Monfish fillet and cut it into chunky pieces. Go for the size that you prefer. I used 2″ inch nice and large chunks. The fillets shrink a bit while frying. Keep that in mind before dicing the fillets.

Smear the fish fillets with ½ tsp turmeric powder and salt according to taste. Coat them well with the help of your fingers. I gently rub them until well coated.

Set a Non stick pan over medium high heat. Add oil. When the oil becomes moderately hot gently release the flash marinated Monkfish fillets. Fry them both sides until the flesh begins to become opaque and they begin to shrink. It took me 3 mins approximately.

Set aside the shallow fried fish fillets. Use the same pan and the same oil for the rest of the recipe.
How to make the Monk Fish curry?
Lower the heat to medium. Allow the fish fried oil to cool down a bit otherwise the onion paste will burn and become bitter. This is very important.

Add the mustard seeds and the curry leaves in the hot oil. Sizzle them for a few seconds or until the mustard begins to pop.

Gently release the onion paste and sauté it for about 1 min.

Next, add the ginger garlic paste. Mix well with the onion paste and fry them well until the raw aroma completely disappears and you see streaks of oil oozing out.

Now, add the tomato puree. Stir well to mix. At this stage the masala paste in the pan will begin to bubble.

Throw in all the dry spices. Mix well and fry everything very well until oil begins to leave the sides of the pan. You'll get a lovely aroma at this stage.

Add the tomato paste and mix well. Fry everyhting for about 1 min.

Reduce the heat and pour the coconut milk. Mix it vigorously with the rest of the ingredients until a smooth and silky lump free consistency is reached. Move the spatula briskly in clockwise direction to mix the coconut milk. Fry for 2-3 mins until you see streaks of oil appearing.

Next, add 1 cup water. Give everything a very good mix. Cover and simmer the fish curry sauce on medium low heat. 5 mins is all you need. You will see oil floating at the top and the color of the curry sauce slightly changing and becoming darker and more lovely.

It's time to add the shallow fried Monkfish fillets to the curry sauce. Add the fillets, coat them well with the sauce. Cover and simmer until the fish is completely cooked through. It took me another 3 mins approximately.

Adjust the consistency of the fish curry sauce. Add more water if you prefer a thin sauce perfect for rice or reduce the water quantity and keep the suace a little thicker perfect to enjoy some cursty bread. Choice is yours enjoy!
Notes
Measuring units used: 1 cup = 240 ml & 1 teaspoon = 5 ml.
Monkfish Curry Profile: Slightly sweet, hint of curry leaves flavor, extremely smooth, subtle flavors of Indian masalas and mildly spicy, coconutty.
Something about Tomatoes in the recipe: I boiled the tomatoes first and peeled them. Than I made a puree in a blender. The boiled tomatoes puree very well with the help of a fork too. You can also skip this whole step and use raw tomatoe puree instead. In that case, do fry the masala paste a little longer after adding the raw tomato puree. It takes a little longer to become nice and fragrant. 
Why BOIL the tomatoes first: I do this often in few recipes to reduce the tartness of the tomatoes, to add a subtle roasted flavor to the dish and also to discard the tough skin of the tomatoes.
Note: Increase or decrease the amount of spice level according to your taste preference.
Note: Today's Easy Monkfish Curry Recipe is on the thinner side perfect to enjoy with some fluffy white rice. If you prefer thicker curry sauce reduce the water to ½ cup and enjoy the Monkfish Curry with some crusty Sour dough bread.
Over simmering the fish fillet will make them chewy and firm.
Nutrition Facts
Easy Monkfish Curry Recipe
Amount Per Serving
Calories 241
Calories from Fat 99
% Daily Value*
Fat 11.02g17%
Cholesterol 77mg26%
Sodium 405mg18%
Potassium 693mg20%
Carbohydrates 4.57g2%
Protein 30g60%
Vitamin A 250IU5%
Vitamin C 3.3mg4%
Calcium 110mg11%
Iron 2.3mg13%
* Read our privacy policy – Calorie information is provided as a courtesy only and should be leveraged as an estimate rather than a guarantee.Percent Daily Values are based on a 2000 calorie diet.
Nutrition
Calories:
241
kcal
|
Carbohydrates:
4.57
g
|
Protein:
30
g
|
Fat:
11.02
g
|
Cholesterol:
77
mg
|
Sodium:
405
mg
|
Potassium:
693
mg
|
Fiber:
1.1
g
|
Sugar:
1.52
g
|
Vitamin A:
250
IU
|
Vitamin C:
3.3
mg
|
Calcium:
110
mg
|
Iron:
2.3
mg
Pin it for later!