This Fish Tikka Masala Recipe will beat the flavors of any tikka masala sauce from the take-out joints! Juicy pan seared Salmon slow simmered in a creamy home-made tikka masala sauce is what you'll have. It has the best flavors, not overwhelmingly creamy, balanced sweetness & you can cook it all up in less than 30 mins. Go through my step-by-step method & make this one-pot Salmon Tikka Masala for an easy dinner fix.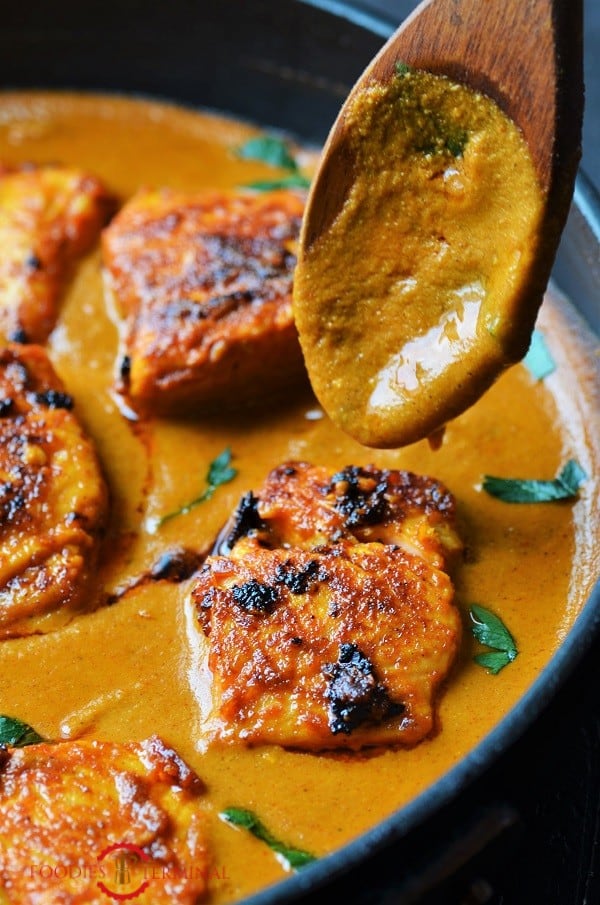 Fish Tikka Masala Recipe (Salmon)
Today's Fish Tikka Masala is undoubtedly the easiest one you will ever make that'll outshine any tikka masala from your local restaurants.
And the list of ingredients will surprise you – yes, the tikka masala sauce that I created for today's recipe is damn easy with sensible ingredients.
Result – Dinner ready under 30 mins! You can quickly steam up some rice while you cook this fish gravy to make it into a complete meal. I did just that.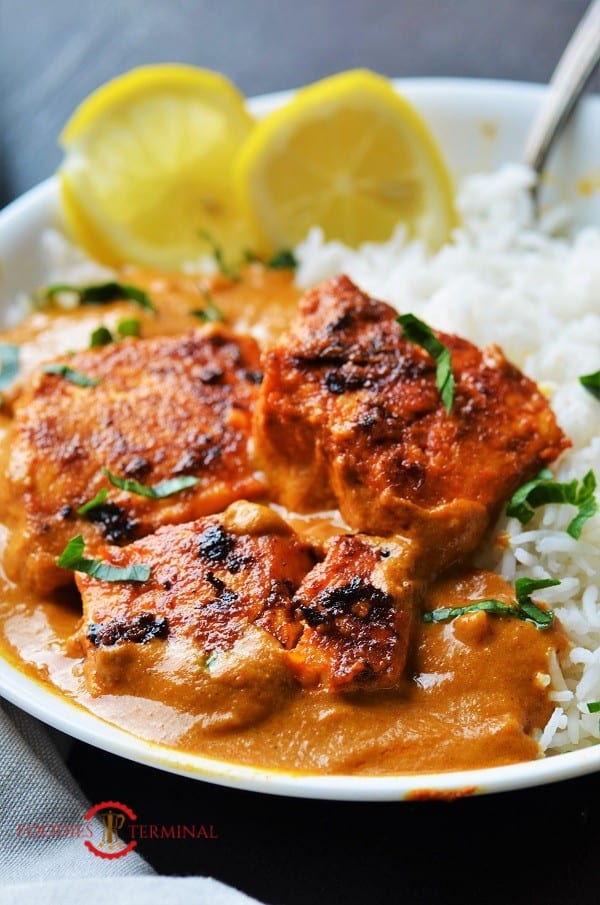 Do you know the two main attributes of today's Salmon Tikka Masala Recipe?
It's the Salmon that remains juicy, soft, flaky full of the oiliness & flavors. The trick ? How we pan-seared the fish. If you do not master this easy technique you'll always end up with rubbery, chewy, stiff dry Fish in your Tikka sauce.
The Tikka masala sauce – It depends a lot how you cook it & what ingredients you put in your sauce. You'll love today's tikka sauce because it won't kill you with overwhelming creaminess, it has the perfect balance of sweetness & it's not spicy where you start sweating bullets! 😀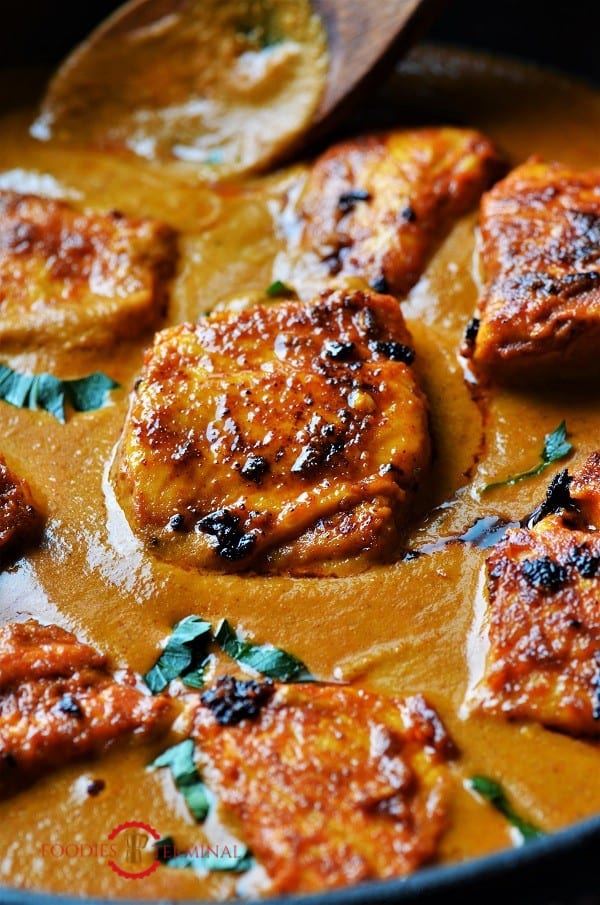 Fish Tikka Masala – FAQs
What is Fish Tikka Masala?
Fish Tikka Masala is a fish curry recipe that's made with pan seared or tandoor baked fish pieces that are than slow simmered in a mildly sweet, creamy, tomato based curry sauce.
You can adjust the level of creaminess & the heat level in the sauce according to your preference.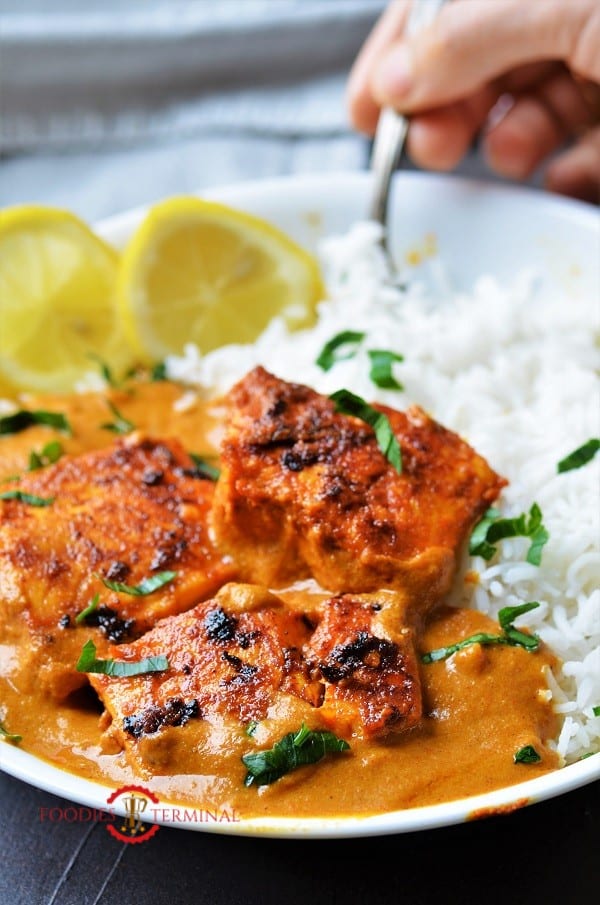 What are the best fishes that you can use for tikka masala?
We always vote for Salmon for it's extraordinary oiliness & smoky, creamy flavor that's just unbeatable. Salmon is undoubtedly the best candidate for tikka masala.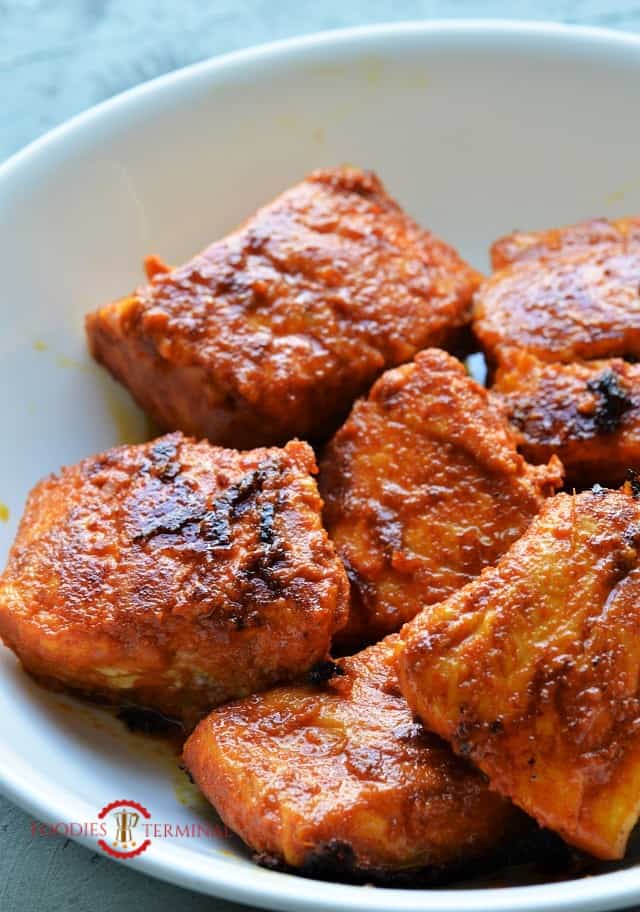 Other fishes that taste good are –
Tilapia.
Swai (Basa)
Bronzini
Rohu
Katla
Always use fish fillets. De-boned & cleaned. Thicker pieces work best because fish is naturally soft & fragile. If you try to cook with thin fillets, the fish tikkas might fall apart & blend in the sauce.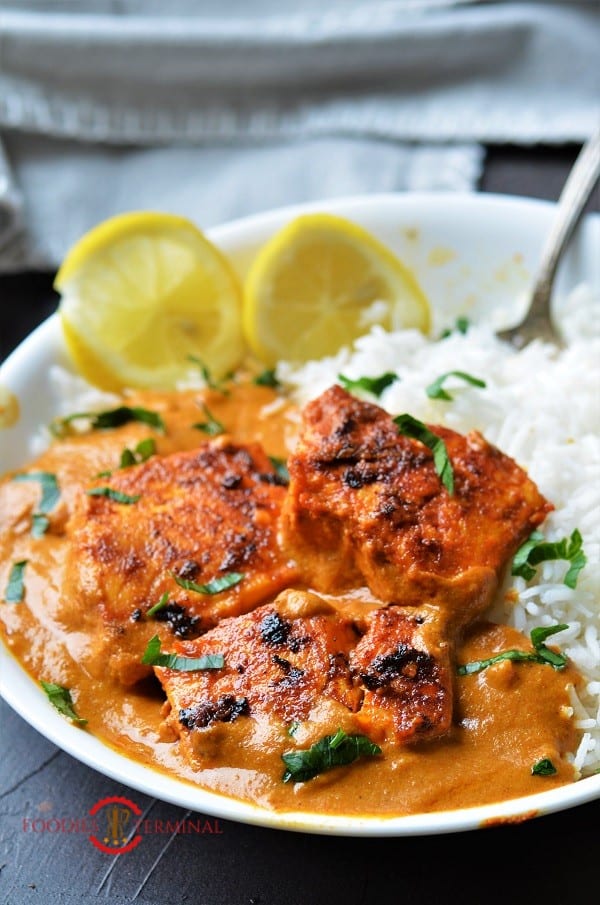 What's so special about today's Salmon Tikka Masala recipe?
It's all about the ease factor. Yes today's Fish Tikka Masala with Salmon is super easy to make. Hence, it's the perfect candidate when you are pressed for time but still want to serve healthy hot dinner to your loved ones.
And the tikka masala sauce is freezable.
To make it extra special & damn delicious do not forget to pan sear the Salmon with a little marinade. Just reminding you of those small steps that'll set your cooking apart in good way 😉 😛
Today's Fish Tikka Masala recipe is special, & we are sure you'll be making it again & again because – it's
Super Easy
Extra creamy without boat loads of cream!
Smooth & silky just like the restaurants one.
Very Quick
Under 30 mins!
One-pot recipe
Healthy
Tikka sauce – Only 6 ingredients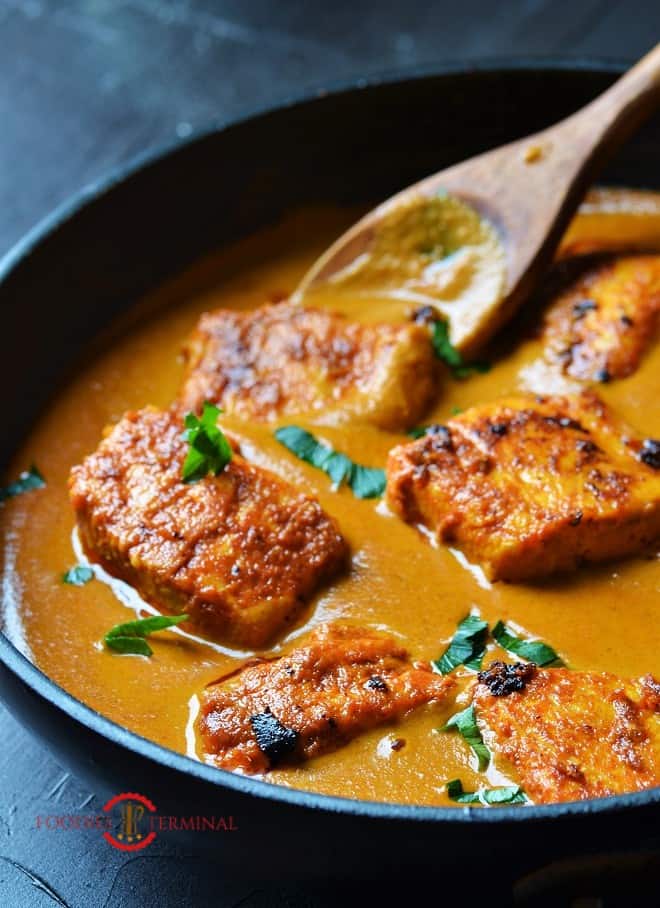 What goes in a Fish Tikka Masala Recipe?
For making the fish tikka or Pan seared fish you'll need the following:
Mains: Salmon, yogurt, ginger garlic paste.
Spices: Paprika powder (Kashmiri red chili powder), tandoori masala, turmeric powder & garam masala.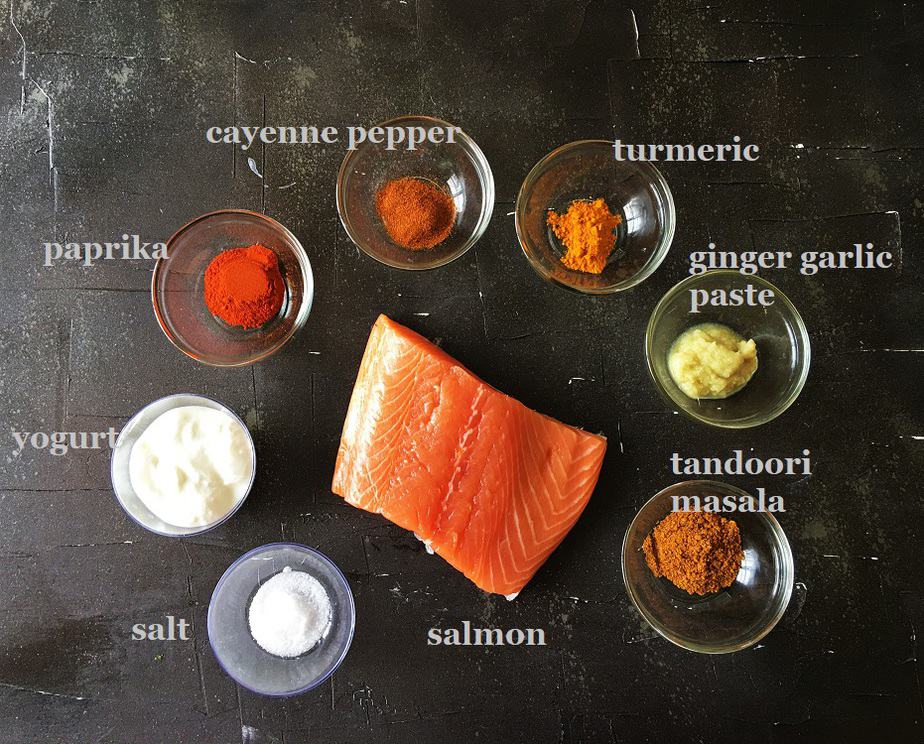 For making the Salmon Tikka Masala Recipe you'll need the following:
Mains: Onion, garlic, tomato puree, Cashews, sugar.
Spices: Paprika, garam masala.
Fats: Butter or Olive oil.
Optional: Sour Cream, turmeric powder.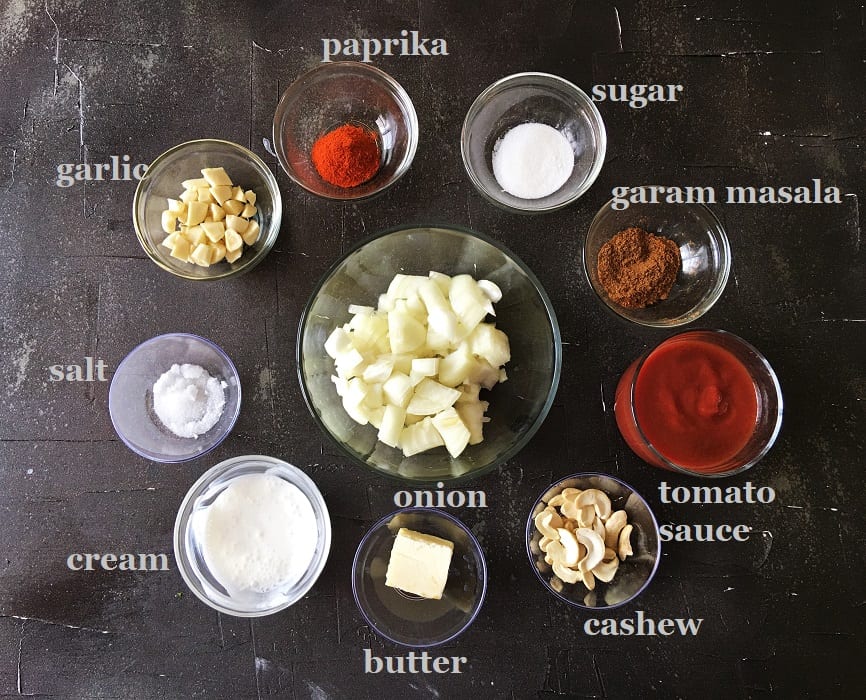 To Blend or not to Blend the Tikka Masala Sauce?
It's all boiling down to the sauce, isn't it? 😀 Well, it has to because a bad sauce will ruin your every single effort, even if you pan sear the Salmon perfectly.
To make the best tikka sauce blending the ingredients is important & straining too! Yes, you have to blend, than strain for that extra smooth, silky, creamy tikka masala sauce.
A tikka sauce that has texture in it doesn't taste good at all!
So, sweat out the onions, add the rest of the ingredients, saute for few mins. Let it cool down & blend (adding little water helps). Strain the blended sauce straight into the skillet & simmer away in low flame.
That's the trick & the only trick to make the best tikka masala sauce ever!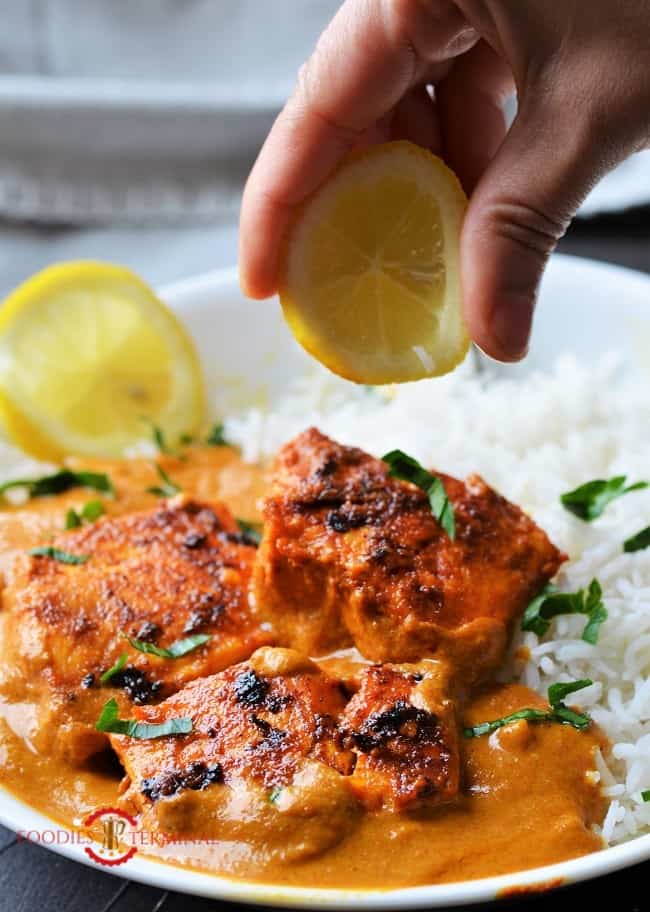 If you do not want to blend there's a slightly laborious & time consuming work around method that you might adopt. Instead of using chopped onions, grate the onions, squeeze out the juice & use it in the gravy.
And in that case using tomato paste or canned tomato sauce (not ketchup) is a must, so is the cashew paste. Also, in this case your tikka sauce will lack body because of adding only the onion juice.
So, if you want to avoid blending the tikka sauce these are the extra little things that you have to do.
We did a side by side comparison of making tikka masala sauce following both methods & we always prefer the blending method , always. It definitely makes the sauce more creamy, adds body & adds much more flavor.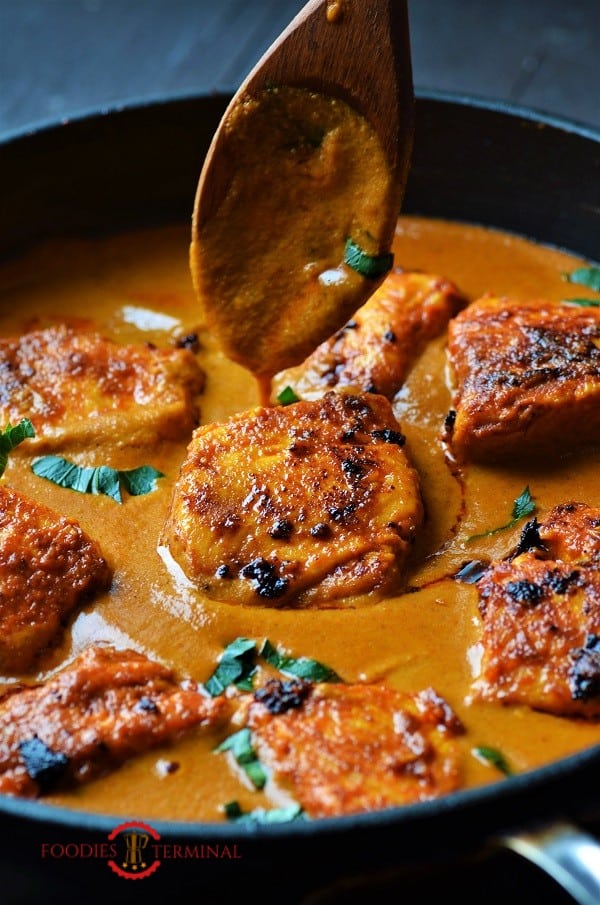 4 Tricks to make the Best Easy Fish Tikka Masala
Pan-Sear the Salmon: It's super important. Do not skip this step. Pan-searing helps to lock the juices & the flavor of the fish making it extremely delicious. And it takes just 5 mins!
Cook the fish right: Pan searing the marinated fish in medium low heat & than high heat is the best tip. This keeps the fish juicy, tender, flaky with a perfect char look. If you rush it all up & cook the fish always on high heat the fish will turn chewy, stiff, dry & it won't soak the juices from the sauce.
Blend & Strain: To achieve the restaurant style smooth, silky & creamy tikka sauce all you need to do is sweat out the raw sauce ingredients in a pan, blend them into a smooth paste, strain it directly in the pan & simmer at low heat.
The Cashew Magic: Oh yes, it's that one secret ingredient to make your tikka masala sauce creamy without adding loads of cream. Cashew paste balances the creaminess & makes the sauce rich & buttery.
Pro Tip: The Cashew will remarkable enhance the creaminess & buttery taste of the tikka sauce without actually adding loads of butter or cream to the sauce. And Blending the Sauce is the key to that silkiness that is a must in any tikka sauce preparation.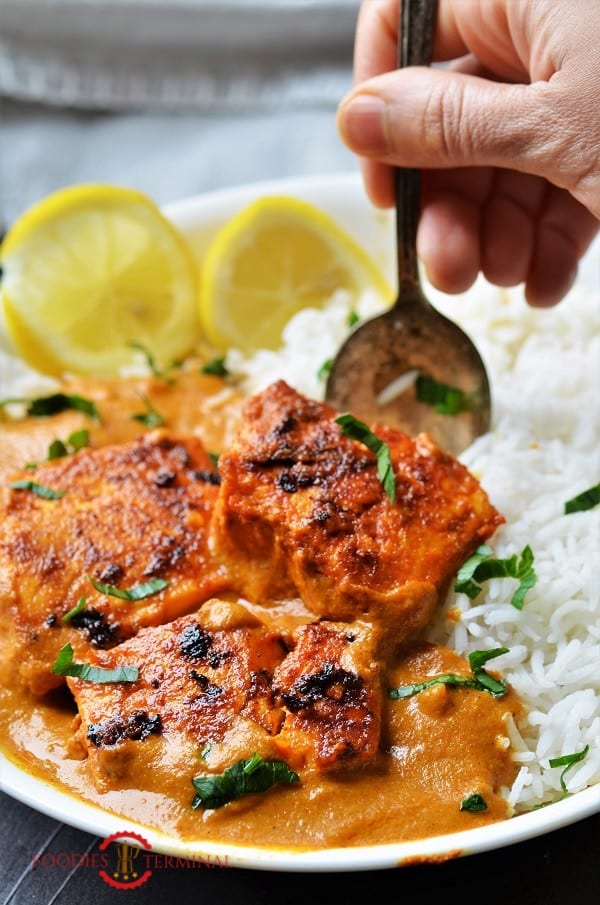 How to store fish tikka masala in the fridge?
Freeze Option: Store it in portion size microwavable air tight containers for 4 days. This way when you are ready to eat you can pop them in microwave oven & reheat. No messing up the cooked fish & breaking it into pieces.
Freezer Option: Store the fish tikka masala in individual portion control freezer safe containers that are microwavable too. It keeps good for 1 month.
When ready to eat thaw in the fridge over night & reheat in the microwave oven.
If you decide to freeze only the tikka masala sauce. You can do that by skipping the cream & swap butter with olive oil. Oil acts as a natural preservative.
While serving you may mix in the beaten cream.
Pro Tip: Fish is soft & fragile. Hence, it's advisable to avoid reheating in skillet because the container to skillet to plate journey might break it. Microwave safe containers are best for storing it in the fridge.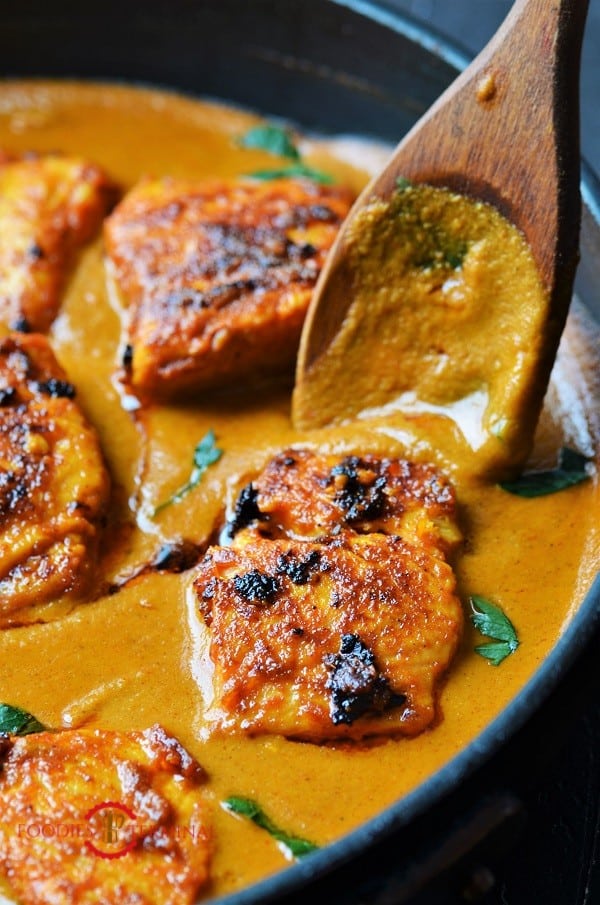 What to serve with Fish Tikka Masala Recipe?
We love eating it with steamed Basmati rice & we are sure you'll love this combo too 😉 If you are not much of a rice eater go for some garlic naans.
Love Seafood? Try these from Foodies Terminal
How to make Fish Tikka Masala -Step by Step
Steps explained in words below the pictures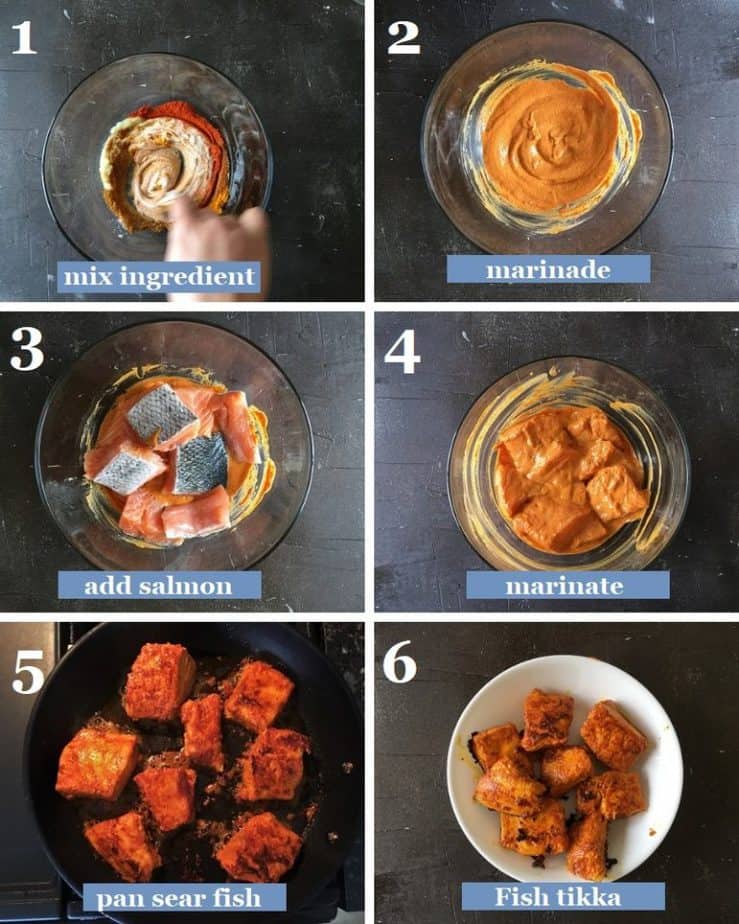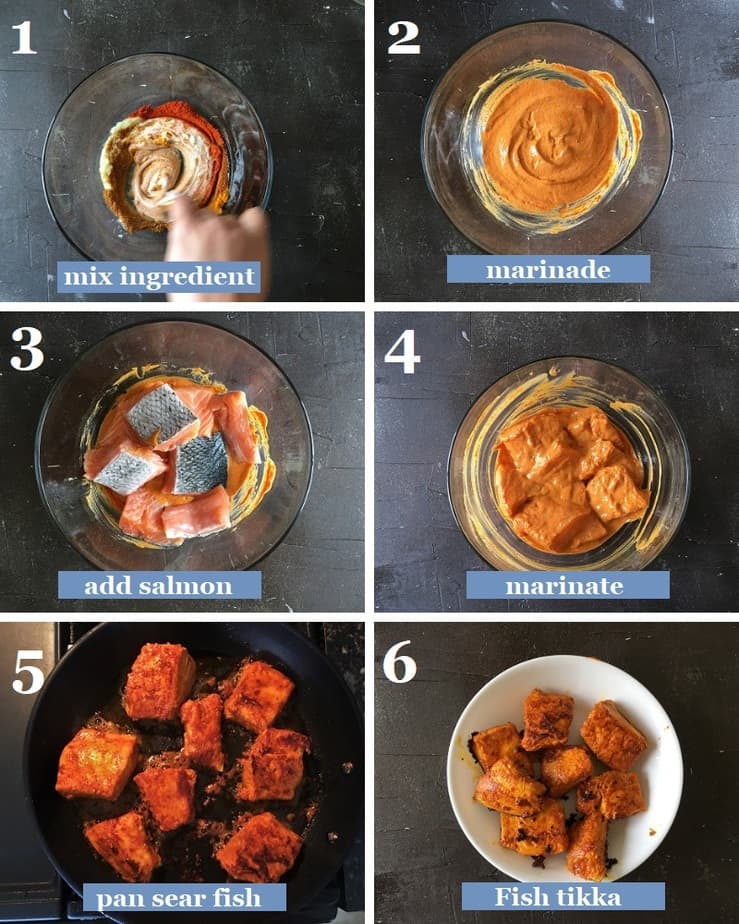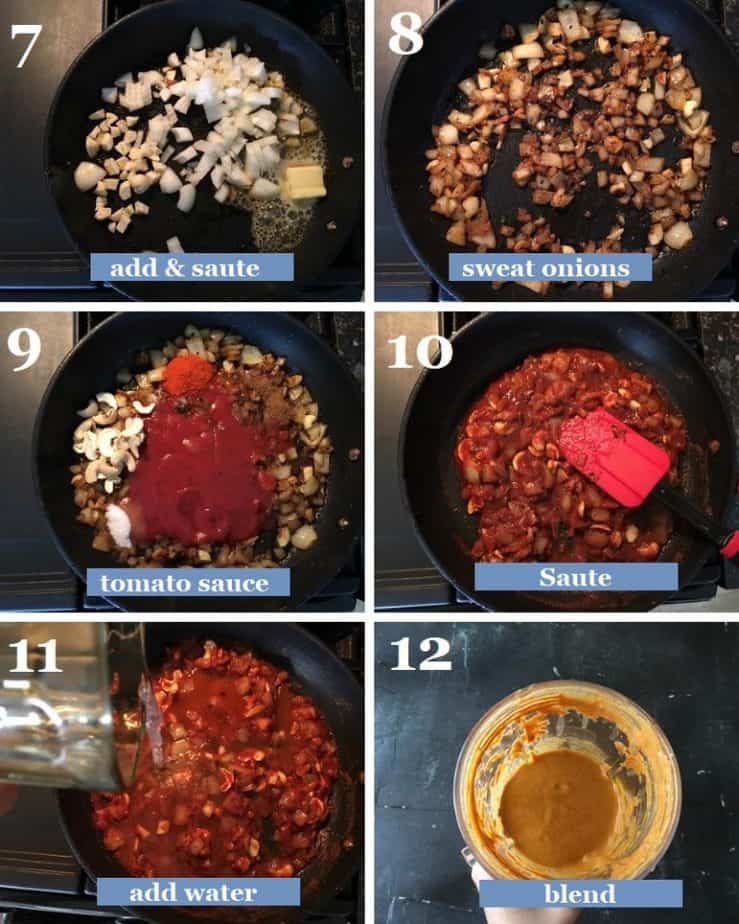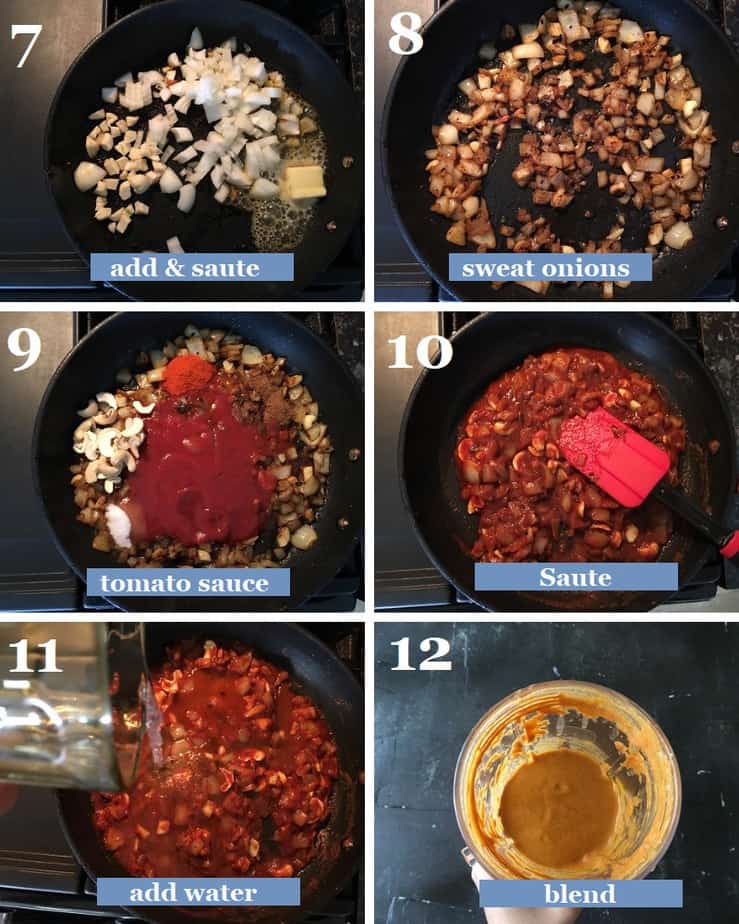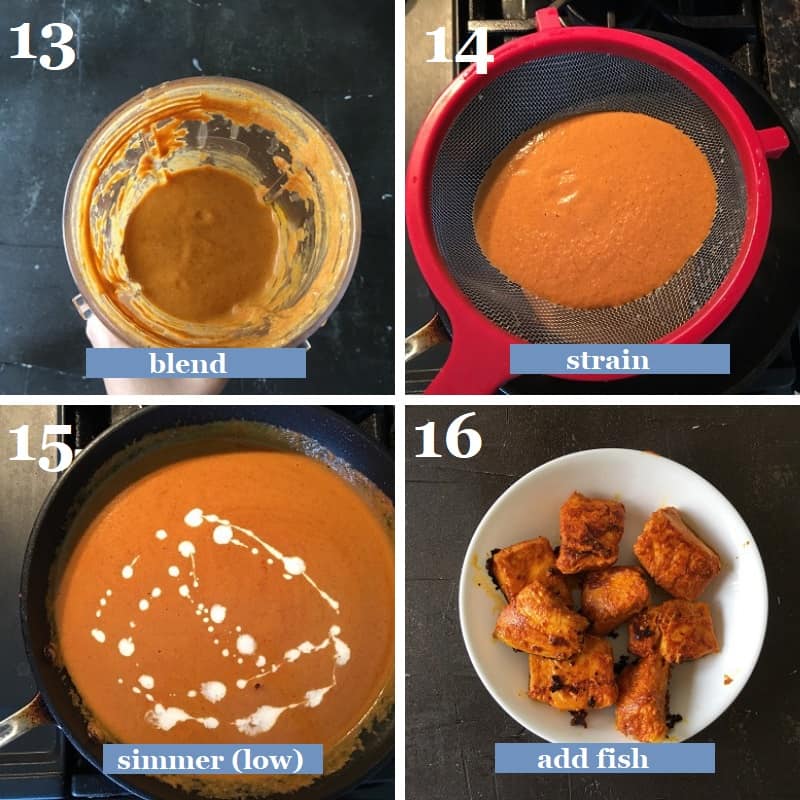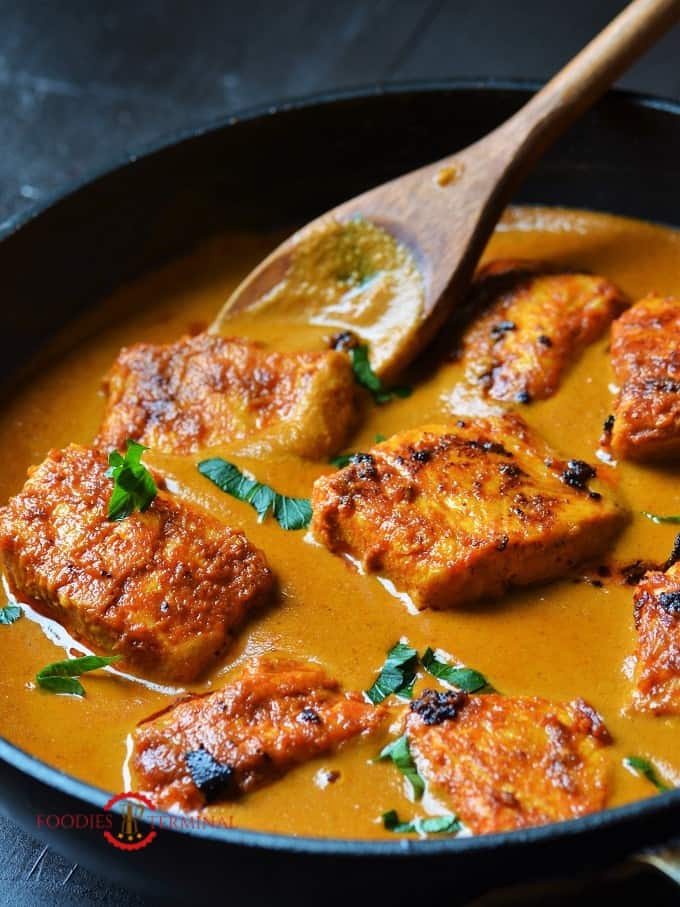 Making the Salmon Tikkas
Begin by whisking all the ingredients for the fish tikkas. Add the fish & flash marinate or you may leave it with the marinade while you chop & prep your tikka sauce.
Do not be tempted to sear the fish quickly over high heat. I know we all have those tempting moments but gather all your will power & just don't do it!
Heat a non stick skillet over medium heat, brush oil & lay the marinated fishes spacing them evenly. Pan sear over medium to medium low heat (super important) for 5 mins flipping sides. Up the temperature to the highest settings & char both sides for 1 min.
Cooking the fish over medium – medium low heat locks the juices & flavors in the fish. And makes it super juicy, tender & flaky. This is just why you should do it.
Making the spice-free, quick & the best Tikka Masala Sauce
I wanted to make the tikka sauce super easy, with fewer ingredients without killing the taste & mimic the best restaurant flavors. And I did just that 🙂 To reach this point it took me a few trials, but I regret none because the final outcome is damn delicious.
We want to make our tikka sauce just as the best restaurants serve it – creamy (not overwhelming though), buttery, silky, smooth & so so tasty.
For this you need to cook or rather sweat out the raw stuffs in butter first, in the same pan you seared the salmon. Yes, do not wash the pan.
Cooking in the same pan, de-glazing those left over fish juices will give the tikka sauce umpteen flavors. And we want our sauce to be the best tasting one, right?
After sweating the raw stuffs, blend them into a smooth puree. Blending is super important & I would never ever skip this step. This will make the sauce creamy & smooth.
After blending the sauce strain it directly in the pan (over low heat, you may add a little butter or just brush it all over the pan). Simmer the sauce covered (remember the sauce is already cooked because we already sweated the raw ingredients before blending), add the fish tikkas & simmer for 2 more mins & serve hot.
Pro Tip: Blending & Straining the Sauce Super Important. Do not Skip them.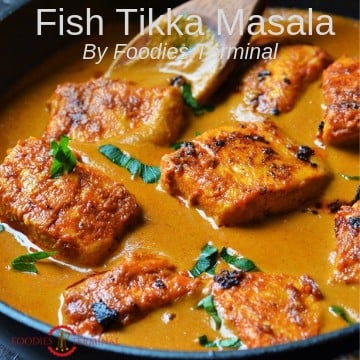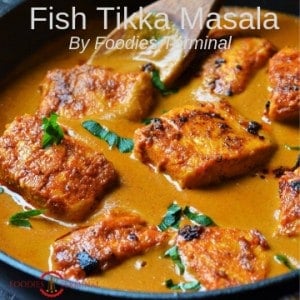 Best Fish Tikka Masala Recipe With Salmon
Fish Tikka Masala Recipe is cooked with juicy Salmon that are made into tikkas or kebabs first by pan searing. Than the fish tikkas are slow simmered in a home-made creamy, delicious tikka masala sauce.
Love this recipe? Click the STARS below to rate it!
Print Recipe
Pin
Rate
Ingredients
For the Salmon Tikkas or Kebabs:
For the Tikka Masala Sauce:
1-1/3

cups

roughly chopped onion

3/4

cup

canned tomato paste or sauce

1/4

cup

cashews

1/2

tbsp

Garam Masala Powder

1/2

tsp

paprika or red chili powder

5

pods

garlic chopped roughly

1/2

tbsp

Sugar

2

tbsp

sour cream

(optional)

2

tbsp

Butter
Love what you see?
Check out our Youtube channel!
Instructions
How to make the fish tikkas or kebabs:
Add all the ingredients from the Ingredients section "For the Salmon tikkas or kebabs" except the canola oil. Whisk well to mix them. The marinade is ready.

Prep the Salmon by rinsing it well under tap water & drying it all up with a paper kitchen towel. Cut the fish into 1.5″ big chunks.

Put it in the marinade & rub the marinade all over the fish pieces to coat them uniformly.

Now, heat up your favorite skillet over medium high heat. Brush the canola oil & arrange the fish tikkas on the skillet.

Pan sear them well by drizzling oil. Flip sides & pan sear very well. It should take you about 5 mins.

After about 5 mins raise the temperature to high & give the fish tikkas a good char. They are all done, keep them aside in a plate. Keep aside the skillet too, you'll deglaze & use it to cook the sauce. Do not wash it.
How to make the tikka masala sauce:
Heat up the skillet (the one you used for pan searing the fish) over medium heat. Add the butter, as it begins to melt add the chopped onion & the garlic. Saute, deglazing the pan while sauteing & sweat out the onions & the garlic. It should take you around 5 mins. For deglazing the onions will acquire a brown color.

Now, add the canned tomato sauce, cashews, paprika, garam masala, sugar & salt. Stir & mix well. It should take you about 1-2 mins.

Add water, mix well. Cover & cook over medium low heat for 2 mins. After 2 mins turn off the flame & allow the mixture to cool down.

Now, blend it into a fine paste. Add a little water if you find the sauce a little too tight.

Now, in the same skillet you may add little more butter oil or none. Strain the sauce directly to the pan keeping the heat to low. Cover & simmer for 3-4 mins.

Add the fish tikkas & simmer covered over low flame for another 2 mins.
Notes
Do not pan sear the fish tikkas over high heat. they will become super chewy, stiff & dry.
Cook the fish tikkas over medium to medium low heat. This will keep the fishes super juicy, tender, flaky.
Brush oil on the skillet & drizzle oil on the fish and the sides while pan searing it. If you add too much oil, the fish tikka marinade might slide off the fish & you won't get that lovely texture.
De-glazing the pan is very important. This step helps to imbibe extraordinary flavors to the tikka sauce.
Blend the ingredients for the tikka sauce always after sweating them out in the pan.
Strain the blended sauce – You will definitely end up with the creamiest, smoothest & silkiest tikka sauce ever! So, do not skip this step at all, ever! 
Simmer the tikka sauce over low heat. 
Add the fish to the sauce only before eating. This will keep the fish tikkas intact.
Fish is soft & hence, very fragile when hot. Handle it carefully while platting & storing.
Nutrition Facts
Best Fish Tikka Masala Recipe With Salmon
Amount Per Serving
Calories 329
Calories from Fat 189
% Daily Value*
Fat 21g32%
Cholesterol 103mg34%
Sodium 884mg38%
Potassium 924mg26%
Carbohydrates 10g3%
Protein 24g48%
Vitamin A 1310IU26%
Vitamin C 10mg12%
Calcium 56mg6%
Iron 2.5mg14%
* Read our privacy policy – Calorie information is provided as a courtesy only and should be leveraged as an estimate rather than a guarantee.Percent Daily Values are based on a 2000 calorie diet.
Nutrition
Calories:
329
kcal
|
Carbohydrates:
10
g
|
Protein:
24
g
|
Fat:
21
g
|
Saturated Fat:
8
g
|
Cholesterol:
103
mg
|
Sodium:
884
mg
|
Potassium:
924
mg
|
Fiber:
2
g
|
Sugar:
4
g
|
Vitamin A:
1310
IU
|
Vitamin C:
10
mg
|
Calcium:
56
mg
|
Iron:
2.5
mg
Pin it for Later!