This Gumbo Roux Recipe is all that you need to make the best Gumbo in the whole wide world. Learn how to make a good roux for gumbo in a traditional way step by step and with a short Video.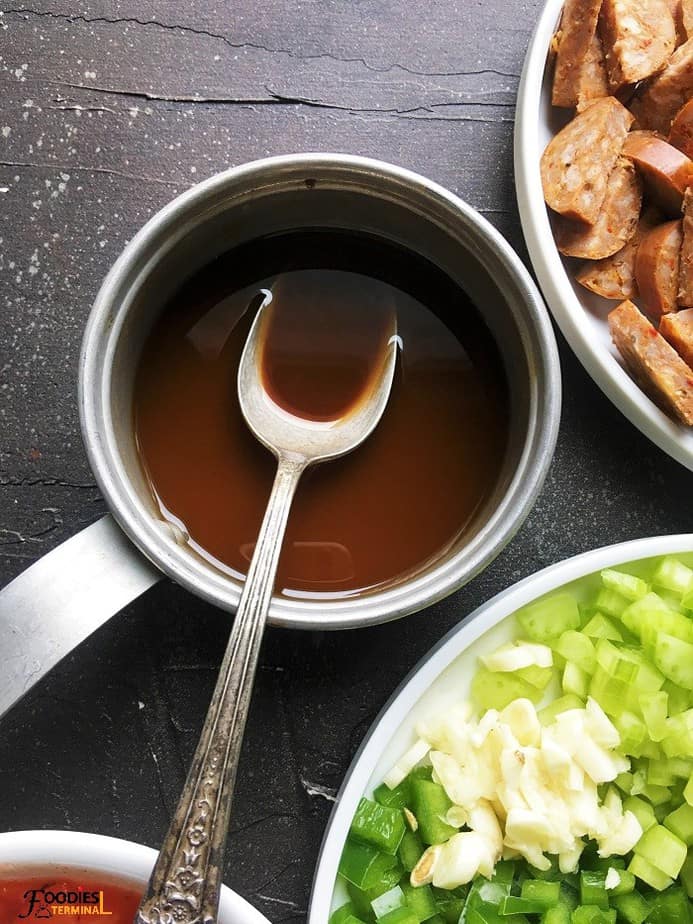 Gumbo Base Recipe
Gumbo Roux also popularly known as Gumbo base is the heart and soul of an authentic Louisiana style Gumbo Recipe.
A dark roux is the building block of Cajun and Creole cooking. It acts both as a seasoning and a thickener.
You can't make an authentic rich tasting Gumbo without a fantastic kick-ass Roux that looks dark brown or chocolate color.
The longer the roux is cooked, the darker the roux will become and will make your Gumbo more flavorful.
And for a good Gumbo Base recipe you need 3 ingredients – white flour, oil and Patience.
The third ingredient is the most important thing for today's dark roux recipe 😀
Since, a good roux starts and ends with a lot of patience.
You try to rush and you either burn the roux or end up with light colored "something" which is certainly anything but GUMBO ROUX 😛
Let's learn How to make homemade Roux for Gumbo with simple steps and helpful tips.
So, grab a spatula or a hand whisk and a heavy bottomed pan preferably a cast iron one, turn on the heat and let's play with white flour and oil until they actually become a Gumbo Roux – rich, dark, intense with so much depth of flavor.
---
What is Gumbo Roux?
A Gumbo Roux (pronounced ROO) also known as Gumbo Base is a dark brown cooked mixture of white flour and oil which is used to thicken Cajun and Creole dishes like a Gumbo.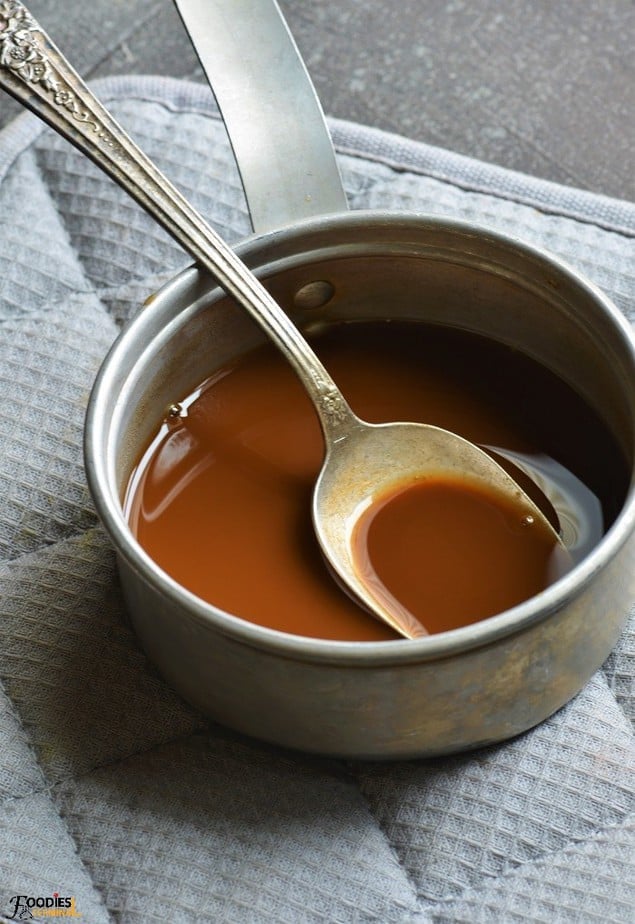 To make a good Gumbo roux, White flour is slowly cooked and browned in oil stirring frequently over low heat until it resembles a darker chocolate color.
A Gumbo roux both acts as a thickener and a base for a Gumbo recipe. It adds both flavor and color to any Gumbo dish.
Roux lends a rich, complex and intense taste to a Gumbo, builds great depth of flavor. which is both heart warming and soul comforting.
---
What is Gumbo Roux made of?
Gumbo Roux is made of White Flour and some kind of fat like oil or animal fat.
We love using peanut oil, vegetable oil, corn oil, canola oil and lard.
We won't recommend using butter which is however works best for blonde roux.
But, for darker Cajun or Creole roux the above mentioned oils works the best because they have a high smoke point which means you can cook it longer and darker.
---
Gumbo Roux Ratio
1:1 Ratio of Flour : Oil works best.
For every 1 part oil you have to add an equal part of flour.
---
What is the best oil for making a roux?
The best oil for making roux are peanut oil, vegetable oil, canola oil, corn oil. Avoid Olive oil by all means.
---
Dark Roux – Foodies Terminal Tips
How to make a roux for gumbo?
We'll be making a traditional old fashioned stove top Gumbo Roux today.
Step #1 Choose a Cast Iron Skillet or pan
A cast iron heavy pan or skillet works best for making a Gumbo base recipe.
It heats up evenly and as a result allows the flour to evenly brown up without burning.
A cast iron pan helps maintain an uniform temperature throughout the cooking process.
Step #2 Add oil mix flour and cook them slowly to make the Gumbo Roux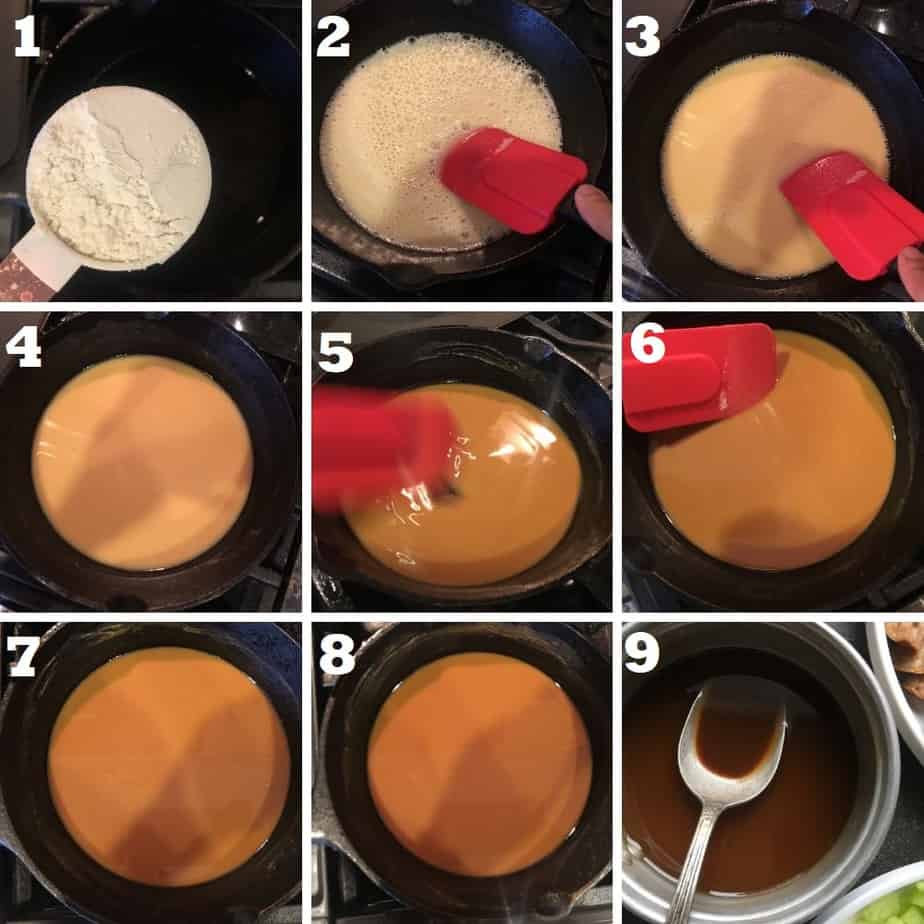 Add oil and when the oil becomes moderately hot add the white flour and stir briskly to mix it with the oil uniformly.
Make sure there should not be any lumps.
Once the flour and the oil forms a smooth, lump free slurry reduce the heat to low and cook the roux stirring frequently until you reach the desired dark brown or chocolate color as show in the picture.
It should take you about 35-60 minutes to reach the dark brown color state depending on the amount you cook.
The roux will transition from white – blonde – peanut butter – brown – dark brown or melted chocolate color.
Never leave the roux unattended. It burns super quick. Continuously stir it to prevent burning and also never be tempted to increase the heat to hasten the process.
Once, the gumbo roux is done after about 35-60 minutes you'll have an absolutely rich, dark brown resembling the color of chocolate roux with a nutty aroma.
Immediately turn off the heat and be ready to cook your Gumbo.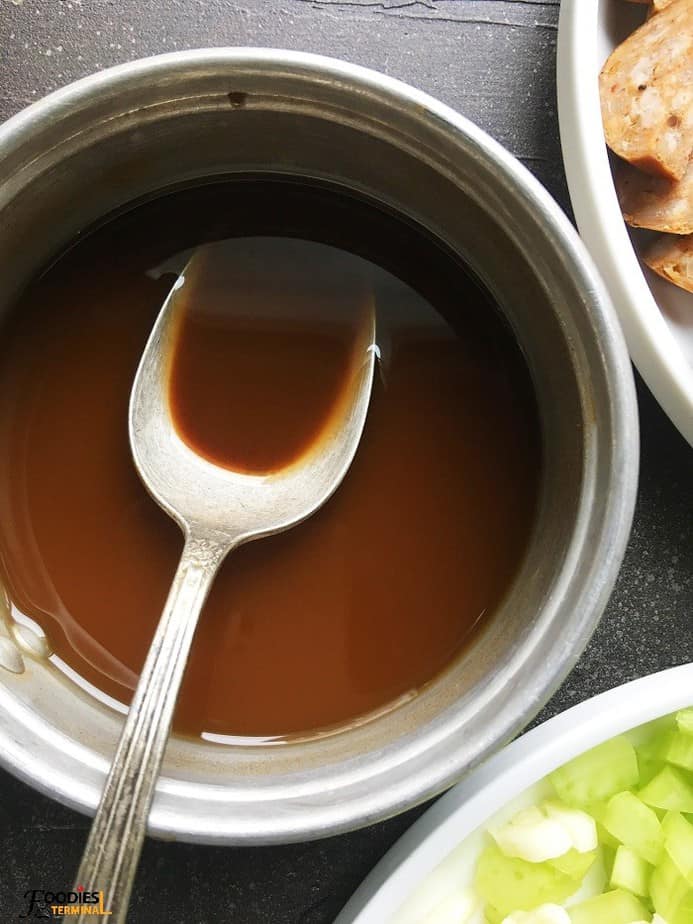 How dark should Gumbo Roux be?
Ideally and traditionally a Gumbo Roux must be dark brown color resembling chocolate.
---
How to make roux with oil?
Roux with oil is made by cooking white flour with oil over low heat stirring continuously until the desired color is achieved.
For instance a Gumbo Roux is much darker than blonde roux and takes much longer to reach that rich dark chocolate color stage.
---
How long does it take to make roux?
A dark brown roux like a Gumbo roux takes anywhere between 35-60 minutes depending on the quantity you make and the temperature you use.
I cooked a small quantity (1/3 cup flour : 1/3 cup oil) and it took me approximately 35 minutes.
---
What temperature to cook a roux?
Low temperature works great for making a dark roux like today's Gumbo base recipe.
It helps brown the flour evenly maintaining a consistent temperature throughout and prevents it from burning.
However, few people also prefer a medium low heat setting.
---
What does gumbo roux look like?
Gumbo roux looks dark brown resembling chocolate color. It's thick yet flowy consistency.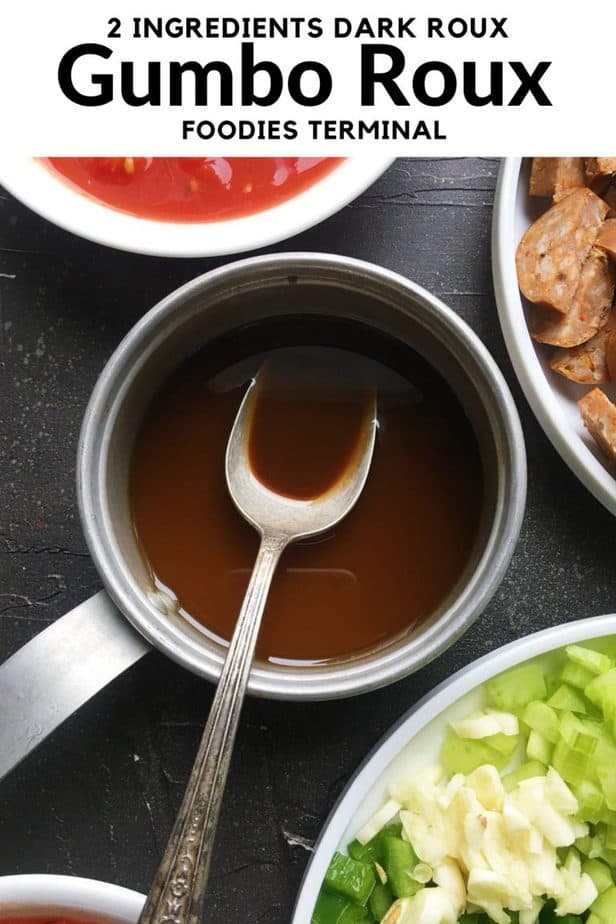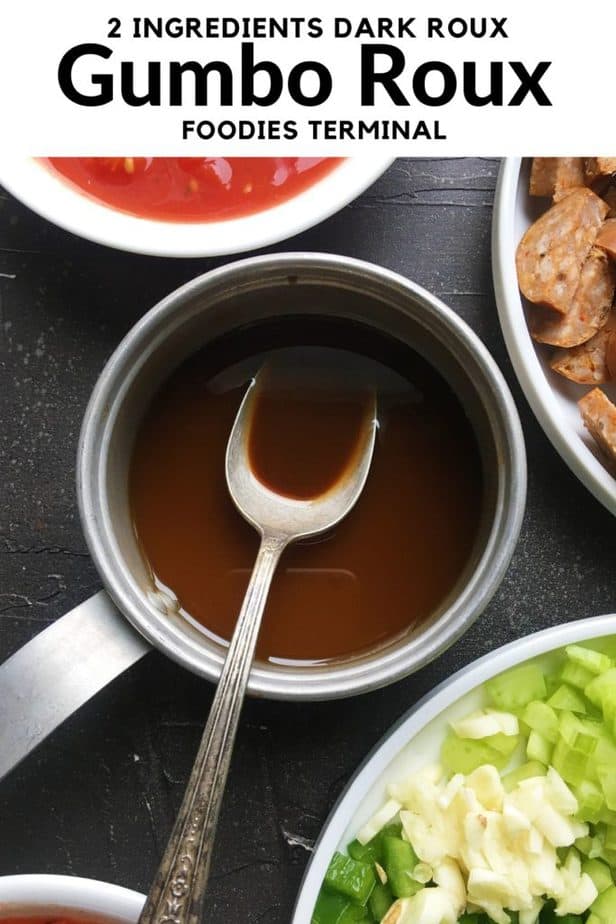 How thick should gumbo roux be?
It should be thick enough
---
How to store gumbo roux?
Once the hot roux has completely cooled down store it in an airtight glass container for upto 3 months in the fridge.
Oil based roux lasts indefinite amount of time and you can even store them on the counter top for upto 2 weeks in a closed container.
---
What is the purpose of roux in gumbo?
The purpose of roux in Gumbo is that of a thickener, flavor builder and color enhancer. A Gumbo Roux acts as the base and building block of Gumbo recipe.
---
Can roux be made ahead of time?
Yes, roux can be made ahead of time and stored in the fridge for upto one month.
---
Can you freeze roux for gumbo?
Yes, you can freeze roux for Gumbo for upto 6 months on ice cube trays.
Once, frozen you can pop the ice cube roux and transfer them into a freezer safe bag. Leave some space in the bag and do not over stuff as roux expands when frozen.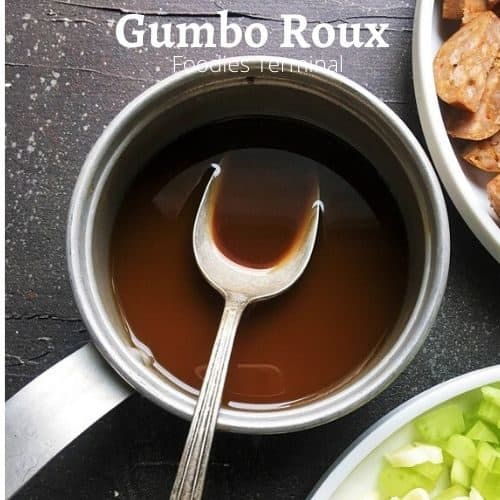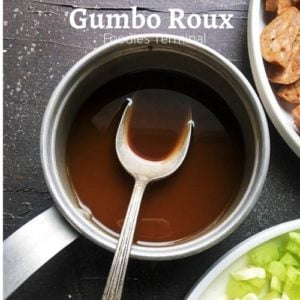 Gumbo Roux Recipe
Print Recipe
Pin
Rate
Learn to make the BEST Gumbo Roux Recipe with elaborate tips, step by step method and a short video. A dark brown Gumbo Roux or a Gumbo Base is the building block of any Gumbo recipe and lends the dish an incredible depth of flavor & builds a rich color.
Want more Recipe Videos?
Check out our Youtube channel!
Instructions
Choose a heavy bottomed iron skillet/pan/pot for best results. Set the skillet over medium heat. When moderately hot add oil and the add the white flour. Stir with a help of a spatula until the flour is well blended into the oil. Immediately reduce the heat to the lowest setting or if you are a pro cook you may even keep it at medium low.

Stir frequently until the flour changes it's color and becomes dark brown or looks like a melted chocolate. It should take you approximately 35 minutes for this quantity of roux. You'll notice that the flour will gradually change its color from white – blonde – peanut butter – brown and than dark brown.

Turn off the heat immediately and proceed with the Gumbo recipe. Or else if you decide to store your Gumbo Roux for later use allow it to cool down completely than store it in the fridge for 3 months or freeze it in ice cube tray and freeze them for 6 months.
Notes
Measuring Units used, 1 cup = 240 ml & teaspoon = 5 ml.
IMPORTANT NOTE: If you see streaks of black appearing in the flour oil mixture that means that the roux is burnt/ruined. You have to start all over again. It's very important that you do not increase the heat and continue to stir the roux frequently until it changes it's color and becomes dark brown. This will prevent the flour from burning and you'll end up with a perfect Gumbo Roux.
The Roux will separate once cold. That means the flour will settle at the bottom of the container and the fat will float on the surface. You need to stir it to get back the original Gumbo Roux consistency.
STORING TIPS: Lasts for 3 months in the fridge and 6 months in the freezer.
Never leave the roux unattended on the stove top. The flour burns very quickly and with a blink of an eye.
Stir the roux frequently and briskly for an even browning of the flour.
Do not be tempted to increase the temperature and hasten the process because it will result in an un even browning of the flour specially if you are a beginner cook.
Low temperatures gives the most consistent and effective result so I would recommend that you stick to low temoeratures for best result.
The roux making time depends on the amount of roux being made and the temperature it's cooked.
A Gumbo Roux is always dark brown in color which resembles a chocolate color. This dark brown roux will make you the best Gumbo ever.
Calorific details are provided by a third party application and are to be used as indicative figures only.
Nutrition Facts
Gumbo Roux Recipe
Amount Per Serving
Calories 812
Calories from Fat 675
% Daily Value*
Fat 75g115%
Sodium 1mg0%
Potassium 45mg1%
Carbohydrates 32g11%
Protein 4g8%
Iron 2mg11%
* Read our privacy policy – Calorie information is provided as a courtesy only and should be leveraged as an estimate rather than a guarantee.Percent Daily Values are based on a 2000 calorie diet.
Nutrition
Calories:
812
kcal
|
Carbohydrates:
32
g
|
Protein:
4
g
|
Fat:
75
g
|
Saturated Fat:
6
g
|
Sodium:
1
mg
|
Potassium:
45
mg
|
Fiber:
1
g
|
Sugar:
1
g
|
Iron:
2
mg