This Mango Kesari or Mango Sheera will melt in your mouth with bursting flavors of mango & ghee, so delectable & very addictive! It's the best Mango Kesari that you'll ever make in an Instant Pot. Watch the Video below & don't miss the stove top method.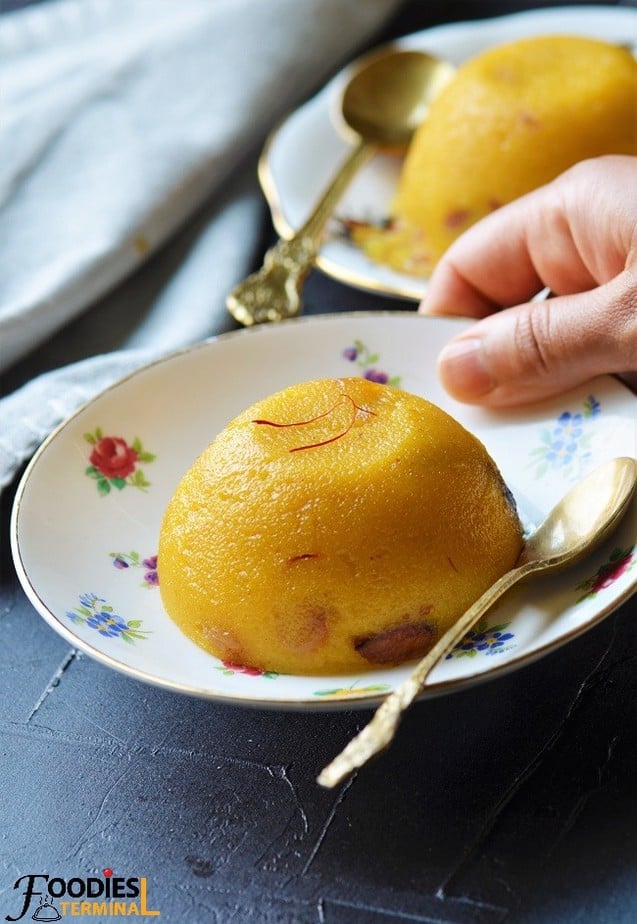 Mango Kesari Recipe Video
Mango Sheera or Mango Kesari
This is how I make Mango Kesari in a jiffy in my Instant Pot.
Tons of flavors packed with fine grains of semolina drenched in homemade pure ghee & doused in Alphanso Mango pulp from the tin.
What a party of flavors!
I can graze on this Mango sheera days in & days out 😀
The chopped almonds, the plumped up golden raisins & the exotic saffron soaked in water makes this delicious dessert an instant hit.
The saffron is certainly the elixir that takes this Kesari recipe a notch up. It adds color & the Kesari or saffron flavor. So, irresistibly good!
Mango Sheera made with Semolina makes an incredible economical dessert that you can make & relish anytime.
It also makes a filling lunch box recipe for kids & adults alike.
When paired with hot pooris it makes an ultimate Indian breakfast that no one can stop eating.
If you are just like us "Kesari fanatics" than do not miss this recipe ever.
You can ditch the fresh mangoes & rely completely on the store bought mango pulp that comes in tins to make an epic Mango Kesari.
You can make it with milk or water, choice is yours.
You can also sub 50% ghee with canola oil but pure ghee is highly recommended for best flavors.
I don't measure ghee when I make any sheera or Kesari recipe 😛
But, just for the purpose of filing up the recipe card below & sharing it with you guys I had to measure it this time.
My point of telling you the above fact is that you may add as much ghee as you want to 😉 Not much rules here, add ghee liberally 😀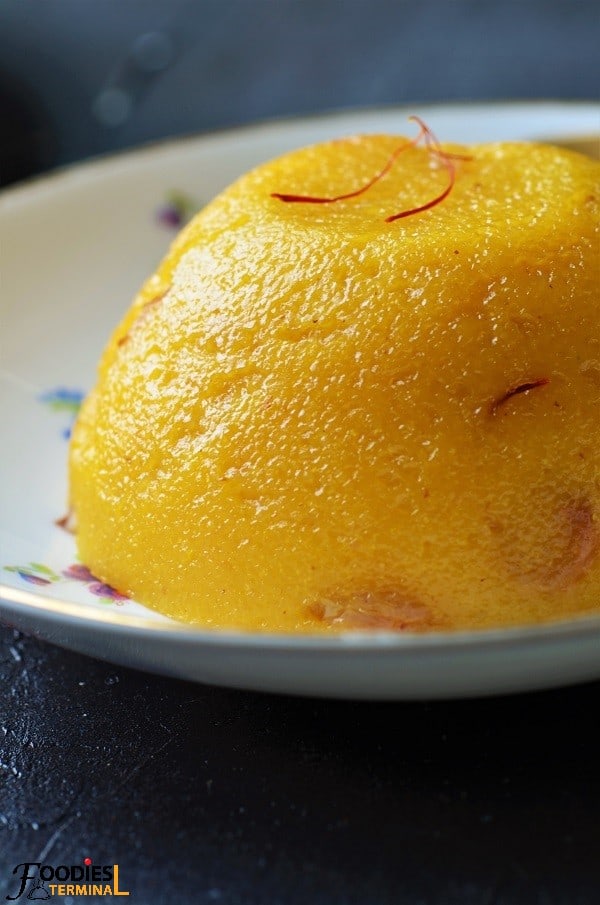 What is Mango Kesari or Mango Sheera?
Mango Kesari or Mango Sheera is a delicious Indian dessert recipe made with Semolina. Mango Kesari is made by roasting Semolina in ghee, cooking it with water or milk, than sweetening it up with mango pulp & sugar and adding textures & flavors with nuts, raisins & saffron strands.
It's best enjoyed after meals as a dessert but few families also enjoy it as their lunch box recipe paired with pooris (deep fried Indian bread) or as their special Sunday breakfast.
After all Sundays are meant to indulge 😀
Mango Kesari Ingredients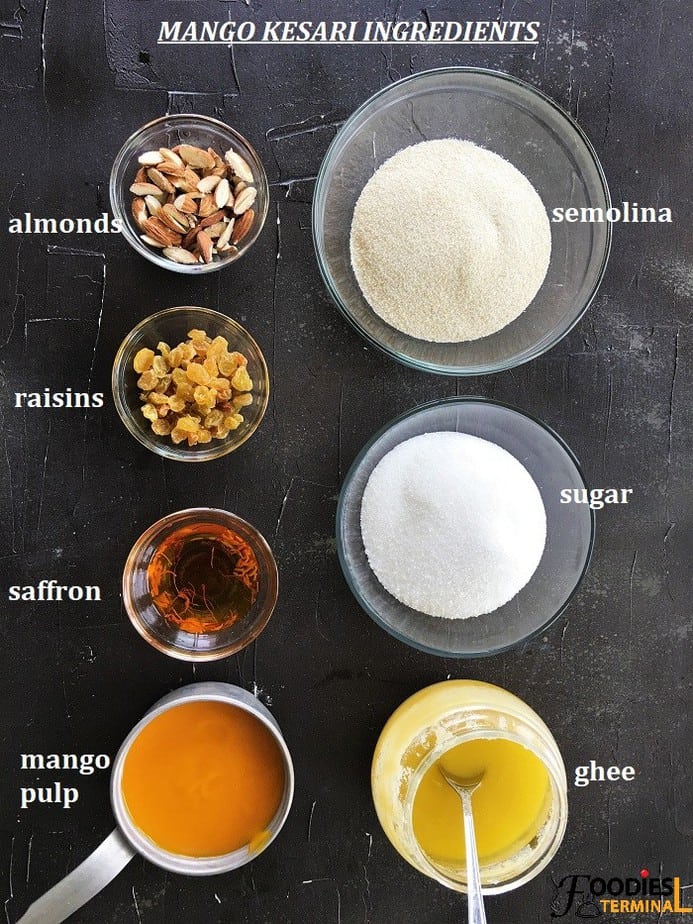 Mango Pulp: You can make mango pulp at home by pureeing fresh mango flesh or pulp. In that case always choose the mango varities that are not fibrous, like Alphonso, Kesari, Dusseheri etc. Mango season over? No worries buy the best Mango pulp that are available in tins. I used Alphonso pulp.
Sugar: Use white sugar or cane sugar. Using cane sugar will slightly alter the color of the Mango Kesari & make it dark.
Liquid: You may use either water or milk. Using milk will make the Mango Sheera more rich & creamy. For today's recipe I used water.
Saffron: Soak saffron strands in warm water & use the whole thing. Saffron gives a wonderful fragrance to the dish & a gorgeous saffron color which is iconic of Kesari recipes.
Nuts: Chopped almonds tastes best.
Raisins: Use golden rains & not the black ones.
Ghee: It's highly recommended. But, if you prefer you may sub 50% of the ghee with any white oil or may be cook it completely in white oil & just add 1-2 teaspoons of ghee at the end for flavor & aroma.
Pro tip: How to Puree fresh Mangoes? Choose a non fibrous variety, peel & scoop out the flesh & add it to a blender. Blend well to puree consistency.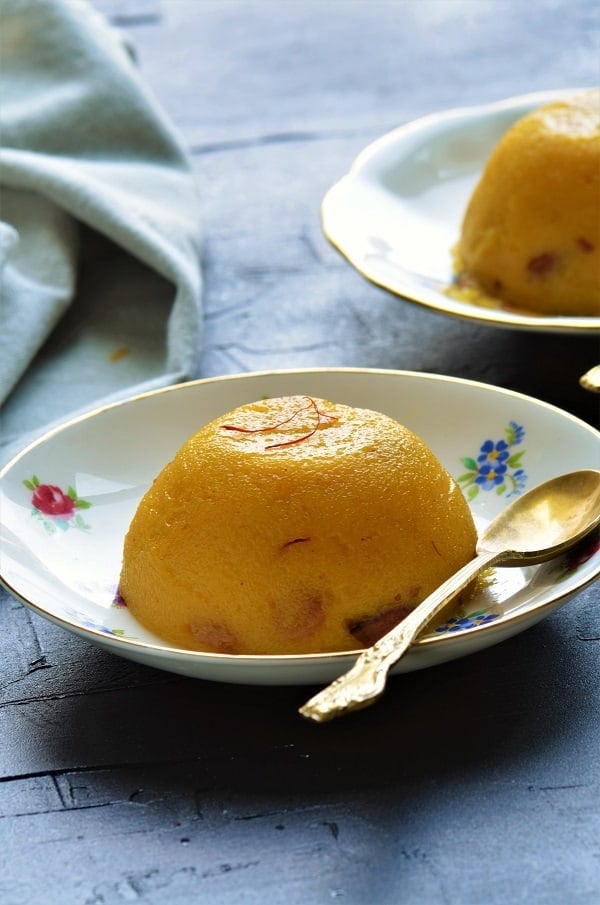 3 Tips to make the Best Mango Kesari in Instant Pot
Roast the semolina or sooji very well – You may dry roast it before beginning with the recipe. Or you may roast it in ghee as the recipe suggests. I always stock on a container full of semolina or sooji that's dry roasted. So, for today's recipe I didn't roast the semolina for a long time in ghee. But, if the sooji is not previously dry roasted than do roast it in ghee very well until the semolina begins to change color & becomes fragrant.
For best flavors cook in ghee – It adds tons of flavor & it's a must for this recipe. Ghee sure does makes the dish rich but if you use ghee you may skip milk as the cooking liquid to make it less rich. Cook with water instead.
Fry the raisins in ghee first – Plump up those raisins by frying them in hot ghee. They add lots of body & taste to the Mango Sheera recipe.
Pro Tip: To save on the roasting time you can dry roast semolina after buying it from the store & than store it in an air tight container. This increases the shelf life of the sooji & prevents it from insect attack.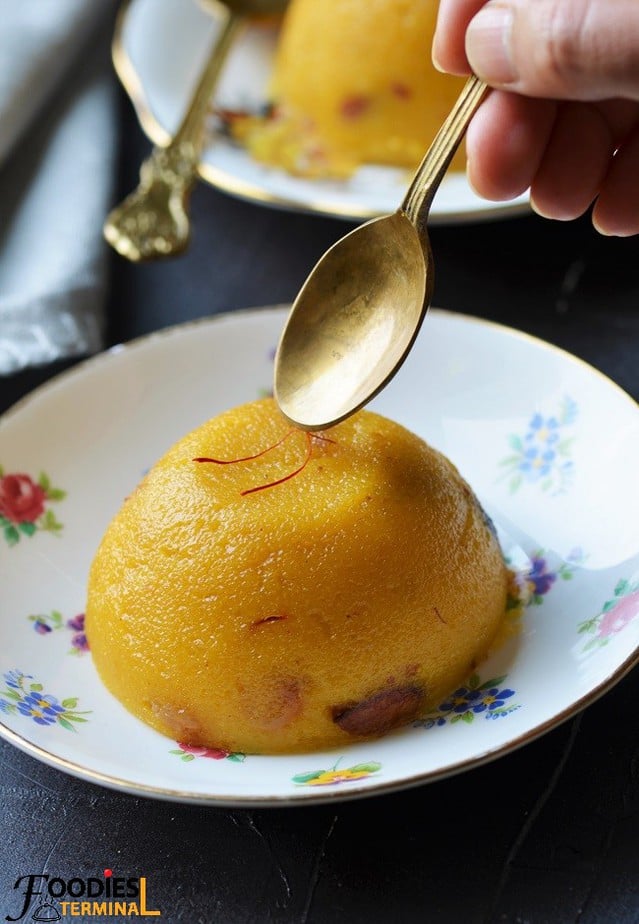 How long does Mango Kesari last in the fridge?
You may store Mango Kesari for 2 weeks in the fridge. Store it in air tight container for best flavors.
Can you freeze Mango Kesari?
Yes, you can!
Fill up portion size freezer safe bags with Mango sheera & freeze them for 2 months.
Thaw, re-heat & enjoy.
Re-heating tips
Stored in fridge? Do this– The Mango Kesari will solidify & will clump up at cold temperatures. Don't worry if this happens because it doesn't mean that there's something wrong with the recipe. It's cooked with ghee & hence it solidifies. When you are ready to serve reheat in microwave oven or on the stove top & serve immediately. The fats will soften up & you'll have soft, luscious Mango Kesari one more time.
Wondering how to reheat frozen Mango sheera? Do this- Thaw the freezer packets on the countertop or over night in the fridge. Than, reheat following the above technique.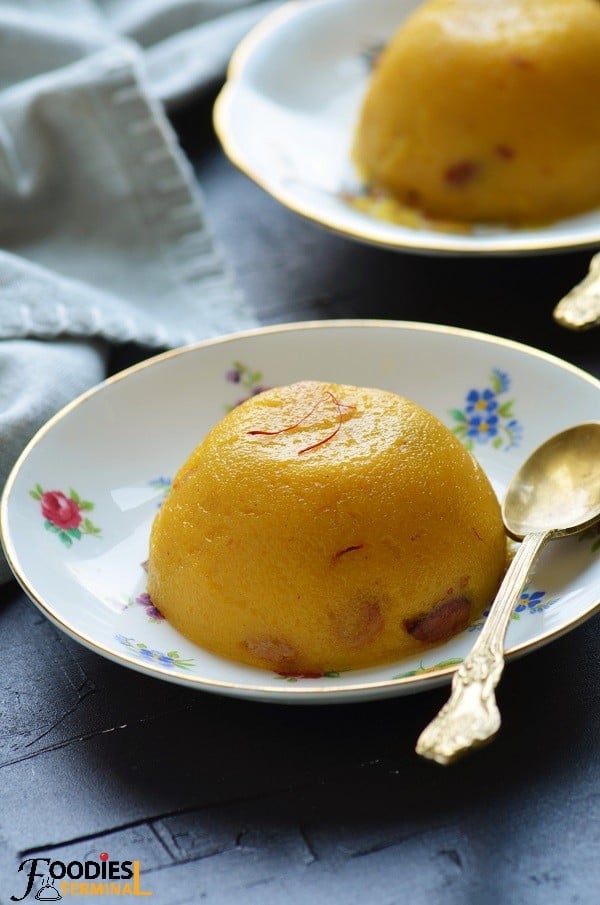 Serving Ideas
You can best enjoy Mango Kesari or Mango Sheera as a dessert after meals directly from a bowl.
Or you can also enjoy it as a side with some hot Pooris or Chapathis.
We love the Poori combo 🙂
How to make Mango Kesari in Instant Pot?
Steps in words below pictures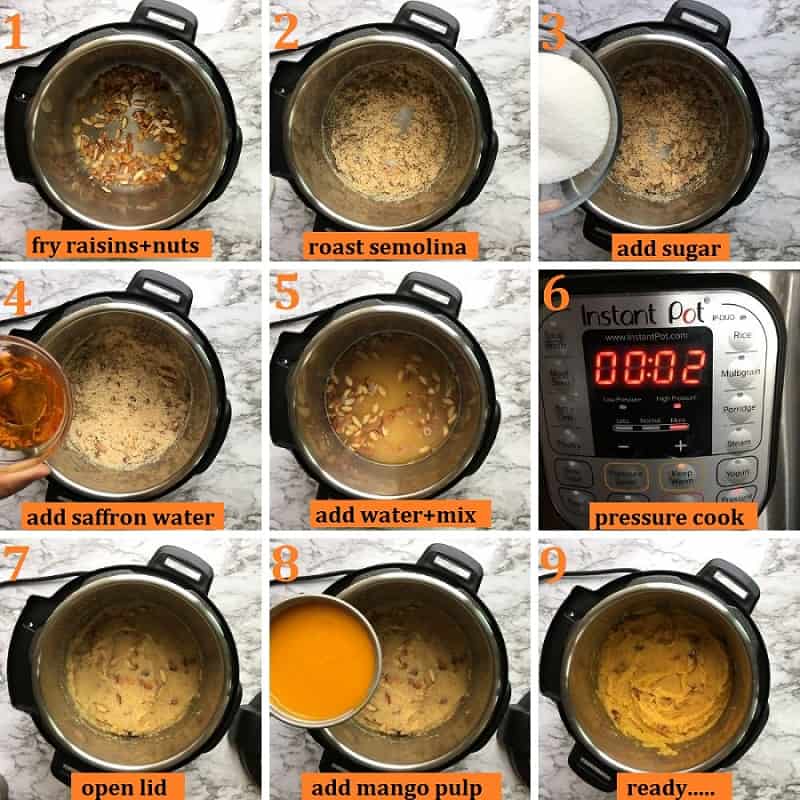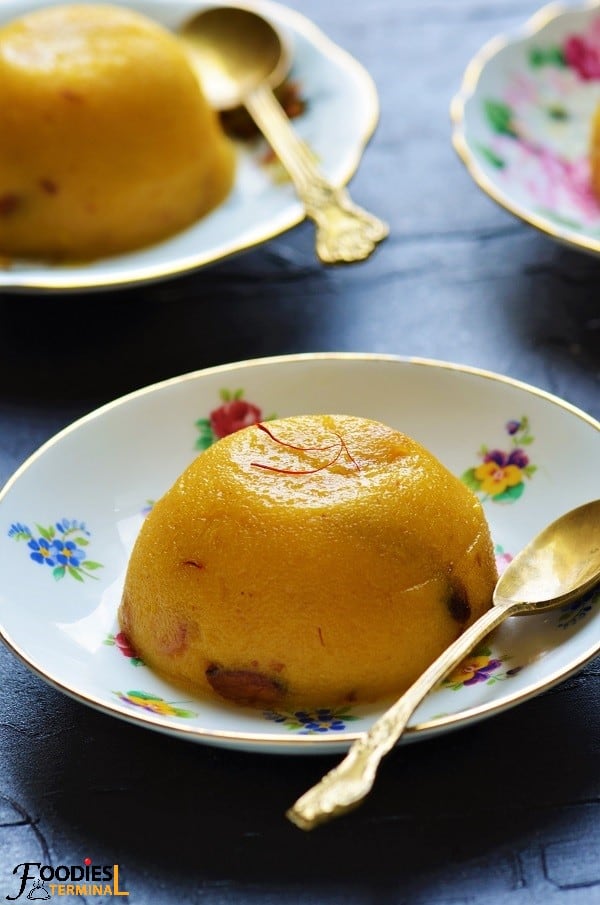 How to make Mango Kesari in Instant Pot?
Roast raisins + nuts

Set the IP to SAUTE keep on NORMAL. Add ghee & fry the nuts & raisins until plump & nicely roasted.

Nicely Roast the Semolina or sooji

Add the semolina & roast it very well until fragrant & the color slightly changes into golden. You'll get a lovely aroma of roasted sooji when it's done.

Mix well the sugar

Throw in the sugar & mix well.

Add the saffron soaked water

Mix in the saffron soaked water.

Pour warm water

Mix in warm water & stir briskly so that there are absolutely no lumps. The sooji must beautifully incorporate with the water & become lump free. Cancel the SAUTE mode.

Pressure cook

Close the lid & pressure cook on HIGH for just 2 mins! Do a quick pressure release once the time is up.

Mix in the mango pulp

Open the lid & add the mango pulp. Mix briskly so that the mango pulp is uniformly distributed in the Mango Kesari. If you want you can drizzle more ghee. Cover the pot & let it sit for 5 mins. Serve hot or at room temperature. Enjoy!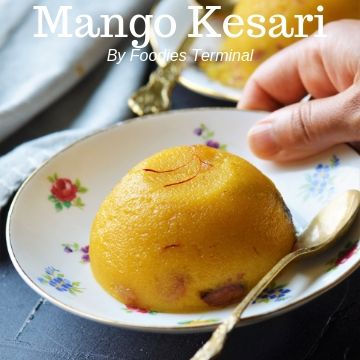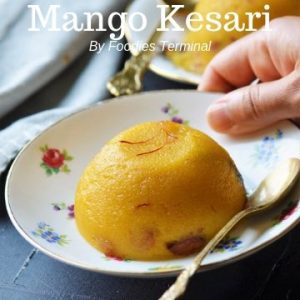 Mango Kesari
Print Recipe
Pin
Rate
Mango Kesari or Mango Sheera is a fantastic economical Indian dessert recipe that you can prepare without much effort in an Instant pot, a regular pressure cooker or on the stove top. This Indian style semolina pudding is a great way to enjoy an easy dessert.
Ingredients
1

cup

semolina

(also known as rava or sooji)

1

cup

white sugar

(or cane sugar)

1

cup

mango pulp

(store bought or homemade)

2

tbsp

chopped almonds

2

tbsp

Golden Raisins

3.5-4

cups

Water

(Warm or hot preferred)

1

cup

Ghee

(melted)
Want more Recipe Videos?
Check out our Youtube channel!
Instructions
How to make Mango Kesari in Instant Pot?
Set the Instant Pot on SAUTE & keep it on NORMAL.

Add about 3/4 cup ghee to the pot. When the ghee becomes moderately hot throw in the chopped almonds & the raisins & fry until the raisins plump up & the almonds are nicely roasted.

Next, add the sooji, rava or semolina & roast very well until it becomes fragrant and the color changes & become lightly golden. This step is very important so do not rush things. The whole taste lies in how well you roast the semolina.

Add the sugar & give everything a very good mix.

Now, add warm or hot water to the pot & stir vigorously until the semolina uniformly distributes in the water. There should not be any lumps at all.

Next, add the saffron soaked water & mix well. CANCEL the SAUTE mode.

Close the lid of the pot & press the PRESSURE COOK button & set ot on HIGH for 2 mins. SEAL the valve.

After 2 mins do a quick pressure release. Open the lid & mix in the mango pulp very well until the pulp is well distributed in the mango sheera. Add more ghee & mix.

Cover the pot & let it sit for 5 mins or simmer on SAUTE set at NORMAL for 1-2 mins stirring briskly. Serve hot. Enjoy!
How to make Mango Kesari on Stove top?
Heat a kadai or deep bottomed skillet over medium heat. Pour ghee.

When the ghee becomes moderately hot throw in the chopped nuts & the raisins & fry well until the rains become plump & the nuts are nice roasted.

Add the rava, sooji or semolina and roast very well over medium heat until the color becomes slightly golden & you get a lovely roasted aroma.

It's time to add the warm or hot water & give everything a very good mix so that there are aboslutely no semolina lumps.

Mix in the sugar + the saffron water & keep on stirring frequently so that the sheera does not stick to the bottom of the kadai.

Cover & cook for about 2-3 mins over medium low heat.

After 2-3 mins open the cover and mix in the mango pulp. Give everything a very good mix. If need be sprinkle some more water.

Add the rest of the ghee & mix well. Cover & let it sit for 5 mins. Serve hot. Enjoy!
Notes
Measuring Units used, 1 cup = 240 ml & 1 teaspoon = 5 ml.
If you use dry roasted semolina than reduce the roasting time with ghee.
I used a fine quality semolina or rava hence the cooking time is only 2 mins! If you use a coarse variety increase the cooking time by 1 min.
Semolina or rava or sooji lasts longer if you dry roast it and than store it in an air tight container.
Roast the chopped nuts + the raisins very well for best flavors.
Add warm or hot water to the pot. This will help to build up pressure quickly in the IP.
Add ghee liberally or add less. Choice is totally yours, you don't have to stick to the given measurements. Same rule applies for the sugar. We love our sheera sweet, if you prefer less sweet desserts than reduce the sugar to 3/4 cup.
You may double or triple this recipe. You may even halve it. It works beautifully everyway.
To PREVENT the BURN message in the Instant Pot do a QUICK PRESSURE RELEASE immediately after the cooking time is up.
You may add cardamom to your Mango Kesari or semolina pudding recipe. I did not add any!
You may also cook it in milk instead of water.
Calorific details are provided by a third party application & are to be used as indicative figures only.
Nutrition Facts
Mango Kesari
Amount Per Serving
Calories 122
Calories from Fat 72
% Daily Value*
Fat 8g12%
Cholesterol 21mg7%
Sodium 12mg1%
Potassium 26mg1%
Carbohydrates 12g4%
Calcium 260mg26%
* Read our privacy policy – Calorie information is provided as a courtesy only and should be leveraged as an estimate rather than a guarantee.Percent Daily Values are based on a 2000 calorie diet.
Nutrition
Calories:
122
kcal
|
Carbohydrates:
12
g
|
Fat:
8
g
|
Saturated Fat:
6
g
|
Cholesterol:
21
mg
|
Sodium:
12
mg
|
Potassium:
26
mg
|
Sugar:
12
g
|
Calcium:
260
mg
Pin it for Later!