Masala Chaas – a favorite Indian summer drink that's made with chilled diluted yogurt & in just 5 mins! It's little spiced up too. Don't miss How to make Masala Chaas Video just below.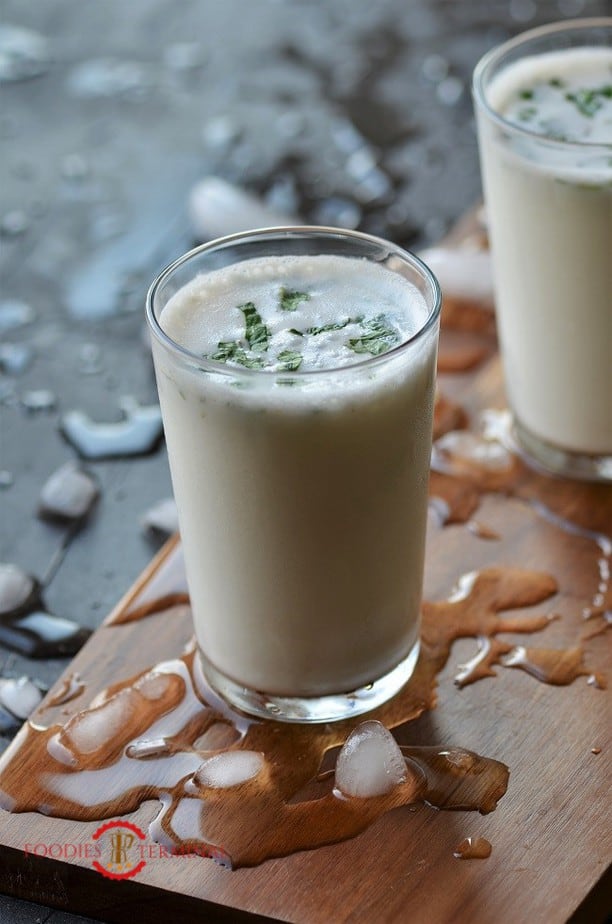 Chaas Masala Recipe Video
Masala Chaas Recipe
Come summer & I am all in for chilled drinks like this Kokum Sharbat.
Today's homemade Masala Chaas aka Masala Buttermilk is one such summer favorite that we make often in our kitchen to relish after meals.
That's because yogurt is excellent for the digestive system loaded with natural probiotics. It also helps to cool down the body during the hottest months of the year.
Is this the only reason I make it often?
Not at all! Spiced Buttermilk is simply delicious & damn easy to make. Just 5 mins, & a blender.
To add a little extra kick we love to spice up the buttermilk with a few handy pantry staples like a few masalas, cilantro & green chilies (not much!)
Result = Can I have one more glass please? 😀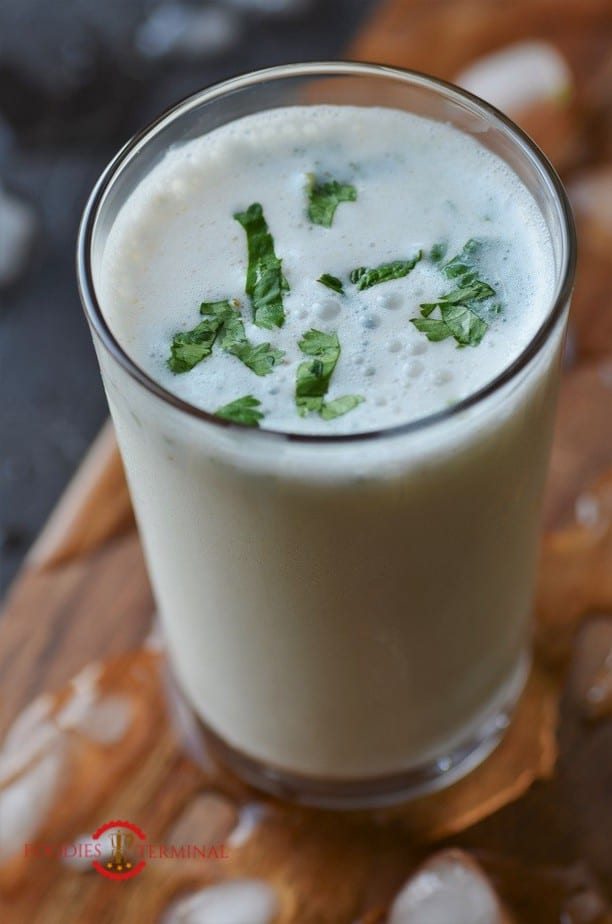 What is Masala Chaas?
Masala Chaas is homemade spiced buttermilk that's made with chilled diluted yogurt, a few masalas & cilantro. It's a favorite summer drink that's made in almost every household in India especially to combat the summer heat.
It is best enjoyed chilled & after meals.
Masala Chaas is also known as Masala Buttermilk or Indian spiced buttermilk.
Is Buttermilk and Chaas same?
Yes buttermilk & Chaas both are same. It's a healthy drink that you can make with yogurt & a few spices.
Masala Buttermilk Ingredients
You need a few ingredients for todays homemade Masala buttermilk recipe. They are: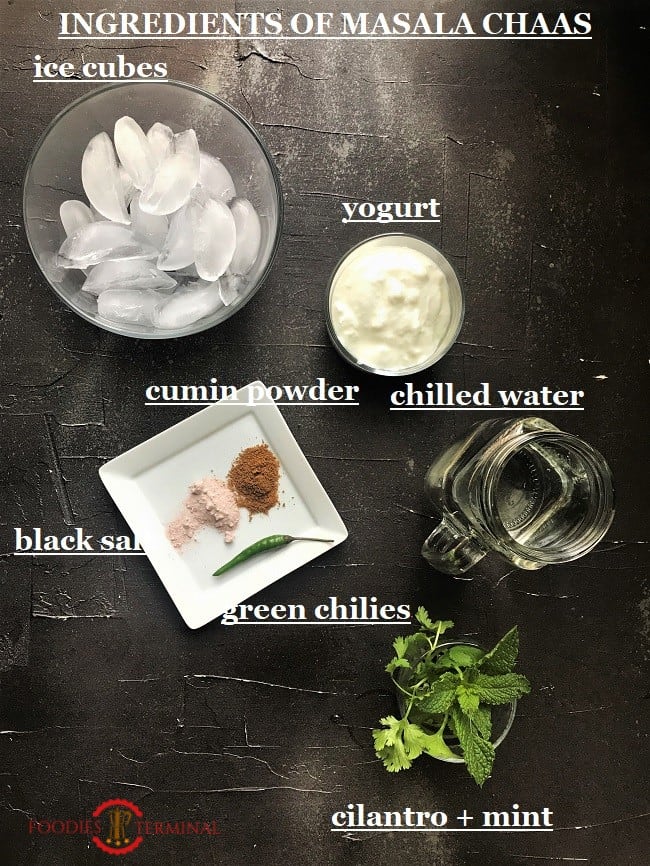 Yogurt: Regular full fat yogurt works best. But, you may also use greek yogurt or fat free yogurt.
Spices: Roasted cumin seeds powder.
Black Salt: You can replace it with Himalayan pink salt. If you don't have these handy use normal salt. But, black salt is very much recommended for right flavor.
Cilantro also know as coriander leaves.
Indian green chilies: This one is totally optional. If you don't prefer it spicy just omit using the chopped chilies.
For diluting: Chilled water.
Chaas Masala powder ingredients
I prepared a very simple spice mix for the Chaas & I used:
Black Salt or Kala Namak.
Roasted Cumin Powder or jeera powder.
Regular Salt.
You can also add ginger powder & white pepper powder to the above Chaas Masala powder. You can even add Chaat Masala powder. But, we love it simple 🙂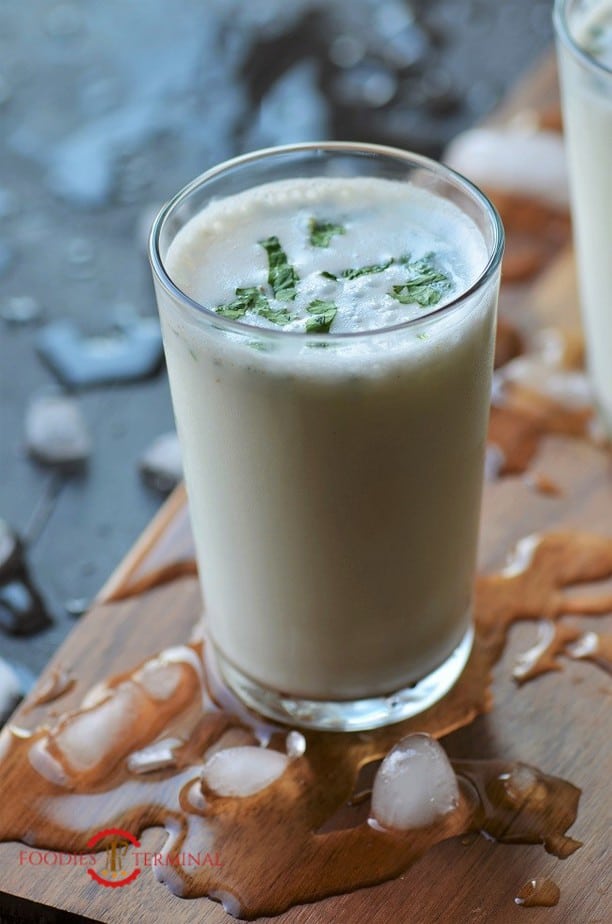 4 Tips to make the Best Masala Buttermilk
Though this is a very simple & easy recipe & needs no expertise at all. Yet, for the beginners in cooking the below listed tips will be a savior every single time.
Chilled Ingredients a must: Make sure that the yogurt & the water is chilled. Take them out from the refrigerator just before making the Masala buttermilk. If you do not use chilled water & yogurt than you have to use a lot more ice to chill the drink & this will make the drink watery.
Go easy with the spices: Do not use too much, it'll make your Masala Chaas overwhelming & pungent.
Do not Blend the cilantro & the chilies: Just mix them with the blended drink with the help of a spoon.
Blend well: For awesome taste blend the yogurt & the chilled water well in a high speed blender. You may even whisk them with hand.
Masala Chaas benefits
Chaas is delicious, easy with potential health benefits. Here's the benefits of drinking Masala Chaas:
Aids in digestion. Masala Chaas is good for the gut.
Nourishes the whole system. This drink contains calcium, protein & several other nutrients.
Helps cool down the body: Hence, Masala Buttermilk is a favorite drink during the hottest months in India.
Prevents dehydration: It's packed with natural electrolytes & hence, makes up for the water loss due to excessive sweating during the hot summers.
Great source of Calcium.
Great source of essential nutrients like potassium, vitamin B12, riboflavin, iron, phosphorous.
Calms the stomach after a heavy spicy meal.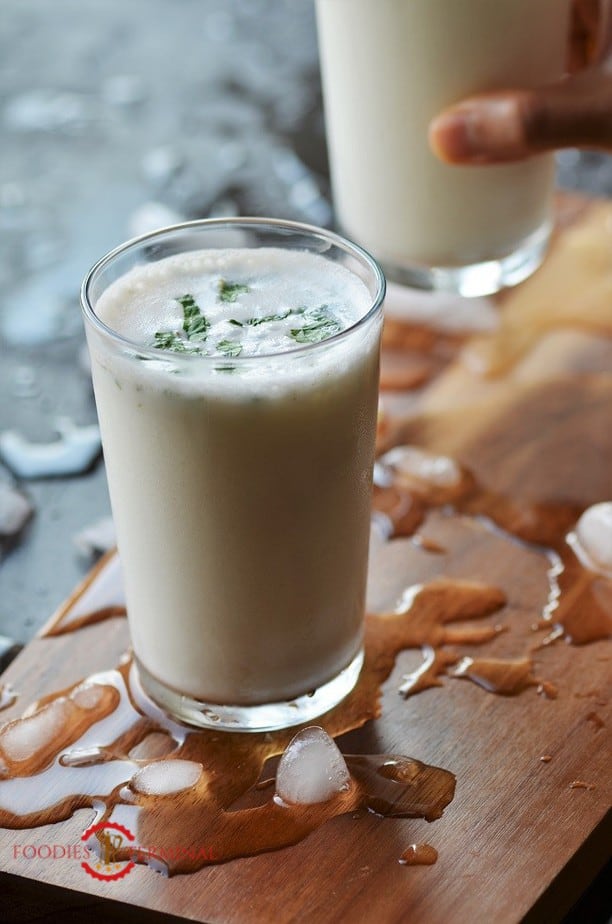 Is Masala Chaas healthy?
Yes, Masala Chaas is a healthy drink that you can enjoy best after meals & during the hot summers in India.
Masala Buttermilk is an excellent cooling drink that invigorates the body, helps in digestion, gut friendly, & calcium rich. Refer to the above health benefits of Chaas.
Masala Buttermilk – FAQs
What is Chaas called in English?
Chaas is called Buttermilk in English.
Is Chaas good for acidity?
Yes, Chaas is good for acidity. It is gut friendly & helps soothe the stomach after heavy meals or bouts of acidity.
How do you drink buttermilk?
Buttermilk is best enjoyed chilled. Whether you choose to spice it up or skip the spices you'll enjoy buttermilk chilled & directly sipped from a glass.
Does Buttermilk cool the body?
Buttermilk or Chaas may cool down your body & improve metabolism substantially.
How to make Masala Chaas? Step by Step
How to make Masala Chaas with Yogurt?
Blend well

Add the yogurt, chilled water & the ice in the blender jar & blend well.

Mix the spices

Next, add the spices like black salt, roasted cumin powder, regular salt, cilantro, mint & green chilies & mix well with the blended yogurt with the help of a spoon.

Pour in glasses

Fill up individual glasses with this chilled Masala buttermilk, garnish with a few chopped cilantro, mint & green chilies and enjoy chilled!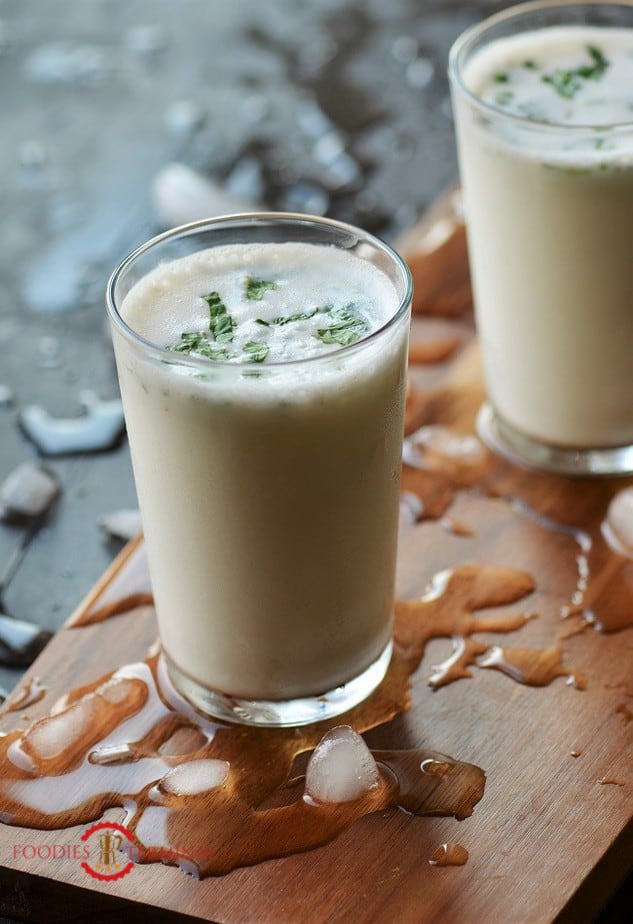 Check out this excellent drink from Foodies Terminal: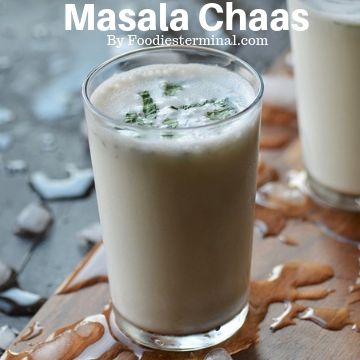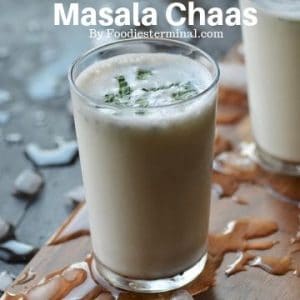 Masala Chaas
Print Recipe
Pin
Rate
Masala Chaas – a favorite yogurt drink enjoyed in India mainly during the hot summer months & prepared with chilled diluted yogurt that's spiced up. It's also known as Masala Buttermilk or Spiced Buttermilk & is very easy to make.
Ingredients
1

cup

Yogurt

2.5

cups

chilled water

1/2

tsp

Cumin Powder

(bhuna jeera powder)

1/2

tsp

Black Salt

(Kala Namaak)

chopped cilantro according to taste

(Dhaniya patta)

chopped mint according to taste

(Pudina Patta)

few thinely chopped green chilies

(optional)

6

ice cubes
Want more Recipe Videos?
Check out our Youtube channel!
Instructions
In a blender jar add the yogurt, ice cubes & water and blend.

Next, add the black salt, roasted cumin seed powder, salt, cilantro, mint & green chilies into the blender jar and mix them with the blended yogurt drink with the help of a spoon.

Pour into individual glasses. You may garnish with more chopped cilantro, mint & green chilies if you want to. Enjoy chilled!
Notes
Measuring units used, 1 cup = 240 ml & 1 tablespoon = 5 ml.
Homemade yogurts work wonderfully well for this recipe. You can also use store bought ones. 
If using Greek yogurt use 3/4 cup yogurt instead of 1 cup. You may even thin it out with a little more water.
Chill the water & the yogurt before making the Masala Chaas.
If you want you may skip the cilantro, mint & also the chilies. But, the herbs are very much recommended because they add a flavor boost + makes the drink refreshing.
The Masala Chaas is best enjoyed fresh & chilled.
Adjust the spice level & the heat in the recipe. Going easy on the spices will guarantee best flavors.
You may use white pepper powder in the Chaas Masala Spice mix.
Nutrition Facts
Masala Chaas
Amount Per Serving
Calories 88
% Daily Value*
Cholesterol 7mg2%
Sodium 1122mg49%
Potassium 292mg8%
Carbohydrates 8.8g3%
Protein 7g14%
Vitamin A 100IU2%
Vitamin C 2.5mg3%
Calcium 230mg23%
Iron 0.2mg1%
* Read our privacy policy – Calorie information is provided as a courtesy only and should be leveraged as an estimate rather than a guarantee.Percent Daily Values are based on a 2000 calorie diet.
Nutrition
Calories:
88
kcal
|
Carbohydrates:
8.8
g
|
Protein:
7
g
|
Saturated Fat:
1.2
g
|
Cholesterol:
7
mg
|
Sodium:
1122
mg
|
Potassium:
292
mg
|
Sugar:
8.7
g
|
Vitamin A:
100
IU
|
Vitamin C:
2.5
mg
|
Calcium:
230
mg
|
Iron:
0.2
mg
Pin it for Later!