The Shrimp Patties Recipe are crispy from the outside & tender from the inside. These keto shrimp patties is a keeper for sure, perfect for easy meals or to feed a crowd. And when laid on a bed of salad they make a complete meal by itself. Make these Easy shrimp patties with Aioli sauce for a quick appetizer because these shrimp cakes are everything good, just so easy to make & taste terrific.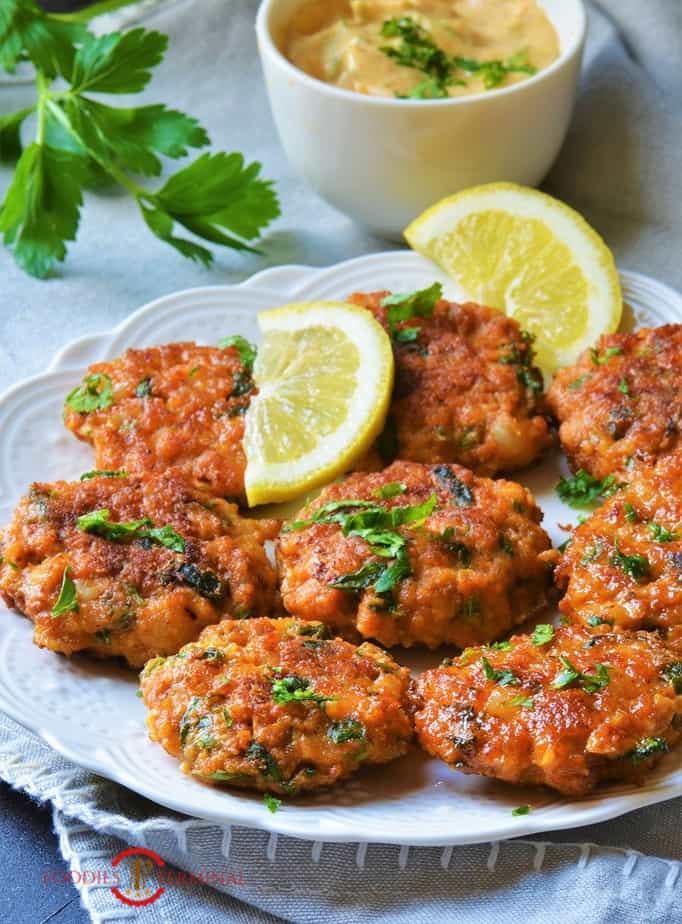 Shrimp Patties – Keto Friendly
If you are looking for easy Shrimp recipes that's an appetizer cum a meal than this shrimp patties recipe is just for you! And it comes with a bonus, guess what?
Of course the aioli sauce silly! It's is the best dip (recipe included) that you will have with these extremely delicious pan seared shrimp cakes.
The magic of these easy Shrimp patties recipe is that when dipped in aioli they make a perfect appetizer or side.
And when you lay them on a bed of crisp salad leaves they make a complete meal by itself.
Love shrimps just like us? Than, we plead you that do not miss these Keto Shrimp cakes ever! They are sooooooo big on flavors.
The crispy outer crust, the cheesy interior & the tender shrimp in every layer will blow your mind.
They are just so good, make a big batch that's the main pro tip we can share today 😀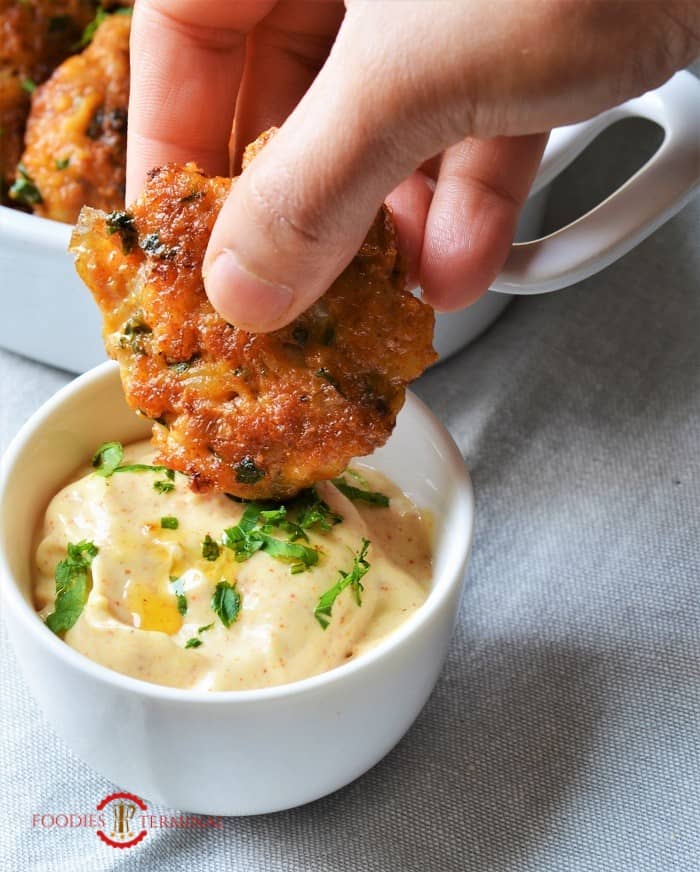 FAQs – Shrimp Patties Recipe
Ingredients for Easy Shrimp Patties
Just a few pantry staples for these extremely delicious pan seared Shrimp cakes.
Mains: De-shelled, de-veined frozen shrimps (Large or Jumbo for best flavors), Oats flour.
Seasonings: Onion powder, Paprika powder, Dijon mustard paste, Mayonnaise.
Others: Parsley, garlic, egg.
Cheese: Parmesan.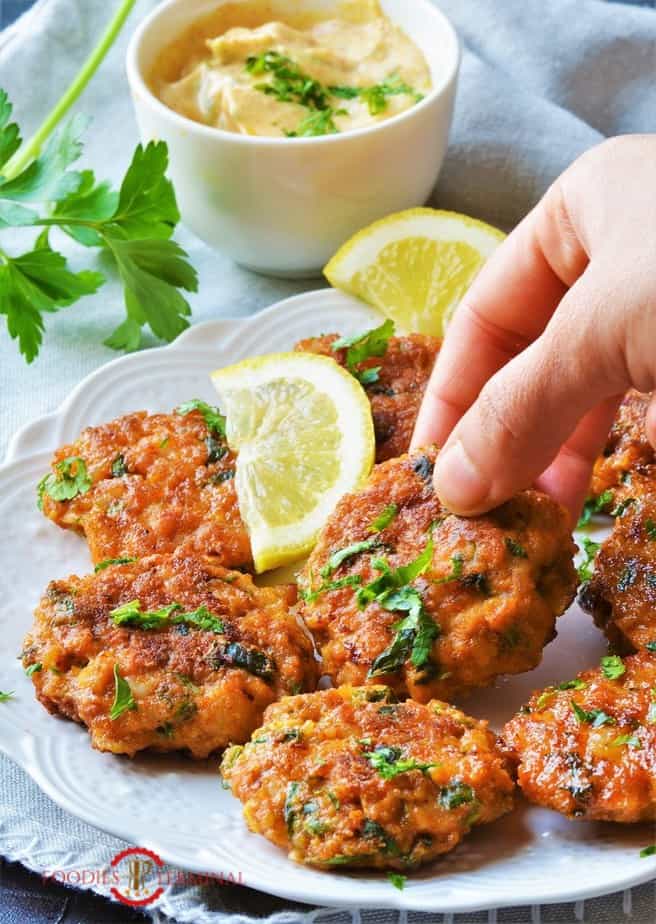 The Best Shrimp for Shrimp Cakes
To make some utterly delicious shrimp cakes we will roughly chop the shrimps so the best shrimps for this recipe would be either medium, large or Jumbo. You may even choose colossal.
As shrimp is the star ingredient in this easy patties recipe & the only main ingredient we will never agree to compromise with quality!
I would not choose the small shrimps because they don't have much flavor anyway.
Small shrimps should be your last resort.
Now, coming to fresh shrimps, just in case you bought some or thinking to buy some fresh shrimps & wondering how to clean them, than read this.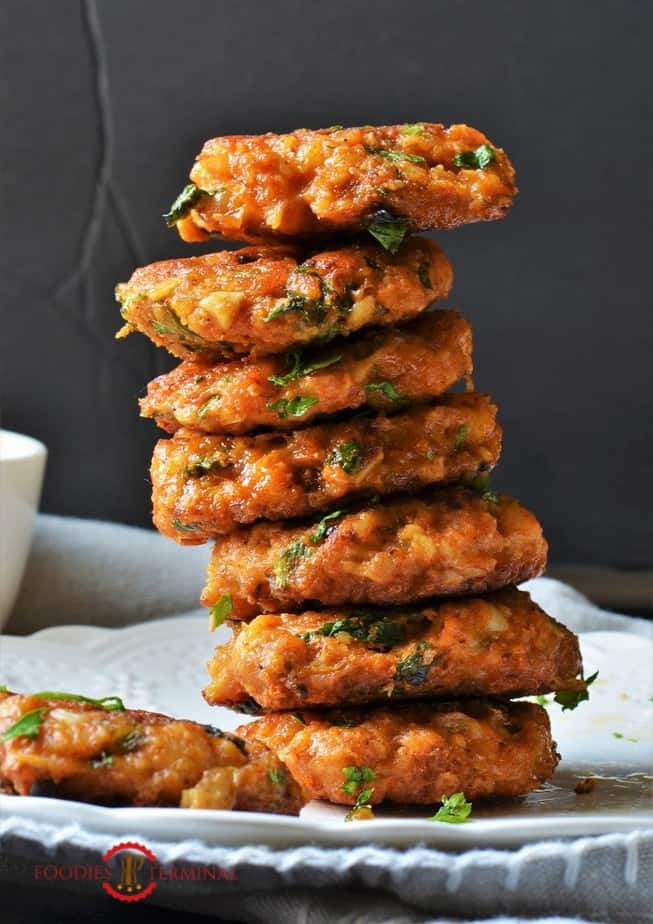 What to eat with Shrimp Patties?
Shrimp patties serve both purposes they are as good as an appetizer as a complete meal.
Prepare yourself a delicious Aioli dip & dunk your hot crispy pan seared shrimp patties for a delicious aperitif.
Or if you want to make a meal out of it, lay them over a bed of your favorite salad & satiate yourself with this fantastic easy dinner idea.
If you have some more serving ideas share them in the comments below.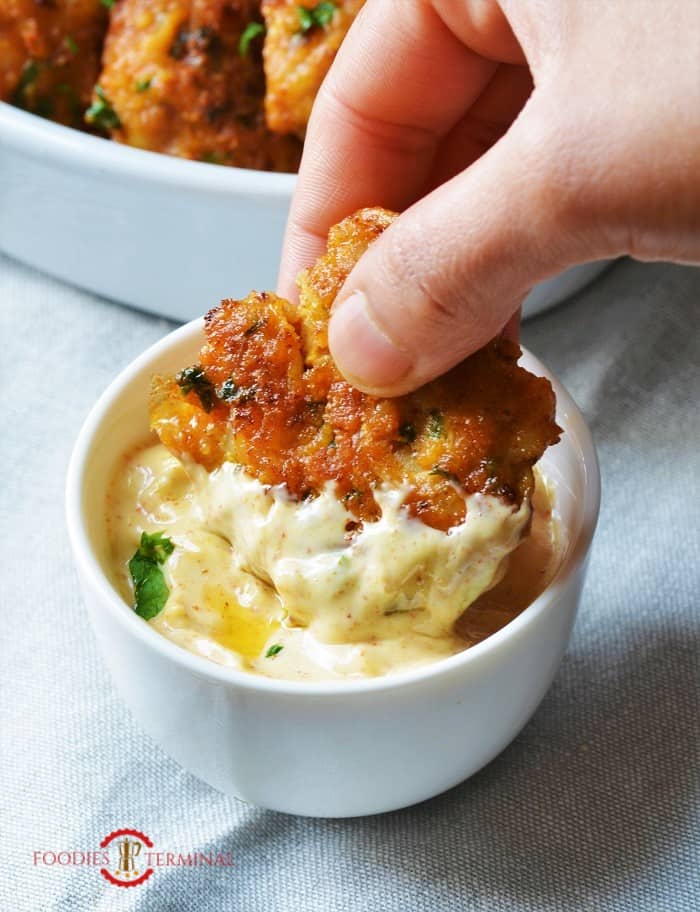 Aioli, What's it anyway?
Aioli is a fancier Mayo!
Oh! yeah we are not talking here about the traditional labor intensive Mediterranean Aioli with olive oil & crushed garlic.
But a mayo that's jazzed up with something else to make it more fancy & regal.
And when this Aioli tastes finger licking good, what else to complain about?
I made this aioli sauce by whisking paprika, mustard paste, minced garlic & mayo. That's it, super tasty aioli that will make you lick off the bowl 😀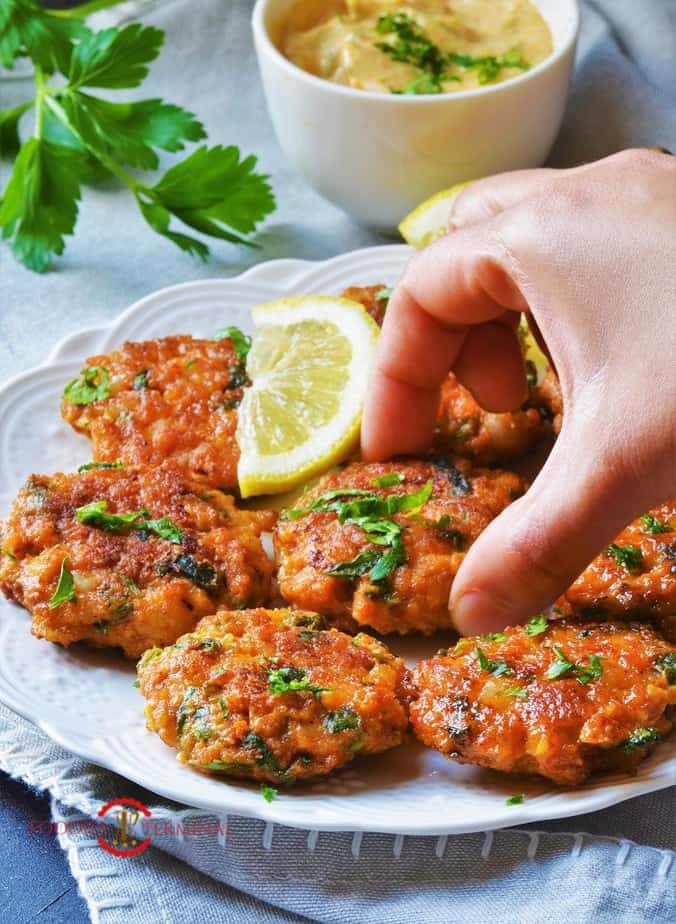 Easy Swaps you don't wanna miss
Oats flour – All -purpose flour or almond flour.
Eggs – Flax egg.
Parsley – Cilantro.
Mustard paste – Mustard Powder.
Olive oil – Canola, vegetable or avocado oil.
5 Tricks – Shrimp Patties Recipe
For best results always roughly chop the shrimps. Pulsing them in a food processor won't give you the same results.
Medium, Jumbo shrimps are the way to go.
Oats flour used for binding the patties give best flavors.
For extra kick add cayenne pepper, we love it!
Pan sear them on medium low first & than on medium high for that charred look that's so irresistible!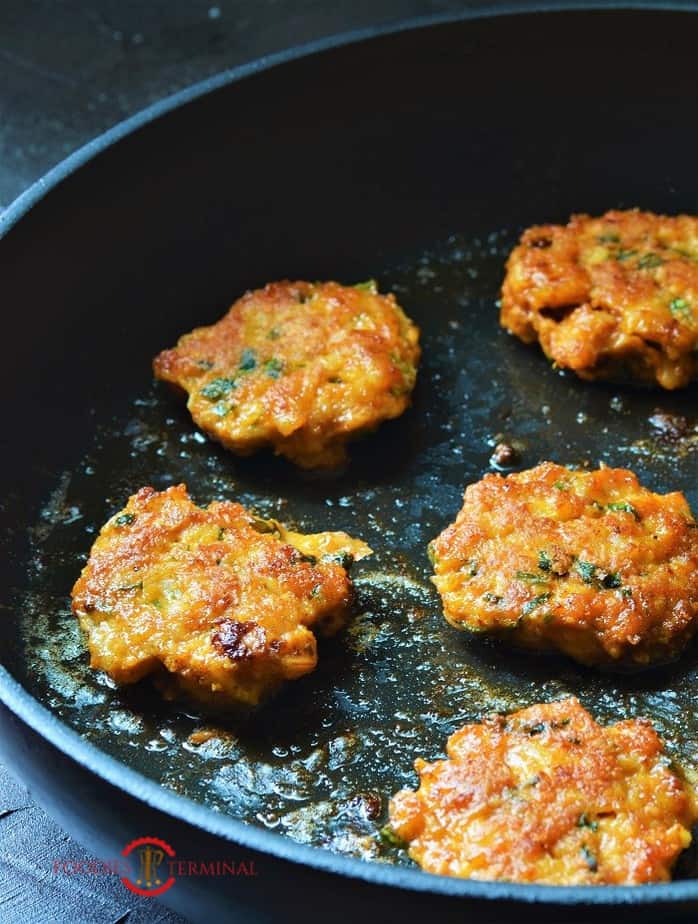 How to Bake Shrimp Patties?
Follow the same recipe. Instead of pan searing the easy shrimp patties bake them in the oven.
Line a baking sheet with aluminum foil, spray oil. Than, place the shrimp patties leaving enough space between two patties. Spray or brush oil.
Bake them for 10 mins at 350 F on one side. Flip side and bake again for 7-8 mins at 350 F. Finally, broil at high for 2-3 mins each side.
Looking for Easy Recipes? Try these from Foodies Terminal
How to make Shrimp Patties – Step by Step
Begin by defrosting the Medium/Jumbo shrimps or if using fresh shrimps, clean & rinse them well.
Roughly chop the shrimps. It should look like this.
Now throw in the chopped parsley to the chopped shrimps.
Add the other ingredients like chopped garlic, mustard paste, mayo, paprika, egg, salt.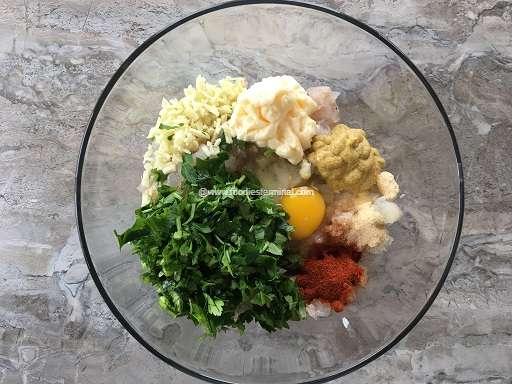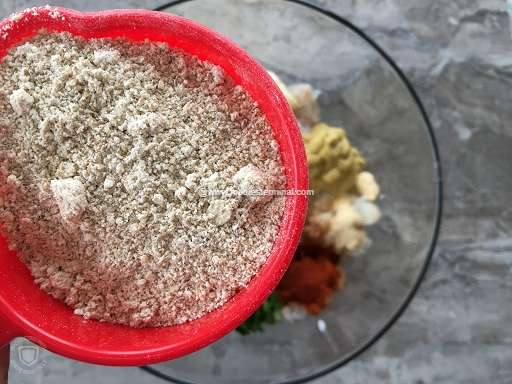 Give everything in the bowl a good mix. It should look something like this.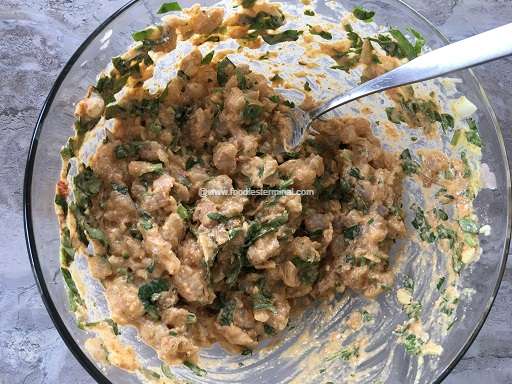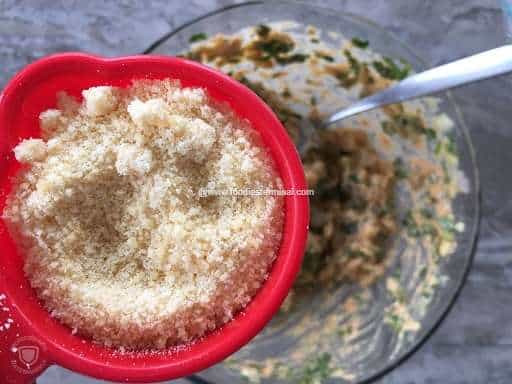 Mix well. The consistency should look like this.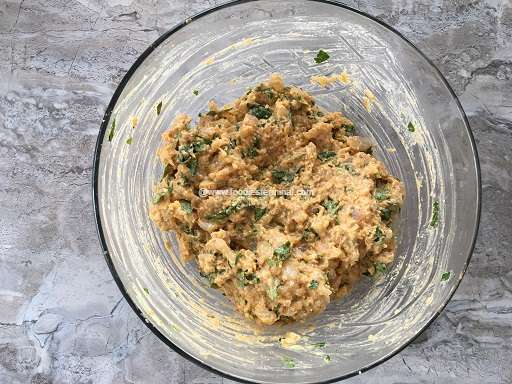 Make into Patty shapes with your palm or use a cookie scoop.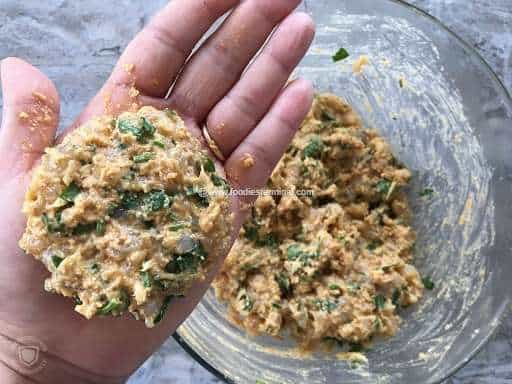 Pan sear both sides over medium low heat first with few drops olive oil.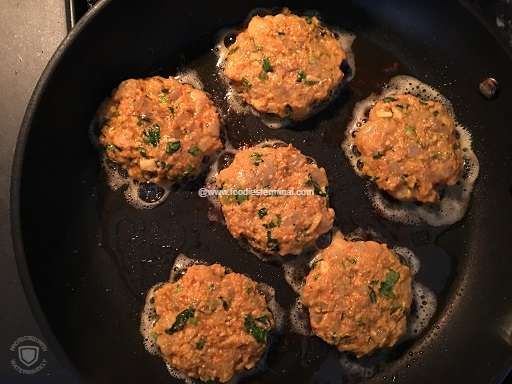 Char over medium high heat at the end.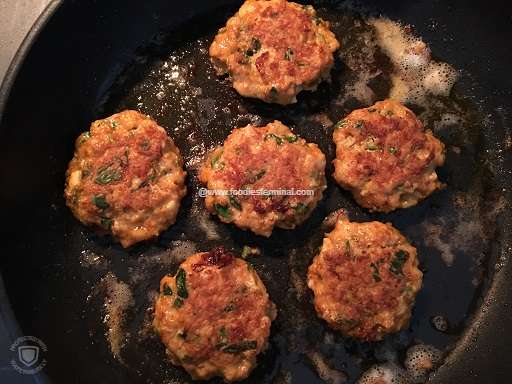 Aioli – Step by Step
Add paprika, mustard paste, minced/chopped garlic to mayonnaise.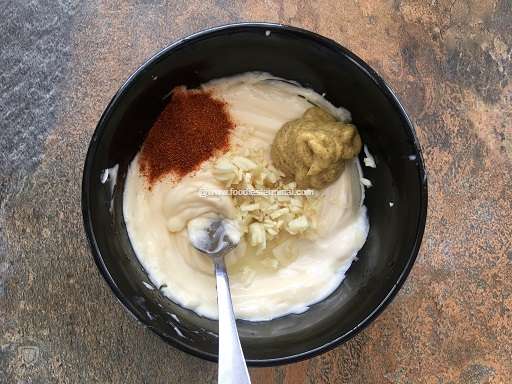 Mix well. Aioli is ready.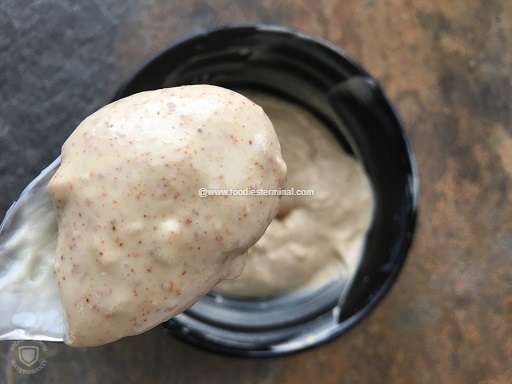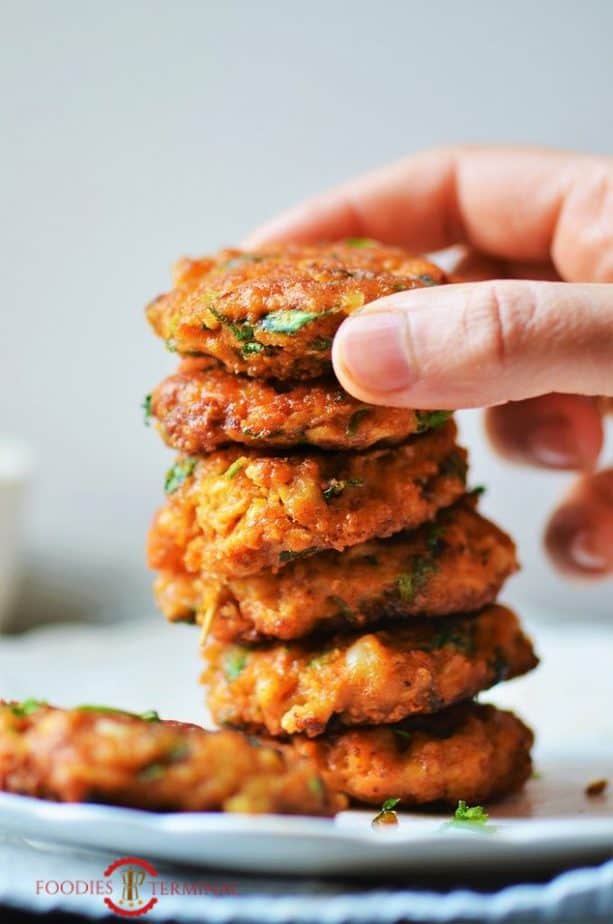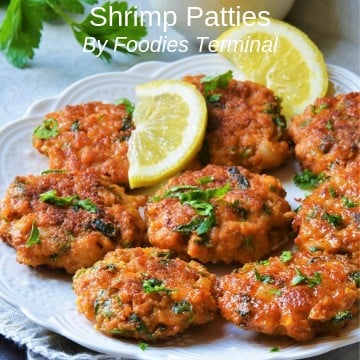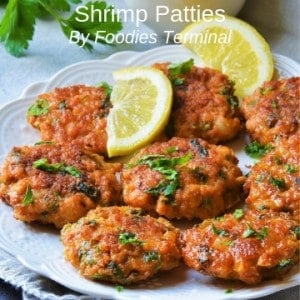 Shrimp Patties Recipe with Aioli
Print Recipe
Pin
Rate
This Shrimp Patties recipe is an appetizer cum a complete meal by itself. Prepared with pan seared shrimp cakes that are slightly crispy on the outside & tender from the inside. Make these easy keto shrimp patties & enjoy them with an irresistible home-made aioli dip.
Want more Recipe Videos?
Check out our Youtube channel!
Instructions
How to make the Shrimp Patties
Begin by cleaning & rinsing the shrimps. If using frozen shrimps defrost them & bring them to room temperature.

Chop the shrimps to small pieces.

Add chopped parsley, mayo, dijon mustard paste, salt, paprika powder, eggs, chopped garlic, onion powder & Oats flour and give everything a good mix.

Finally, add the parmesan cheese and mix everything well. If you feel the batter is too slimy add a bit more oats flour to bind it well.

Heat your favorite skillet over medium low flame, brush oil or drizzle oil.

In the meantime form patty shapes with a scoop of shrimp batter with the help of your palm (you may grease your palms for ease) or scoop out each patty with the help of a cookie scoop. Gently drop them on the hot pan & press them gently to flatten or give a patty shape.

Flip sides, cook until golden over medium low or medium heat.

When the patty is fully cooked give that char look and add more crispiness by searing them over medium high heat for a couple of mins (both sides).
How to make the Aioli
In a clean bowl take mayo and add mustard paste, paprika, salt & chopped garlic. Mix well. Aioli is ready. Serve with the shrimp patties.
Notes
For crispy outer layer & juicy interior fry the shrimp patties over medium low or medium heat first until fully cooked. Than, sear them over medium high heat for a couple of mins for that chared look.
If the batter doesnot come together add little more oats flour, bit by bit until you reach the proper consistency.
After rinsing the shrimps, dry them out with the help of paper kitchen towels.
Measuring cup used, 1 cup = 240 ml & 1 teaspoon = 5 ml.
PLEASE NOTE: Nutrition values are my best estimates. If you rely on them for your diet or special diet, use your preferred nutrition calculator!
Nutrition Facts
Shrimp Patties Recipe with Aioli
Amount Per Serving
Calories 265
Calories from Fat 95
% Daily Value*
Fat 10.5g16%
Cholesterol 183mg61%
Sodium 584mg25%
Carbohydrates 15g5%
Protein 24g48%
* Read our privacy policy – Calorie information is provided as a courtesy only and should be leveraged as an estimate rather than a guarantee.Percent Daily Values are based on a 2000 calorie diet.
Nutrition
Calories:
265
kcal
|
Carbohydrates:
15
g
|
Protein:
24
g
|
Fat:
10.5
g
|
Saturated Fat:
1.5
g
|
Cholesterol:
183
mg
|
Sodium:
584
mg
|
Fiber:
0.5
g
|
Sugar:
2
g