Tofu Scramble with nutritional yeast will boost your morning breakfast & make them so much more fun. This colorful tofu breakfast scramble is loaded with veggies, it's gluten free & Vegan too. What better way to fuel your mornings than with a power packed bowl of this easy tofu scramble that's ready under 30 mins! And that yellow glow comes from gorgeous turmeric.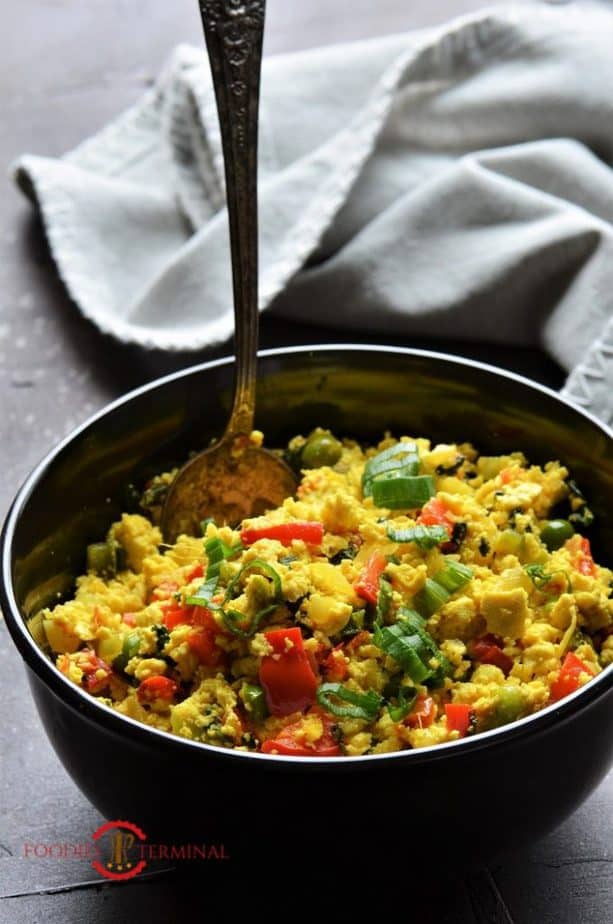 Tofu Scramble with Nutritional Yeast
We love getting a little kick out of our morning breakfasts, to keep us fueled for the rest of the day. And when it's a delicious warm breakfast it's always a joy to dig in.
This tofu scramble recipe fits the bill every way.
It's insanely easy to make, a protein packed bowl loaded with veggies to keep us happy & charged up.
We love this warm bowl of vegan scrambled egg because it's
Easy
Under 30 mins
Nutritious
Delicious
Freezer Friendly
I don't mind a slight crunch from healthy veggies in my breakfast, the glow & the goodness from a dash of turmeric & those yummy melt-in-the-mouth scrambles of soft tofu.
And that secret ingredient that gives this warm breakfast oodles of taste is Nutritional Yeast & makes it a joy for non-vegans too.
Never forget adding it! If you want to learn more about Nutritional Yeast Read this article by Spruce Eats.
Scoop this simple tofu scramble on top of a lightly toasted sour dough, throw some buttery sliced avocados & you have a breakfast that instantly transforms into a delicious platter.
Or wrap it all up with your choicest sauces & enjoy it as a quick brunch.
You may even make a tofu scramble sandwich.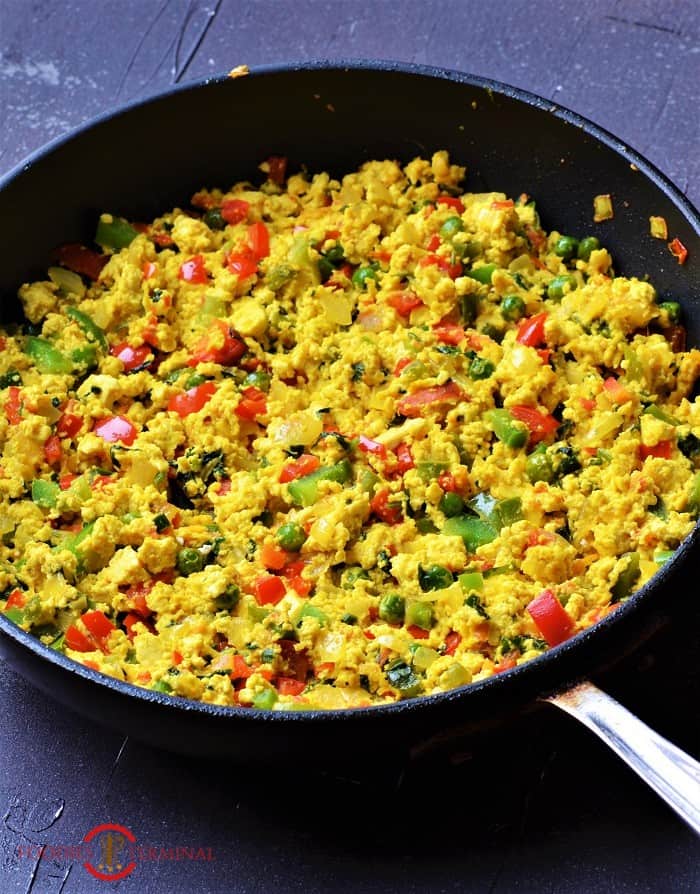 FAQs – Tofu Scramble Recipe
What is Tofu Scramble?
Tofu Scramble recipe is a plant based protein packed vegetarian & vegan warm breakfast recipe that's made by scrambling tofu with veggies (optional).
It has the consistency & the look of scrambled eggs & makes a hearty, filling breakfast or brunch for non-vegans too.
If you want some more Tofu facts you may read my Air Fried Crispy Tofu Bites post.
Which Tofu is best for scramble?
For best experience either use extra firm or firm tofu. Both these tofu varieties scramble up very well without becoming mushy.
In other words they hold shape well for the best tofu scramble recipe.
Soft tofu also does the job but I do not prefer it for it's very soft texture & chances of becoming too mushy & gooey!
But, if you love very soft scrambled eggs you might like soft tofu scramble which is also popularly known as silken tofu scramble. Give it a try & let us know in the comments below.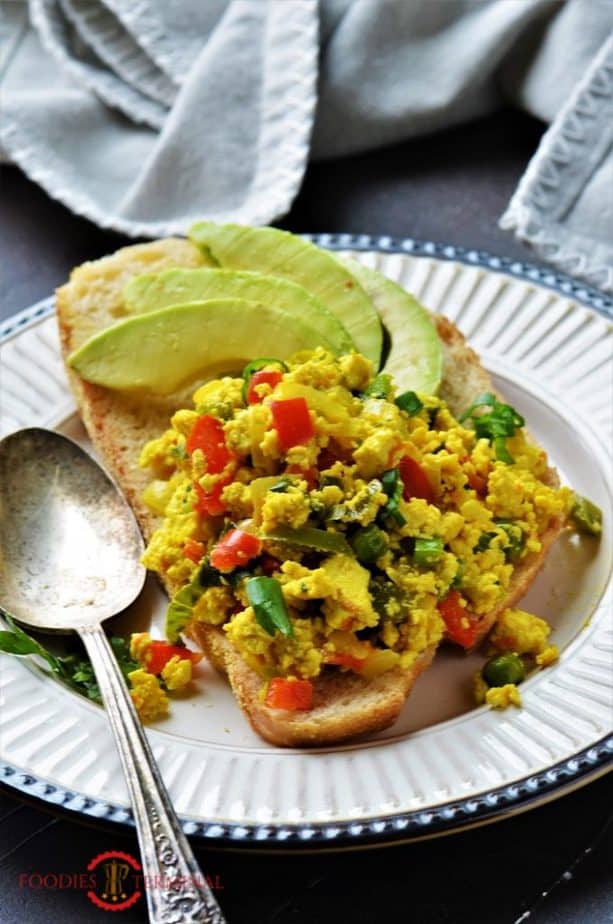 What goes in tofu scramble?
This basic tofu scramble is very much customizable.
Here's what I put in today's tofu scramble recipe:
Mains: Firm Tofu, onion, ginger.
Veggies: Bell-peppers, peas, tomato, scallion.
Herbs: Cilantro.
You may also choose ingredients according to your taste preference, liking & availability.
For instance You may also add some greens like, baby spinach or finely chopped kale. Or make a very basic spinach tofu scramble without adding the other veggies.
How about adding some silvered toasted almonds? That crunch will be so nice.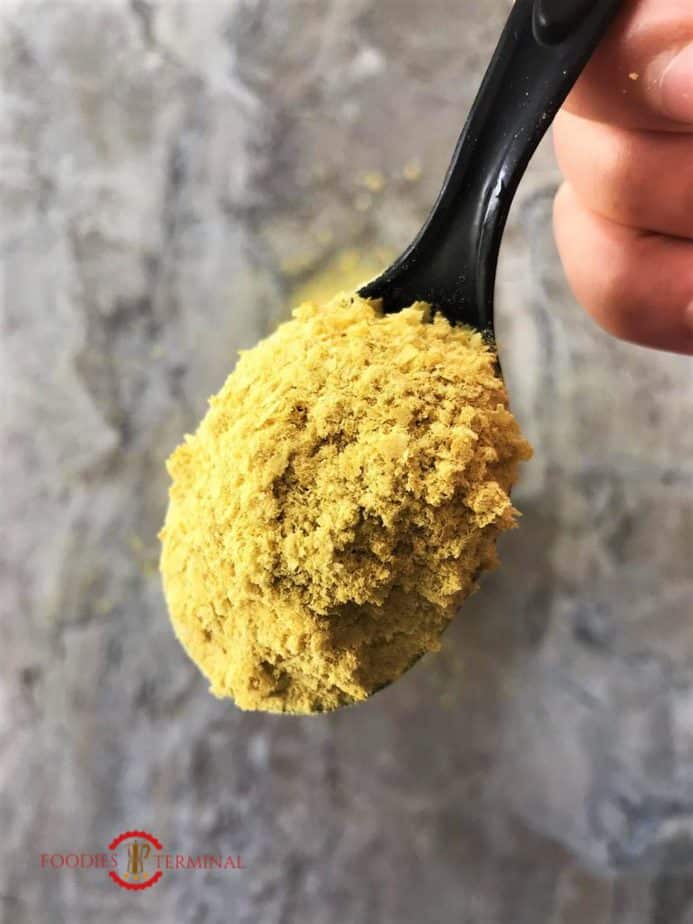 Why use nutritional yeast?
Though you may skip using nutritional yeast in your tofu scramble, but I would recommend you to use it for extra flavors, depth in taste & an additional vitamin B12 boost.
I made a side by side comparison to find out the contribution of nutritional yeast to the tofu scramble recipe.
And I found that the nutritional yeast version of it is way more tasty because the nutritional yeast made the scramble cheesy, eggy, slightly nutty and so much more flavorful.
Which is what we always love – more taste, more flavors in our recipes!
The best tofu scramble seasoning you don't wanna miss
You can make a simple tofu scramble taste best with a basic seasoning that you can prepare at home with very basic pantry staple spices.
For 1 slab of tofu ( 14 oz or 397 gms ) mix the following seasoning spices in a bowl:
½ tsp turmeric powder
½ tsp cayenne pepper ( for extra kick)
¼ tsp paprika powder
¼ tsp cumin powder ( for extra punch)
½ tsp Nutritional Yeast
Himalayan Pink salt (optional) or use regular salt.
Mix them & use them while sauteing the veggies before adding the tofu to the pan ( refer the recipe ).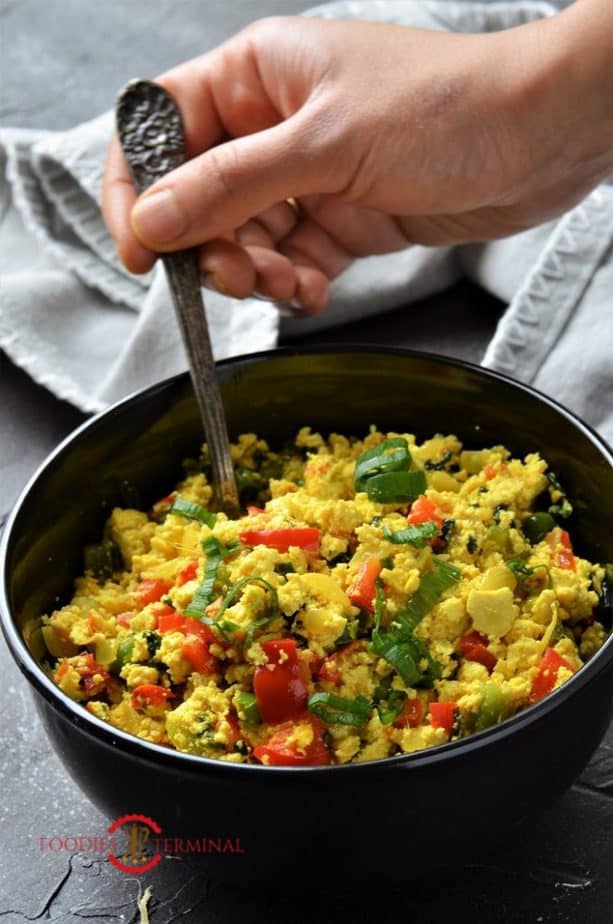 How long does tofu scramble last in the fridge?
Tofu Scramble lasts for 4 days in the fridge when you store it in an air tight container.
And if you decide to freeze it, it will last 1 month. Freeze it in either zip locks or individual portion size freezer safe containers.
Can you reheat tofu scramble?
Yes, you sure can. 50 secs in the microwave oven will make it warm & 1 min will make it hot.
Does Tofu scramble taste like eggs?
No, it does not. It has the texture & look of scrambled eggs but not the taste.
What does tofu scramble taste like?
Today's tofu scramble with nutritional yeast tastes cheesy, slightly nutty, eggy. The best part of cooking tofu is that it picks up the flavors & the notes of the seasonings very well.
Today's tofu scramble recipe is also soft with crunchy pieces of veggies.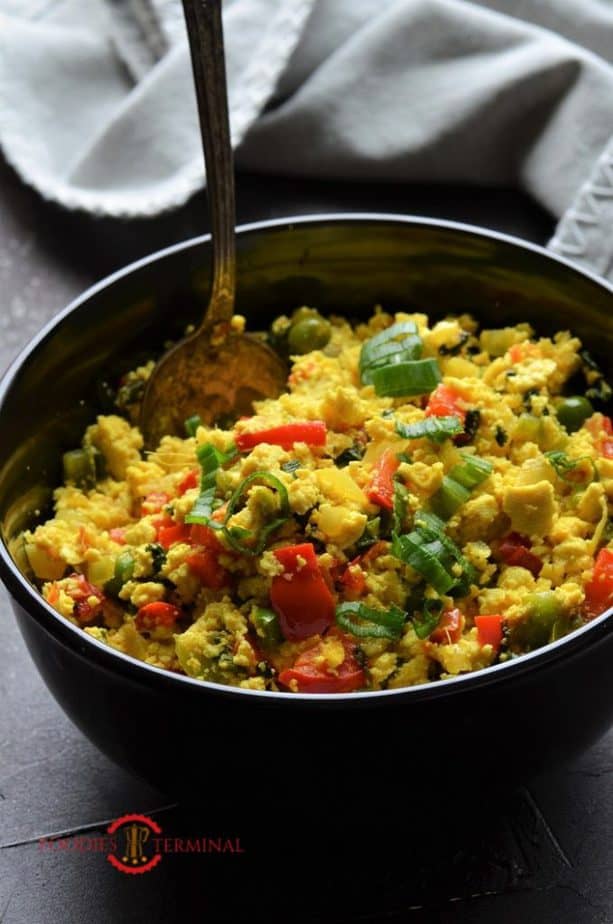 How to make tofu scramble taste like eggs?
You can make tofu scramble taste like eggs by adding one secret ingredient & that is Nutritional Yeast. It's vegan & loaded with Vitamin B12.
The nutritional Yeast adds a cheesy, nutty eggy flavor that takes this tofu scramble a notch up.
What makes tofu scramble yellow?
The bright yellow glow in the basic tofu scramble comes from turmeric.
Turmeric gives this vegan scrambled eggs a certain amount of nutritional boost with its anti inflammatory qualities.
Do you have to press tofu?
Yes, you have to press tofu before cooking because tofu contains a lot of water. It is also packed in water.
Before cooking any tofu dish you need to take all that water out for better texture & flavor.
It's very simple & easy to squeeze tofu.
For simple recipes like easy tofu scramble or Indian style tofu bhurji you may squeeze out the water simply by pressing the slab with your hands and than soaking up the rest of the moisture with a paper kitchen towel.
Or you wrap up the tofu slab with a paper kitchen towel & put a heavy weight over it like a small saucepan filled with water & leave it that way for 30 mins. That weight will do the press job for you & take out all the moisture.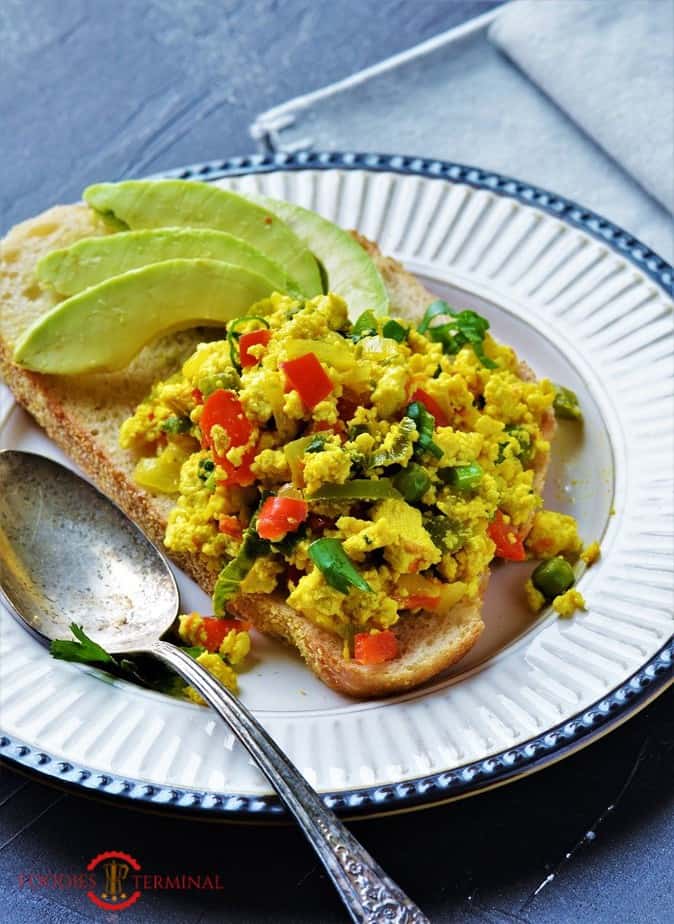 Is tofu scramble healthy?
Yes, it is healthy. Tofu contains good amount of carbohydrate & zero cholesterol. It's also lower in saturated fats & monounsaturated fats & higher in polyunsaturated fats.
To learn a few more facts about the health benefits of Tofu read this.
How to make tofu scramble without nutritional yeast?
Simply do not add it!
Indian Style Tofu Scramble or Tofu Bhurji
In case you like Indian style cooking you may add a slight variation to your breakfast scrambled tofu.
Scrambled tofu is popularly known as Tofu Bhurji in Indian language.
Bhurji = Scramble.
The recipe remains the same.
You may add 1 tsp red chili powder, skip the cayenne pepper & also add chopped Indian green chilies. A hint of amchur powder or chaat masala also would be a great choice to make it more flavorful the Indian way of course!
I would also skip adding the kale in this case.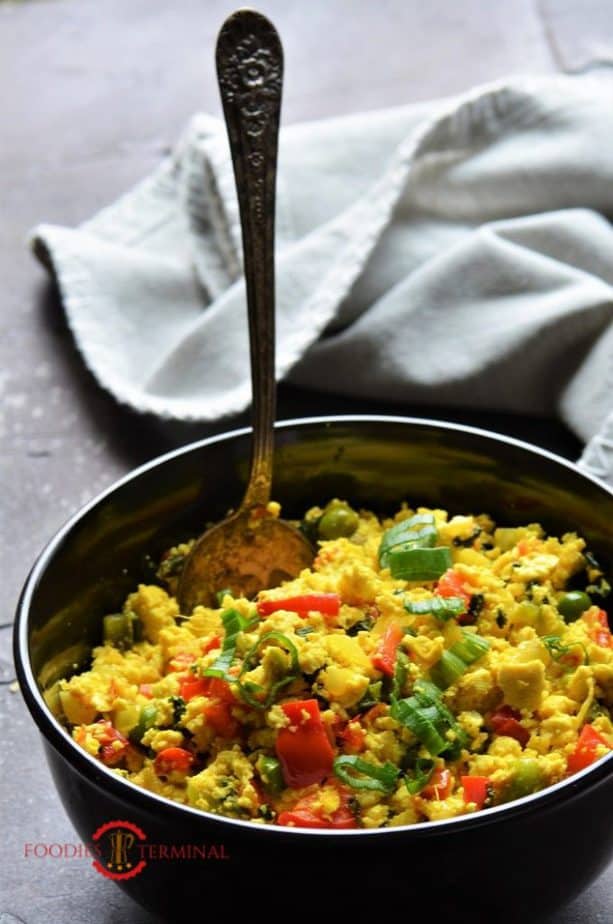 How to make tofu scramble with nutritional yeast – Step by Step
Begin by squeezing the tofu & taking out all the moisture from the slab.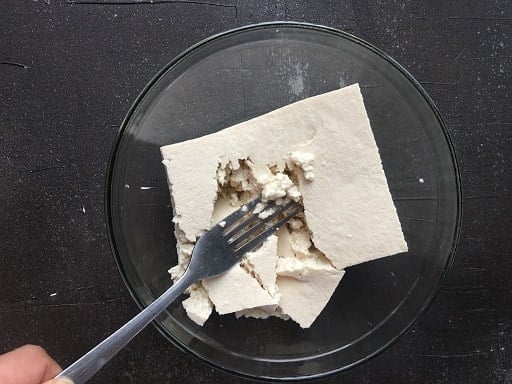 Scramble the tofu with the help of your hand or a fork.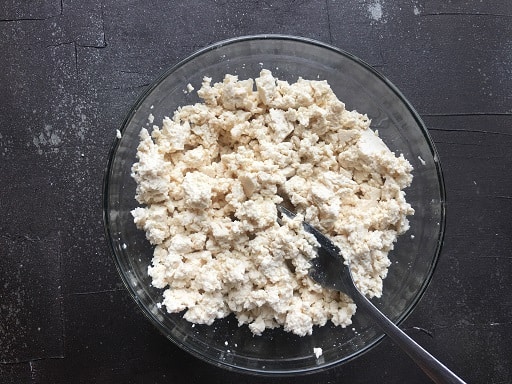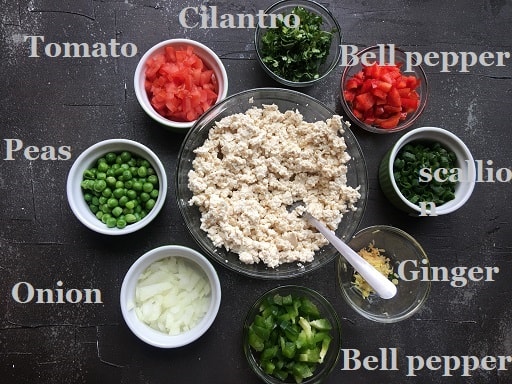 Saute the onions first until slightly translucent (2-3 mins). Add the veggies except the cilantro, scallion, ginger. Saute for 2 mins, add salt, turmeric, nutritional yeast & mix well. Now, add the cilantro & scallion, mix well. Add the scrambled tofu. Mix everything well.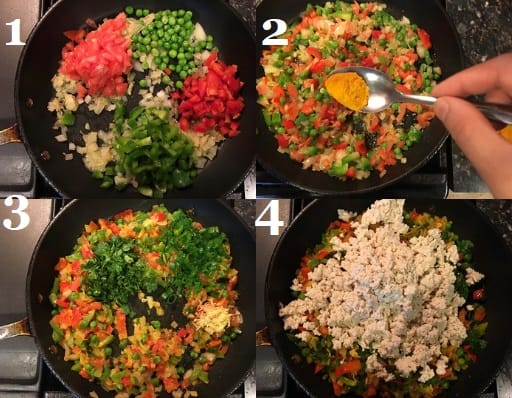 Mix the tofu well until nicely coated with the veggies & the turmeric.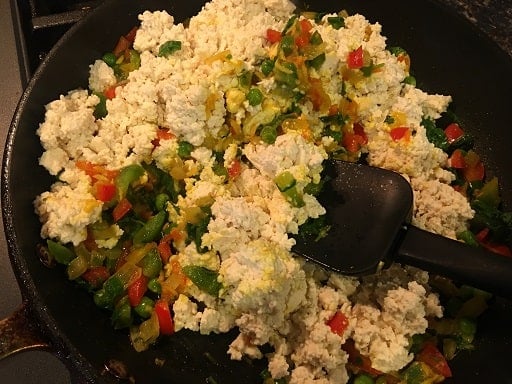 Squeeze some lemon juice & serve hot. You may garnish with more scallions & cilantro.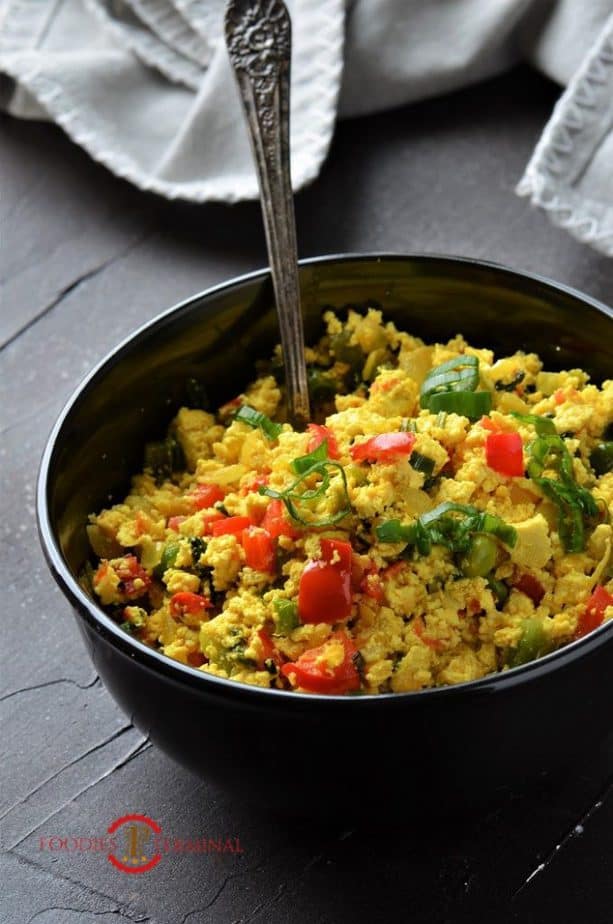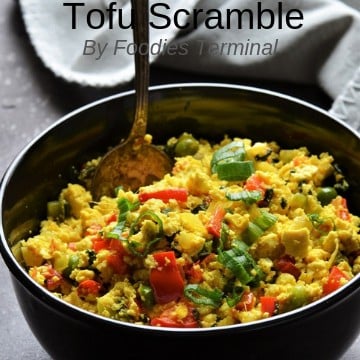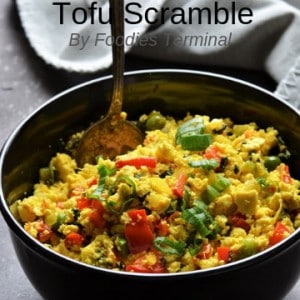 Easy Tofu Scramble With Nutritional Yeast
Print Recipe
Pin
Rate
Tofu scramble with nutritional yeast is an easy, Vegan, gluten free breakfast recipe that packed protein. A tofu bhurji is a great way to kick start a morning with a healthy note. Ready in just 15 mins this easy vegan scrambled eggs will be your next favorite.
Want more Recipe Videos?
Check out our Youtube channel!
Instructions
Begin by squeezing the firm tofu slab with your hands or wrap it all up with paper kitchen towel & place a heavy weight on the tofu slab. You may keep it that way for at least 30 mins to squeeze all the moisture out.

Scramble the tofu with the help of a fork or your hand. Keep aside.

Next, heat a skillet over medium high heat. Add oil, when hot release the onions & saute until slightly translucent.

Next add all the veggies except the cilantro & scallions. Saute for 2-3 mins & then add the tofu seasoning mix (turmeric,nutritional yeast, paprika, cayenne pepper, cumin powder, salt) and mix well.

Now, add the cilantro & the scallions and mix very well. It's time to add the scrambled tofu.

Mix well until the tofu is well coated with the seasoning & the veggies. Saute for 2-3 mins.

Switch off the flame & squeeze lemon juice. Garnish with more cilantro & scallion and serve hot. Enjoy!
Notes
Use extra firm or firm tofu for this recipe.
The seasonings are customizable, you may totally skip adding the optional ones.
Nutritional yeast will give the tofu scramble a cheesy, nutty & eggy flavor. We love it!
Do not forget to drain the water from the tofu slab. Read the post.
Measuring cup used, 1 cup = 240 ml & 1 teaspoon = 5 ml.
Nutrition Facts
Easy Tofu Scramble With Nutritional Yeast
Amount Per Serving
Calories 286
Calories from Fat 186
% Daily Value*
Fat 20.7g32%
Cholesterol 18.8mg6%
Sodium 457.3mg20%
Potassium 441.1mg13%
Carbohydrates 10.3g3%
Protein 19.4g39%
* Read our privacy policy – Calorie information is provided as a courtesy only and should be leveraged as an estimate rather than a guarantee.Percent Daily Values are based on a 2000 calorie diet.
Nutrition
Calories:
286
kcal
|
Carbohydrates:
10.3
g
|
Protein:
19.4
g
|
Fat:
20.7
g
|
Saturated Fat:
6.2
g
|
Polyunsaturated Fat:
3
g
|
Monounsaturated Fat:
1.9
g
|
Cholesterol:
18.8
mg
|
Sodium:
457.3
mg
|
Potassium:
441.1
mg
|
Fiber:
3.3
g
|
Sugar:
2.3
g
Pin it for later