Yum Yum sauce Recipe without Tomato Paste tastes just like your favorite Hibachi Restaurant. You'll love this amazing Hibachi Sauce on grilled meat, Kebabs, fried rice, stir fry veggies and much more!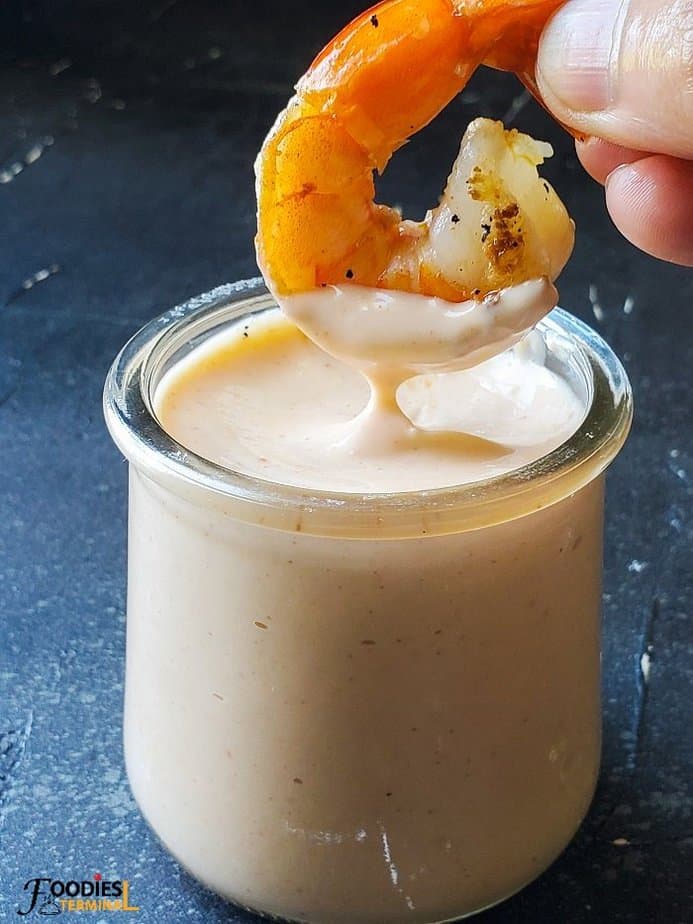 Hibachi Sauce Recipe
This 5 minutes Yum Yum Sauce recipe tastes just like Benihana's Hibachi sauce or Fuji Steak House's Yum Yum Sauce. Slightly sweet, tangy, extremely creamy and oh-so-delicious on literally every single thing.
A perfect accompaniment with grilled meat, Hibachi Fried rice or any fried rice & stir fries! This Sauce is a game changer & whoever named it "Yum Yum" is a genius 😀
It's truly SO Yum!
Ingredients
Find the Ingredients with actual measurements way below the post on the "Recipe Card". The list below is just a reference.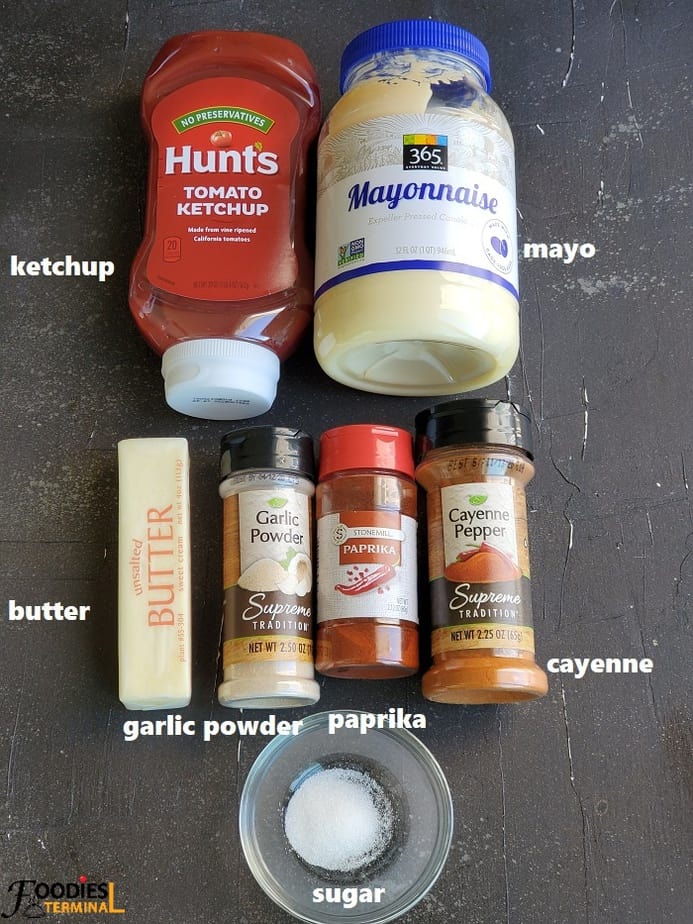 Mayonnaise
Butter: Melted. I used unsalted. If you use salted butter slight up the amount of sugar by a few dashes may be.
Tomato Ketchup: You can sub it with tomato paste as well.
Garlic Powder.
Paprika.
Cayenne Pepper.
Sugar.
Water.
Tips & Tricks
The Sauce Consistency: The sauce should not be runny or watery. So, do use the exact amount of water mentioned in the recipe.
Creaminess: The sauce is extremely creamy and for that consistency you need to whisk the ingredients well to uniformly mix them. Hand whisk helps here.
Melt the butter and use it.
The flavor: You can certainly play with the dry stuffs like paprika, cayenne & garlic powder. If you love the sauce spicy increase the cayenne pepper.
Store: An airtight moisture free container like a glass jar works best.
For Best Flavors: Refrigerate Overnight or for at-least 2 hours before serving. Allows the flavors to shine.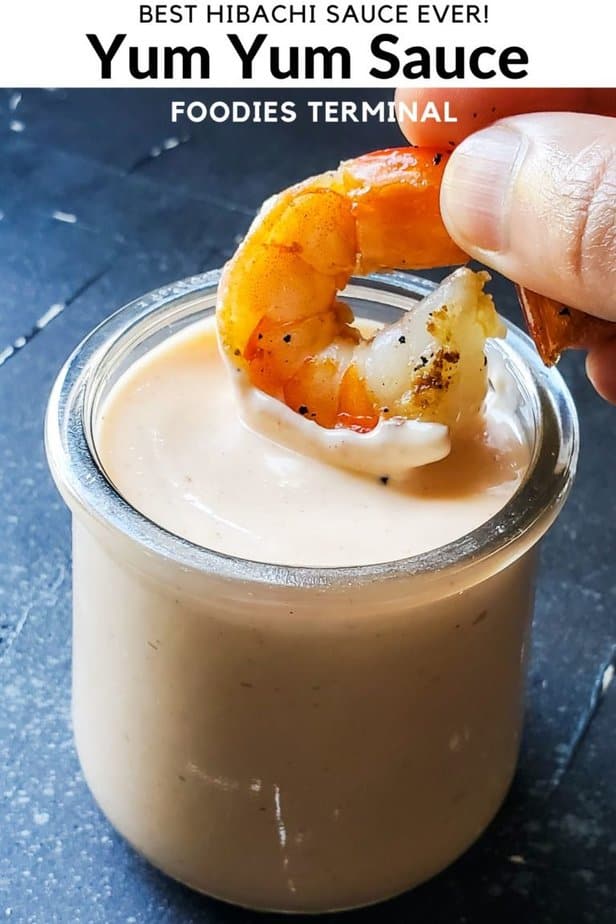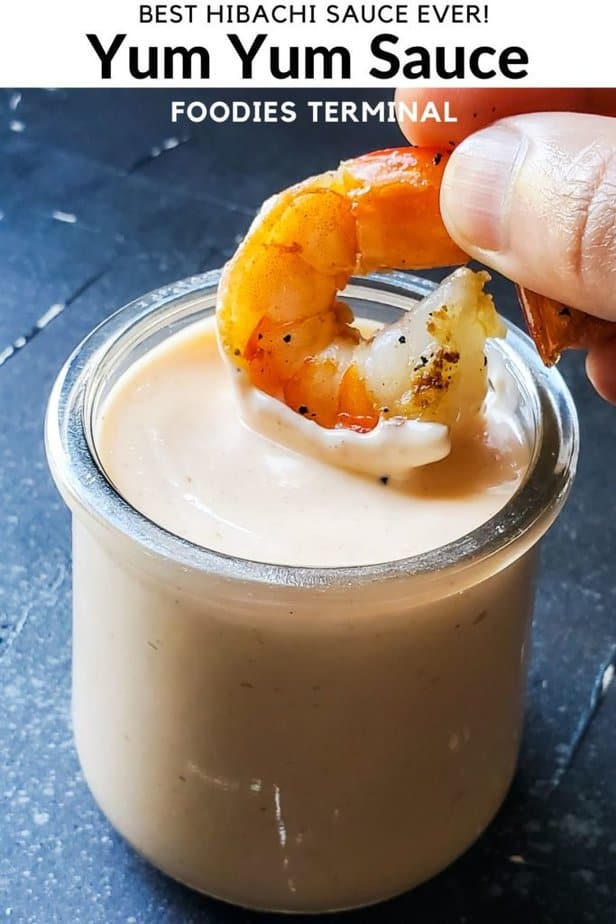 Storing Tips
The Yum Yum Sauce lasts for 7 days in the fridge when stored in moisture free airtight containers. Discard any leftovers past 7 days.
Serving Ideas
Yum Yum Sauce recipe without tomato paste is a super versatile sauce and you will love it with just about anything. Below are a few ideas to help you begin the Yum Yum Sauce journey 😀
Grilled meat.
Hibachi Fried Rice.
Regular Fried rice.
Stir Fries like sauteed veggies in the wok.
Wraps.
Satays.
Salads.
Even Kebabs.
Serve these with the Sauce: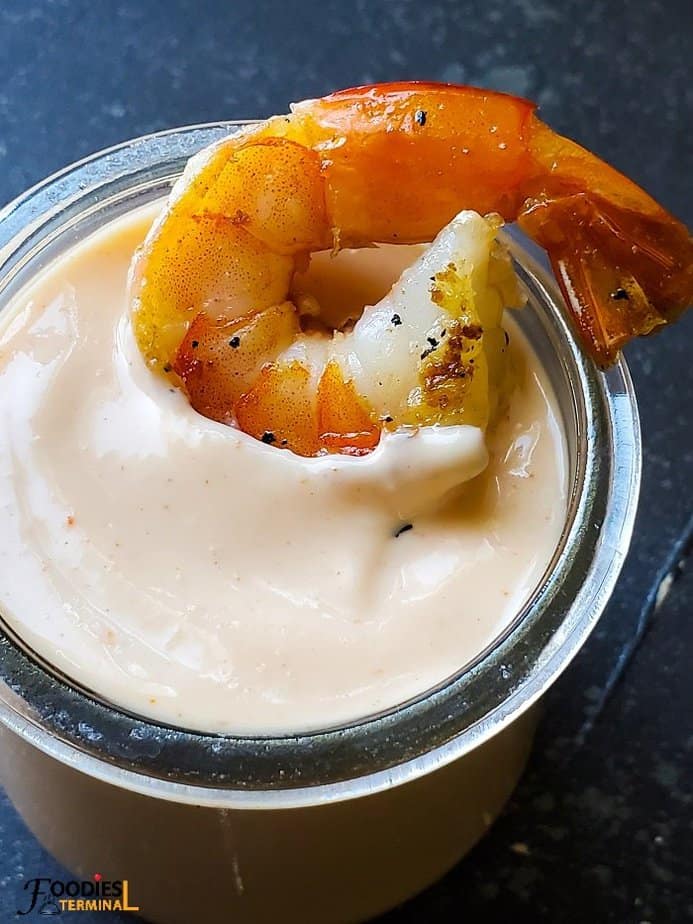 FAQs
Can Yum Yum Sauce be frozen?
No, Yum Yum Sauce can't be frozen because the emulsion is Mayonnaise will break. However, you can store it in the fridge for sometime.
Can Yum Yum Sauce be heated?
Yes, Yum Yum Sauce can be heated, but, don't boil it. It tastes best at room temperature.
Is Yum Yum Sauce spicy Mayo?
No, Yum Yum sauce is not spicy mayo. However, it's a Mayo based sauce popularly served in Japanese Steakhouses.
More Sauce Recipes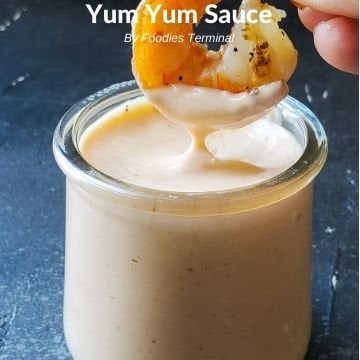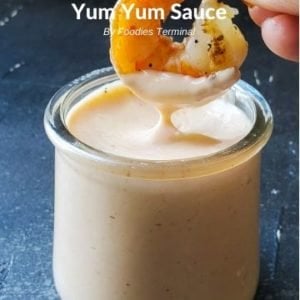 Yum Yum Sauce Recipe without Tomato Paste
Print Recipe
Pin
Rate
Yum Yum sauce Recipe Without Tomato Paste tastes even better than your favorite Hibachi Restaurants Yum Yum Sauce. This 5 minutes Hibachi Sauce Recipe tastes amazing with grilled meat, fried rice, stir fries and even kebabs.
Want more Recipe Videos?
Check out our Youtube channel!
Instructions
Take all the ingredients in a bowl and mix well with the help of a fork or a hand whisk until you have a creamy sauce. That's all!
Notes
Measuring Units Used, 1 cup = 240 ml & 1 teaspoon = 5 ml.
Sauce Quantity: Approximately 1 cup.
Storing Tips: Lasts for 7 days in the fridge when stored in moisture free air tight containers. Discard any left overs past 7 days.
Calorific details are provided by a third party application & are to be used as indicative figures only.
Nutrition Facts
Yum Yum Sauce Recipe without Tomato Paste
Amount Per Serving
Calories 663
Calories from Fat 549
% Daily Value*
Fat 61g94%
Cholesterol 66mg22%
Sodium 1719mg75%
Potassium 69mg2%
Carbohydrates 28g9%
Protein 1g2%
Vitamin A 998IU20%
Calcium 13mg1%
Iron 1mg6%
* Read our privacy policy – Calorie information is provided as a courtesy only and should be leveraged as an estimate rather than a guarantee.Percent Daily Values are based on a 2000 calorie diet.
Nutrition
Calories:
663
kcal
|
Carbohydrates:
28
g
|
Protein:
1
g
|
Fat:
61
g
|
Saturated Fat:
15
g
|
Cholesterol:
66
mg
|
Sodium:
1719
mg
|
Potassium:
69
mg
|
Sugar:
13
g
|
Vitamin A:
998
IU
|
Calcium:
13
mg
|
Iron:
1
mg