Today's Aloo Matar Pulao has all the good characteristics of a Pilaf recipe. Imagine extra fluffy rice where the grains remain separate & cooked to the right doneness. That's what you are going to get. An easy Potato Peas Rice recipe packed with flavors and made in the Instant Pot just like this Chicken Pulao with a few spices.
This Aloo Matar Pulao is Gluten free, Vegetarian and can be made vegan.
Love Easy Instant Pot Recipes? Check out amazing Instant Pot Recipes from Foodies Terminal.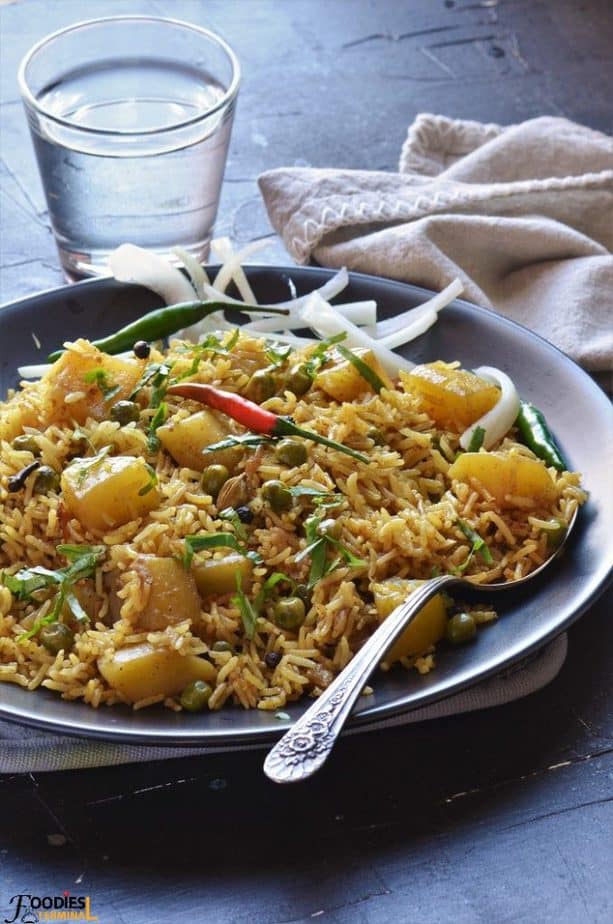 Instant Pot Aloo Matar Pulao
Aloo Matar Pulao = Potato Green Peas Rice Pilaf. It's also known as "aloo matar wale rice."
This recipe will reward you with extremely fluffy rice flavored with a few staple spices, ginger root and cooked along with potatoes and green peas in a single pot.
I used an Instant Pot to make it. However, you can make the aloo matar wale rice on the stove top or in a traditional pressure cooker.
Similarly, if you are a garlic lover you may add a bit of garlic paste in this recipe. However, I found that ginger paste is enough to boost the flavors of this simple pilaf.
For best results use aged Basmati rice & fresh green peas straight out from the pod.
However, frozen peas won't disappoint you 🙂
If you want extra fluffy and non sticky rice in your pilaf just like this picture always make the recipe with AGED BASMATI.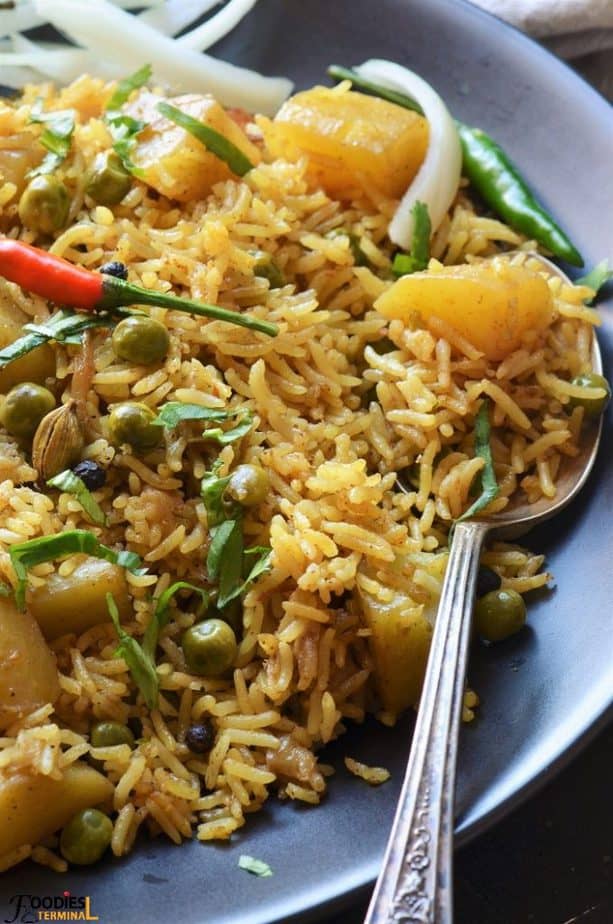 Similarly, pantry staple whole garam masalas. You may use a wide variety just like me or skip a few if you don't have them.
Pack this potato peas rice pilaf in your kids lunch box with a side of yogurt, take it to potlucks, picnics, road trips or enjoy it during busy weeknights.
Aloo Matar Pulao tastes great with any veggie curry, meat or fish curry or just a Raita or yogurt as an accompaniment.
You'll love making it in the Instant Pot. Just take a note of the rice : water and you'll always be very happy with the result.
Aloo Matar Rice Ingredients
Here's what you'll need…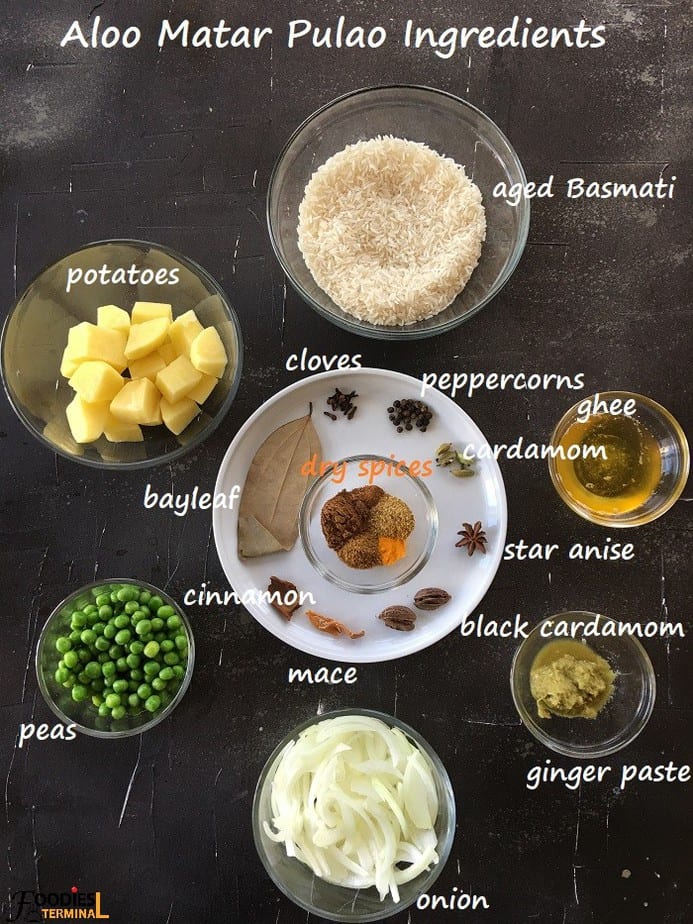 Basmati Rice: Buy the aged variety. Popular Indian brands like India Gate, Dawat sell good quality aged Basmati. If the Basmati is not aged your pilaf won't be extra fluffy. Just imagine a slightly sticky rice, but it'll still be tasty.
Green Peas: Use fresh from the pod or frozen. I used frozen for today's recipe.
Potatoes: Diced into 1/2″ chunks. I used Yukon gold potatoes. You may use any variety except Idaho potatoes (if you are in the USA).
Onion: Sliced.
Ginger Paste: along with some green chilies. Skip the chilis if you prefer less spicy food.
Dry Spices: Garam masala powder, cumin powder, coriander powder. turmeric powder, star anise powder (just a pinch or two, also optional).
Whole Spices: Black cardamom, green cardamom, mace, star anise, cloves, cinnamon, black peppercorns.
Bay leaf.
Ghee: Swap the ghee with any neutral oil for Vegan aloo matar pulao.
Tip: Use Aged Basmati for extra fluffy, non sticky Pilaf. Each grain will remain separate once cooked. Newer varieties will still reward you with a delicious Pilaf which won't be as fluffy. The rice might stick to each other.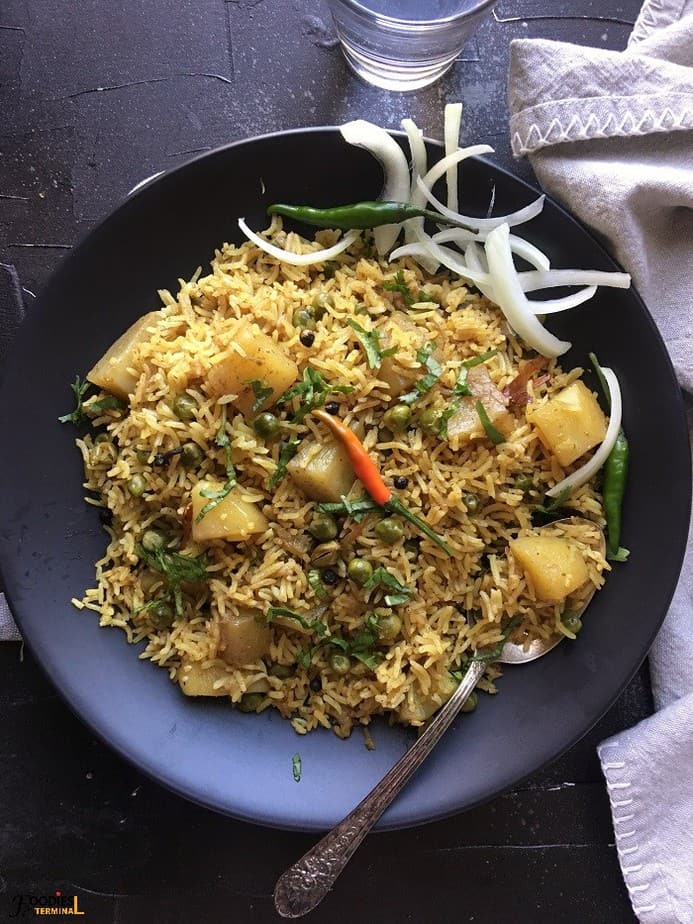 Aloo Matar Chawal – Tips
Go for Aged Basmati Rice: The best rice for Biriyani & Pulao recipes. Remains extra fluffy when cooked, each grain remains separated, packed with excellent aroma and taste.
Rinse the rice very well until clear water runs through: The starch drains out, makes the rice non sticky.
Soak rinsed rice for not more or not less than 30 minutes:
For every 1 cup rinsed soaked Aged Basmati the water quantity is 1 & 1/4 cups. Here, 1 cup = 240 ml.
Mix the rice gently after adding it to the inner pot. Soaked rice is fragile, the grains might break.
How to make Aloo Matar Pulao step by step?
Steps in words below pics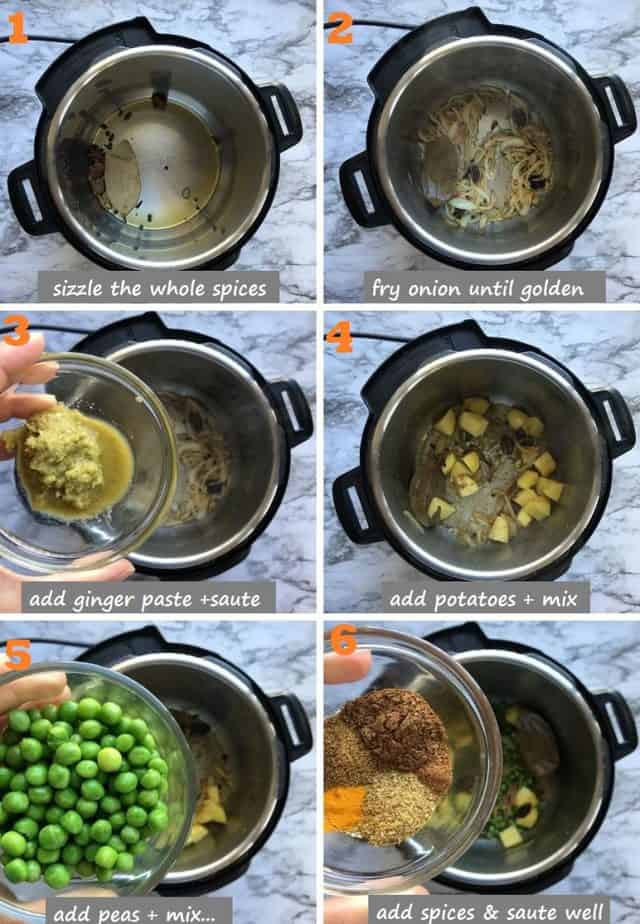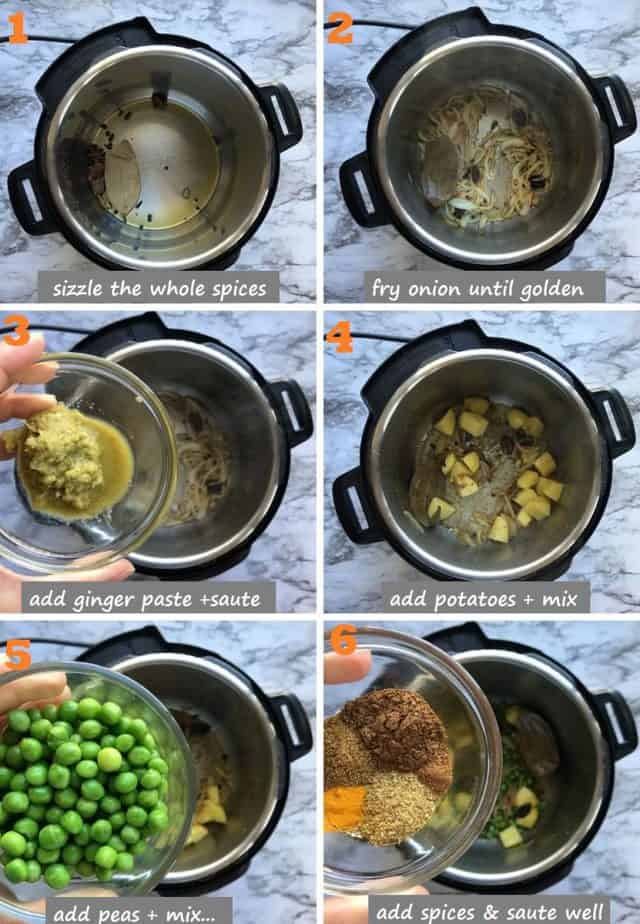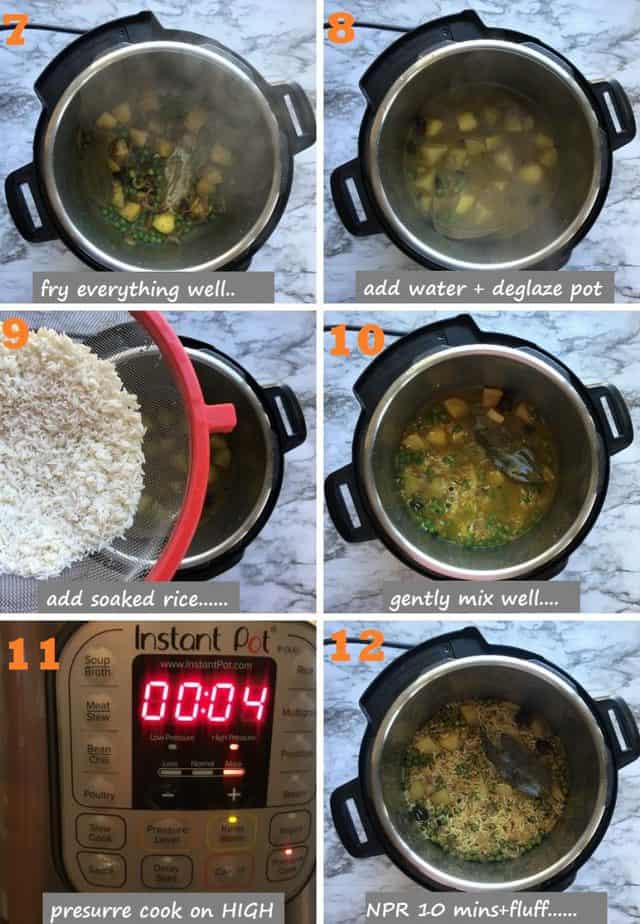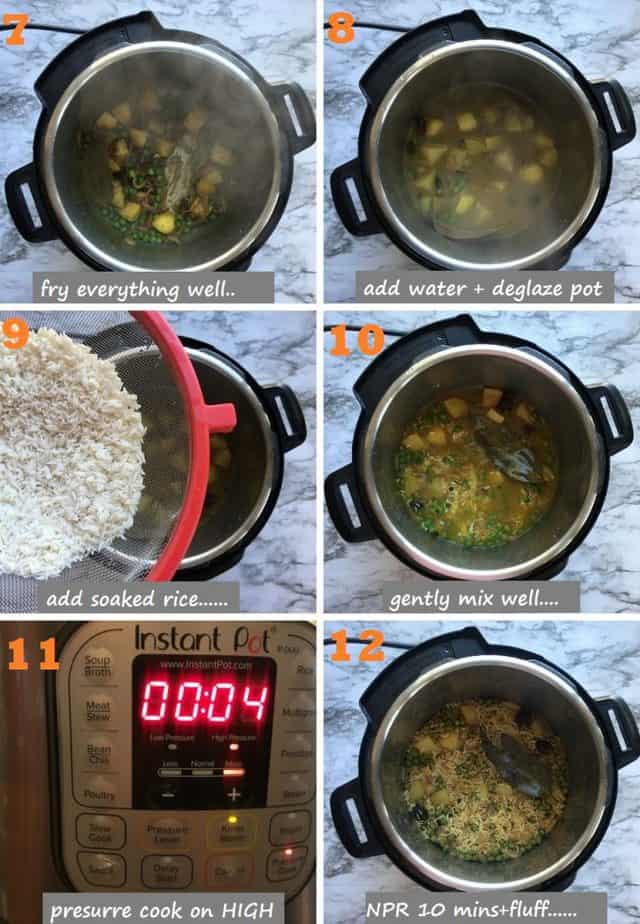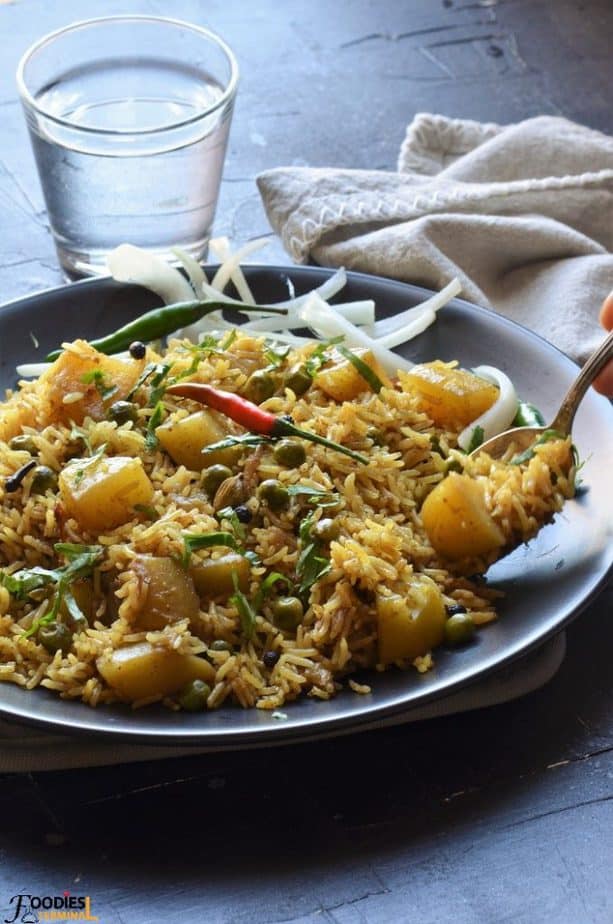 Time needed: 30 minutes.
How to make Aloo Matar Pulao?
Prep the rice & temper the ghee

Rinse the Basmati very well, soak for 30 mins. While it's soaking heat ghee in the inner pot of the Instant Pot on SAUTE kept at NOMAL. Sizzle the whole spices for few seconds.

Fry the Onion

Add the sliced onion and fry until golden.

Sauté the ginger paste

Add ginger paste & sauté until the raw smell begins to fade.

Add the potatoes & peas

Mix in the potatoes & add the peas. Mix well.

Sauté the dry spices

Add all the dry spices and sauté until the raw smell disappears. Sprinkle water to prevent things from getting burnt.

Measure water and add

Add the exact measured water and deglaze the pot well for any bits and crumbs that are stuck at the bottom of the pot.

Add drained rice to the pot

Strain the soaked rice and add it to the pot. Mix the rice gently.

Pressure cook

Cancel the SAUTE mode and PRESSURE COOK on HIGH for 4 mins and than wait for natural pressure release for 10 mins.

Fluff and serve hot

Release the rest of the pressure manually and fluff the cooked pulao with a fork. Serve with the favorite sides of your choice.
Try these easy Rice recipes from Foodies Terminal.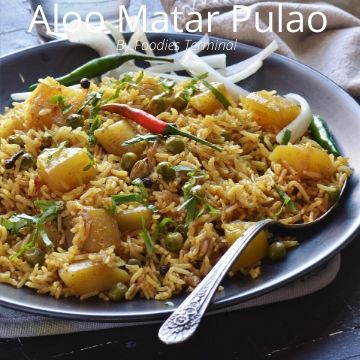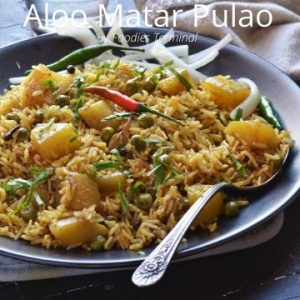 Aloo Matar Pualo
Print Recipe
Pin
Rate
Aloo Matar Pulao made in the Instant Pot is a healthy one pot meal that's gluten free, kids friendly & can be made vegan. This Indian style Potatoe Peas Rice dish packs a punch with extremely fluffy rice & subtle flavors from the whole spices. A great Pilaf recipe to make any time for a quick lunch or dinner.
Ingredients
1

cup

aged basmati rice

(washed & soaked in water for 30 mins)

3/4

cup

peas

1

cup

1/2″ potato chunks

(peeled)

1

cup

thinly sliced onion

1/2

tbsp

ginger paste

(add 2-3 chilies while making the paste)

3

tbsp

ghee

( or any neutral oil)

1-1/4

cups

Water

(Here, 1 cup = 240 ml.)
Want more Recipe Videos?
Check out our Youtube channel!
Instructions
Prepping the Pulao Rice
Begin by washing the Basmati rice several time under running tap water until clear water runs through. This step is VERY IMPORTANT & helps expel the starch from the rice. As a result, the cooked rice will remain fluffy & won't turn sticky.

Soak the washed Basmati rice with enough water for 30 mins sharp. Not nore not less. In the meantime, proceed with the rest of the recipe.
How to make Aloo Matar Pulao in Instant Pot?
Set the Instant Pot to SAUTE & keep it at NORMAL.

Add ghee, when the ghee becomes moderately hot throw in the whole spices mentioned in the "Whole spices" section above. Sizzle them for a few seconds.

Next, add the sliced onions and fry them until nice and golden. You can ass salt at this stage.

Once the onions turn lovely golden color add the ginger paste and saute until the raw smell of the ginger completely disappears. Took me 1 min.

Now, add the peeled and diced potato chunks and give everything a very good mix. 

Add the fresh or frozen and thawed green peas and mix well with the other ingredients in the pot.

Now, add the dry spices and give everything a good mix. Things will start to stick at the bottom now, don't worry, we will be deglazing the pot later. Also, sprinkle few teaspoons of water to prevent the spices from burning. Fry everything until the spices become nice and roasted or until the raw smell of spices begin to fade.

Pour the exact measured water which is 1 & 1/4 cups ( 1 cup = 240 ml ). De glaze the pot well.

Drain the soaked rice with the help of a strainer or colander so that no excess water remains. I generally let the rice drain for 1-2 mins.

Add the drained soaked basmati to the inner pot of the Instant Pot and gently mix with the rest of the ingredients.

CANCEL the SAUTE mode. Close the lid of the Instant Pot, seal the valve and PRESSURE COOK on HIGH for 4 mins.

After 4 mins when you hear the Instant Pot beeping sound wait for Natural Pressure Release (NPR) for 10 mins and than release the rest of the pressure manually by moving the valve from the SEALING to the VENTING position.

Open the pot, gently fluff the Aloo Matar Pulao with the help of a fork.

Serve it with Yogurt or raita, sliced onions and garnish with fresh chopped cilantro leaves for extra flavor. Enjoy!
Notes
Measuring Units used, 1 cup = 240 ml & 1 teaspoon = 5 ml.
Instant Pot used: 6 quart DUO.
Basmati Rice Used: Aged Basmati.
Why use Aged Basmati? Keeps those rice grains fluffy and separated in Pilaf or Biriyani recipe. Has better fragrance too.
Why avoid new Basmati rice? The new Basmati rice varieties do not get enough time to dry out properly. Hence, the starch released from the rice will make the rice sticky. You cannot expect extremely fluffy and separated grains with new varieties of Basmati.
Potatoes Used: Yukon Gold Potatoes, you may use any variety except IDAHO potatoes ( if you live in the USA).
Rinse the Basmati until clear water runs through. This process is super important and helps expel the starch from the rice. In return the cooked rice always turns out to be fluffy.
IMPORTANT: For every 1 cup aged Basmati Rice the water added is 1 and 1/4 cups. This amount of water is for well washed Basmati that's been soaked for 30 mins sharp.
Peas Tips: Farm fresh peas from the pods are the best candidate for aloo matar pulao. However, frozen peas are a good choice too. You won't get the same flavor with frozen peas but they work as a good replacement. I myself used frozen peas as fresh peas are a rare sight where I reside. Always thaw the frozen peas and drain the excess water before using them in the recipe.
Can you use ginger garlic paste? Yes of course you can. In that case instead of using 1/2 tbsp. ginger paste use 1/2 tbsp. ginger garlic paste. Try my homemade Ginger Garlic Paste Recipe. It'll last you upto 6 months without turning green.
Use slit green chilies for good taste: I avoided using slit green chilies because my 6 years old hates spicy food. I would recommend you to use them. They impart a good taste to Pilaf. Use them while frying the onions.
NOTE: This is a Pulao/Pilaf recipe. Don't confuse it with BIRIYANI. Rice and veggies are cooked together in a single pot to make a Pulao/Pilaf. Whereas, in Biriyani the rice is partially cooked first and the protein is cooked in another pot. Than, the partially cooked rice and veggies or the meat is layered and slow cooked in "Dum" style to infuse the exotic flavors. There's a huge difference between Pulao/Pilaf and Biriyani. They taste different, involves different set of ingredients and cooked in different method too.
Calorific details are provided by a third party application & are to be used as indicative figures only.
Nutrition Facts
Aloo Matar Pualo
Amount Per Serving
Calories 550
Calories from Fat 135
% Daily Value*
Fat 15g23%
Sodium 680mg30%
Potassium 525mg15%
Carbohydrates 99g33%
Protein 12g24%
Vitamin A 750IU15%
Vitamin C 51.2mg62%
Calcium 100mg10%
Iron 3.6mg20%
* Read our privacy policy – Calorie information is provided as a courtesy only and should be leveraged as an estimate rather than a guarantee.Percent Daily Values are based on a 2000 calorie diet.
Nutrition
Calories:
550
kcal
|
Carbohydrates:
99
g
|
Protein:
12
g
|
Fat:
15
g
|
Saturated Fat:
10
g
|
Sodium:
680
mg
|
Potassium:
525
mg
|
Fiber:
9
g
|
Sugar:
9
g
|
Vitamin A:
750
IU
|
Vitamin C:
51.2
mg
|
Calcium:
100
mg
|
Iron:
3.6
mg
Pin it for Later!