Kokum Sharbat or Kokum Juice is truly what you need during the hot summer months. It's one refreshing summer coolant that has so many health benefits. You'll have a slightly sweet & tangy drink in a glass with a faint aroma of roasted cumin & black salt & with lots of ice cubes. Sipping Kokum Juice is such a refreshing affair & a single glass is never enough!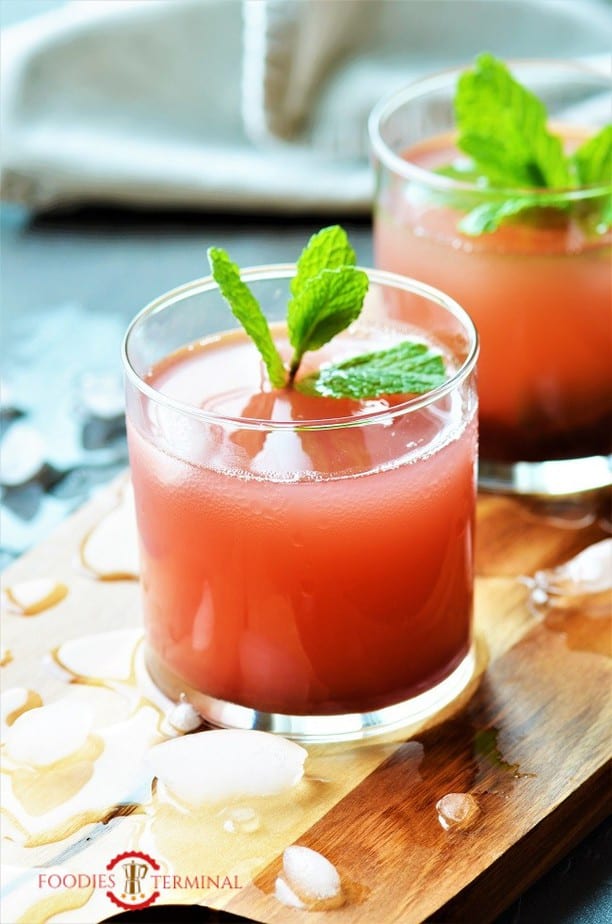 Kokum Juice or Kokam Sharbat
Do you know how easy it is to make Kokum Juice at home?
Once, you figure out the damn easy process I am sure you won't be going back to the preservative laden & sugar infused, color infused kokum sharbat bottles from the store!
You just need 3 ingredients to make a semi thick kokum concentrate or Kokum Squash or Kokum Juice that you can store in your fridge for up to 7 days.
No prior soaking of the dried kokum pieces for long hours needed. Only two steps involved – Boiling & Straining. That's all you need to do to prepare today's excellent Kokum Juice recipe.
Try out this excellent Beet Apple Carrot detox Juice, 3 ingredients Vanilla Icecream, Strawberry Popsicles Recipe, No churn white chocolate & roasted raspberry icecream, Vegan Mango + coconut popsicle.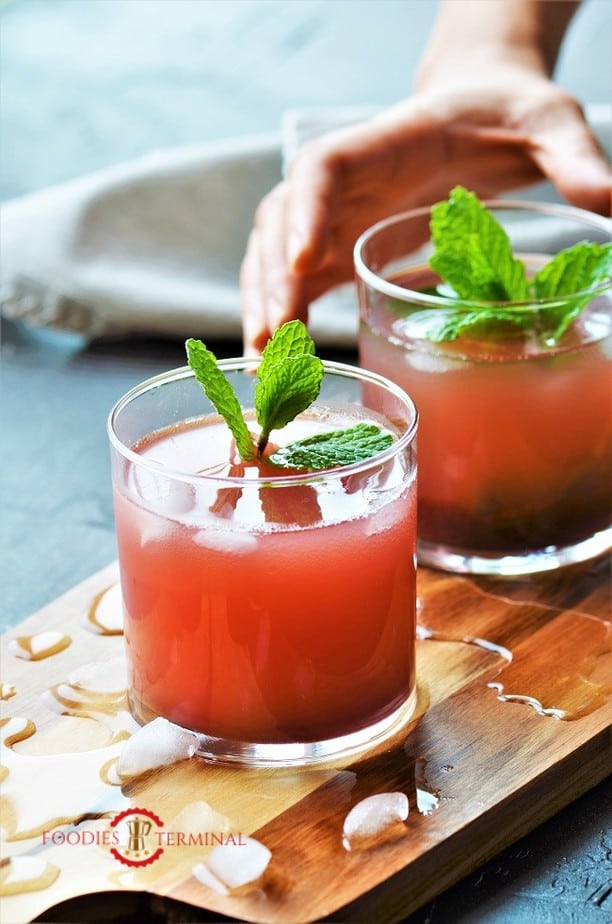 Spoon out the pulp, pour some super chilled water, throw in some ice cubes, sweeten it with your choicest sweetener. Bam! a perfect easy home-made Kokum Sharbat ready in 2 mins!
We love to sweeten our drinks naturally so we always go with organic Canadian Maple Syrup. It's super indulgent, I don't mind licking some directly from the spoon 😀 😛
But you can also sweeten the Sherbet with white sugar, cane sugar, honey, palm sugar. We tried them all & they all make an excellent glass of Kokam Sharbat.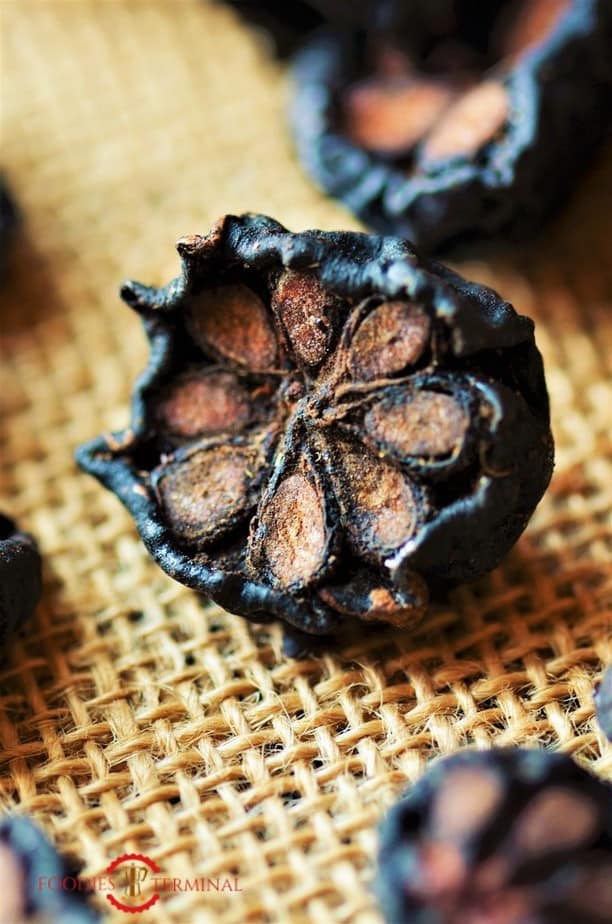 What is Kokum?
Kokum is a beautiful reddish purple colored fruit belonging to the Mangosteen family & know by the botanical name of Garcinia Indica.
It has several medicinal properties & acts as an anti-inflammatory, antioxidant & anti fungal agent. Kokum is also aids in digestion.
This fruit bearing plant is indigenous to the Western Ghats, India & the locals of Goa, Maharashtra, Gujarat & Karnataka use it extensively as a souring agent.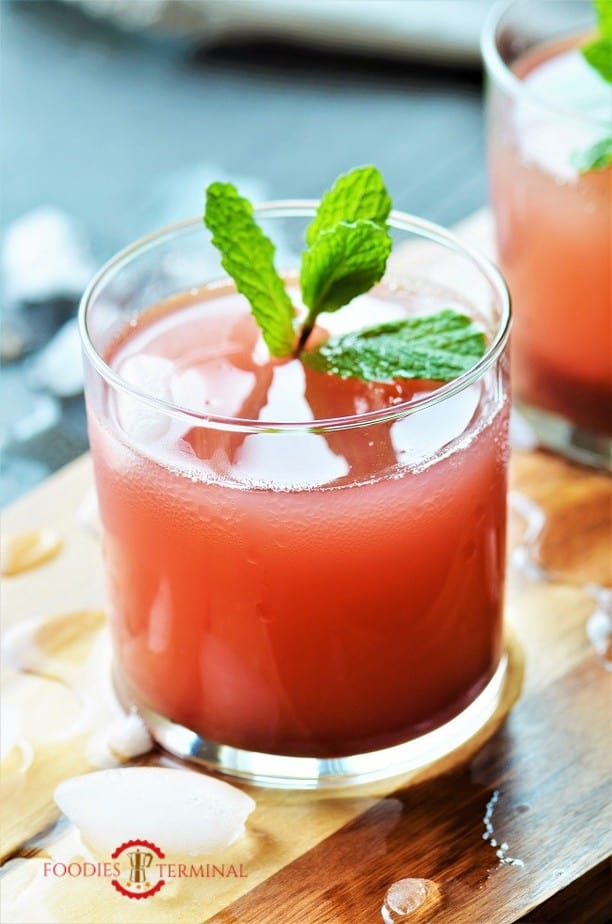 What is Kokum Sharbat?
Kokum Sharbat is a popular summer drink that's made with dried Kokum concentrate or Kokum Squash. It's best served chilled & has a refreshing taste that's quiet indulgent.
Kokum Sherbet is packed with medicinal properties & acts as an excellent cooling agent that provides relief from the hot summers. It also aids in digestion.
You can make it into a healthy summer drink by sweetening it with natural sweeteners like Maple syrup, honey or palm sugar. And it's absolutely easy to make it at home.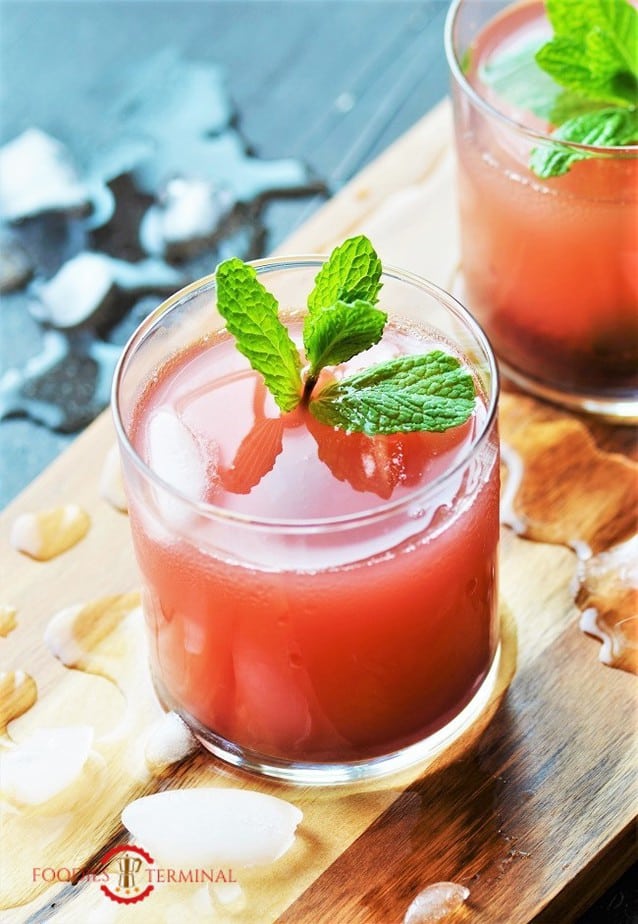 How does Kokam Sherbet Taste?
Dried Kokam has a sweet aroma & tastes very sour with a hint of metallic taste. But, the fresh reddish fruit plucked from the tree tastes sweet.
Kokam Sharbat or Kokum Juice is mainly made with dried kokum & thus it has a mild tangy taste with a faint refreshing aroma of roasted cumin & black salt.
If you choose not to sweeten it with any sweeteners the natural tang from the fruit will be more prominent in the drink with a faint metallic taste.
But, if you sweeten it just like us the tang & the metallic taste of the dried kokum will be well balanced in the Sherbet.
We love both ways, an unsweetned Kokum Sharbat that's salty & tangy. And, also a sweetened Kokum Sharbat that's more fruity & sweet.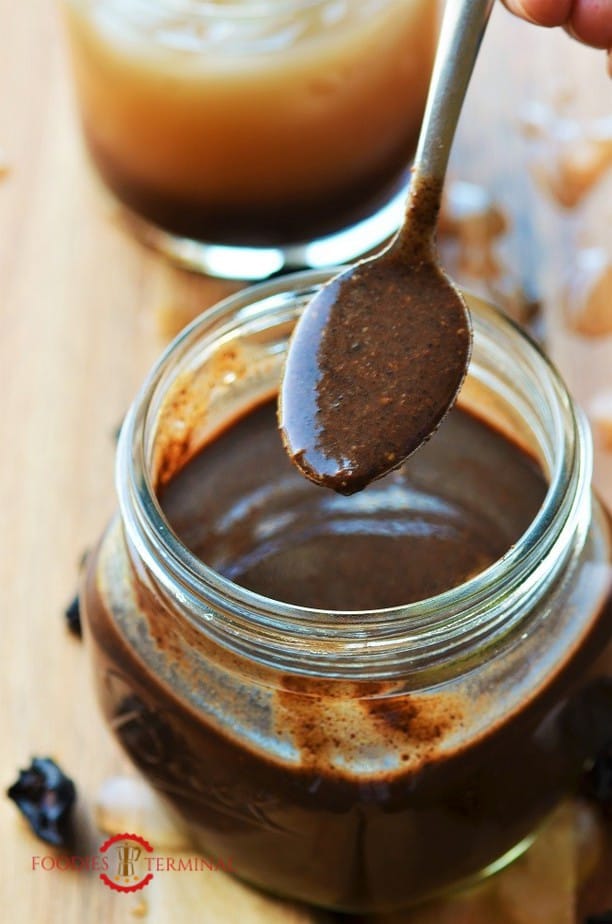 How to store the Kokum concentrate in the fridge?
Once you make a batch of a Kokum concentrate or Kokum squash from dried kokum you need to store it for future use. This is how you can do it:
Choose an air tight canning jar that's clean & completely dry.
Pour the concentrate from the saucepan to the jar once it's at room temperature.
Store in the fridge covered.
Keeps good for 7-10 days.
Just spoon out with a dry spoon & use it to make Sharbat. It's that easy & that's what makes it a perfect candidate to cater a large crowd.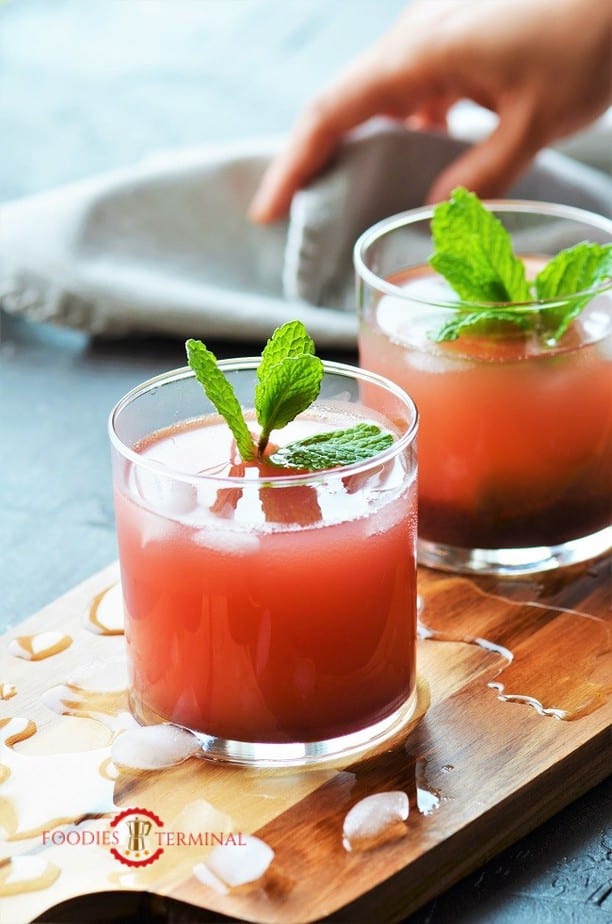 Kokum Sharbat Benefits
Kokum has popular medicinal, industrial & culinary properties. It's loaded with health benefits making the Sharbat a healthy choice.
Here are some benefits of Kokum Sharbat. It's –
Anti-inflammatory.
Has excellent cooling properties. Thus, making it a perfect summer drink.
It has anti-fungal properties.
An excellent Anti-oxidant.
Helps in digestion.
Keeps the body refreshed.
Why my Kokum Sharbat is Muddy & not Pink or Red?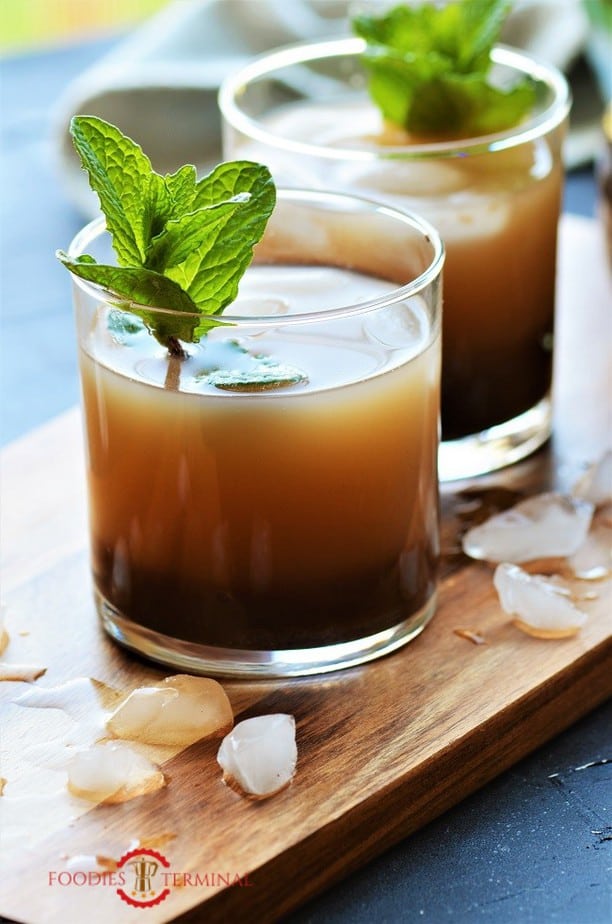 The Kokum Sharbat is mud colored when you use black dry whole Kokum to make the Kokum concentrate. Just like the one you see in the above picture. Your Sharbat will be just like that.
But, when you choose Dry wet Kokum rinds (outer shell of a Kokum) you will get a reddish or pinkish sharbat.
And Mixing both 50/50 will give you a sharbat that's Pale pink in color.
In today's recipe I used a 50:50 ratio of Black dry whole Kokum : Dry wet Kokum Rinds. Hence, you can see the pale pinkish drink.
What do you need to make Kokam Sharbat at home?
You need a few basic ingredients. Here's what you actually need to make Kokum Sharbat or Kokum Juice at home from dried Kokum.
Dried Kokum.
Sweetner: Maple syrup, Honey , Cane Sugar, Plam Sugar, White Sugar. Pick any. We especially love Maple syrup in our Kokum Sharbat.
Black Salt.
Roasted Cumin Powder – Gives great flavor to the Sherbet.
Water.
Where can you buy Dried black Kokum or dried wet Kokum Rinds?
You can buy dried kokum both rinds & whole from Amazon or any Indian grocery stores in your locality.
It's difficult to spot the fresh fruit plucked from the trees here in the USA. At least I've never spotted it in any Indian stores in my area.
In India too I heard from friends that the fresh kokum fruit is widely available in the local markets in Goa & the Konkan Belt.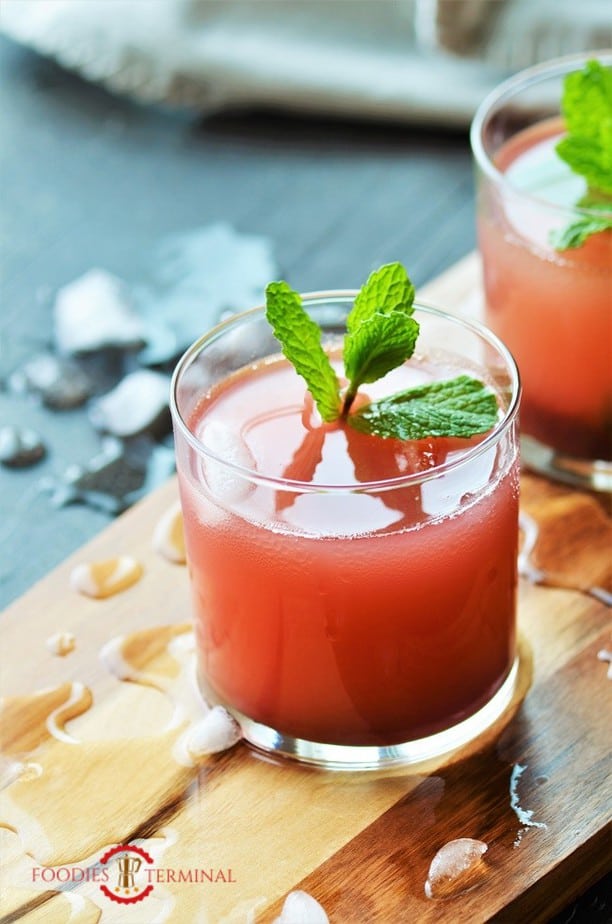 How to make Kokum Sharbat? Step by Step
Steps in words below pictures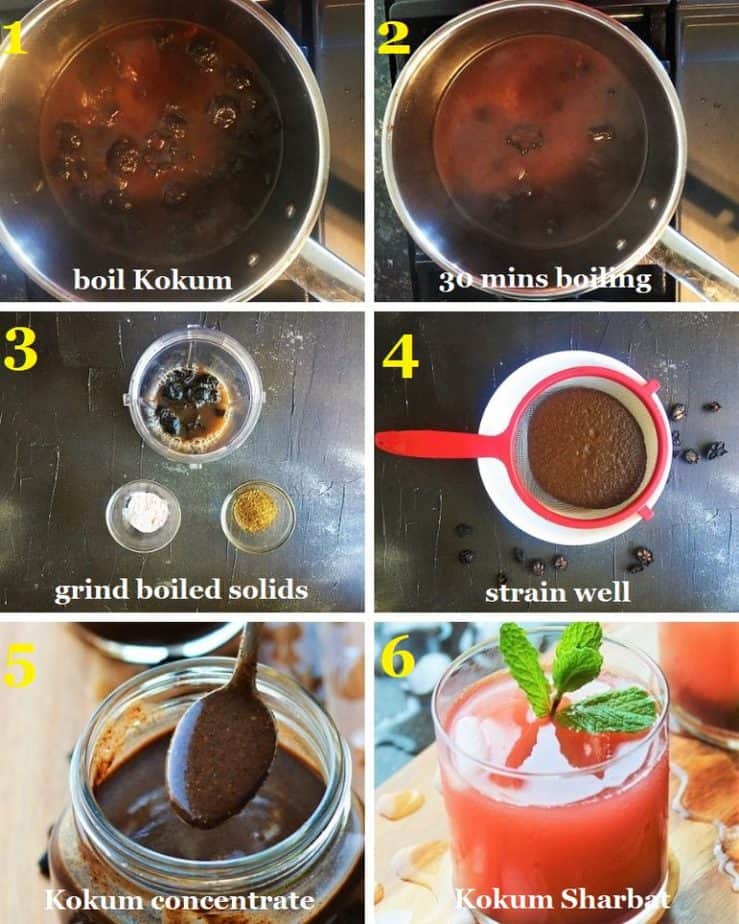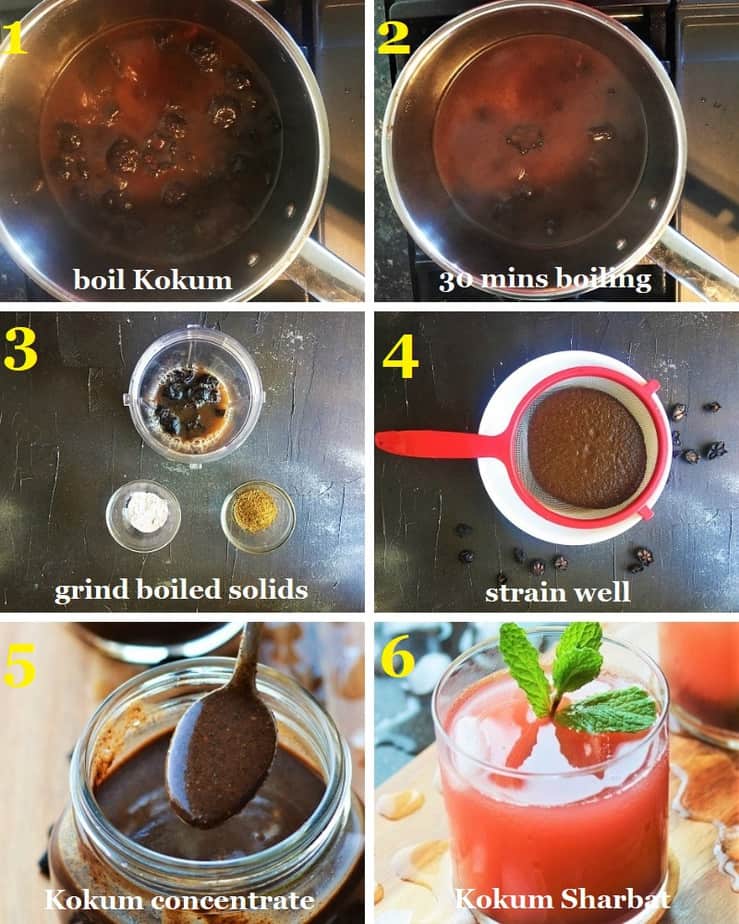 Making the Kokum concentrate or syrup
Begin by Boiling the dry Kokum with water over medium heat, covered & for 30 mins.
You'll notice that the liquid will thicken & become darker.
After 30 mins of boiling strain the Kokum solids, set the boiled liquid apart. Grind the solids with little boiled liquid, you may also add the roasted cumin & the black salt at this point or you may add it later.
Strain the fine paste with the help of a strainer & discard the rough pulp. Mix the rest of the strained pulp with the boiled Kokum liquid to form a thick concentrate.
You may add the roasted cumin powder + the black salt now according to your taste preference.
I love a faint cumin flavor hence I do not add too much. But, that's totally personal. You need not stick to the recipe to the T. Add more or less according to your personal taste preferences. Same applies with the sweetener.
Store the Kokum pulp or syrup in an air tight canning jar in the fridge.
Pro Tip: If you choose dry black whole kokum you'll get a muddy colored drink. If you choose dry wet kokum rinds (outer shell) you;ll get a pinkish, reddish drink. If you use 50/50 of both you get a pale pink Sharbat.
Making the Kokum Sharbat from the concentrate
In a glass scoop out about 2 tbsp Kokum concentrate, add chilled water, the sweetener of your choice. Stir briskly & throw in some ice cubes. You can make the drink pretty by adding your favorite garnishes. I love mint fresh from my garden 🙂 Enjoy!
Pro Tip: The Kokum concentrate tends to settle at the bottom of the glass if the drink is allowed to rest. Don't worry, it's quiet normal. Just stir & mix before your next sip. It's always nice to have a stirrer handy 😉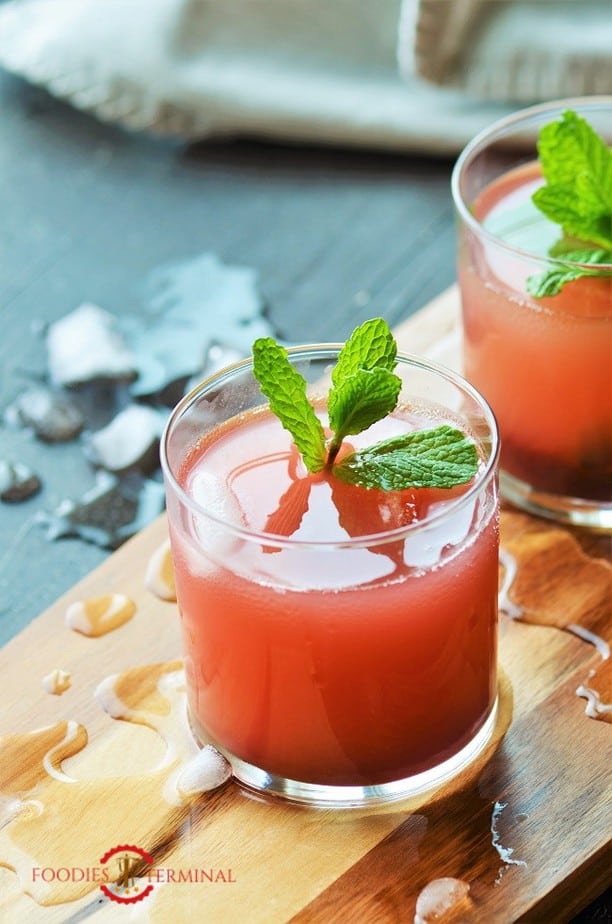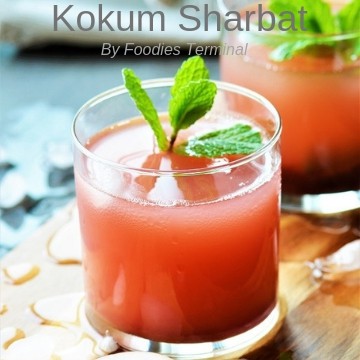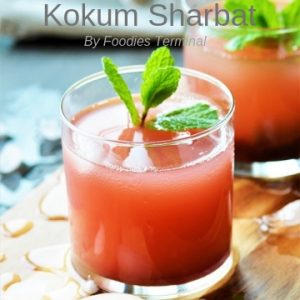 Kokum Sharbat
Print Recipe
Pin
Rate
Kokum Sharbat is an excellent summer drink that you can make easily at home with dried black kokum or Kokum rinds. The best part of this summer coolant is that you can store the thick kokum concentrate in the fridge for days & use it whenever you want a chilled glass of Kokum Sharbat.
Want more Recipe Videos?
Check out our Youtube channel!
Instructions
How to make Kokum concentrate or syrup?

In a deep bottomed saucepan take 5 cups water & add the dried black kokum.

Cover & simmer at medium low for 30 mins. The water will darken over time & start to reduce & become thick,

Strain the liquid & keep aside.

Grind the boiled kokum solids into a fine paste.

Mix with the strained liquid, add the roasted cumin powder, black salt to taste & mix well. The consistency should be thick but pourable & the color dark,.

Store it in the refrigerator in an airtight canning jar.
How to make Kokum Sharbat from the Kokum concentrate?
Scoop out 2 tablespoons Kokum concentrate in a glass. pour chilled water, you favorite sweetener. Stir to mix. Add ice-cubes. You may also garnish with some mint leaves. Serve chilled. Enjoy!
Notes
How to make Roasted cumin powder or Jeera powder? Take some cumin seeds in a skillet, roast over medium flame until you get a lovely aroma. Turn off the flame & allow the seeds to cool down. Grind to a coarse powder. Store in an air tight jar for future use.
Black whole Dried Kokum will yeild a muddy brownish colored Sharbat.
Dried wet Kokum Rinds will make a slightly pinkish, reddish colored sharbat.
After making a fine paste from the boiled kokum solids strain the puree very well. Discard the extract.
The kokum concentrate should be watery. It should be a thick paste yet pourable consistency.
The kokum concentrate keeps good in the fridge for 7-10 days when stored well in a dry air tight canning jar.
You may skip the sweetener totally & that will give a slightly tangy, metallic sharbat that tastes super nice too.
Sweetener Choices: Honey, Maple Syrup, cane sugar, palm sugar, white sugar, jaggery.
Measuring cup used, 1 cup = 240 ml & 1 teaspoon = 5 ml.
Nutrition Facts
Kokum Sharbat
Amount Per Serving
Calories 160
% Daily Value*
Carbohydrates 39.8g13%
* Read our privacy policy – Calorie information is provided as a courtesy only and should be leveraged as an estimate rather than a guarantee.Percent Daily Values are based on a 2000 calorie diet.
Nutrition
Calories:
160
kcal
|
Carbohydrates:
39.8
g
Pin it For Later!