This Tutti Frutti cake has all the goodness of a perfectly baked spongy vanilla cake. If you are looking for an easy Tea time cake recipe then, make this spongy, airy, fluffy, tender, moist bakery style Tutti Frutti Cake with the help of my Step By Step method. Packed with Colorful candied papaya bits, this spongy Tutty Fruity cake won't fail you a single time. If you try this no-fail Tutti Frutti cake recipe definitely share your thoughts in the comments below. Before you scroll down for the Recipe card Just look at the Crumb ...Oh my! Oh my!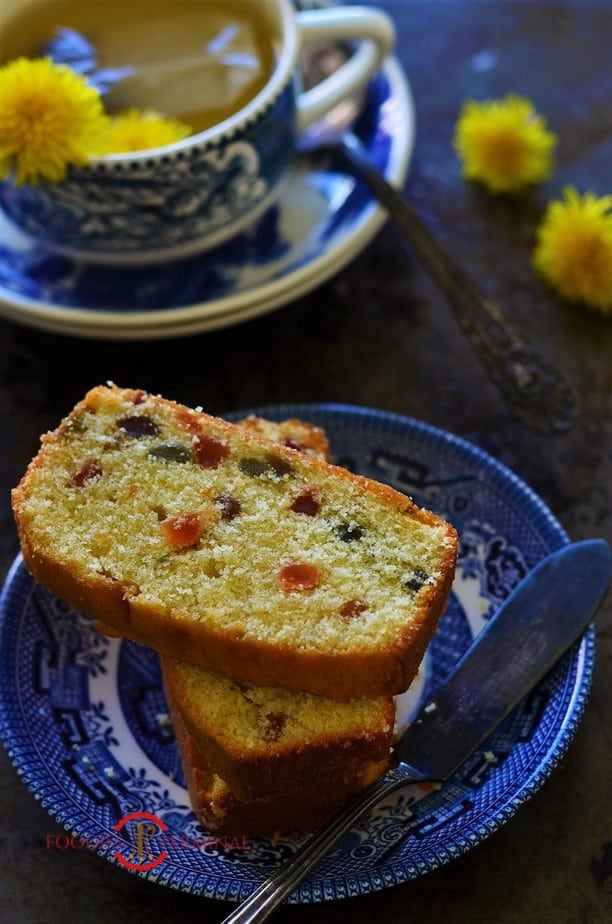 Tutti Frutti Cake Recipe (Step by Step)
Let's get baking guys, shall we? With little bit of chit chat & a pipping hot cup of Coffee or Chai, whatever you prefer & later this extremely delicious Tutti Frutti Cake.
Baking is a therapy to many & I am no different. If you have been baking or just started playing around with baking cakes & more you definitely get my point 🙂
I have been baking for a very long time, 14 years to be more precise. Previously it was all spoon fed & collected recipes & later a few experiments here & there.
And today's Tutty Fruti Cake is one such cake that failed me so many times. Nope not this recipe!
I tried several recipes from the web, some were too dense, a few ultra moist, the eggless Tutti Frutti Cake was super dry, and a few fluffed up so much that they exploded & fell apart....Lol!
Oh! what a mess & what wastage of ingredients!
With my 14 years of baking experience, I did not do anything wrong, it's just that I learned my lesson well - all recipes are not trustworthy.
Well, some web recipes were good but the bakery style Tutti Frutti Cake taste was missing.
So, guys my whole point of telling you all these little facts is this.
I had to experiment with this Indian Tea time cake recipe a bit to come up with todays' no-fail Tutti Frutti Cake recipe that's just perfect in every way & packed with everything good.
After all you guys always deserve the BEST recipes, always 🙂
So, my very favorite bunch of readers try this Tea time cake just once & come back for more I'll be baking and sharing a little more these days.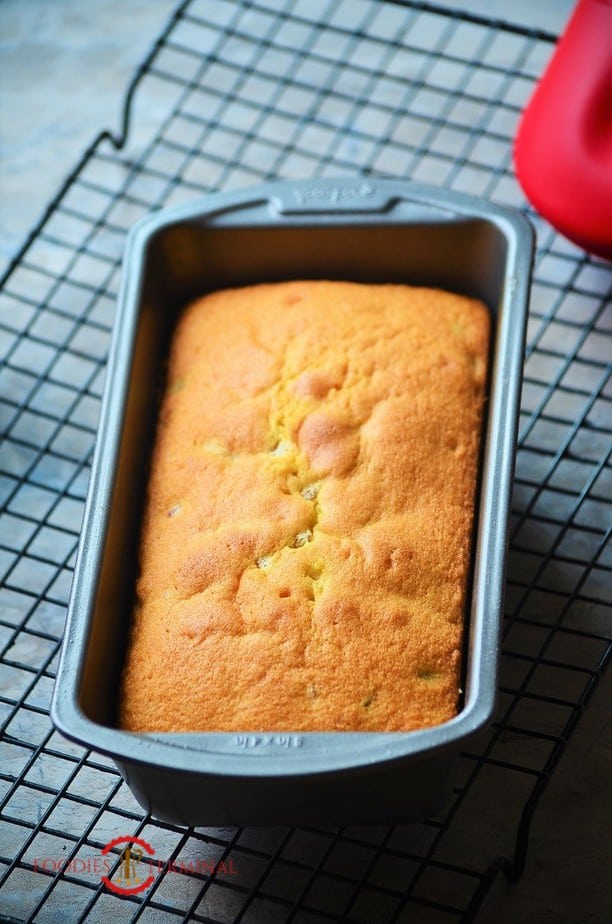 FAQs - Tutti Frutti Cake
What is Tutti Frutti made from or Tutti Frutti meaning
Tutti Frutti is basically small pieces of candied fruit that are very colorful & popularly used for baking purposes or making ice-cream.
In India Tutti Frutti is made from raw candied papaya pieces. Artificial food colors make them so colorful & attractive.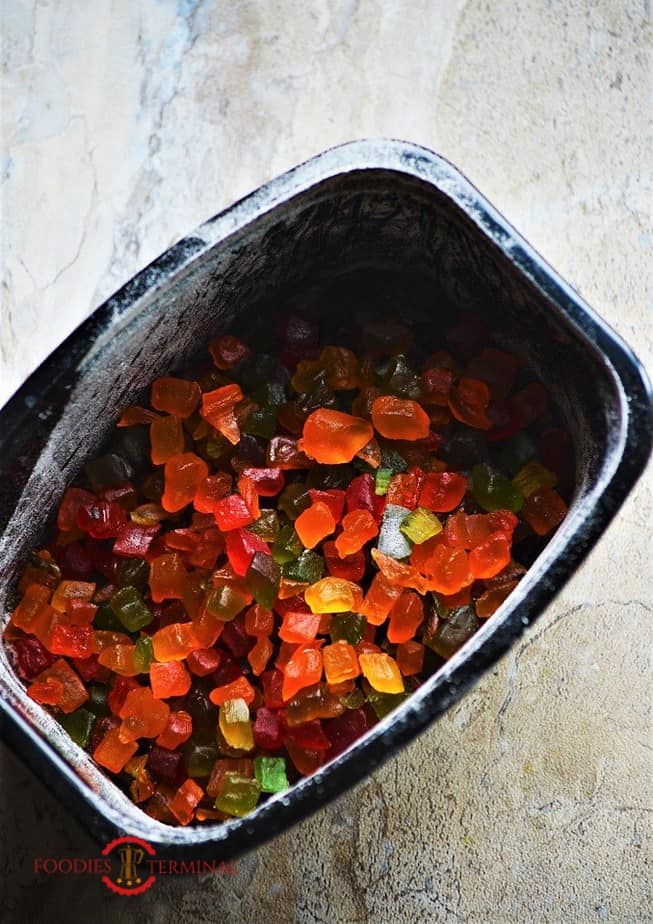 Tutti Frutti Taste
Tooty Fruity don't have any significant smell or piquant taste.
They are like any other candied fruit that taste fruity but not too much, a bit chewy & gummy like (remember gummy bears!)
How do you store Tutti Frutti
Store them in an airtight container at room temperature for 10 days.
If you want to store them beyond the 10 days mark just pop them in the fridge. They keep good for 6 months.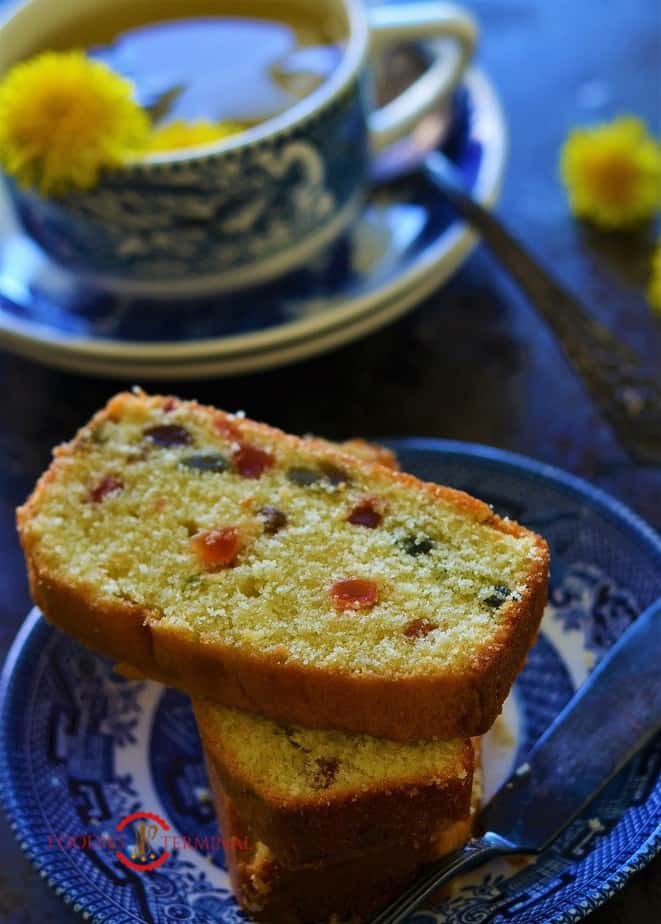 What is Tutti Frutti Cake
A Tutti Frutti Cake is a lovely colorful tea-time cake in the shape of a loaf that's popular in the bakeries back in India.
A Tutti Frutti Cake is
Soft
Tender
Airy
Fluffy
Light
Spongy
Not ultra moist
It resembles a perfect sponge cake in every way.
It's the addition of bright candied papaya pieces that makes this Indian tea time cake so colorful.
A Tutty Fruity cake is well loved by adults & kids alike & is popularly enjoyed as a regular snacking cake with a hot cuppa especially during the late afternoon tea time.
Today's recipe closely resembles the taste of Britania Cakes available in India, I mean the Britania Tooty Fruti Cake.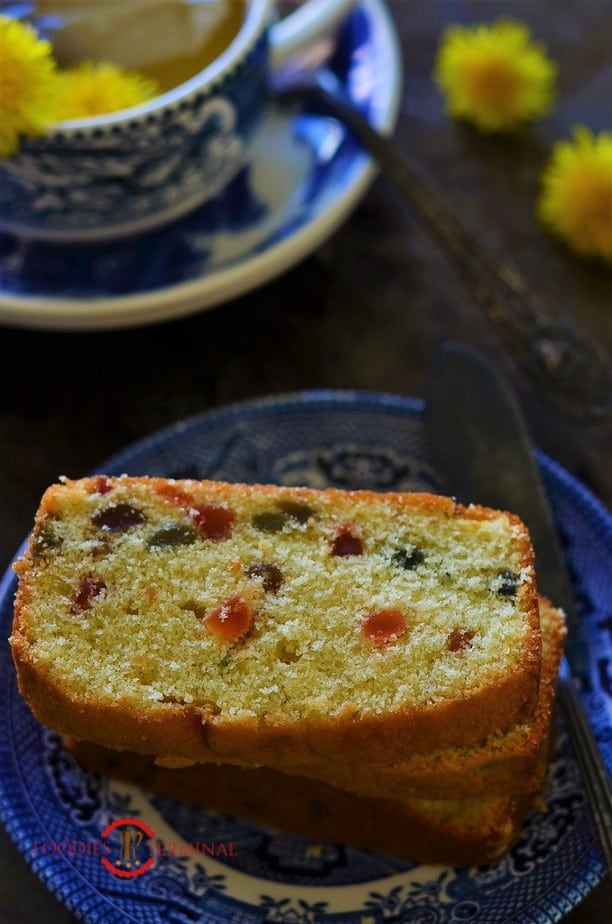 14 Tricks to make the best Bakery style Tutti Frutti cake every single time
Get The Basics Right
Bring all the ingredients at room temperature.
Use fresh leavening agents or Baking powder & baking soda while making any baked goodies. Use up the expired or old stuffs as cleaning agents. You might think that they are just powders & they never go bad, but they do loose their potent.
If the eggs are a bit cold, immerse them in warm water for a couple of minutes to up the temperature.
Cream the butter & sugar very well until light, fluffy & airy. Both hand whisk & machine whisk works well. You just need a little more time to hand whisk them.
Beat them at medium speed. To hurry the process never beat them at the highest speed. Over-beating is not good.
Add the eggs one at a time & beat them well until smooth, light & well incorporated with the creamy butter & sugar (refer the pics).
To prevent the Tutti Frutti from sinking at the bottom of the cake add about 1 tbsp Maida or all-purpose flour to the tutti frutti & coat well before adding them to the batter.
After adding the Tutti Frutti to the cake batter do not beat just fold with the help of a spatula. We don't want to knock out the air from the batter.
For a light, airy, fluffy cake always sift the dry ingredients to the wet ingredients.
Grease the cake mold well & either dust it with flour/maida or line it with a parchment paper.
Do not try to de-mold the cake when it's hot. It might fall apart as it's very tender when hot.
After about 15-20 mins de-mold gently on a wire rack and allow the Tutti Frutti cake to cool down completely before slicing.
Do not open the oven door for the first 30 mins because the temperature in the oven drops suddenly. It's a very basic tip to prevent the cake from sinking.
Do the toothpick taste. Every oven is different so your cake might need 4-5 mins more time to bake than mine. No big deal, just poke & check the doneness.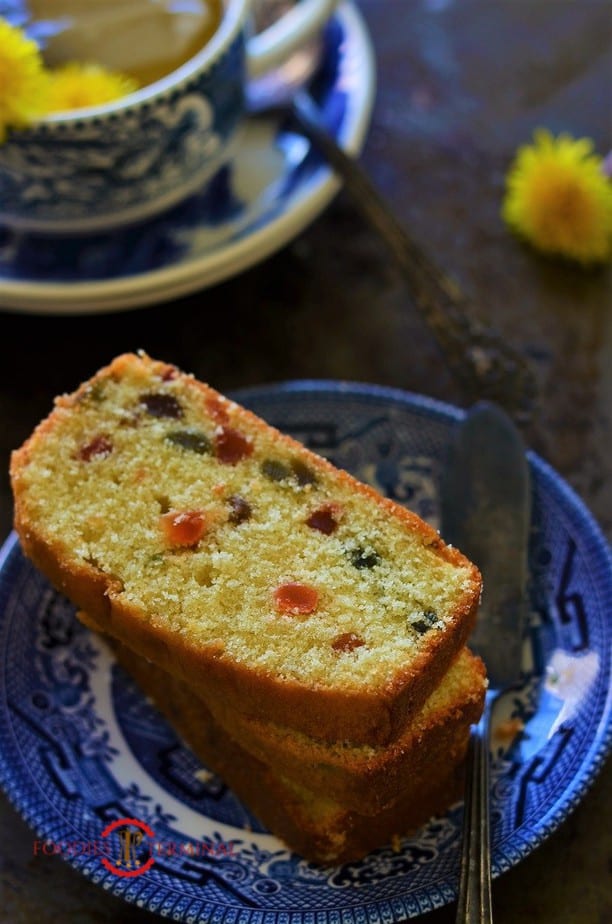 FLAT TOP SECRET
A Flat Top Cake is not necessary for today's' loaf because we won't be decorating or icing our cake, it's after all a tea time cake.
Flat tops work well when you decide to ice & decorate your cake because it has an even surface.
Thus, not a single piece of crumb goes to waste while trimming off a domed cake. It's already flat so no trimming necessary.
But, still if you want a flat top in your Tutti Frutti cake perhaps to impress someone 😛 🙂 Then follow these 2 tips:
If you beat the batter to the correct consistency & do not over beat it and follow all the basic rules that I already mentioned in this post you will get a flat top. (I did just that)
Or you can put some ice cubes on a separate baking tray in the bottom rack of your oven while baking this cake in the middle rack.
End Result
If you get these Basics of baking just right you will nail not only this Bakery style Tutti Frutti Cake recipe but any cake recipe that you try if the recipe do not ditch you 😛
Hope you enjoy this light, spongy Tutty Fruity cake as much as we do! Happy Baking!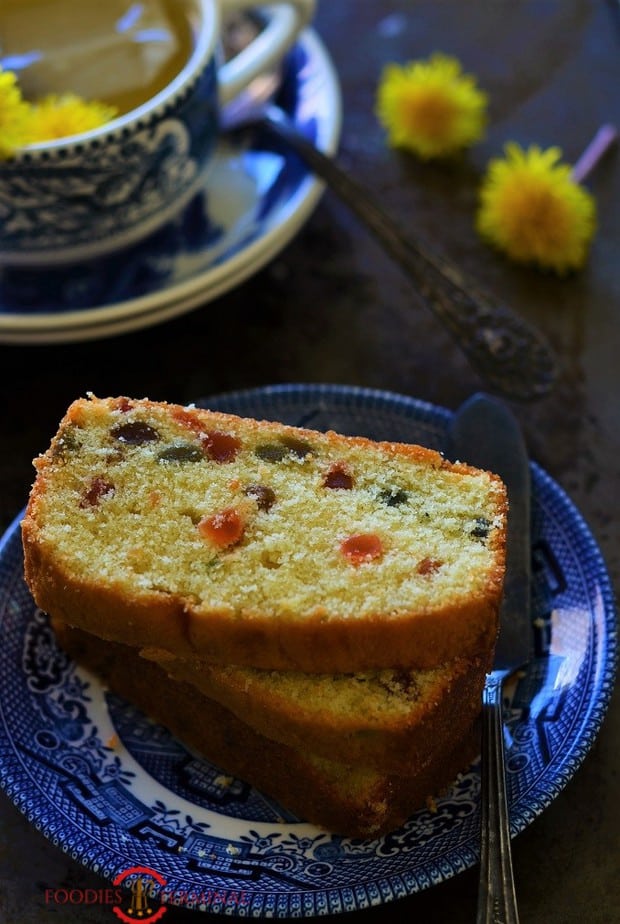 How to store a Tutti Frutti cake
When the cake cools down completely. Slice it into desired pieces & store them in an air tight container in the fridge.
If you don't want to slice into pieces than cling wrap the whole cake & store it in the fridge.
It keeps good for 7 days, only if it lasts that long 🙂
I don't have any clue if Tutti Frutti cake with eggs is freezable because my cakes do not last long to get in to the freezer.
If you try storing them in the freezer do share your experience in the comments below.
Where can you buy Tutti Frutti
In the USA its readily available in the Indian grocery stores.
Or else you can sub the Indian variety with the American version of Tutti Frutti, that is available at Walmart during the holiday season.
Love Baking? Don't miss these from Foodies Terminal
How to make Tutti Frutti Cake (Step By Step)
Begin By collecting & measuring your Ingredients.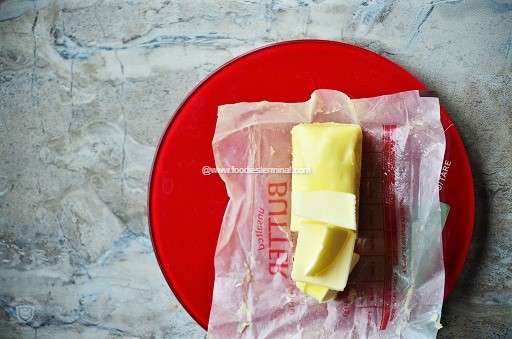 Cream the butter & sugar together until pale, light & fluffy.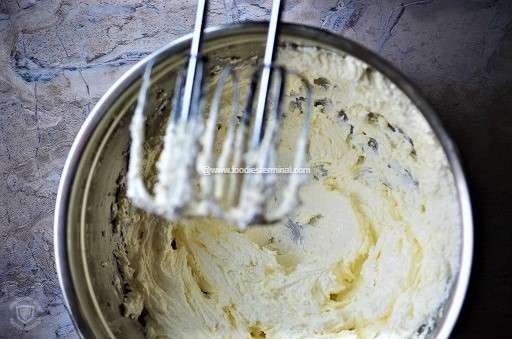 Next, add one egg at a time & beat well until light & fluffy.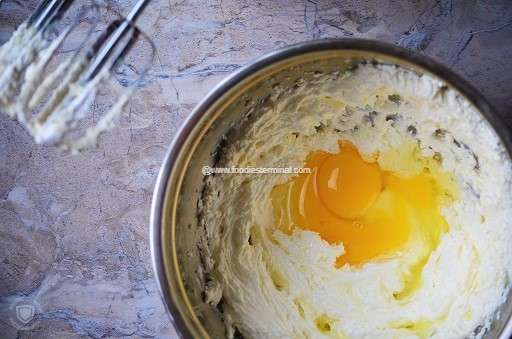 Now, add the flour coated tutti frutti to the batter & just fold with the help of a rubber spatula without knocking the air out.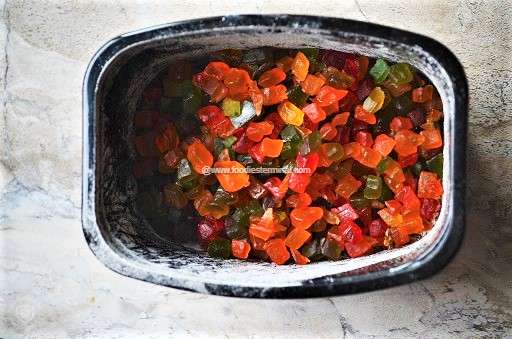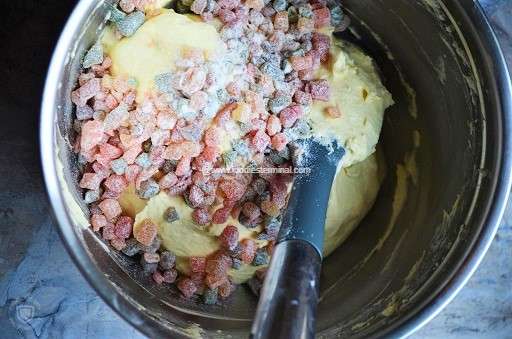 Pour the batter into a 8"x5" well greased pan, tap the pan to knock out air bubbles & gently flatten the top of the batter with the help of a rubber spatula.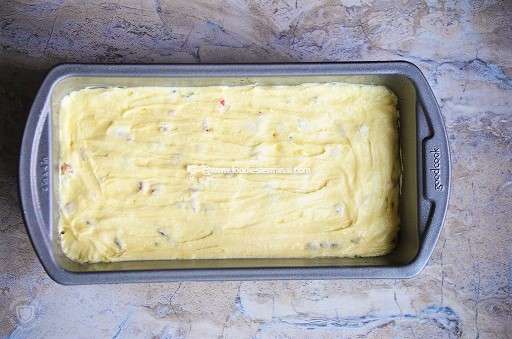 Bake well until a toothpick comes out clean.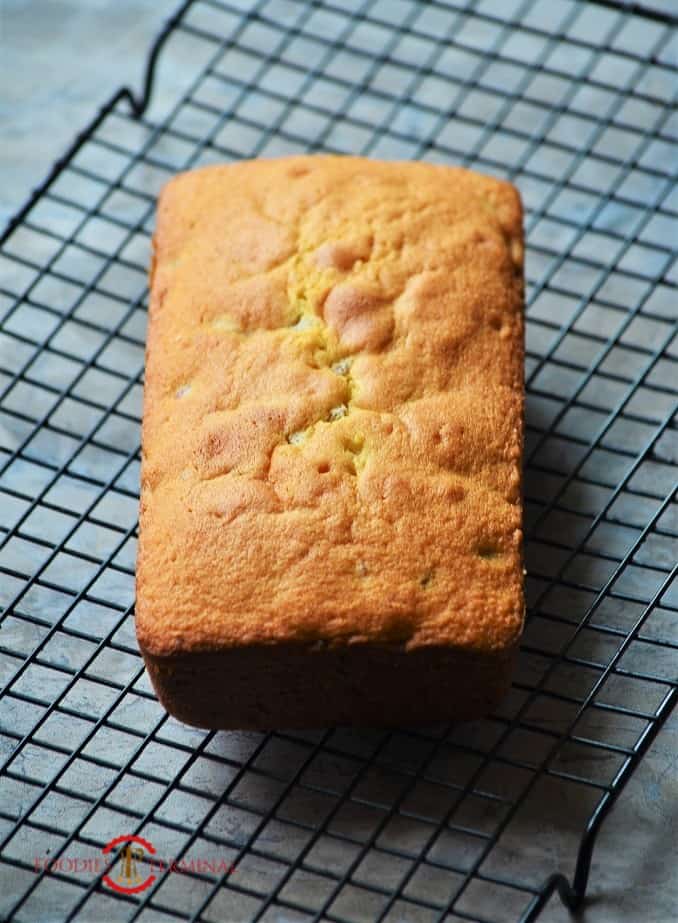 Try this favorite of Meghna for Foodies Terminal
DID YOU TRY THIS RECIPE? Do Not forget to give a STAR (*) rating! Just click on the STARS on the recipe card below to rate.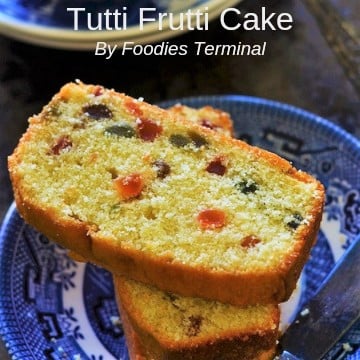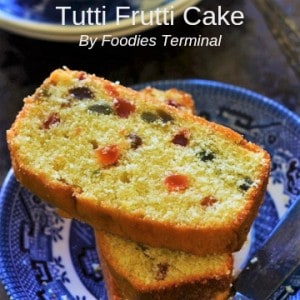 Best Tutti Frutti Cake Recipe
Print Recipe
Pin
Rate
Tutti Frutti Cake is a very basic spongy vanilla loaf cake that's studded with colorful candied papaya bits know as Tutti Frutti. It's very easy to make with basic baking ingredients & it's a much loved tea time cake that tastes best with a hot cuppa.
Want more Recipe Videos?
Check out our Youtube channel!
Instructions
In a clean dry bowl add the Butter beat at medium speed with the help of a handheld beater.

Add the powdered sugar and cream very well until the color changes to pale white, the mixture turns fluffy & airy.

Next, add one egg at a time beating well. The batter at this point will turn into a pale yellow color. Add the Vanilla Essence at this point while beating the eggs.

Now, in a separate bowl sift the all-purpose flour or maida & the baking powder together, whisk well.

Next, add the above Maida or allpurpose flour + baking powder mixture into the wet ingredients in 2-3 parts.

Continue beating at medium speed until the flour or maida incorporates well into the wet ingredients.

Now, add the 1 tbsp maida to the tutti fruttis & mix well with a spoon to coat them well.

Add the tutti frutti & the lemon zest and fold with the help of a rubber spatula in a clockwise motion, taking care not to knock out the air from the batter.

Grease a 8x5" baking tin with butter or oil. Line it with a piece of parchment paper.

Pre-Heat the oven at 350 F or 180 C.

Pour the batter gently into the greased tin, even it out on the top with the help of a rubber spatula. Tap the tin to knock out any air bubbles in the batter.

Bake it at 350 F or 180 C for 30 mins or more. Until a toothpick comes out clean when inserted in the cake.
Notes
NOTES: Refer the 14 Tricks section in the blog.
Measuring cup used, 1 cup = 240 ml & 1 teaspoon = 5 ml.
Cake Tin Used: 8" X 5"
PLEASE NOTE: Nutrition values are my best estimates. If you rely on them for your diet or special diet, use your preferred nutrition calculator!
Nutrition Facts
Best Tutti Frutti Cake Recipe
Amount Per Serving (1 slice (76g))
Calories 280
Calories from Fat 90
% Daily Value*
Fat 10g15%
Sodium 210mg9%
Carbohydrates 45g15%
Protein 2g4%
Calcium 60mg6%
Iron 0.7mg4%
* Read our privacy policy - Calorie information is provided as a courtesy only and should be leveraged as an estimate rather than a guarantee.Percent Daily Values are based on a 2000 calorie diet.
Nutrition
Serving:
1
slice (76g)
|
Calories:
280
kcal
|
Carbohydrates:
45
g
|
Protein:
2
g
|
Fat:
10
g
|
Saturated Fat:
5
g
|
Sodium:
210
mg
|
Sugar:
35
g
|
Calcium:
60
mg
|
Iron:
0.7
mg
If you try this recipe or any other recipe from this blog, let us know! Leave a comment, rate it! Hearing from you is what makes my Day!
Follow us on Facebook & Pinterest.
Tag a photo on Instagram.
Pin It for Later