Vanilla Mug Cake no Egg – perfect to satisfy your emergency vanilla cake cravings in less than 2 minutes. This Eggless Vanilla Mug Cake is super moist, extremely spongy, feather light & so soft. Perfect dessert recipe for 1-2 servings.
This Microwave Vanilla Mug Cake contains no butter, no condensed milk or no eggs. You can whip it up with pantry staples & in no time at all!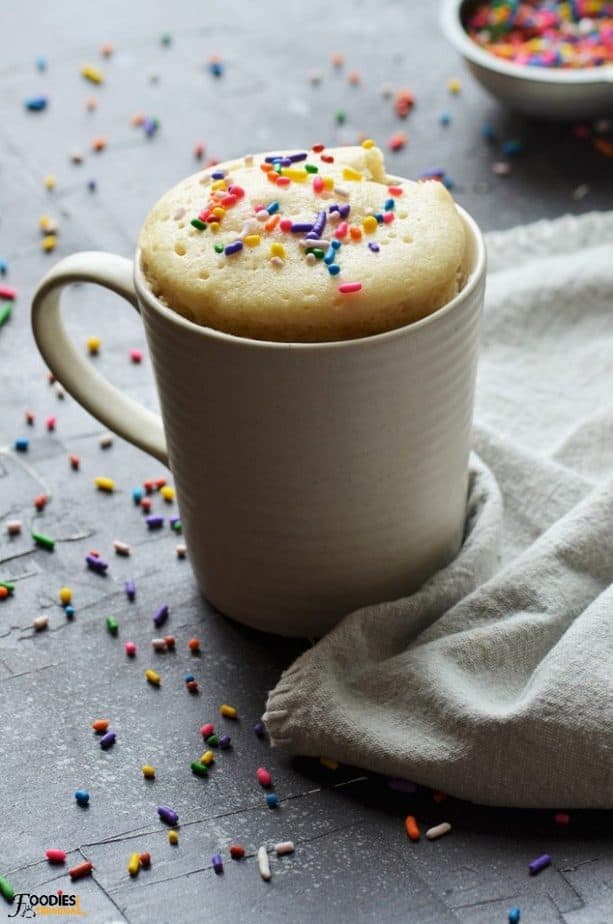 Microwave Vanilla Mug Cake
The Microwave Vanilla Mug Cake is what spongy Vanilla cake dreams are made of just like this Vanilla Swiss Roll Cake Recipe.
And yes Microwave Mug Cakes are as true as any other cakes 😀
Imagine a cake that is as light as feather, fluffy and so soft that it forms dimples with the slightest touch.
This is exactly what this Vanilla Mug Cake no egg recipe will reward you with only if you follow my tips & tricks 😛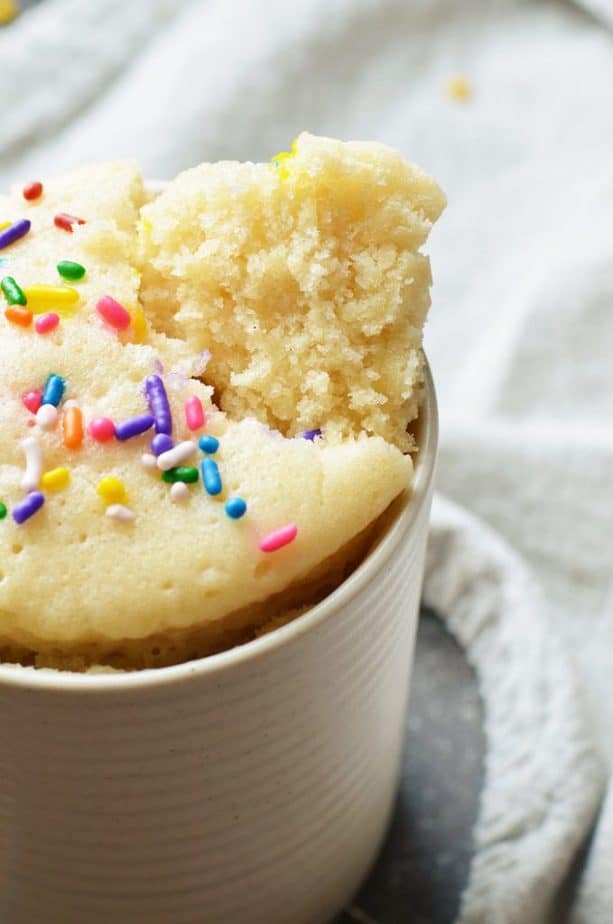 All you need to do is dump the ingredients in a mug, whisk them real good and than pop them in the microwave oven.
Ta da! Vanilla Cake in a mug ready within 1-2 minutes tops.
The cooking time depends on the Microwave Wattage. It can take you anywhere between less than 1 minute to 2 minutes.
Now, when cake cravings strike at midnight you know what to do 😀
Just knock down those cravings with this Instant Microwave Vanilla Mug Cake.
NOTE: I cooked the Vanilla Mug Cake no butter recipe in a 1000 Watts Microwave and it took me 1 min & 50 seconds. Adjust the cooking time according to the wattage of your Microwave.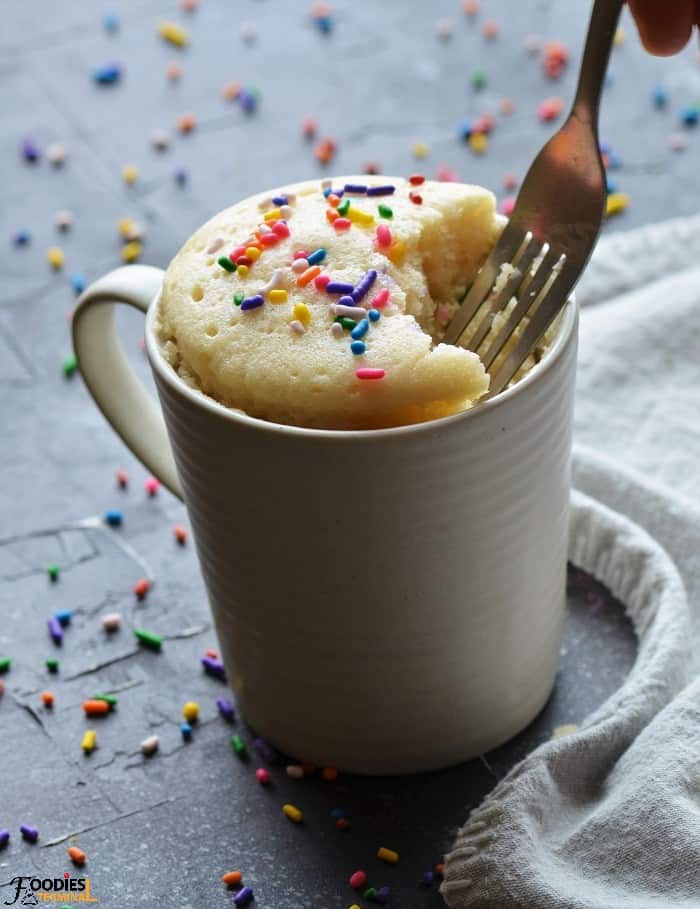 Easy Microwave Vanilla Mug Cake Recipe is
Egg Free
Butter Free
Left Overs Free 😀
Super quick – Only 1-2 mins in Microwave!
Kids Friendly
Super Easy
Portion Size
Moist
Fluffy
Extremely Soft
Can be made Dairy Free
Eggless Vanilla Mug Cake Ingredients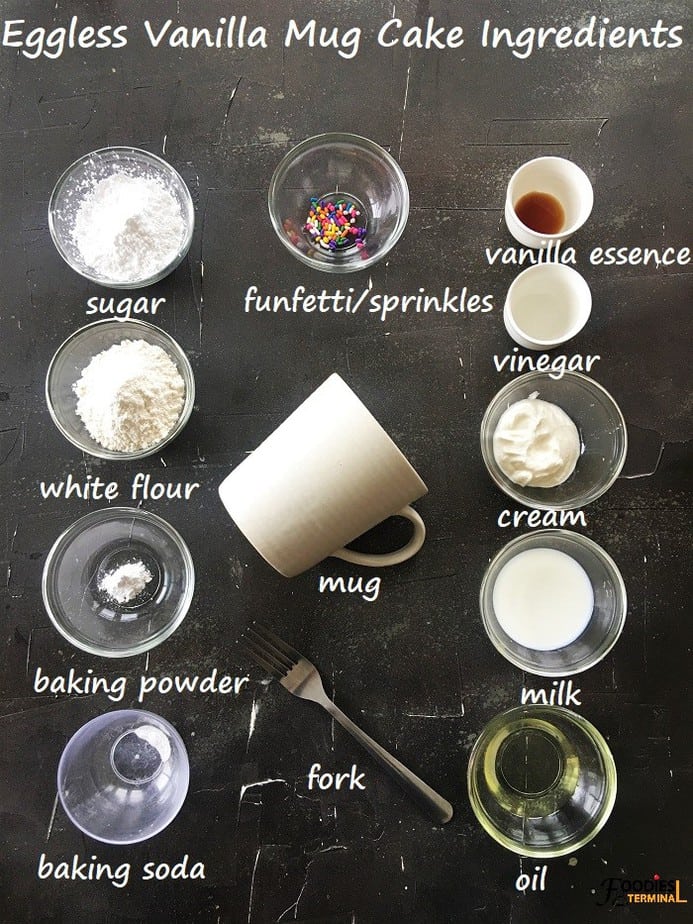 Dry Ingredients
Plain White Flour:
Baking Soda
Baking Powder
Powdered Sugar
Wet Ingredients
Milk
Cream
Vinegar or lemon juice
Oil
Mug Size: I used a Mug with a capacity of 1.5 cups or 360 ml. If you want the cake to rise beautifully to the brim of the Mug I would recommend that you choose a Mug with the above capacity. For a smaller or bigger size mug you have to adjust the ingredients accordingly.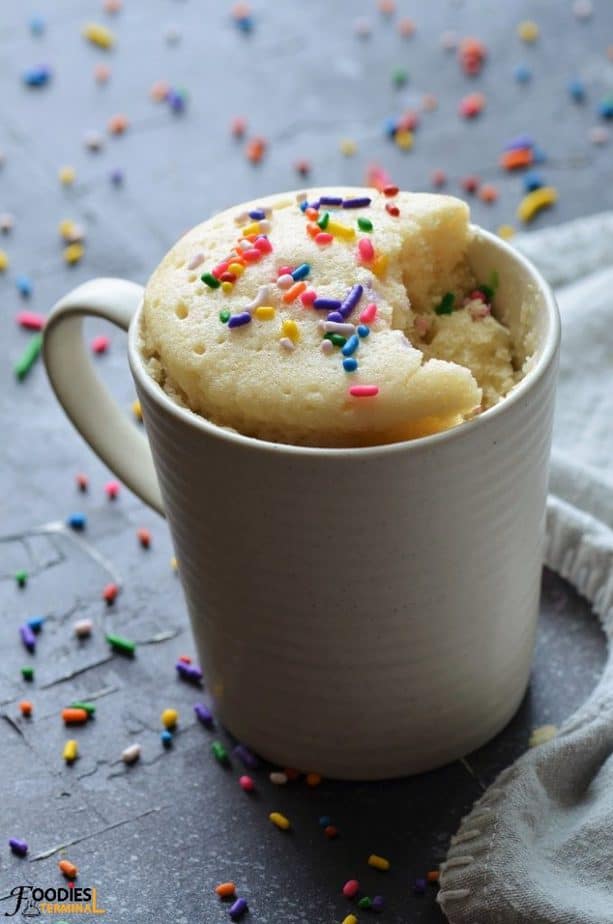 Vanilla Mug Cake – Tips & Tricks
A few handy tricks shall give you the best Vanilla cake in a mug in the Microwave.
Your eggless mug cake will rise beautifully, won't become dense, on the contrary it will be extremely fluffy, spongy, melt-in-the-mouth, moist & absolutely soft.
Sift the dry ingredients: Though you can dump them directly in the Mug. Yet, this small 1 min extra effort will give you the best result possible. Your microwave Vanilla mug cake will become airy & soft without eggs. Use a metal sieve for the purpose.
Use Ingredients at room temperature.
Whisk the dry ingredients first: A fork is all you need. This step incorporates air & makes the cake airy & light.
For extra moist cake use oil instead of butter: The Microwave eggless Vanilla Mug Cake will remain moist for days.
Don't skip that Vinegar or Lemon juice: This is the secret ingredients that keeps the cake very soft.
Add Ingredients in order: Dry ingredients first and than wet ingredients. This forms a good batter & helps in mixing.
Mix milk in 2 parts: Guarantees a lump free batter.
Whisk the batter really well: A smooth, silky lump free batter is a must.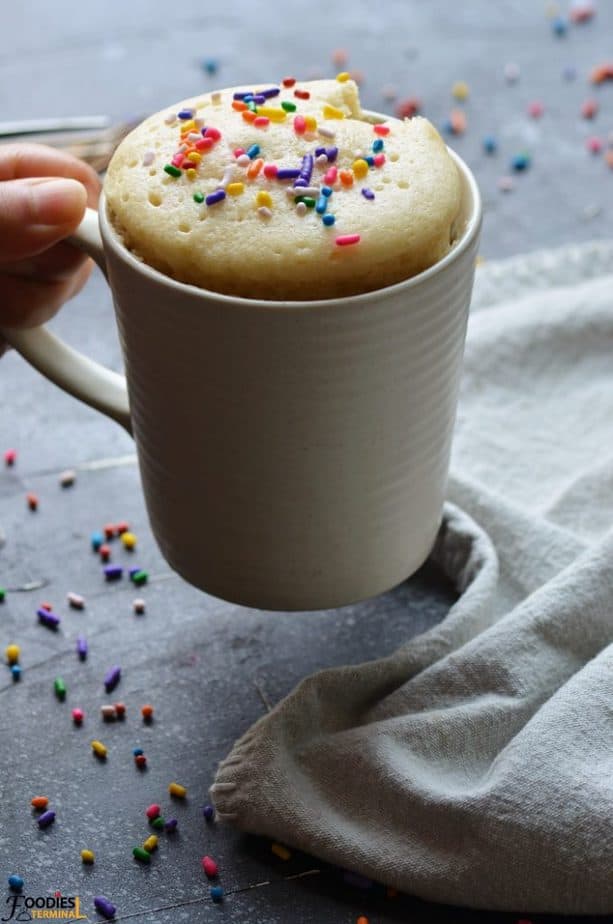 How to make Microwave Vanilla Mug Cake no egg Recipe?
Steps in words below pics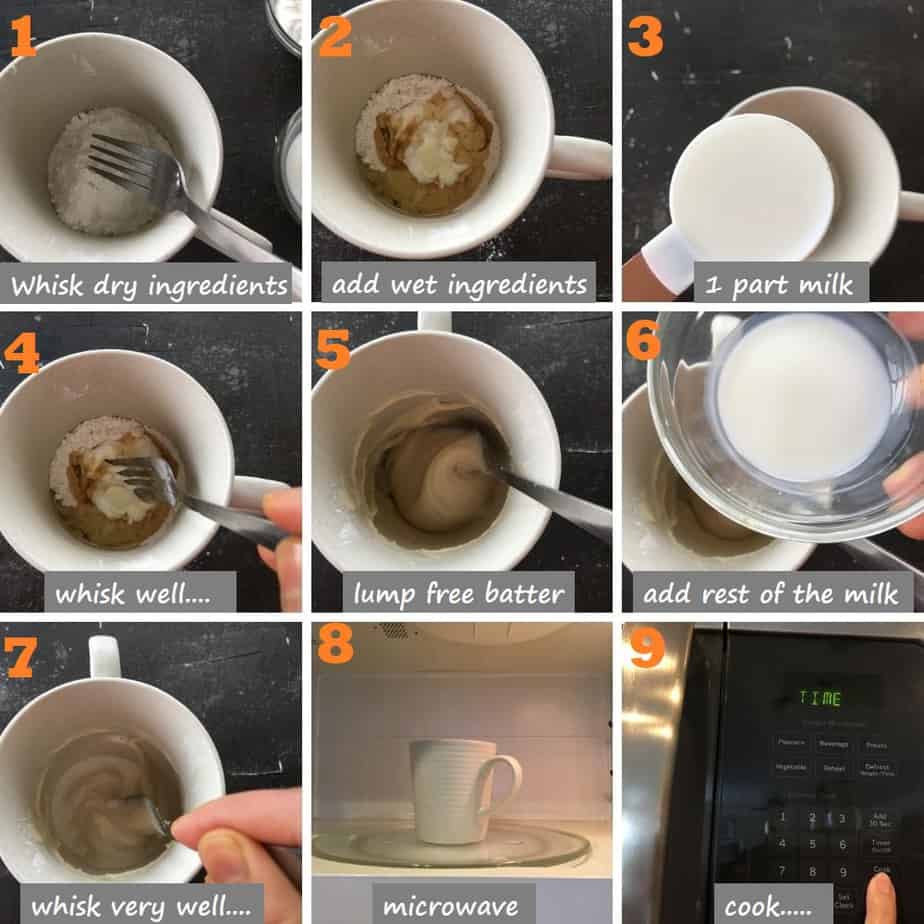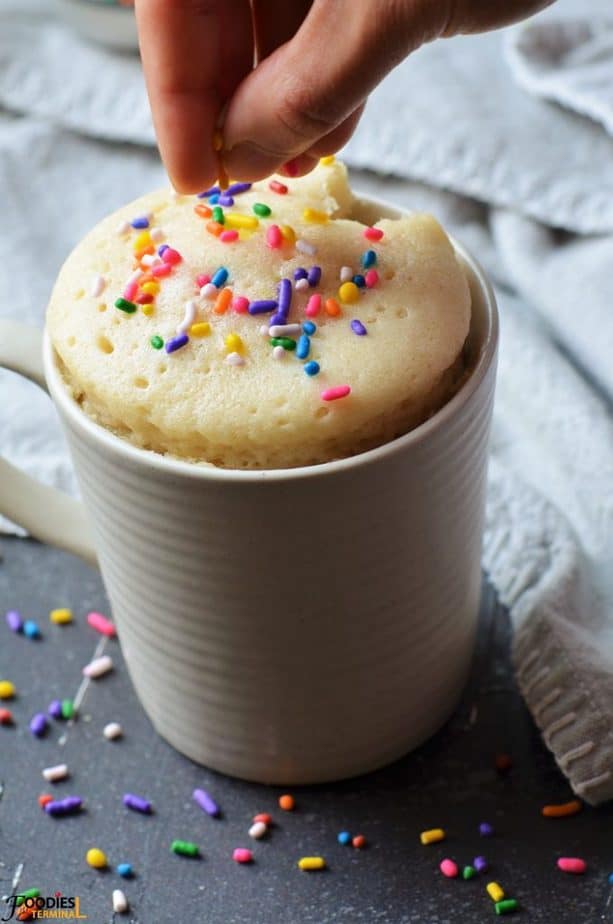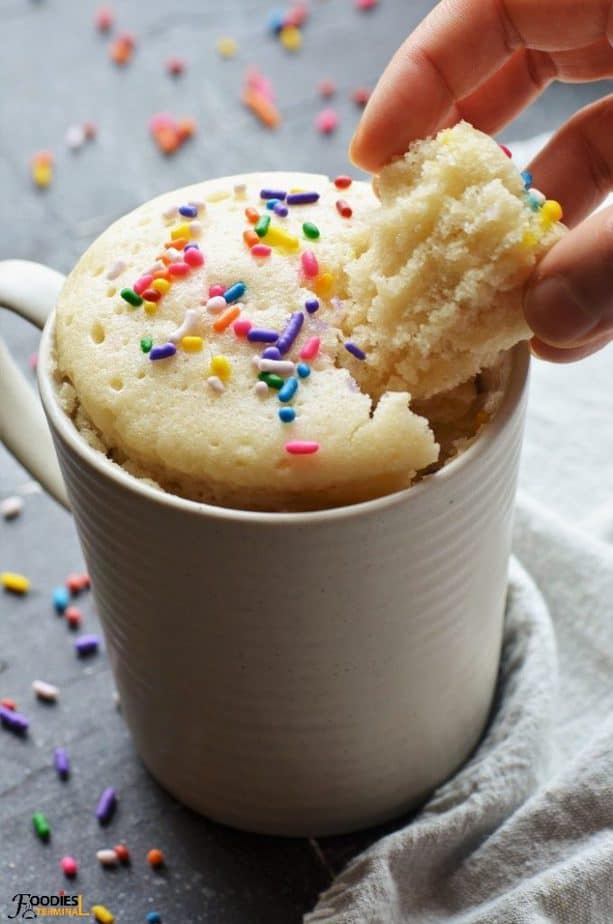 Time needed: 5 minutes.
How to make Microwave Vanilla Mug Cake no egg Recipe? Step by step
Sift and whisk the dry Ingredients

With the help of a sieve sift all the dry ingredients. Than, add them to the mug and whisk very well with the help of a fork.

Add the wet Ingredients & 1 part milk

Whisk very well with the help of a fork until a smooth lump free batter forms. We will be adding the rest of the milk later.

Now, add the rest of the milk

Whisk really well until a smooth silky batter forms. This helps to make the batter light & fluffy.

Cook in the Microwave until a tooth pick comes out clean

Place the mug in the microwave and cook according to the watts of your microwave. Do the toothpick test. Decorate with sprinkles if you want to and enjoy!
Don't Miss these AMAZING Cake recipes from Foodies Terminal.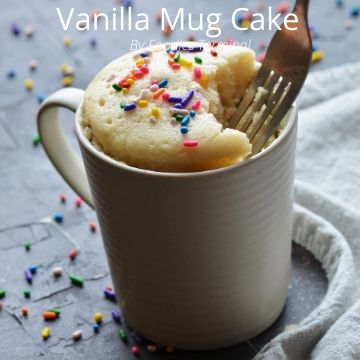 Vanilla Mug Cake No Egg
Print Recipe
Pin
Rate
Microwave Vanilla Mug Cake if super moist, extremely fluffy, light as a feather and mel in the mouth delicious. This Eggless Vanilla Mug Cake gets ready under 2 mins in the microwave, perfect for your emergency cake cravings.
Ingredients
Wet Ingredients
3

tbsp

milk divided into two equal parts

1.5

tbsp

any neutral oil

½

tsp

Vinegar

1

tsp

Vanilla extract or vanilla essence

2

tbsp

cream

0.75

tsp

cream

(which is ½ of ½ tbsp)
Capacity of the Mug used in the Vanilla Mug Cake Recipe
360

ml

Microwave safe Mug

(1 – ½ US cups capacity)
Want more Recipe Videos?
Check out our Youtube channel!
Instructions
Prep the Dry Ingredients First
Sift all the Dry Ingredients with the help of a sieve. Transfer them to the microwave safe Mug and than whisk them really well with the help of a fork. This helps incorporate air and in turn makes the batter light and fluffy.
How to incorporate the Wet Ingredients?
Add all the wet ingredients to the dry ingredients along with 1 part milk which is 1.5 tbsp. Whisk well to mix well with the help of a fork. There should not be any lumps left. Beat really well. The texture of the cake depends a lot on how well you beat the batter.

Now, add the rest of the milk which is 1.5 tbsp. and mix well to incorporate it with the rest of the batter. You should a silky, smooth, lump free, light and fluffy batter now.
How to make Eggless Vanilla Mug Cake in Microwave?
Place the Microwave safe mug containing the batter on the roating glass disc of the microwave oven.

Cook for 1 or 2 mins depending on the watts of your Microwave Oven. It took me 1 min + 50 seconds and I own a 1000 watts microwave oven.

Insert a tooth pick inside the cake and check it's doneness. If the tooth pick comes out clean the cake is well done. Otherwise cook for a few seconds.

Enjoy it as such or go wild and add some cream, frosting, chocolate sauce, or sprikles and enjoy the 2 min Microwave Vanilla Mug Cake.
Notes
Measuring Units Used, 1 cup = 240 ml & 1 teaspoon = 5 ml.
COOK TIME in a 1000 Watts MICROWAVE = 1 min + 50 seconds.
Want to make the Vanilla Mug Cake with Butter? Replace the oil with the same amount of melt butter. Do not add hot melted butter to the dry ingredients. Allow it to cool down.
What kind of milk to use? Use any kind – whole, 1%, 2% or fat free milk.
Best oils for Vanilla Mug Cake: Any neutral oils work just fine. Our pick is coconut oil or canola oil.
Vegan Option: Replace the milk with almond or soy milk.
If you don't have Vinegar use the same amount of lemon juice. DO NOT skip it, it makes the cake very soft.
Why sift the dry ingredients: Makes the cake very light and airy.
Why whisk the dry ingredients first? Makes the batter light and the cake soft.
Lump Free Batter Hack: Add the milk in two parts. This will guarantee a smooth, silky & lump free batter always.
Best Microwave Vanilla Mug Cake Hack: Sift the dry ingredients, whisk the batter really well, bake according to the watts of your microwave.
Extra moist, extra soft, fluffy Mug Cake Hacks that's without eggs: Use Oil, Whisk, whisk and whisk the batter really well until it becomes light, fluffy and lump free.
STORING TIPS: You won't be left with any leftover but just in case you do, just wrap the cup with an aluminum foil or cling wrap and store it in the fridge. Keeps good for 7 days. or for 2 days on the counter top at room temperature. 
Decorating or Serving Ideas: Sprinkles or Funfetti, whipped cream, chocolate syrup.
Calorific Details are provided by a third party application and are to be used as indicative figures only.
Nutrition Facts
Vanilla Mug Cake No Egg
Amount Per Serving
Calories 455
Calories from Fat 216
% Daily Value*
Fat 24g37%
Cholesterol 64mg21%
Sodium 223mg10%
Potassium 164mg5%
Carbohydrates 55g18%
Protein 5g10%
* Read our privacy policy – Calorie information is provided as a courtesy only and should be leveraged as an estimate rather than a guarantee.Percent Daily Values are based on a 2000 calorie diet.
Nutrition
Calories:
455
kcal
|
Carbohydrates:
55
g
|
Protein:
5
g
|
Fat:
24
g
|
Saturated Fat:
15
g
|
Cholesterol:
64
mg
|
Sodium:
223
mg
|
Potassium:
164
mg
|
Fiber:
1
g
|
Sugar:
31
g