Homemade Biryani Masala Powder Recipe is much better than the store bought ones. It's easy to make, you can pick the best spices & make them in small batches. Learn to make the Best Biryani Masala quickly at home.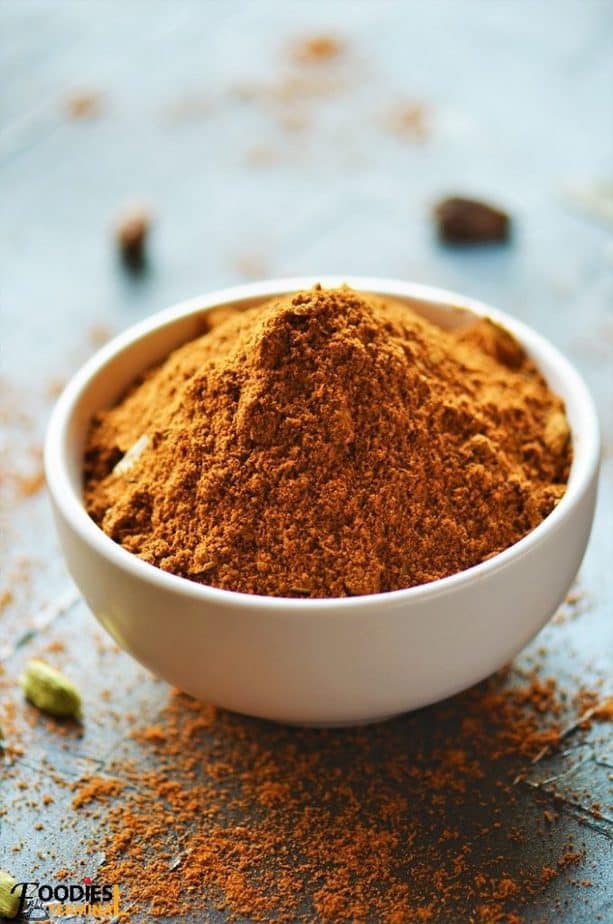 Recipe Video
Biryani Masala
If you love making & eating Biryani at home you know how important it is to use a good Biryani Masala Powder in the recipe.
It makes a lot of difference in taste.
Similarly, a bad Biriyani Masala can easily spoil the whole recipe right away.
Some store bought masalas are overpowering & some are too faint.
Some smell very good with the first sniff but once they are cooked they taste totally different.
I had a tough time deciding on brands, exploring new Biryani masalas from the store, it was an endless marathon that always ended in utter dissatisfaction.
But not anymore 🙂
I have hit that sweet spot & began making my own homemade Biriyani Masala Powder with the best spices and I always make it in small batches for best flavor.
Since then I have completely quit buying the preservative-laden, old Biryani Masala Powders from the store.
Don't be overwhelmed with the long list of ingredients for today's recipe because that's what will make the Best Biriyani Masala Powder.
And you'll be praised for cooking the best Biryani in your block, people will ask for seconds 😀
Just follow the recipe & exact proportions to the T, use the best fragrant spices & follow the directions as mentioned on the recipe card below.
The only thing that you should avoid doing is making a truckload of Biryani Masala Powder & than expect it to last for 1 year 😛
I know you are giving me that "LOOK" but I saw several recipes floating on the web stating an epic long-lasting (up to a year Biriyani Masala!).
Homemade masalas begin to lose potency beyond 2 months. If you want the best flavors to go for small batches.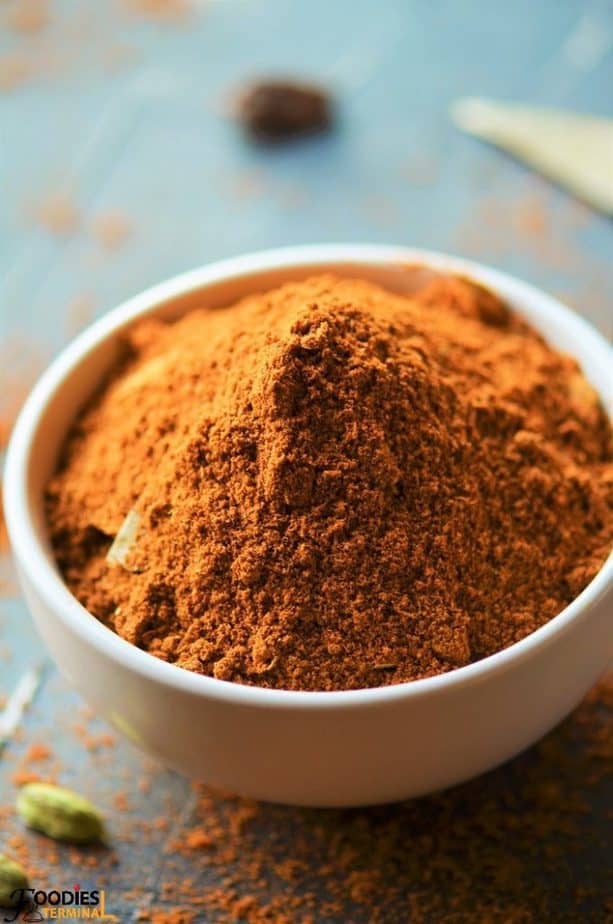 What is Biryani Masala?
Biryani Masala is a fragrant, exotic & exquisite blend of spices that's made by roasting and grinding a set of aromatic whole spices into a powder form.
You can than use it liberally to make Biriyani dishes like How to make Chicken Biryani in Oven, Mutton Biryani, Vegetable Biryani, fish biryani, Prawn Biryani or even egg biryani.
You can easily whip up a fresh batch of Biryani Masala Powder at home.
And if you have the right recipe you can make the Best Biriyani with the help of the Best Homemade Biryani Masala Powder.
Homemade Biryani Masala Powder Ingredients
Do not be overwhelmed with the long list of ingredients because the outcome is just so worth it.
An absolutely fragrant, warm, woody, earthy Biryani Masala Powder that's not overpowering is exactly what you'll get from today's recipe.
Just follow the exact method of making it & the right proportions.
Never swap this for that & never skip any ingredient except just one ingredient - Aloo Bukhara. Skip using it if you can't find it at the store.
Star Anise: Chakr Phool.
Dry Pomegranate Seeds or Anardana.
Coriander seeds or Dhaniya.
Cumin Seeds or Jeera.
Shahi Jeera.
Black Cardamom or Badielaichi.
Green Cardamom or Choti Elaichi.
Cloves or Laung.
Black Pepper or Kalimirch.
Cinnamon or Dalchini.
Bayleaf or Tejpatta.
Garam Masala Powder.
Kashmiri Red Chili Powder.
Dried Indian Prunes : Aloo Bukhara
Note: All the ingredients are readily available in Indian grocery stores. Stop by your local Indian grocery store & grab them all.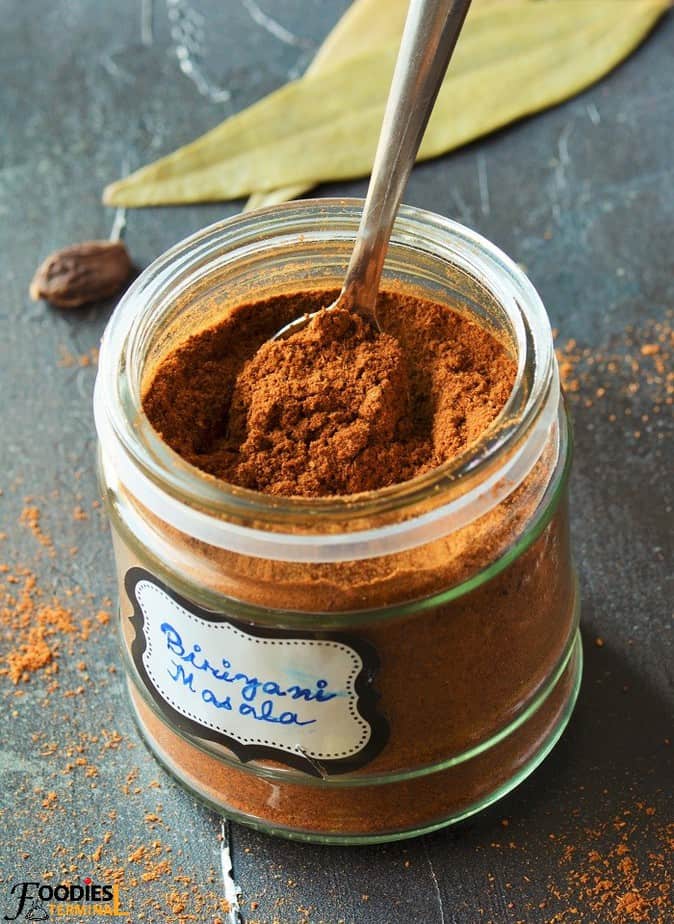 4 Tips to make the Best Biriyani Masala Powder at home
Do not Over Roast the whole spices: This is so important that I cannot stress enough. Over roasting the spices will completely change the flavors of the Biriyani Masala Powder & might also make it bitter. Roast it only for 2 mins just enough to toast them & dry out any trace of moisture.
Select the best fragrant Whole spices: They do make a difference. A batch of best whole spices will make the most flavorful batch of any homemade masala.
Do not skip any ingredient: For the best, authentic flavors gather the ingredients first than begin making the masala.
Follow the exact proportion mentioned: Proportion is as important as the ingredient itself. You may scale up the whole recipe but never scale up a single ingredient. It will leave behind a dominant flavor. For a good balance right proportion is what you need.
Note: You may Sun Roast the whole spices. This will give you much better control and the spices will never be over roasted.
What does Biryani Masala contain?
Biryani Masala contains 14 different ingredients mainly whole spices made into powder, a set of spice powders & dried Indian prunes, bay leaf, dry pomegranate seeds.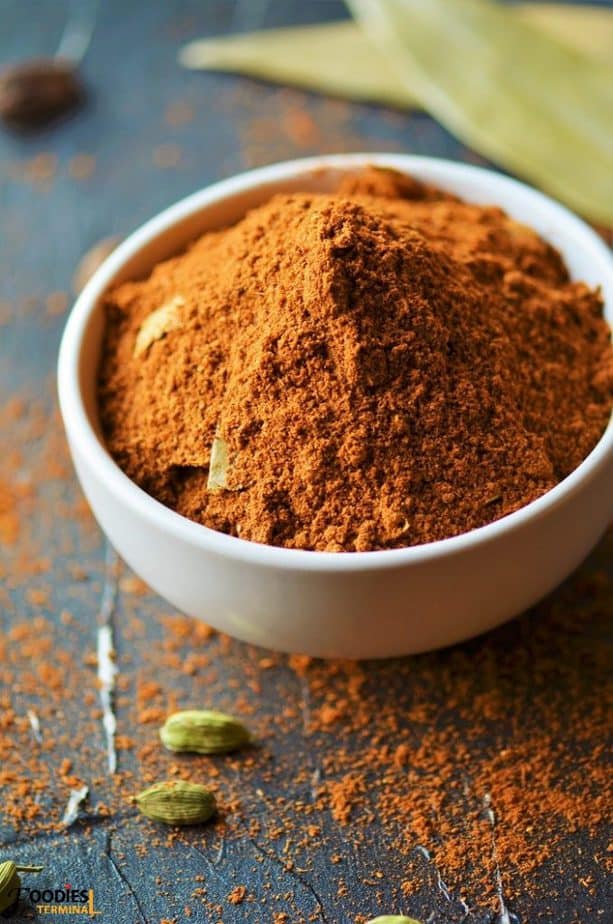 What is the difference between garam masala and biryani masala?
The main difference between Biryani Masala & Garam Masala is the set of ingredients, flavors, smell & uses.
Though they share a few common ingredients but they taste completely different because Biryani Masala has a lot more ingredients.
The proportion of ingredients too vary.
In most recipes you cannot use Garam Masala and Biryani Masala interchangeably.
In Indian Cuisine Garam masala is used as a light garnish to infuse flavors whereas Biryani Masala is used only for making Biriyanis.
Though you can make Biryanis only with the help of garam masala but you cannot replace garam masala in the curries with Biryani Masala. It will completely taste different.
Garam Masala is more versatile whereas Biryani Masala has limited & specific use.
What are the ingredients used in Biryani?
The ingredients used in Biryani are as follows:
Rice
Protein: Meat, Fish, Poultry or egg.
Yogurt
Ghee
Biriyani Masala
Indian spices like Garam Masala
Saffron
Herbs like mint & cilantro
Birista : deep fried onion slices.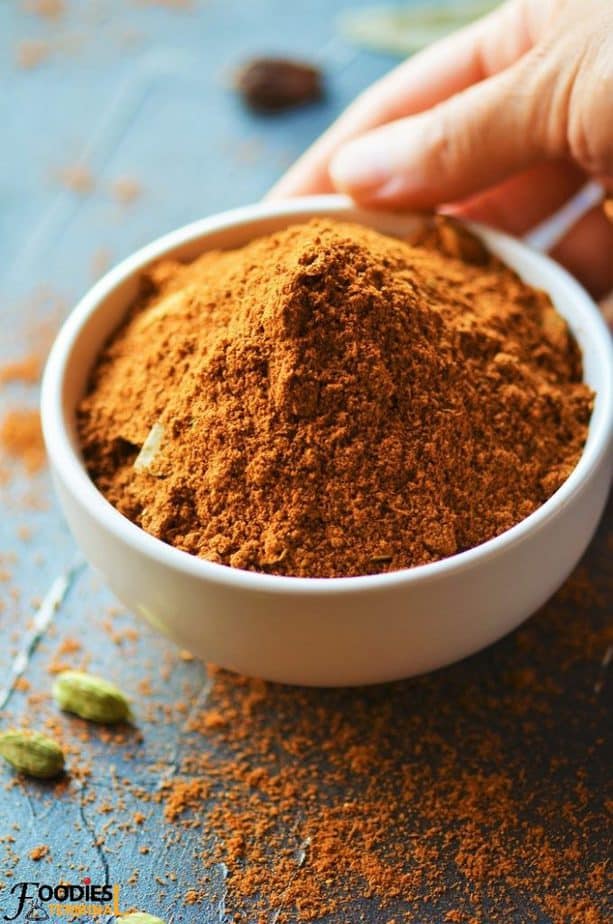 How is Mace used in Indian cooking?
Mace with it's subtle floral & woody fragrance is used mainly for making dry spice powders like Garam Masala Powder, Biryani Masala Powder etc.
It's also used as a whole spice to infuse a light flavor in Indian curries, Biryanis, soups etc.
Biryani Masala Powder - FAQs
How to store homemade Biryani masala powder?
Store the homemade Biryani Masala Powder right away after making the masala.
Use moisture free air tight containers to store the masala.
For best results store in a dry, dark spot preferably inside an opaque kitchen cabinet or pantry.
You can even pop the container in the fridge.
How long can you store Homemade Biryani Masala Powder?
You can store homemade biryani masala powder for upto 2 months in an air tight container that's completely dry. You can pop the container in the fridge.
Any homemade masala powder recipe loses potency after 2 months. They do not go bad but the flavors begin to fade away.
Can you freeze Biriyani Masala Powder Recipe?
Yes, you can freeze Biriyani Masala Powder Recipe in individual freezer safe containers or bags and extend its shelf life for upto 6 months. But, I do not prefer doing that, I always love making my fresh masala batches because this simple step guarantees best flavors every single time.
Love homemade spices? Don't miss these Indian spices from Foodies Terminal, the best way to flavor up food 🙂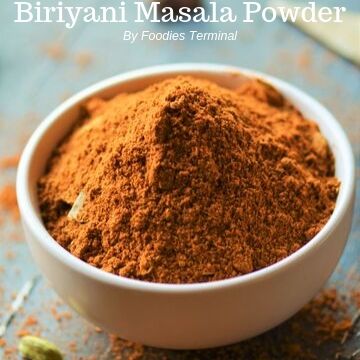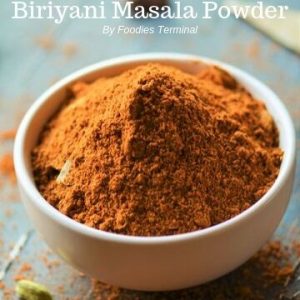 Biryani Masala Powder Recipe
Print Recipe
Pin
Rate
Homemade Biryani Masala Powder Recipe that's unbeatably good & much better than the store bought ones. If you love Biryani try making this Biryani Masala at home, it makes the most flavorful Biryani ever.
Want more Recipe Videos?
Check out our Youtube channel!
Instructions
Set a skillet over medium heat and add all the ingredients except the bay leaves, aloo bhukhara and the spice powders. Dry roast them for 2 mins stirriting continously. Turn off the heat and allow them to cool down completely.

Transfer the roasted ingredients into a blender jar and blend to a fine powder.

Pour the ground masala powder in a bowl and add the spice powders, the aloo bhukhara and the snipped bay leaves to it and mix well. Store the homemade biriyani masala powder right away in air tight containers.
Notes
Measuring Units used, 1 cup = 240 ml & 1 teaspoon = 5 ml.
The recipe will yield 136 gms Biriyani Masala Powder. If you omit the Aloo Bukhara the weight will be less.
Aloo Bhukhara is totally OPTIONAL.
Do not over roast the spices.
Store the Biriyani Masala Powder Right away.
Calorific details are provided by a third party application & are to be used as indicative figures only.
Nutrition Facts
Biryani Masala Powder Recipe
Amount Per Serving (2 teaspoons)
Calories 18
Calories from Fat 8
% Daily Value*
Fat 0.9g1%
Sodium 12mg1%
Potassium 70mg2%
Carbohydrates 3g1%
Protein 0.6g1%
* Read our privacy policy - Calorie information is provided as a courtesy only and should be leveraged as an estimate rather than a guarantee.Percent Daily Values are based on a 2000 calorie diet.
Nutrition
Serving:
2
teaspoons
|
Calories:
18
kcal
|
Carbohydrates:
3
g
|
Protein:
0.6
g
|
Fat:
0.9
g
|
Saturated Fat:
0.2
g
|
Sodium:
12
mg
|
Potassium:
70
mg
|
Fiber:
1.3
g
|
Sugar:
0.2
g
Pin it for Later!