Learn How to make Chenna that is crumbly & has the right amount of moisture. This Homemade Chena recipe will help you make perfect Bengali Sweets that are soft, juicy & melt in the mouth. Don't miss the Video below.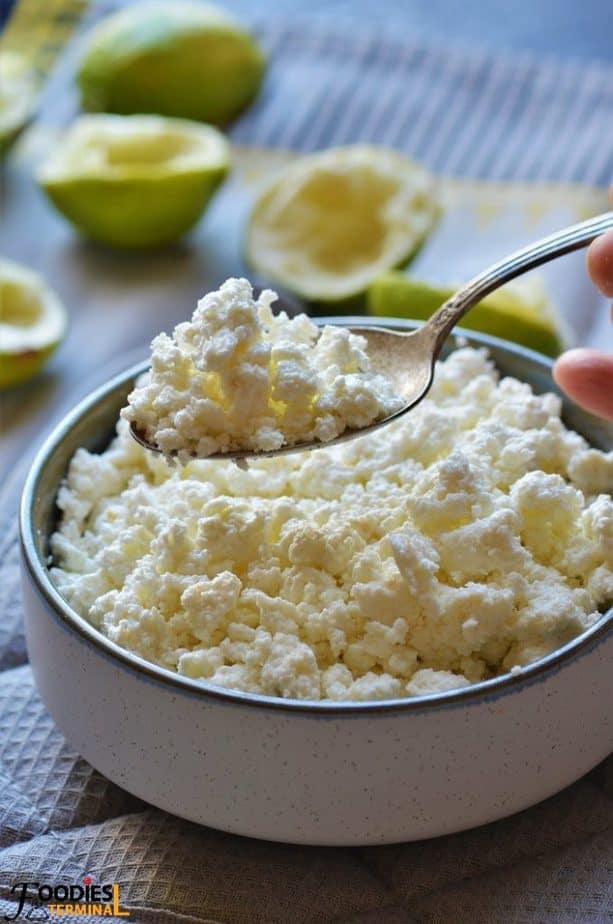 Watch How to make Chena
Chena Recipe
Chena is the building block and the structural framework of Bengali sweets.
It's that one important ingredient that can make or break your homemade sweets.
A good Chenna will yield soft, moist & melt in the mouth Bengali sweets always. Whereas, Chenna that's made in the wrong way will give you chewy, rubbery sweets that might fall apart & deflate.
So, learn the right technique and use the right set of ingredients to make the perfect crumbly, moist Chena recipe at home with a few simple steps.
Today's post will teach you just that. It's a comprehensive guide that'll help you to learn all the helpful tips, tricks to make a batch of perfect homemade Chenna recipe.
You can use today's recipe to make crowd pleasing juicy & melt in the mouth sweets like Kalakand, Rasgulla, Rasmalai, Angoori Rasmalai, Chum Chum, Sandesh, Chanar Payesh etc.
You can also sweeten the chena with some cane sugar and serve it as such. It makes a hearty, filling and nutritious instant snack for kids and adults alike.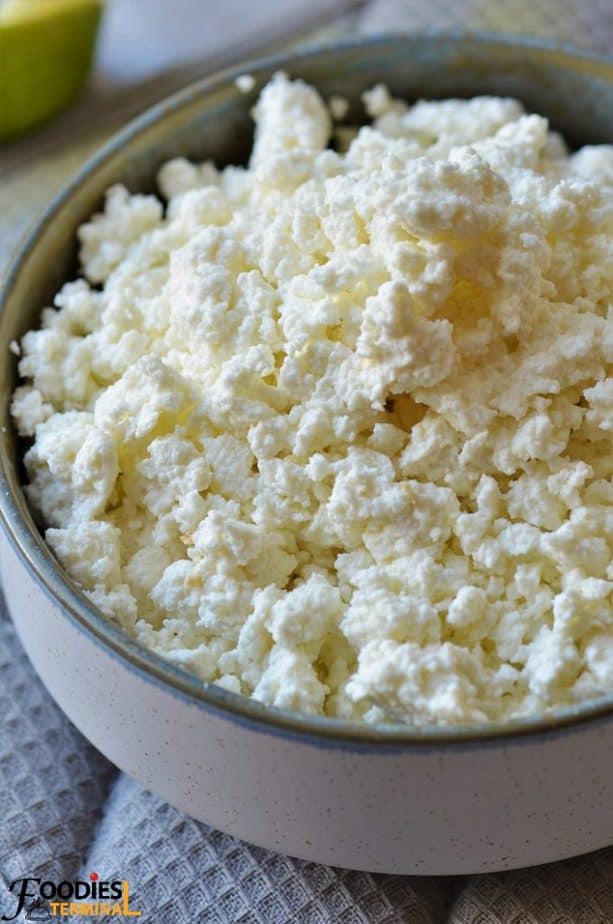 What is Chenna?
Chenna is curdled milk solids that's soft, juicy & crumbly. It's made by curdling milk with an acidic ingredient like lemon or lime juice or vinegar & than draining out the excess whey but retaining just enough to keep the cheese moist.
The excess whey is separated by passing the curdled milk solids or chena through a muslin cloth or fine sieve.
Chenna is never pressed unlike Paneer. It's the right amount of whey retained in the chenna that makes it ultimate, unique and very soft.
Note: Chenna is also known and written as Chena or Chana or Channa. They are all the same.
Chenna Recipe Ingredients
Full Fat Cows' milk.
Lemon or Lime Juice.
Tips to make Perfect homemade Chena Recipe
Full Fat Cows' milk works best: If you can, use organic whole cows milk.
Do not Use Vinegar to curdle the milk: Vinegar is a perfect curdling agent and no doubt about that. But, it won't give you the perfect chenna for making tender & juicy Bengali sweets. Vinegar will yield slightly chewy, rubbery and stiff Chena that's perfect for making Paneer that'll hold shape in individual recipes.
Always use Lemon or Lime juice to curdle milk: Squeeze out the juice from the lemon or lime, strain the juice to keep away any juice sacs. Dilute it with equal amount of water and use it to curdle the milk for making chena recipe.
Rinse the Chena to avoid the sour taste: Lemon or lime juice may sometimes leave behind a sour taste. To get rid of this rinse the Chenna under running tap water a couple of times. Do this after you have drained the excess whey by straining the chena with the help of a muslin cloth or a fine sieve.
Hang the homemade chena not more than just 30 mins: This is so important. Do not miss this step ever if you want to make perfect homemade sweets from the chenna. After straining the chenna with the help of a muslin cloth tie the ends of the muslin cloth from the kitchen tap and allow the chena to hang for just 30 mins. Untie and proceed immediately with the Indian sweet recipe.
Do not be tempted to press the homemade Chenna recipe: Though you can quickly drain the excess moisture from the chena in less than 30 mins by pressing it with weight. Yet, this process won't give you the perfect texture of chenna that's so important for making sweets. Moreover, there's always a risk of making the chenna extra dry by removing more moisture by pressing.
Pro Tip: If you intend to prepare homemade Indian sweets from homemade chena than always make it fresh and use it immediately to make the sweets. You will get failproof results and always the best sweets.
How to make Chenna from Cows' Milk?
Steps in words below pictures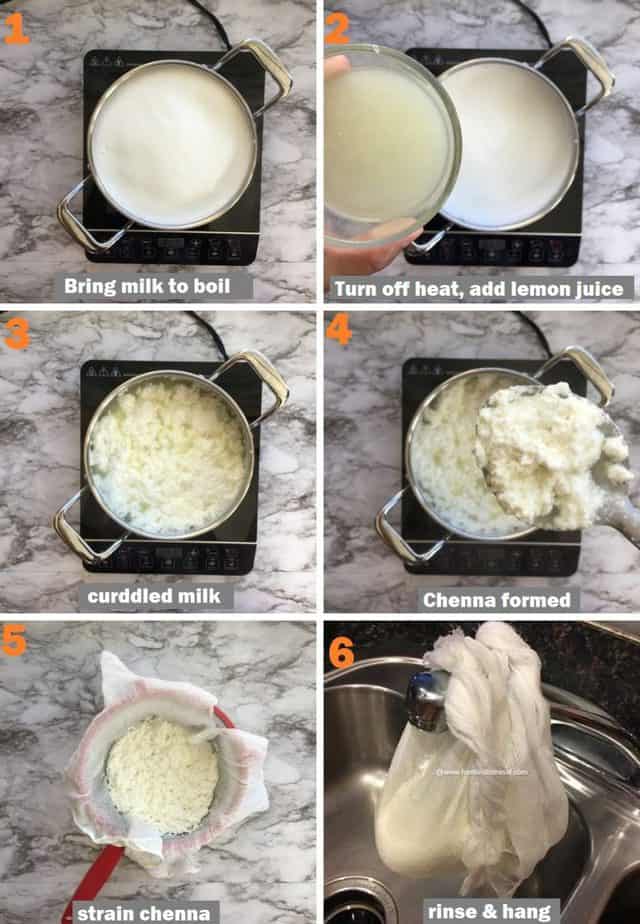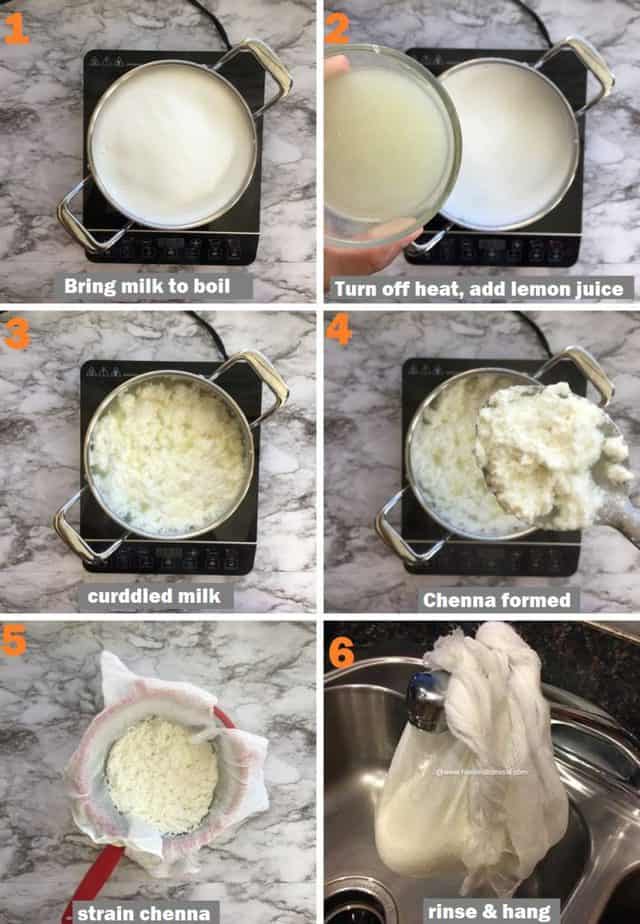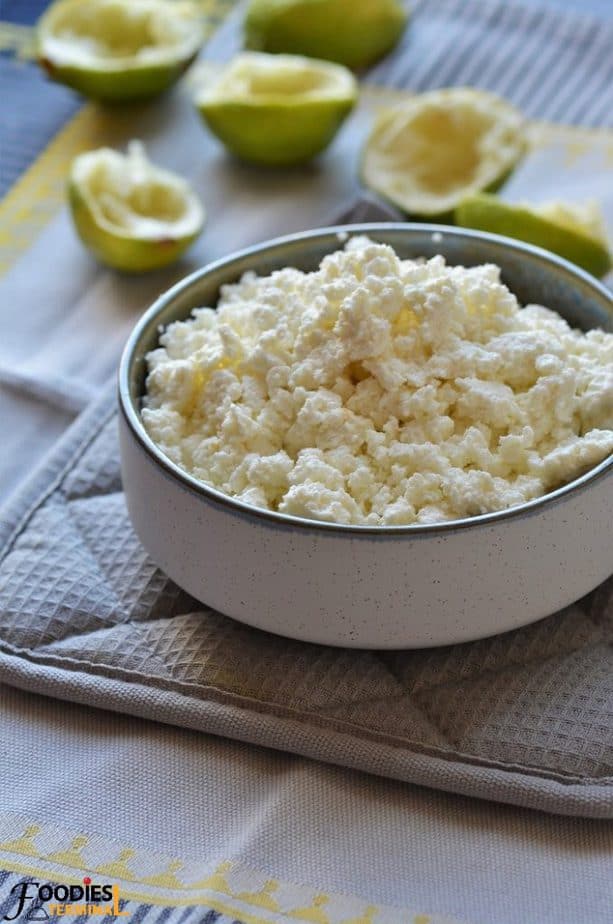 Time needed: 10 minutes.
How to make Chenna from Cows Milk?
Bring milk to boil

Over medium high heat bring the milk to boil. Stir frequently to prevent the milk from sticking to the bottom of the pan. When the milk inflates turn off the heat immediately.

Add lime or lemon juice

Now, add the diluted juice and stir to mix it with the milk. You'll notice that the milk will begin to curdle and whey will separate.

Strain the Chenna

Pour the chena along with the whey through a muslin cloth placed on a sieve. This will help strain the chena and separate the whey.

Wash and hang the Chenna

Rinse the chena well under running tap water and then tie the ends of the muslin cloth to a kitchen tap and hang the chena for not more than 30 mins. Use it in recipes.
What is the difference between Paneer and Chenna?
You can make both Paneer and Chenna by curdling the milk with either vinegar or lemon / Lime juice.
Infact, you can make Paneer from Chena 😀 If it's too confusing read the below differences.
The difference between Paneer and Chenna is as follows:
You can make Paneer by draining out the whey completely from the chenna or curdled milk. And you can do it by pressing the chena with heavy weight for at least 30 mins. After that it will resemble a block (imagine a Tofu block). Whereas, You can make Chenna by curdling milk first & than passing it through a fine sieve or muslin cloth to remove the excess whey. Never press Chenna unlike Paneer. This will retain some amount of whey that'll keep the chena moist.
Paneer is not as tender, soft & juicy as Chenna.
You can use Paneer in main stream cooking like curries, parathas. Whereas, you can use chena recipe to make Bengali sweets at home.
What is Chena called in English?
Chena is known as Cottage Cheese or Farmers Cheese in the English language.
Why cow milk is used for preparation of Channa?
Full fat cows' milk will give you the best, moist, smooth, creamy Chenna and hence it's the first choice for making homemade chena recipe.
Full fat cow milk is best for making Chena recipe at home for all Bengali sweets.
How long does Chenna last?
Chena lasts for 3 days in the fridge when kept in an airtight container.
But, if you intend to prepare sweets from Chena than always make it fresh for best results.
Pin It For Later!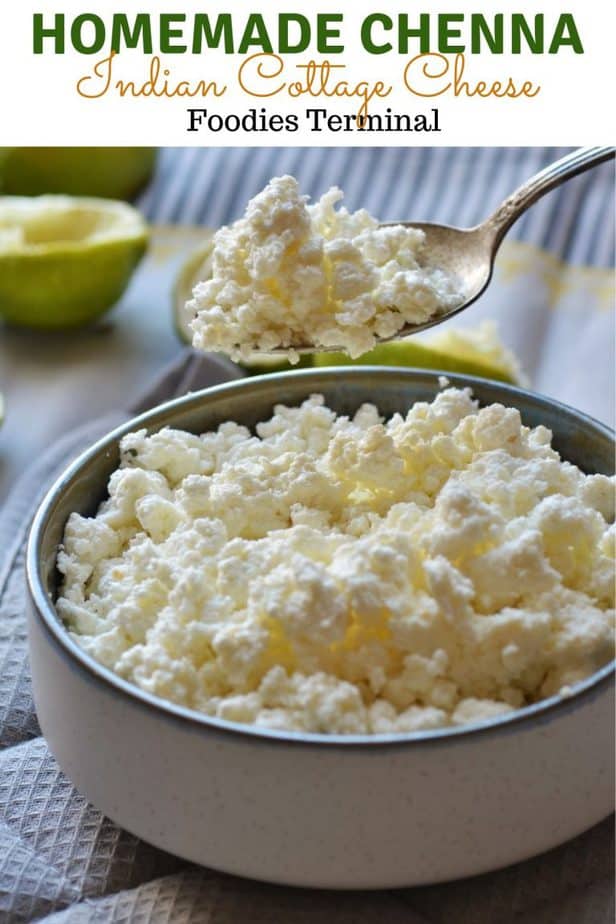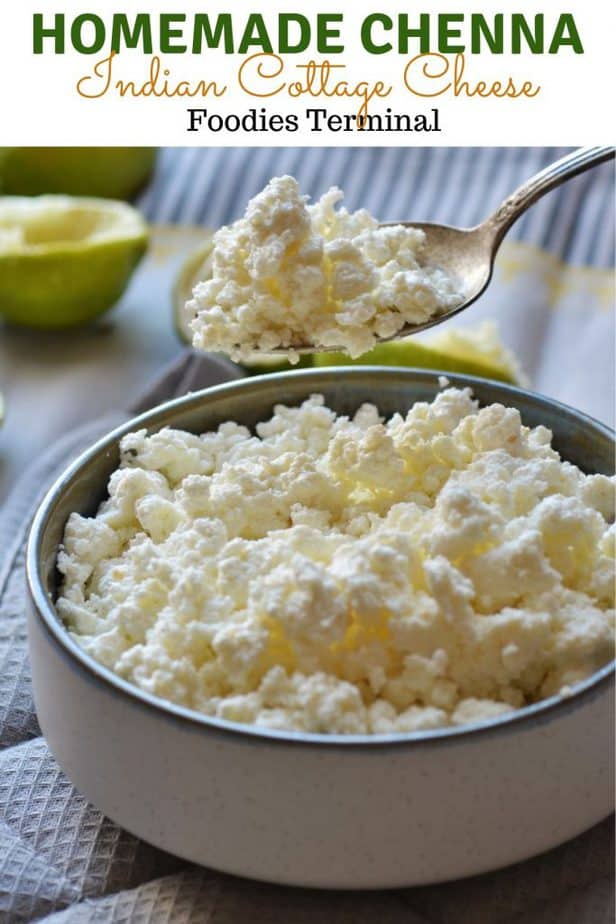 Homemade Chena Recipe uses
Chena or chenna is particularly useful in Indian Household if you live outside the country and always crave for Indian sweets.
You can make a wide variety of Indian sweets, typically Bengali sweets from homemade Chenna recipe. They are as follows:
Rasgulla or Rosogolla.
Kalakand.
Malai Chop.
Rasmalai.
Angoor Rasmalai.
Rajbhog.
Chum Chum.
Kheer Kodom or Roshkodom.
Chanar Payesh or Chena Kheer.
Chanar Jilipi.
Kanchagolla or Monohara.
Sandesh or Sondesh.
Note: You may also mix little cane sugar with the fresh homemade chena and serve it as such. It makes a great instant, filling and healthy breakfast or snack.
Check out the recipes that you can make from todays Homemade Chena Recipe.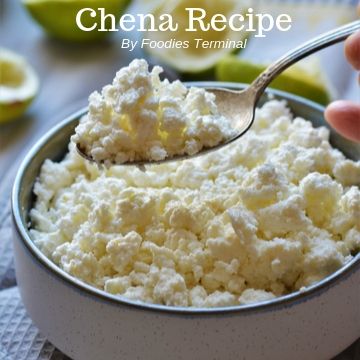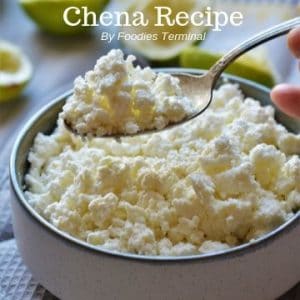 How to make Chenna
Print Recipe
Pin
Rate
Learn how to make Chenna or chena from full fat milk that's extremely soft, crumbly & juicy. Use it to make perfect failproof Indian sweets at home. This homemade Chenna recipe is extremely easy to make once you follow the tips.
Want more Recipe Videos?
Check out our Youtube channel!
Instructions
Set a deep bottom pot or pan over medium high heat. Pour the milk and bring it to boil stirring frequently. Turn off the flame immediately.

Pour the diluted lemon or lime juice and mix it with the hot milk with the help of a laddle. You will notice that the milk will begin to curdle and the whey (a light greenish liquid) will separate.

Set a large sieve over a deep bottom pot, place a muslin cloth on top of the sieve and strain the curdled milk along with the whey. You will notice that the whey will drain out and you will be left with the chenna in the muslin cloth.

Next, hold the sieve under running tap water and wash the Chena a couple of times to remove any sourness that's left behind by the lemon or lime juice.

Now, tie the ends of the muslin cloth from the kitchen tap and allow the chena to hang for just 30 mins. This will drain out excess liquid from the chenna still retaining enough moisture to keep it soft & juicy.

After 30 mins remove the homemade chena from the muslin cloth and use it in recipes. Enjoy.
Notes
Measuring Units used, 1 cup = 240 ml & 1 teaspoon = 5 ml.
I got 400 gms Chena or chenna from 2 liters cows milk. 
Bring the milk just to first boil. As it will begin to inflate turn off the flame immediately and add the diluted lemon juice instantly. Stir to mix in the juice.
The amount of Chena will greatly depend on the quality of milk and it might vary a lot. You may get more Chena or even less chena from 2 liters milk. 
VERY IMPORTANT: The amount of lemon or lime juice required to curdle the milk might also vary depending on the amount of fat content of the milk. If more fat in the milk you will need more lemon or lime juice to curdle the milk and vice versa.
Lime juice is more potent as compared to lemon juice. I have used lime juice to curdle the milk in todays recipe. If you choose lemon juice that you might need 3 tbsp. lemon juice diluted with 3 tbsp. water to curdle 2 liters full fat cow milk. This too is a rough estimate. The quality of lemon and lime juice also varies and so is the potency of the juice. It's recommended that you begin from less quantity and go up from that if need be.
Use the Chena immediately in recipes for best results. 
Calorific details are provided by a third party application & are to be used as indicative figures only.
Nutrition Facts
How to make Chenna
Amount Per Serving (1 cup)
Calories 150
Calories from Fat 81
% Daily Value*
Fat 9g14%
Cholesterol 20mg7%
Sodium 130mg6%
Potassium 400mg11%
Carbohydrates 10g3%
Protein 8g16%
Vitamin A 300IU6%
Vitamin C 3.3mg4%
Calcium 300mg30%
* Read our privacy policy – Calorie information is provided as a courtesy only and should be leveraged as an estimate rather than a guarantee.Percent Daily Values are based on a 2000 calorie diet.
Nutrition
Serving:
1
cup
|
Calories:
150
kcal
|
Carbohydrates:
10
g
|
Protein:
8
g
|
Fat:
9
g
|
Cholesterol:
20
mg
|
Sodium:
130
mg
|
Potassium:
400
mg
|
Vitamin A:
300
IU
|
Vitamin C:
3.3
mg
|
Calcium:
300
mg