Malai Chop is a Bengali Sweet recipe that you'll instantly fall in love with. This Malai Chop Misti is prepared with fresh home-made cottage cheese simmered in sugar syrup & decorated with Malai or cream. If you have not yet tried this Bengali sweet ever then, you are missing something really sweet in your life! Learn How to make Malai Chop sweet at home by following my Step-By-Step method.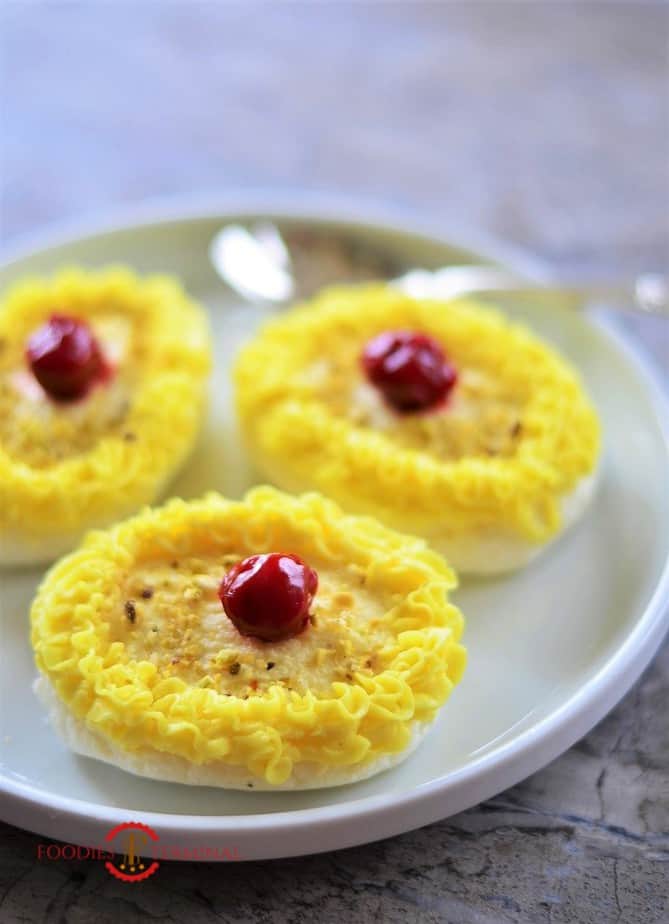 Malai Chop is one such Bengali sweet recipe that's so easy to make but looks complicated. It's that sweet that has the capability of winning every heart on its way!
Dessert makes everything better! Isn't it?
In a Bong's life Dessert means something different though- we love ending our meals on a sweet note but it's not the regular desserts like cakes, Tarts, puddings or Mithais!

It's always Misti ( soft cottage cheese sweets in various forms & textures), Chaler Payesh ( rice porridge), Misti Doi (sweetened yogurt) for us.
And Cream Chop is one such Bengali sweet that's tenderness, deliciousness , mild sweetness cannot be denied. It's so good that even a non-sweet loving person falls for it's exquisite taste.
This Cream Chop Bengali sweet is not outrageously sweet.
It's not going to numb your mouth with sweetness & won't take you to that level where you can't tell if Sugar is Sweet…Lol!
So, if you love killer sweetness in your desserts than this Cream Chop Sweet recipe is certainly not for you!
But if you are a "mild sweetness in your dessert" kinda person just like me then, by all means go for this Bengali sweet recipe.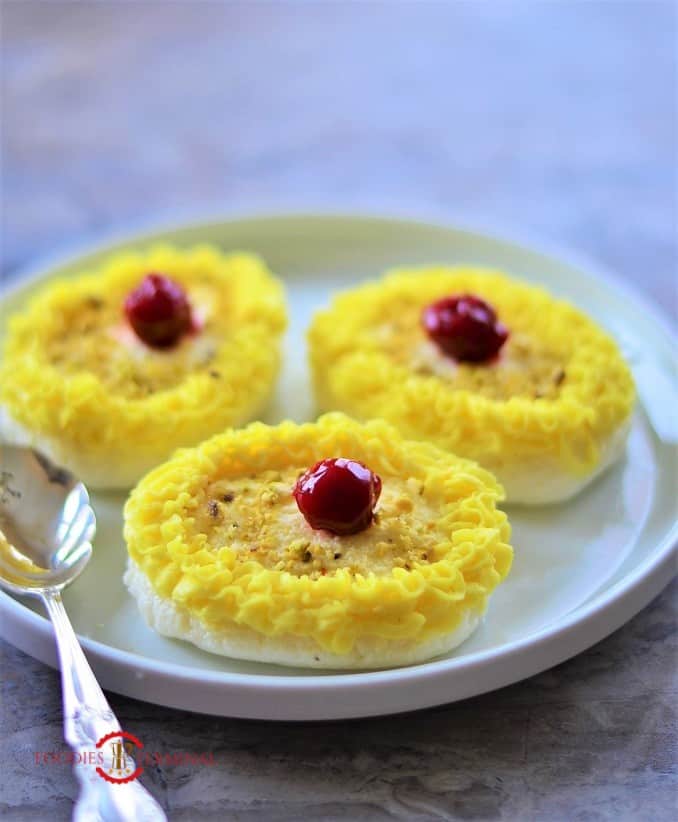 FAQs – Malai Chop (Step by Step) | Cream Chop Sweet
What is Malai Chop or Cream Chop
Malai Chop or Cream Chop is a popular Bengali Sweet that is made with cottage cheese shaped into discs, boiled in a mild sugar syrup & slathered or decorated with flavored cream (malai) frosting.
In a single word Cream Chop = Pure Bliss.
The texture of this Bengali sweet is melt-in-the-mouth.
And the sweetness is mild.
Malai Chop misti or Cream Chop is that one sweet that you won't quit after making it once!
Though Rasgullas (Rosogollas) have become every Bengalis national identity outside Bengal followed by Rasmalai & Sondesh yet we stretch much farther.
To name a few we love eating & making (the expats mainly) Cream Chop, Malai Sandwich, Nikuti, Chanar Jilipi, Lyengcha, koda paker Jilipi, Kanchagolla, Mihidana, Chanar Polao, Bondey, Rajbhog, Kheer Kodom, Goja et al. And Bengal is renowned for each of them.
I know it's a masquerade of sweets & that's how sweet loving people we Bongs are & we are just not confined to Rasgullas, Rasmalai & Sandesh 🙂
Ingredients of Malai Chop or Cream Chop Sweet
The Ingredients of Cream Chop are as follow:
Milk
Lemon Juice or Vinegar
Powdered Sugar.
Regular White Sugar.
Mawa Powder.
Yellow Food Color (optional)
Saffron
Finely Chopped Pitachios (optional)
Cherry (optional)
Ghee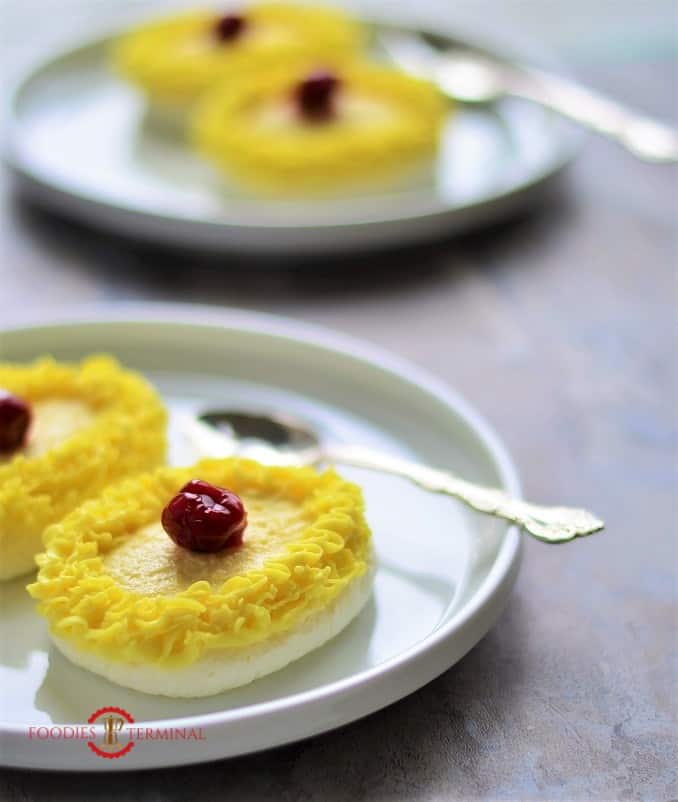 Storing Suggestions
Cream Chop Bengali Sweet are fresh cottage cheese sweets.
Hence, their shelf life is short.
Store them in the refrigerator in an sir tight container for 3-4 days.
Cream chops are not freezable.
Serving Suggestions
You may serve these super soft Bengali sweets either at room temperature or serve them chilled straight from the fridge.
Topping Options
Finely Crushed Pistachios.
Finely crushed almonds.
Cherry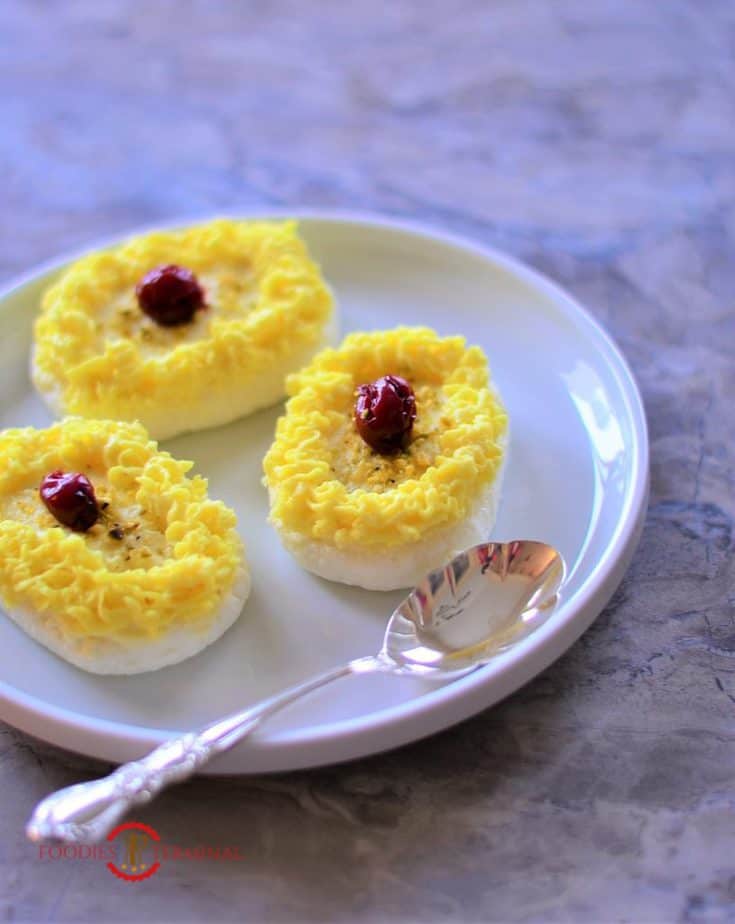 How to make Malai Chop or Cream Chop – Step by Step
Begin by curdling the milk with diluted lemon juice or vinegar.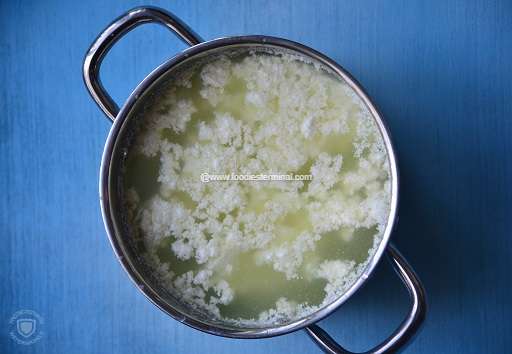 Separate the whey from the milk solids or cottage cheese. Strain with the help of a muslin cloth & allow the water to drain out completely by hanging the muslin cloth from your kitchen tap.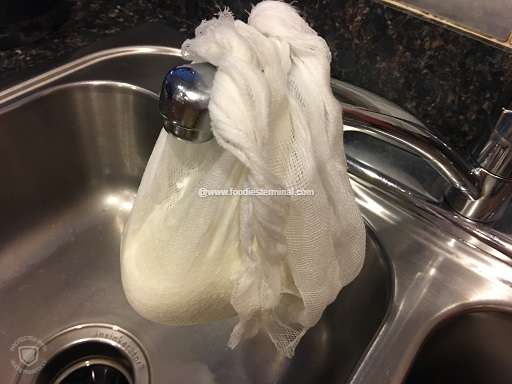 Now, Take the cottage cheese on a clean dry plate & with the help of a kitchen towel dry out any remaining water nicely.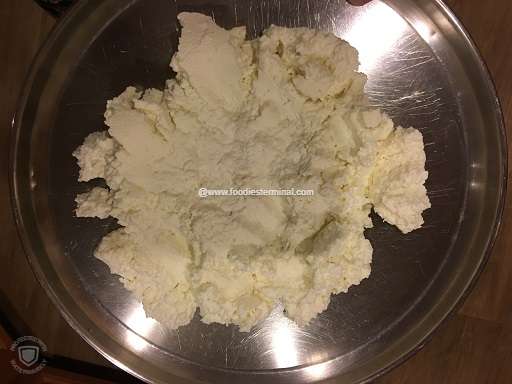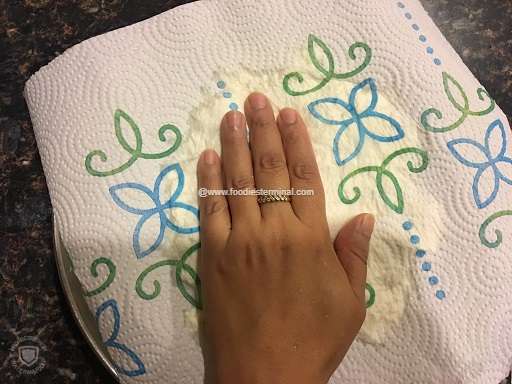 Mix a little all-purpose flour & Knead the cottage cheese or chena very well with the heel of your palm. Knead it until silky soft, smooth & lump free.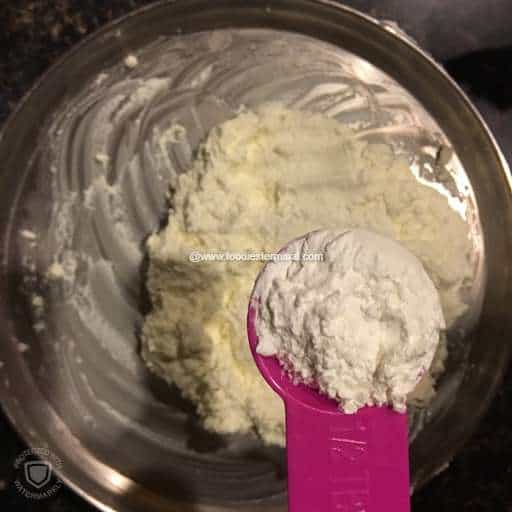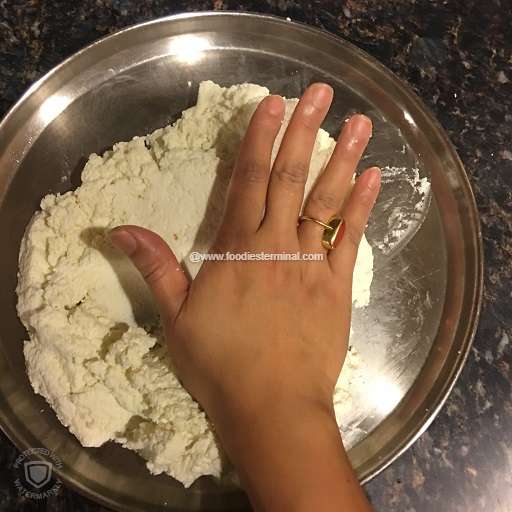 Divide into equal size balls. Roll them smooth in-between your palms & flatten them with the help of your fingers to a give flat disc shape.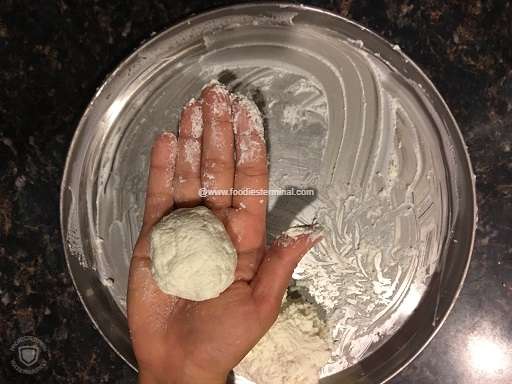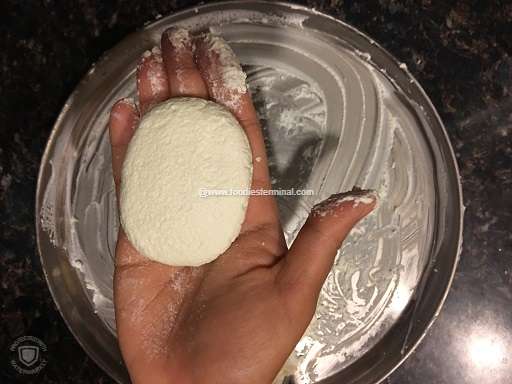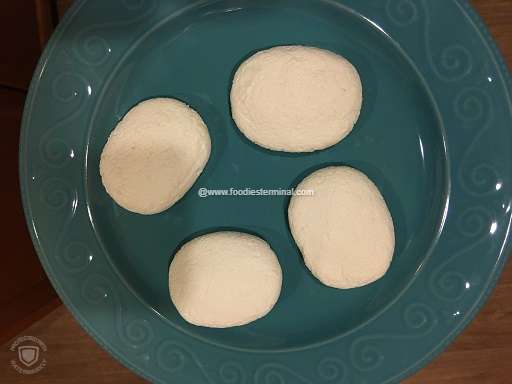 Prepare the sugar syrup. When it begins to boil carefully dump all the cottage cheese chops or discs into the syrup. Pressure cook for 10 mins with the lid on.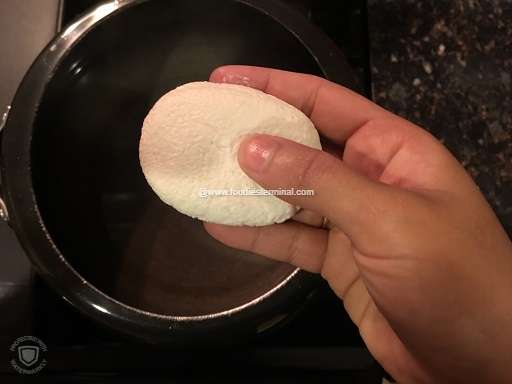 After 10 mins. Put the pressure cooker under tap water.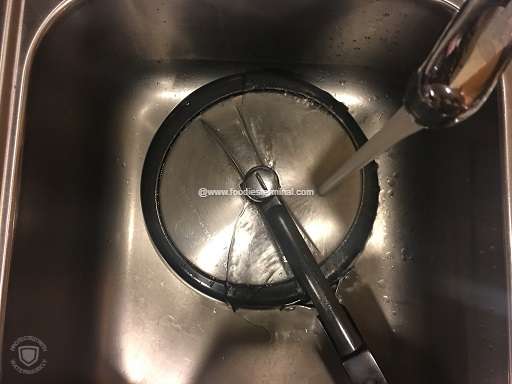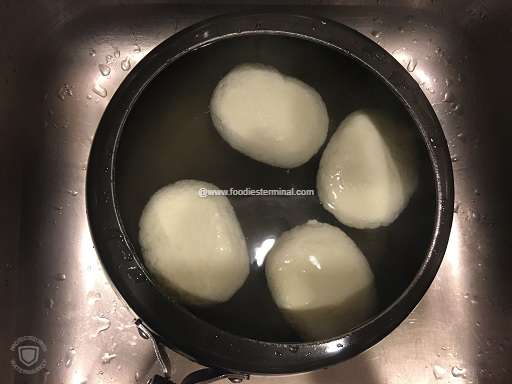 Take out the cooked chena chops or sweets & keep them in a container along with some sugar syrup.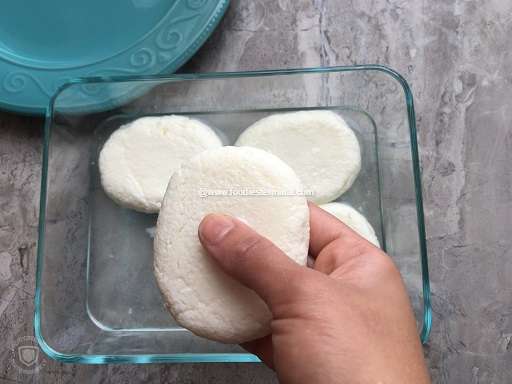 Gently squeeze out the sugar syrup from each cottage cheese disc or chop. Set aside.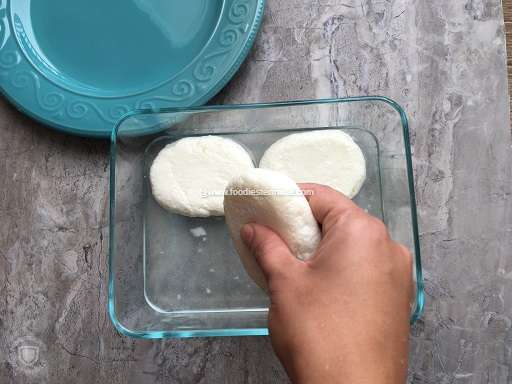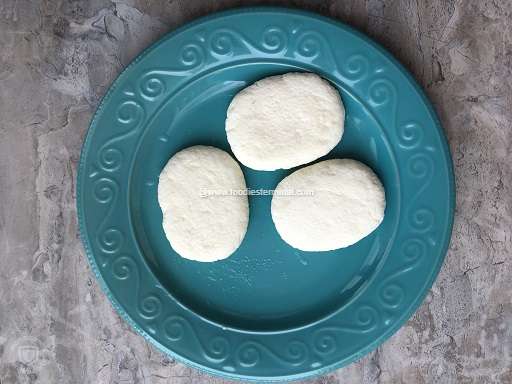 In the meantime prepare the Mawa with mawa powder, milk & ghee for the cream topping.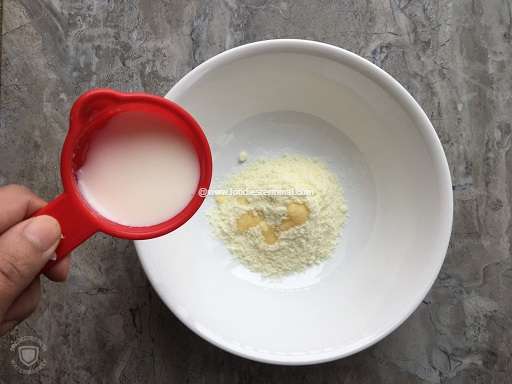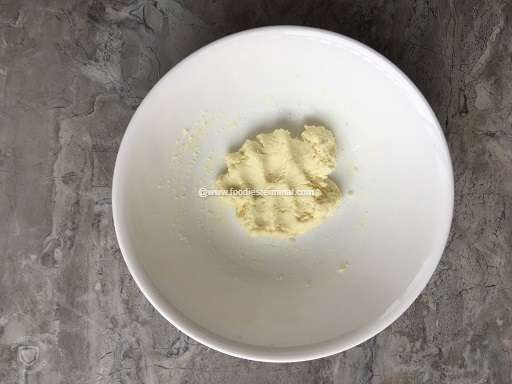 Then, prepare the cream or Malai for topping with the mawa, cottage cheese, powdered sugar & saffron soaked milk.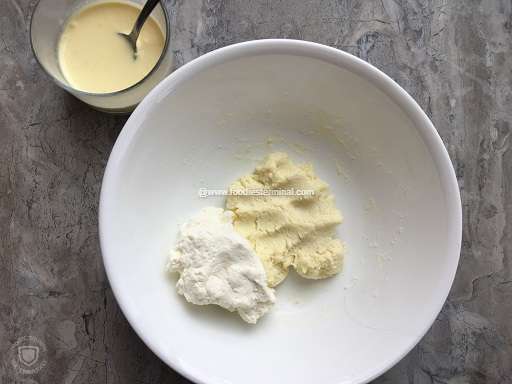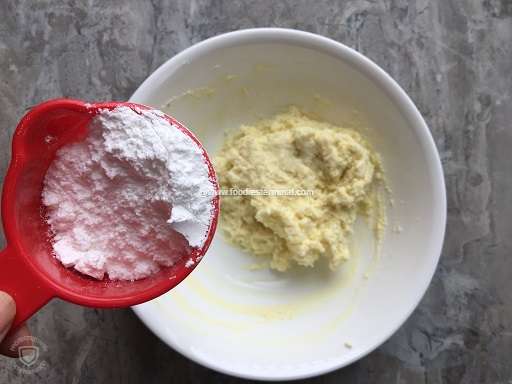 Mix a few drops of yellow food color if you want to.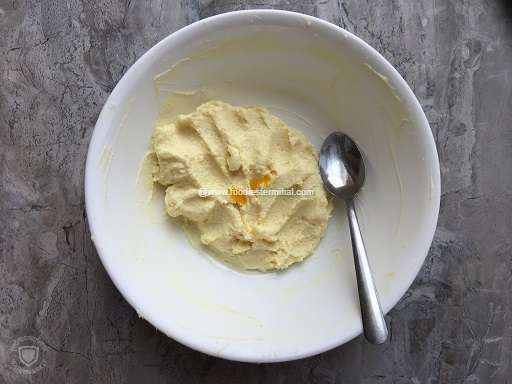 Put the cream inside a zip lock bag or icing bag with your favorite nozzle attached.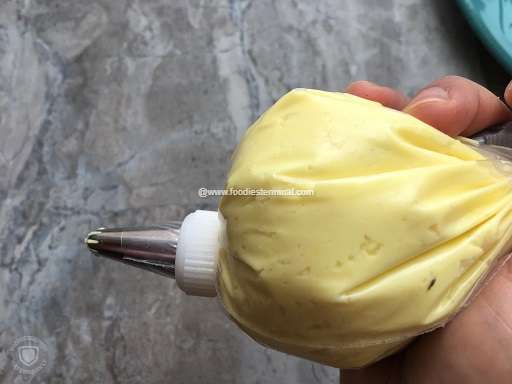 In the meantime slather the cream and cover the top of the cream chops.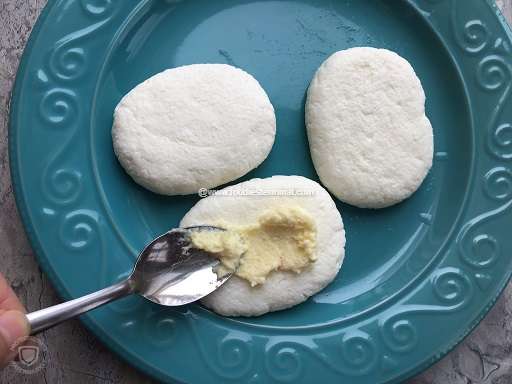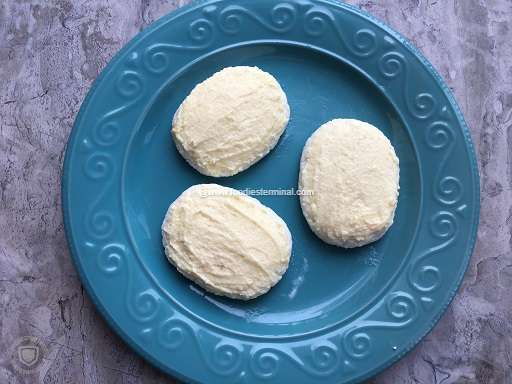 Start designing your Cream chops with the prepared cream or malai.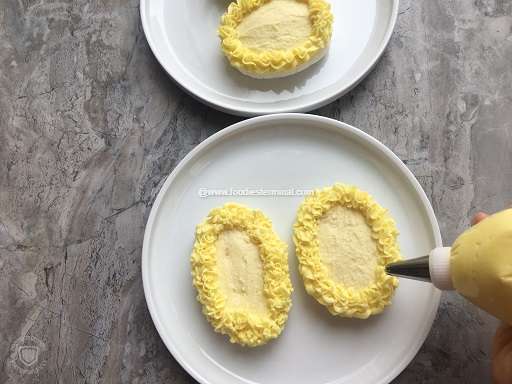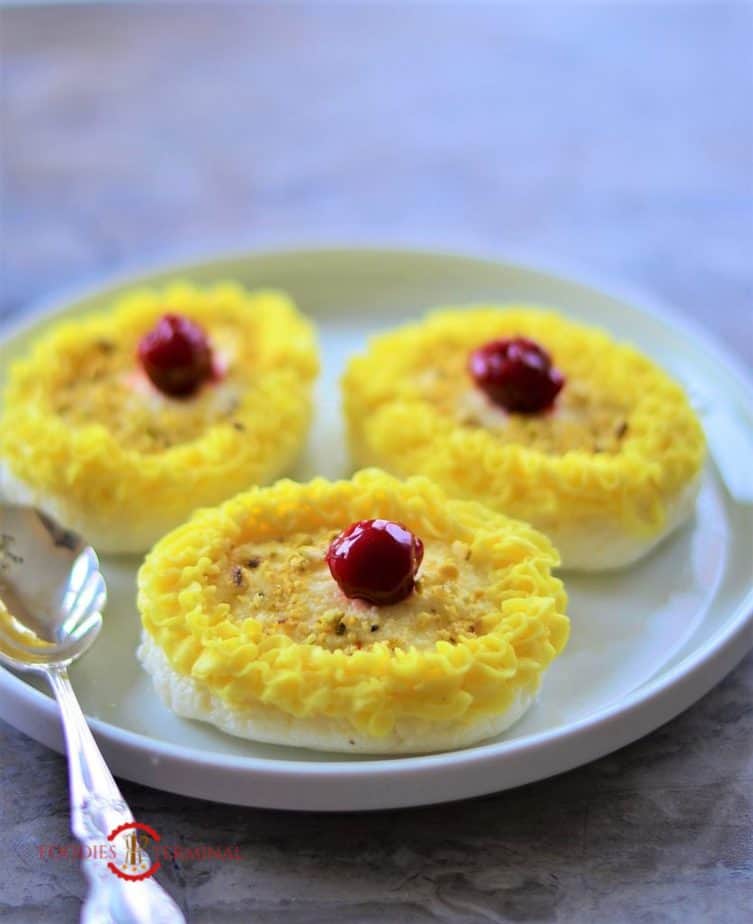 Don't miss out more Deliciousness from Foodies Terminal!
Pro Tips from Foodies Terminal to make Malai Chop (Step By Step) | Cream Chop Sweet
To make the softest & the best cottage cheese every single time just remember to not over cook it. As soon as the milk starts to curdle switch off the flame. Once the milk has completely curdled & you can see the whey separate out from the solids immediately pour ice cubes to stop the cooking process.
Hang the cottage cheese in the muslin cloth only for 30 mins & not more. We do not want our cottage cheese to completely dry out. For the softest, spongiest Malai Chops we need a little bit of moistness in our chena.
If you feel that the Malai chops are too big for you to handle for the very first time by all means go ahead and make them smaller.
Knead the cottage cheese well until completely smooth & lump free. The kneading time again depends on the quality & texture of the chena. It took me around 3 mins to reach the smoothest stage, but, it might take you longer.
While pressure cooking the Cream chop bases remember not to over crowd them. They will expand in size & they need room for that.
When hot the chop bases are very fragile & extremely soft. So, handle them carefully, they tend to break very easily.
Before decoration remember to squeeze out the sugar syrup from the chop bases.
If you decide to cook them in an open pot then, do follow the same recipe & switch the pressure cooker with an open pot & cook the sweet bases covered for 30 mins.
This recipe is mildly sweet. If you prefer sweeter sweets by all means increase the amount of sugar in your sugar syrup. The ratio should always be – for every 2 parts sugar add 2.5 parts water.
After cooking the cottage cheese bases, allow them to come to room temperature and then pop them in the fridge for at least 30 mins. This helps them to hold shape while decorating them.
For more tips read the Notes in the Recipe card.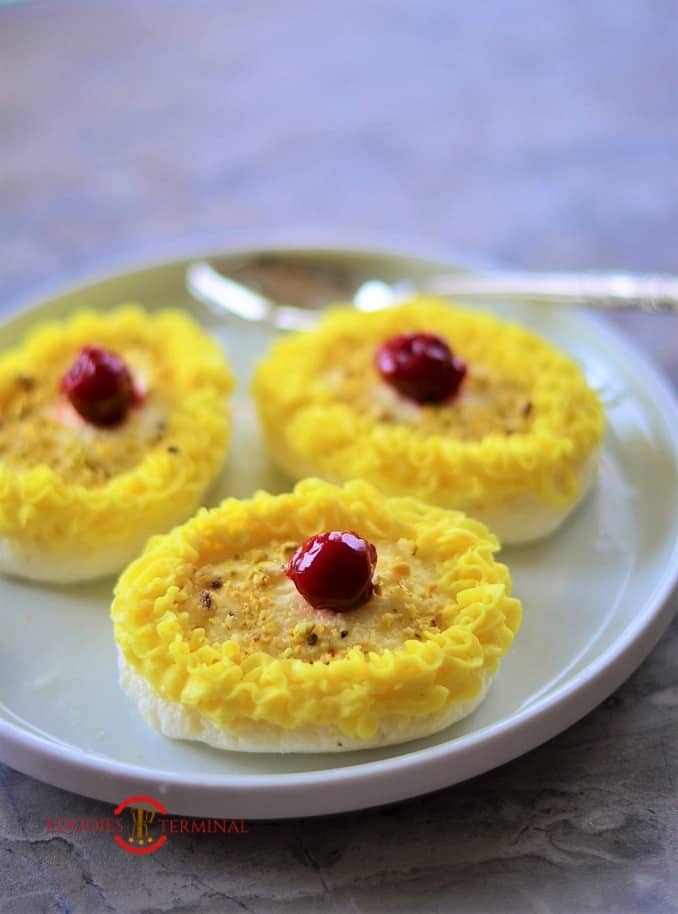 DID YOU TRY THIS RECIPE? Do Not forget to give a STAR (*) rating! Just click on the STARS on the recipe card below to rate.
Recipe Card of Malai Chop (Step By Step) | Cream Chop Sweet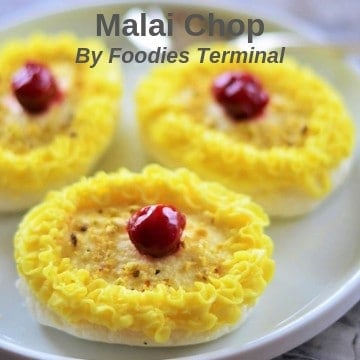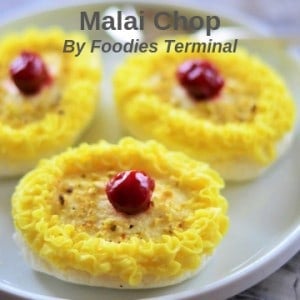 Malai Chop (Step By Step) | Cream Chop Sweet
Print Recipe
Pin
Rate
Malai Chop or Cream Chop is a popular Bengali Sweet Recipe that's prepared with cottage cheese shaped into discs, boiled in sugar syrup & slathered or decorated with cream. Sometimes they are topped with cherries or slivered nuts.
Ingredients
For the Chops or Cottage Cheese Discs or the base
For the Sugar Syrup or Chasni
1

cup

white sugar

2.5

cups

Water
For the Cream Icing or Malai for decoration
1/3

cup

Mawa (Khoya) Powder

(available in any Indian grocery store)

1/2

tsp

Ghee

3

tbsp

Milk

(or more if needed)

1/3

cup

cottage cheese or chena

3

tbsp

Saffron Milk

(Few Strands saffron soaked in a few tbsp warm milk)

1/4

cup

Powdered Sugar

(more if you love more sweetness)

3

drops

yellow food color

(OPTIONAL)
For the Toppings (Optional)
Finely chopped Pitachios

Cheerios
Want more Recipe Videos?
Check out our Youtube channel!
Instructions
How to make the Cottage Cheese or Chena
In a clean bowl add 2 liters milk & bring it to just one rolling boil over medium high heat immediately lower the heat.

Add diluted lemon juice. You'll see that the milk will begin to curdle.

To separate the milk solids from the whey strain it through a muslin cloth placed over a strainer.

Next tie the ends of the muslin cloth from the tap of your kitchen sink & allow the water to drain from the cottage cheese. Keep it that way for 30 mins. Your chena or cottage cheese is ready.
How to shape the Chops or sweets
After 30 mins take the cottage Cheese or chena on a clean plate & begin kneading it with the heel of your palm. 

After couple mins add 1 tbsp all-purpose flour or maida & knead well with the heel of your palm until smooth, soft & silky. There should be no lumps in the chena. 

Divide into equal portions. 2 liters of milk should yield enough cottage cheese or chena to make 6 chops (big). but again it depends on the milk a lot, I got enough chena for 6 big cream chops but you might get less or even more. 

Roll them into smooth balls without any cracks. Press with your fingers gently to give it an oval kind of disc like shape. Repeat this process until you make discs out of the whole Chena. Set aside.
How to make the Chasni or Sugar Syrup
Add 1 cup white sugar and 2.5 cups water to a pressure cooker & set it on medium heat. Bring it to a rolling boil and wait until the sugar dissolves in the water. The Chasni or sugar syrup is ready. 
How to make the Cream Chop base
In the rolling boiling Chasni gently add the cottage cheese discs. Leave enough room for them to expand. So, never over crowd them. Cook them in batches. For 6 discs I cooked in two batches. 3 discs in one single batch. It actually depends on the size of the discs.

Put the lid of the pressure cooker. And pressure cook for 10 mins.

After 10 mins immediately put the pressure cooker under tap water & wait for the whole pressure to come out.

Open the lid and carefully take out the cooked cream chop base from the syrup and store them in a flat container. Be very careful while doing so, because when hot the chops are super soft. Add some sugar syrup but not the all of it. Just enough to cover the cream chop bases & keep them moist.

Allow the cream chops to cool down completely. You may even pop them in the fridge. This will allow them to set.
How to make the Cream or Malai for decoration
Firstly, begin by preparing your mawa from mawa powder. It's easy & super quick. Take the Mawa powder in a clean bowl. Add ghee & add milk and knead until a smooth dough forms. Voila your mawa is ready.

Now add the remaining chena or cottage cheese, powdered sugar, saffron soaked milk and few drops of yellow food color (totally optional) and knead everything very well to form a soft dough. The cream or malai is ready for decorating the Cream chops or Malai Chops.
How to Decorate the Cream Chops or Malai Chops
Take one Chop base from the sugar syrup and gently squeeze out the syrup by pressing the chop base with your palm or fingers. Set aside on a dry plate. They are ready for decoration.

Scoop some malai or cream and slather it on the top of the chops base. 

Now, put the Malai or cream inside a zip lock bag fitted with your favorite nozzle and decorate the base with your favorite designs.

You may decorate sprinkle some finely crushed pistachios on the base top and even top it with a cherry.
Notes
2 litres gave me enough cottage cheese or chena to make 6 big Malai Chops + enough for the cream preparartion. But, the amount of cottage cheese entirely depends on the quality of milk. So, my measurement is kind of your starting point. It is to help you with a precise approximation. You may not get enough chena to make 6 big Malai chops or you may even get more Chena.
Handle the chop bases very carefully when hot. They are super soft & fragile.
Do not try to decorate them when hot. They should cool down completely & poping them in the fridge helps a lot.
Squeeze out the sugar syrup gently before decoratin the Malai chops.
The Cream or malai should be soft enough to squeeze out from the decorating tip. So if you feel that it needs a little more milk, add it in drops or rather drizzle so that you have the full control.
You may totally skip adding any food color to the Malai Chop cream or you may also add your favorite food color.
You may use any tip for decoration. Both, open star & close star tips work wonderfully well. Or you may use any tip you fancy.
You may top the base of the malai chop with finely crushed pistachio & top them with a cherry.
Do not hang the chena for more then 30 mins. It will dry out more & then, the maiali chops will not become spongy. We want our chena or cottage cheese a little moist.
Knead the Chena or cottage cheese well with the heel of your palm until completely smooth. Again sometimes this might take 2-3 mins or much longer (7-8 mins). It actually depends on the quality of the cottage cheese.
To make your own saffron ilk just soak a few strands of saffron in few tablespoons warm milk. Let it rest for 10-15 mins. 
Release the cottage cheese chop bases in the sugar syrup only when it is rolling boiling.
Measuring cup used, 1 cup = 240 ml & 1 teaspoon = 5 ml.
PLEASE NOTE: Nutrition values are my best estimates. If you rely on them for your diet or special diet, use your preferred nutrition calculator!
Nutrition Facts
Malai Chop (Step By Step) | Cream Chop Sweet
Amount Per Serving
Calories 223
Calories from Fat 66
% Daily Value*
Fat 7.3g11%
Cholesterol 18.3mg6%
Sodium 76.2mg3%
Potassium 295mg8%
Carbohydrates 34.1g11%
Protein 6.5g13%
Vitamin A 205IU4%
Vitamin C 0.2mg0%
Calcium 213mg21%
Iron 0.2mg1%
* Read our privacy policy – Calorie information is provided as a courtesy only and should be leveraged as an estimate rather than a guarantee.Percent Daily Values are based on a 2000 calorie diet.
Nutrition
Calories:
223
kcal
|
Carbohydrates:
34.1
g
|
Protein:
6.5
g
|
Fat:
7.3
g
|
Saturated Fat:
3.6
g
|
Polyunsaturated Fat:
0.8
g
|
Monounsaturated Fat:
2.2
g
|
Cholesterol:
18.3
mg
|
Sodium:
76.2
mg
|
Potassium:
295
mg
|
Fiber:
0.3
g
|
Sugar:
34.8
g
|
Vitamin A:
205
IU
|
Vitamin C:
0.2
mg
|
Calcium:
213
mg
|
Iron:
0.2
mg
If you try this recipe or any other recipe from this blog, let us know! Leave a comment, rate it! Hearing from you is what makes my Day!