Angoori Rasmalai Recipe is a fantastic Indian sweet recipe for beginners. This Indian sweet is so easy to make, super quick & tastes out of the world. Prepared with tender, spongy mini cottage cheese balls or mini rasgullas dunked in a flavored rich creamy base or malai, this Indian dessert will sweep you off your feet with it's immaculate creamy dreamy taste. Watch my Step-by-Step recipe video & learn How to make Angoori Rasmalai at home efficiently & quickly.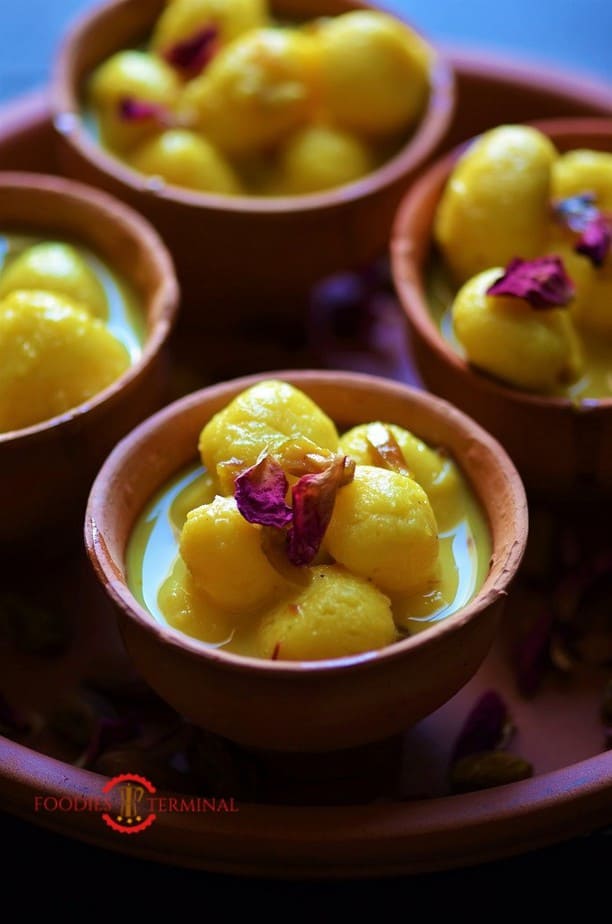 Angoori Rasmalai
If you are a beginner in the world of paneer sweet-making, then, today's easy Angoori Rasmalai recipe will give you the much required boost & some extra dose of confidence.
Yes, they are insanely easy to make & you'll be super proud of yourself once you are done making your first batch.
If you are skeptical about trying out cottage cheese desserts (which I was when I began my cooking adventure!) because you heard somewhere they are super tough & requires expertise then this Bengali sweet recipe will take you by a huge surprise!
Because these cute Angoori Rasmalai requires no special Mojo.
What you need is a little bit of planning & a sprinkle of patience.
Recipe Video – How to make Angoori Rasmalai from scratch
Did I just tell you that this creamy Indian sweet recipe is kids friendly too?
Kids love cute stuffs, doesn't they?
And the cute rasgullas undeniably gain a kids attention. Perhaps because they love popping the small chena sweet in their tiny mouth!
Do you know why Angoori Rasmalai is a beginner sweet makers favorite choice?
It's because this recipe does not require perfectly rounded rasgullas. After all they are dunked in the Malai.
All you need to do is make some crack free mini rasgullas. And that's so easy to make.
So, let's learn how to churn up these super cute Angoori Rasmalai with a little bit of planning.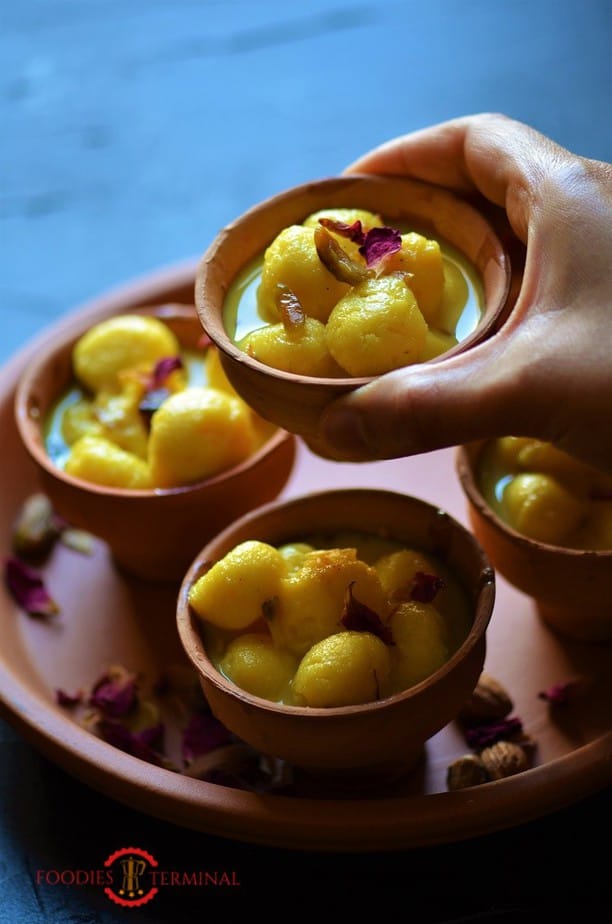 FAQs – Angoori Rasmalai Recipe (Video)
What is Angoori Rasmalai
Angoori Rasmalai is an Indian dessert that's made with tiny marble sized cottage cheese balls which are first cooked in a light sugar syrup. They are then soaked in a thick, rich, creamy, flavored milk base that's prepared from thickened whole milk.
Finally, the sweet dish is garnished with silvered pistachios & almonds.
And if you love a little drama & beauty just like me, then sprinkle a few dried edible rose petals to the finished sweet dish.
Angoori Rasmalai got it's name from Angoor (grapes). They are as small as grapes & hence, the name Angoori.
Rasmalai = A rich, creamy, sweetened milk base that's made from thickened whole milk.
If you are just learning the process of making Indian sweets from cottage cheese for the very first time then, do give this recipe a try. You will always have proud results.
Often I say this because this recipe is easy to handle.
Making tiny paneer balls is not difficult, you will just need little patience.
Are you still scared of making rasgullas?
You don't have to be because this recipe doesn't require perfect rounded & plumped up mini rasgullas!
I know I gave you the best news.
That's the beauty of this recipe which I love because sometimes my 5 years old son wants to make all the cute cottage cheese balls…lol!
And I can allow that to happen in my kitchen because this recipe doesn't call for perfect award winning spherical rasgullas.
A little imperfection is what makes this recipe beautiful.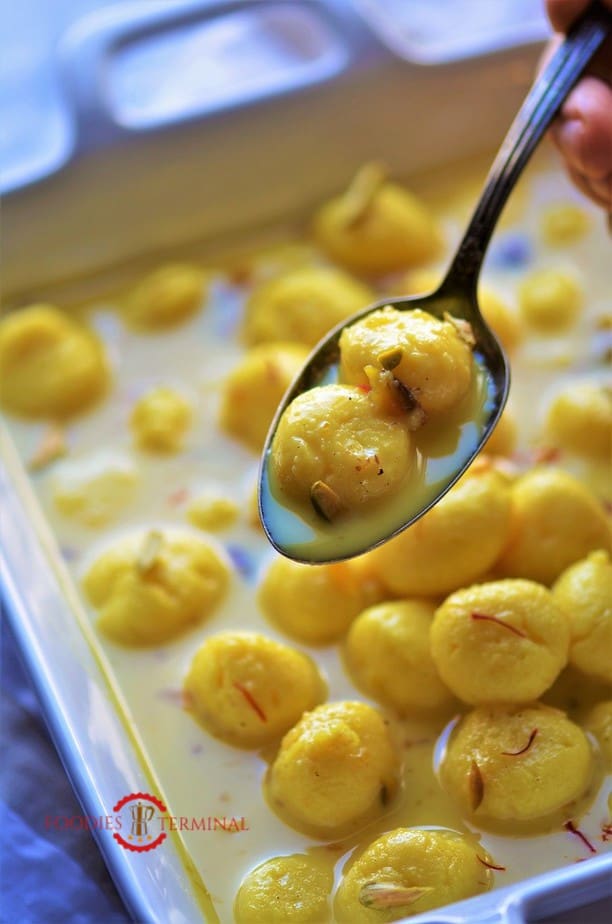 Angoori Rasmalai Recipe Ingredients
Whole milk
Lemon Juice
Sugar
Silvered nuts (Pistachios & Almonds)
Dried edible rose petals (optional)
Saffron
Yellow food color (optional)
Green Cardamom Powder
Garnish Choices
Silvered Almonds.
Silvered Pistachios.
Edible dried rose petals.
Silver leaf. (I did not add any)
Few drops of rose water (I did not add any)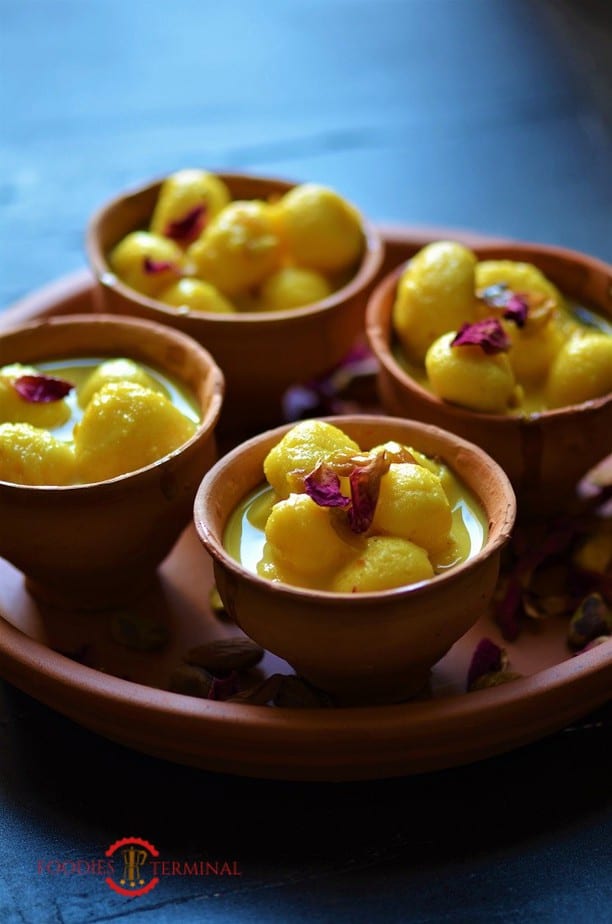 Smart Planning for Angoori Rasmalai Recipe
This recipe is terrific where smart planning is considered.
Because you can make this recipe well ahead of time.
You do not have to sweat it out on a single day becoming completely exhausted in the Kitchen.
I love to plan it out a bit.
You can do the same too.
Make the mini rasgullas 3-4 days in advance & store them in the fridge along with enough sugar syrup to keep them moist.
On the D-day prepare the thickened milk sauce & simmer the mini rasgullas along with this malai for 5 mins. Garnish, chill & serve!
Storing suggestions
You can store Angooring Rasmalai either in single serving pots or in a single large pot in the fridge for 7 days!
The malai tends to thicken a bit when kept in the fridge.
If you want you may dilute the malai with a few tablespoons of milk. Just add the milk & mix gently.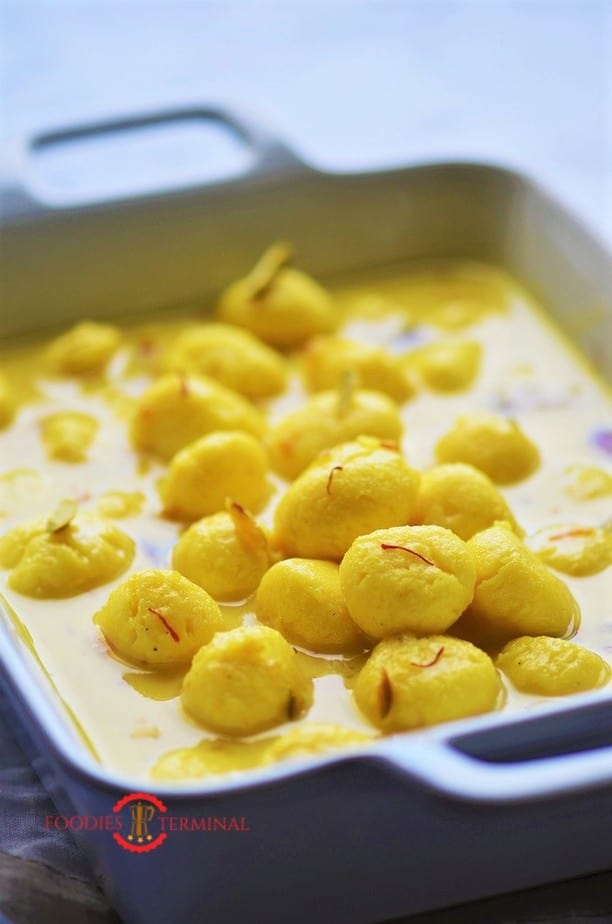 How does Angoori Rasmalai Taste
If you have tasted Rasmalai, which you probably have especially if you are an Indian, you won't be surprised by the taste of Angoori Rasmalai (they taste just the same as Indian sweet Rasmalai).
The only thing that varies is their appearance as compared to Bengali Rasmalai recipe.
The cottage cheese balls are smaller here & cutest!
For making Rasmalai recipe you need to make bigger cottage cheese balls & sometimes they are flattened to give them a disc like shape approximately 1.5-2″ in diameter.
The rest of the recipe remains the same.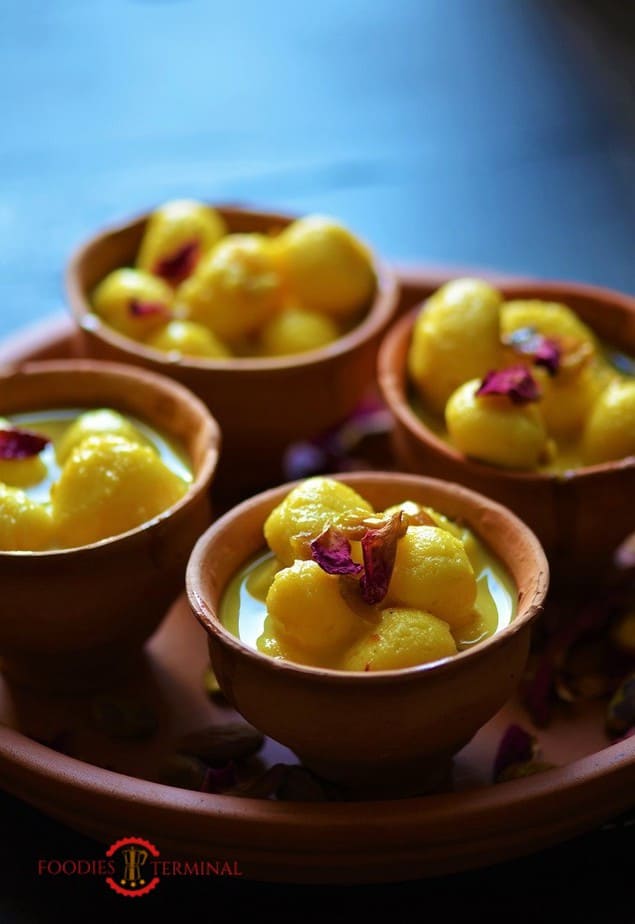 The Malai turned thick what should I do
If accidentally the milk thickens up more than what you prefer than go ahead add little more milk & dilute it.
Do not forget to taste the sweetness. You might need to add tad bit more sugar.
Why your mini rasgullas become hard sometimes
Sometimes mini rasgullas do not become soft & spongy mainly because of the following reasons:
Too much all-purpose (maida) flour in the recipe. I add 1 tbsp for every 2 cups cottage cheese or chena. It works for me every time.
You might have hung the chena or cottage cheese for a long time. If the chena becomes more dry than it yields hard rasgullas. For the melt-in-the-mouth rasgullas go for the 30-40 mins mark & never cross that.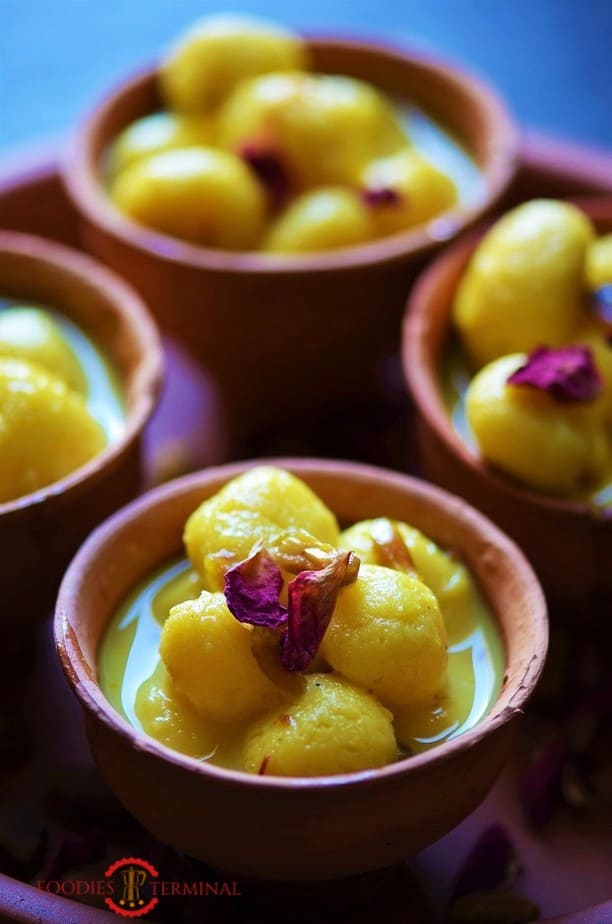 Pro Tips from Foodies Terminal about Angoori Rasmalai Recipe
If you want the softest, spongiest mini rasgullas than do not hang the cottage cheese in the muslin cloth for more than 30 mins. We want a little bit of moisture in our Chena or cottage Cheese. You go beyond the 30-40 mins mark & you might end up with hard rasgullas. And they will take forever to soak up the cream.
Knead the paneer for a few minutes until smooth & lump free.
Make tiny crack free balls. Remember that ragullas double in size when cooked in sugar syrup.
If you want to make perfect round rasgullas add 1 tbsp all-purpose flour or maida to the cottage cheese while kneading it. (I didn't add any).
To hasten the thickening of the milk you can reduce the amount of whole milk from the recipe by 1.5 liters & add 1 can of evaporated milk.
Always be extra careful while preparing the Milk sauce because it tends to stick at the bottom of the pan. So, heat it over medium-low heat & keep on stirring frequently.
Adjust the sweetness according to your preference. The amount of sweetness that works for me might not work for you.
If you want a lovely tinge of yellow color in your Angoori Rasmalai recipe do add a few drops of yellow food color.
If you do not prefer any food color by all means skip adding any and slightly increase the amount of saffron in the recipe. Soak the saffron in warm milk before adding it. You will manage to get a lovely soft yellow color.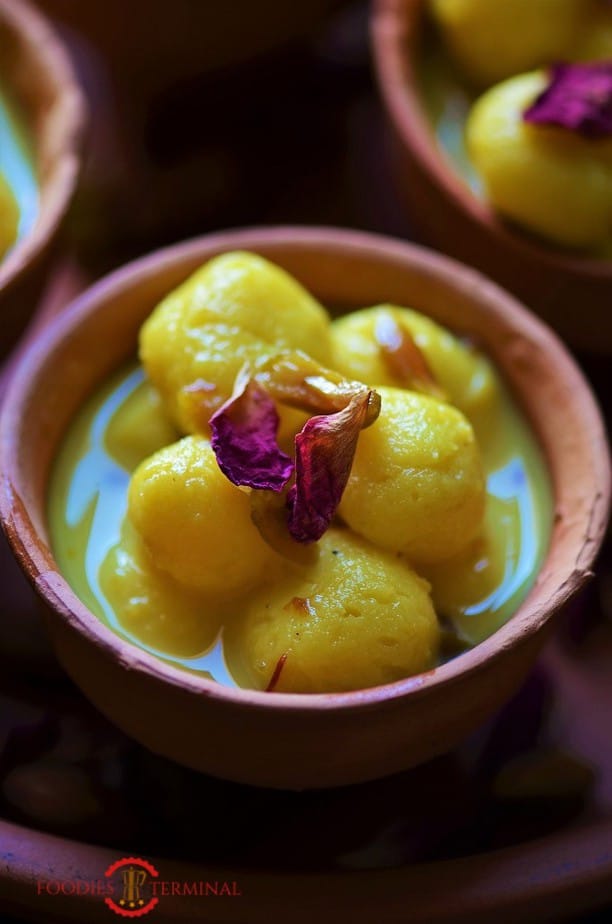 Do not miss out more Deliciousness from Foodies Terminal, Check these out!
DID YOU TRY THIS RECIPE? Do Not forget to give a STAR (*) rating! Just click on the STARS on the recipe card below to rate.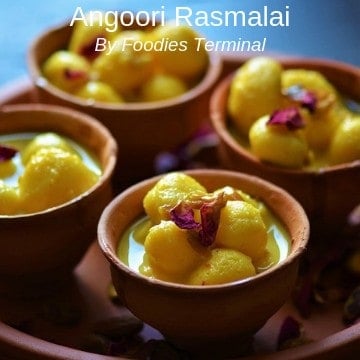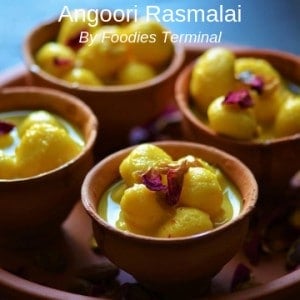 Angoori Rasmalai Recipe (Video)
Print Recipe
Pin
Rate
Angoori Rasmalai recipe is an easy Indian dessert recipe that's made with fresh home-made cottage cheese. Small cottage cheese balls are cooked in sugar syrup first & then, they are doused in a sweetened flavored thick milk base. Angoori rasmalai is garnished with chopped nuts, saffron & rose petals. A classy dessert that's so pretty & tasty!
Ingredients
For the Cottage cheese balls or Mini Rasgullas
For the Sugar Syrup or Chasni
1.5

cup

White sugar

4

cups

Water
For the Rasmalai or Milk base
3

liters

Whole Milk

1

tsp

Good Quality Saffron

(or more)

1.5

cups

White sugar

1

tbsp

silvered almonds

1

tbsp

silvered pistachios

Few drops yellow food color

(OPTIONAL)

1/2

tsp

(green cardamom powder)
For the Garnish
Want more Recipe Videos?
Check out our Youtube channel!
Instructions
How to make the Cottage Cheese or Chena
In a heavy bottom pan bring 2.5 liters milk to boil at medium high heat stirring continuously.

At the first boil lower the heat immediately to the lowest setting & add the diluted lemon juice with a spoon. Not all at once, but in bits. As the milk starts to curdle & you see the light greenish whey & the milk solids separating just stop adding the lemon juice. 

Switch off the flame immediately & add about 2 cups of ice cubes. 

Strain the cottage cheese or chena with the help of a strainer & muslin cloth to separate the whey.

Squeeze out excess whey & hang the muslin cloth containing the chena from your kitchen tap for 30-40 mins & not MORE.
How to make the Mini rasgullas or the Angoors
After 30-40 mins take out the chena from the muslin cloth on a clean dry plate.

Start kneading with the help of the heel of your palm until smooth & lump free.

Make tiny marble sized balls from the kneaded cottage cheese. Set aside.
How to make the Sugar Syrup or Chasni
In a heavy bottomed pan add water & sugar. Bring it to rolling boil over medium high heat until the sugar completely dissolves.
How to cook the Mini Rasgullas
When the Chasni or Sugar syrup starts to rolling boil gently add the mini rasgullas without overcrowding because they need enough space to expand.

Cook covered for 20 mins over medium heat.

Once they are well done. Allow them to cool down. Set aside.
How to make the Angoori Rasmalai
In a heavy bottomed pan pour 3 litres milk & bring it to boil at medium high heat stirring continuously.

Add cardamom powder, saffron & sugar & boil it until the milk is reduced to half it's quantity. 

Add yellow food color if you want to & silvered nuts.

Add the mini rasgullas by squeezing out the excess sugar syrup from each one of them & simmer over low heat for 5 mins.
Notes
Adding ice cubes stops the chena from getting over cooked & hence prevents stiff rubbery rasgullas.
Do not skip adding ice if you want spongy rasgullas & also immediately turn off the heat once the milk begins to curdle.
DO NOT hang the chena or cottage cheese for more than 30-40 mins because we want a little moisture in the chena. Completely dry chena doesnot yeild good results.
Knead the chena only until crumb free. Its not possible to mention a time for this because the kneading time is variable. It depends on the quality of the chena that a certain variety of milk yeilds. Hence, the kneading time might not be same for YOU & ME.
Measuring cup used, 1 cup = 240 ml & 1 teaspoon = 5 ml.
PLEASE NOTE: Nutrition values are my best estimates. If you rely on them for your diet or special diet, use your preferred nutrition calculator!
Nutrition Facts
Angoori Rasmalai Recipe (Video)
Amount Per Serving (100 g)
Calories 160
Calories from Fat 63
% Daily Value*
Fat 7g11%
Cholesterol 25mg8%
Sodium 30mg1%
Carbohydrates 16g5%
Protein 9g18%
Vitamin A 1000IU20%
Calcium 350mg35%
Iron 0.4mg2%
* Read our privacy policy – Calorie information is provided as a courtesy only and should be leveraged as an estimate rather than a guarantee.Percent Daily Values are based on a 2000 calorie diet.
Nutrition
Serving:
100
g
|
Calories:
160
kcal
|
Carbohydrates:
16
g
|
Protein:
9
g
|
Fat:
7
g
|
Saturated Fat:
6
g
|
Cholesterol:
25
mg
|
Sodium:
30
mg
|
Fiber:
2
g
|
Sugar:
6
g
|
Vitamin A:
1000
IU
|
Calcium:
350
mg
|
Iron:
0.4
mg
If you try this recipe or any other recipe from this blog, let us know! Leave a comment, rate it! Hearing from you is what makes my Day!
Follow us on Facebook & Pinterest.
Tag a photo on Instagram.