Strawberry Lassi a spin on the traditional Indian Lassi recipe. This 3 ingredient fresh Strawberry drink served chilled can make anything better. Watch the Video Recipe below & learn how to make Strawberry Lassi at home.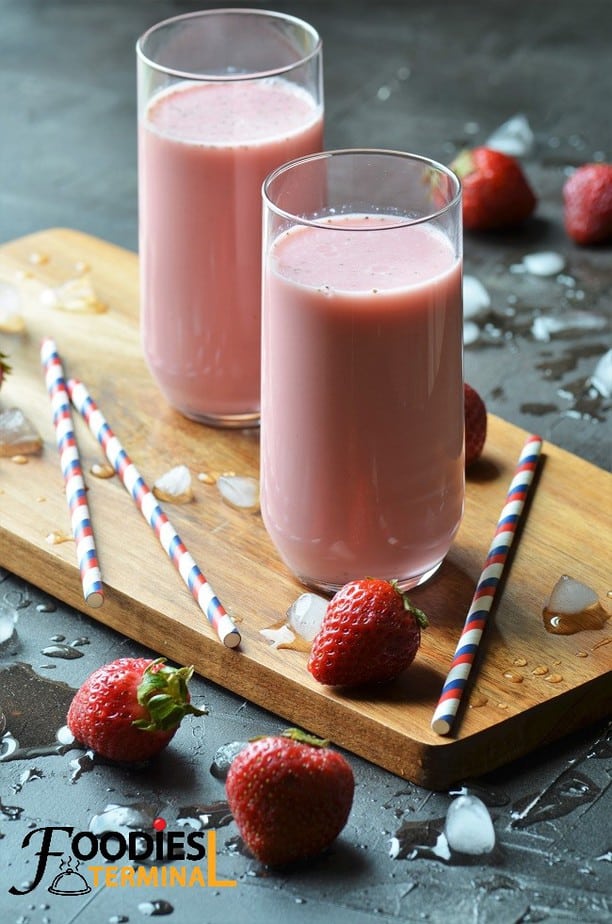 Recipe Video
Strawberry Lassi Recipe
Come summer & my kitchen becomes a hub for chilled drinks like this amazing Masala Chaas (Spiced Buttermilk), the Kokum Sharbat & so many more varieties.
Chilled drinks are a great way to keep the body cool during the hot summer days, an even better way to keep the kids busy because they love making drinks, especially a berry drink 😉
At least mine does 😀
This homemade drink will certainly become your next favorite summer drink , your kids will love it too.
It's super easy to make, tastes very strawberry – y and you can make it with homemade yogurt or store bought ones.
If you want you can sweeten it naturally or skip the sweetener altogether.
You can also make your yogurt strawberry drink slightly on the thinner side or super thick.
We prefer ours on the thinner side, it easily gets into a straw & we don't have to sip hard to bring it inside the straw 😀
I remember those awkward moments when a few restaurants served a super thick Lassi almost like a smoothie consistency & than I had to struggle to bring it inside the straw…lol!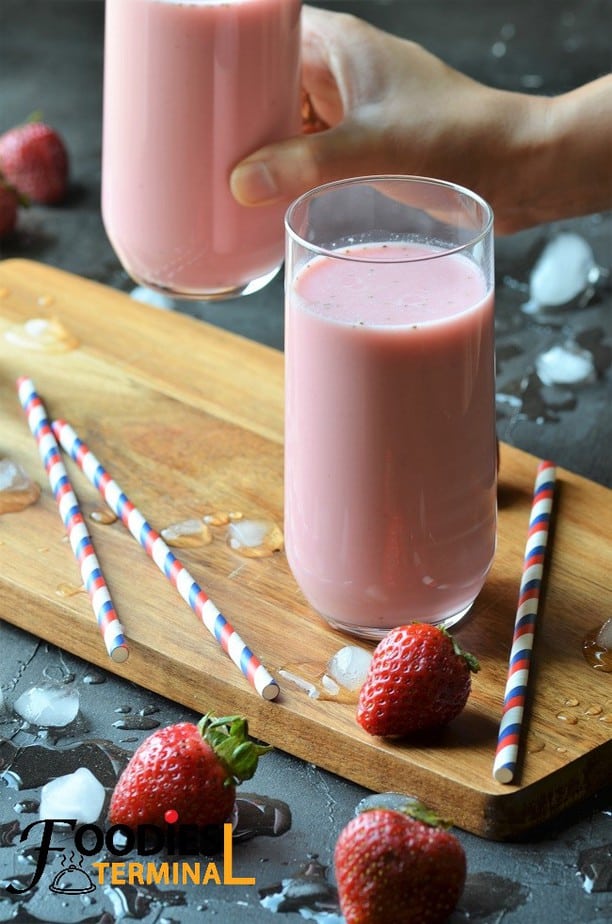 What is Strawberry Lassi?
Strawberry Lassi is a favorite Indian summer drink that's made with strawberries, yogurt & some kind of a sweetener. It's best enjoyed chilled & from a tall glass.
This fresh Indian drink is basically a spin on the traditional Indian Lassi recipe that's made only with yogurt & a sweetener. It's a favorite yogurt drink that's best enjoyed chilled & relished during the summer months.
But we love it year round 🙂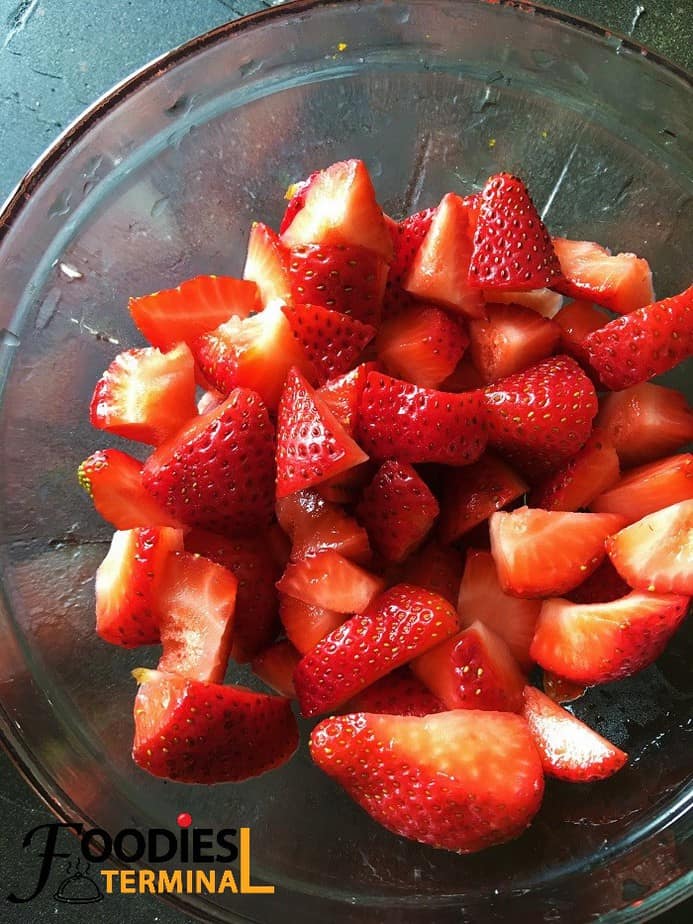 What is Strawberry Lassi made of?
Strawberry Lassi is made of Strawberries, yogurt (the thicker the better) & a sweetener like sugar, honey or maple syrup.
You can even add a dollop of Malai or heavy whipping cream to your strawberry drink. This makes it way creamier but we prefer it simple.
You can also add extra flavors by adding rose water, rose syrup or crushed cardamom.
I have jazzed up the homemade yogurt based drink with a store bought strawberry syrup. It's totally optional. If you do not have a syrup handy feel free to skip it.
We love the very berry intense flavor.
Homemade Strawberry Lassi Ingredients
You will need these for todays homemade yogurt drink recipe: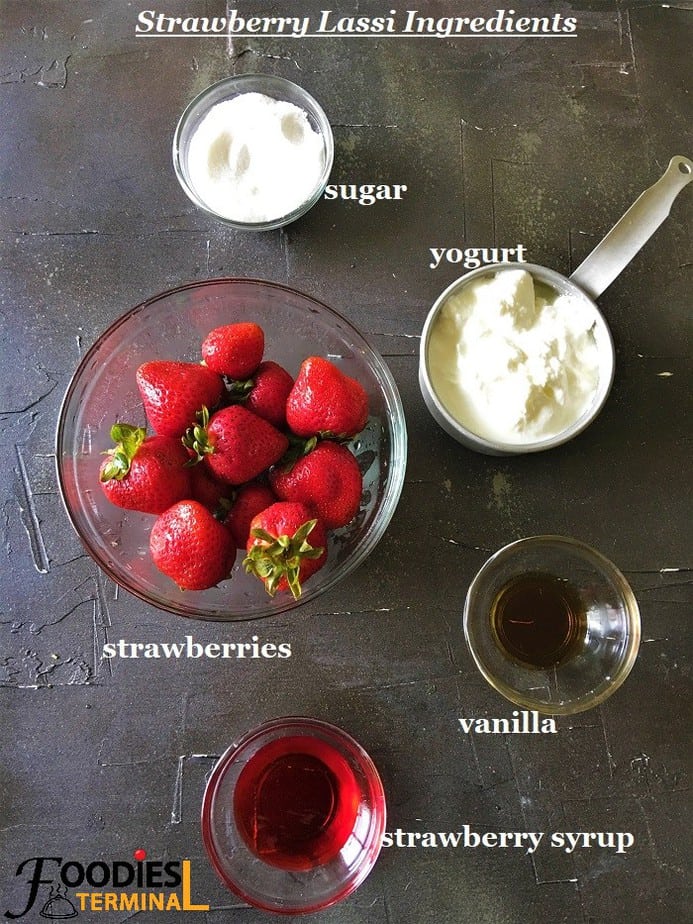 Strawberries: You can use either frozen or fresh. I would recommend fresh organic locally purchased strawberries because they always taste so much better. You can read this post – Strawberry Salsa to know how to buy the best strawberries.
Yogurt: Homemade or store bought. it doesn't matter. What matters is the quality of yogurt. Full fat yogurt works best for this recipe. But if you are on a special diet you may use low fat yogurt varieties. In that case just add a bit more yogurt.
Sweetener: You may use sugar, maple syrup or honey. Using maple syrup & honey might slightly change the color of the drink.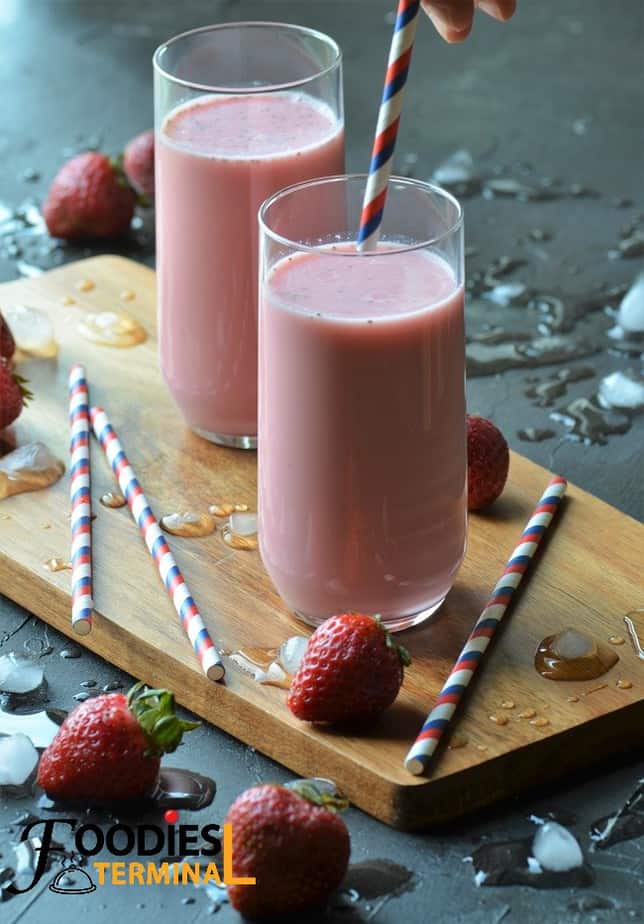 3 Tips to make the Best Strawberry Lassi
Full fat yogurt is the best: Use homemade or store bought. Both works great. We want a creamy yogurt for todays strawberry drink & hence yogurt made from full fat milk is the best choice.
Blend the yogurt very well: This is the typical characteristic of any Lassi recipe. You just can't get away without blending or whisking the yogurt well. This process intensifies the taste manifold. So, don't skip it.
Strain the Lassi: Strain it before serving & blend it a few times more before serving. You can get rid of the tiny berry seeds by straining the lassi with a metal strainer. We don't mind the nutrient rich seeds.
Pro Tip: Using rose syrup, rose water or cardamom powder will shroud the strawberry fragrance. We love the fresh strawberry drink to smell just like fresh berries. Hence, we used some amount of strawberry syrup to intensify things.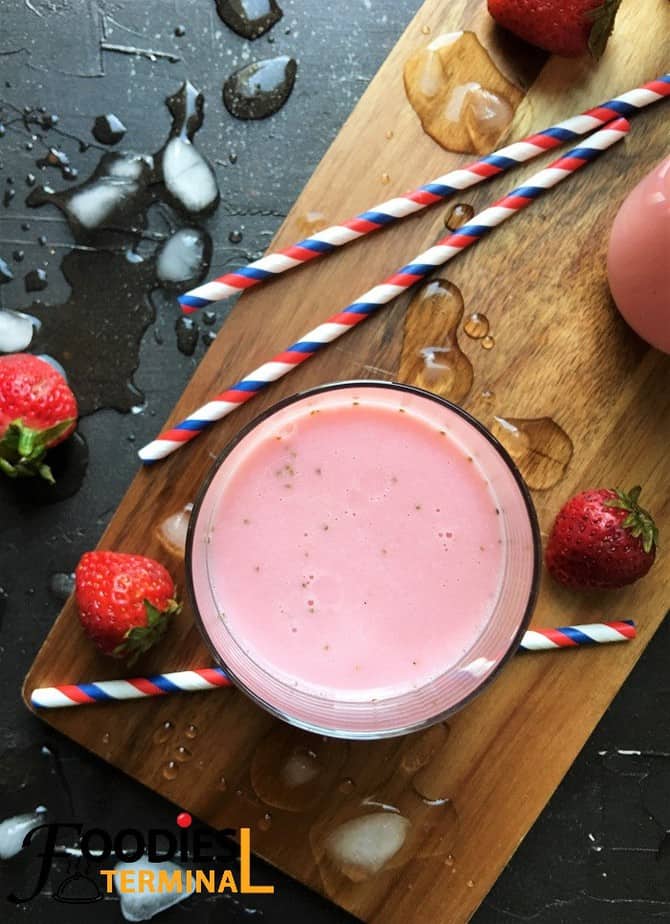 Strawberry Lassi benefits
This homemade yogurt & strawberry drink is a healthy drink & here are a few pointers to keep in mind:
Aids in digestion. It's a fabulous drink to have after a heavy, spicy meal. It sooths the whole system.
It's gut friendly & prevents stomach bloating. It soothes the stomach lining.
An excellent source of probiotics.
Boosts bone health.
Makes the immune system stronger.
Source Courtesy: Food NDTV.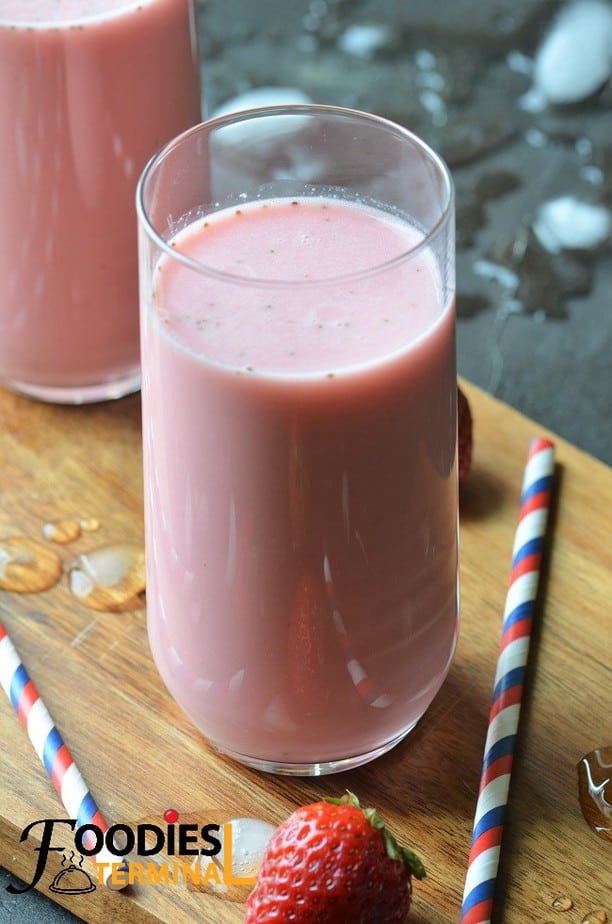 Different ways to serve Strawberry Lassi
Enjoy it as a mid day snack.
Grab a glass after a heavy spicy meal.
Serve it to your kids as a afterschool snack or a post activity snack.
It can be your favorite post work out drink.
And not to forget a quick breakfast in a jiffy.
We enjoy this strawberry drink recipe all 365 days a year. When berries are not in season I make it with frozen berries. An excellent fresh strawberry drink to enjoy year round.
Love Strawberries? Check out this easy recipe from this blog.
How to make Strawberry Lassi?
Steps in words below pictures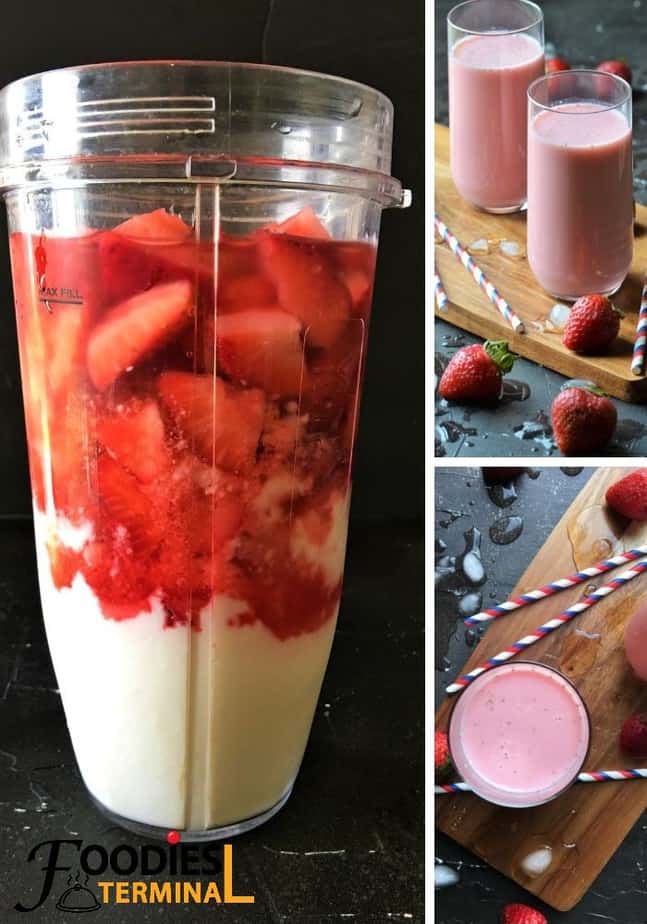 How to make Strawberry Lassi at home?
Add the ingredients in a blender jar

Thrown in the yogurt, the chopped berries, sugar, strawberry syrup, ice & little water (if you want to). If you prefer thick Lassi reduce the quantity of ice. You can add it later to the glass. And skip adding the water. Instead prepare the Lassi with chilled yogurt & preferably chilled strawberries.

Blend well

Blend everything well until smooth & creamy. Serve chilled. Enjoy!
Try these easy non alcoholic drinks from FOODIES TERMINAL.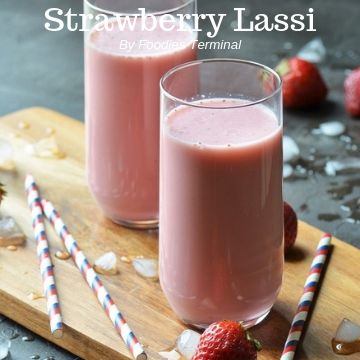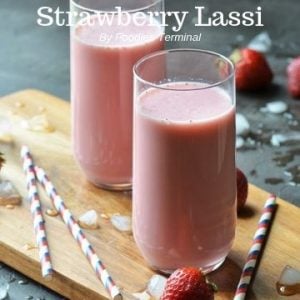 Strawberry Lassi
Print Recipe
Pin
Rate
Strawberry Lassi is an excellent Indian yogurt based drink that's made with just 3 ingredients. This Strawberry drink is so easy to make & comes together in just 5 mins.
Ingredients
10

whole strawberries

1.5

cups

Yogurt

½

cup

Sugar

1

tbsp

strawberry syrup

(OPTIONAL)

¼

tsp

vanilla

(OPTIONAL)

ice cubes according to preference

chilled water as needed

(OPTIONAL)
Want more Recipe Videos?
Check out our Youtube channel!
Instructions
Wash the strawberries very well under running tap water & hull them. Chop the berries into large pieces & set aside.

Add all the ingredients along with the chopped strawberries in a blender jar & blend well until smooth & frothy.

Serve immediately. Enjoy!
Notes
Measuring units used, 1 cup = 240 ml & 1 teaspoon = 5 ml.
If you prefer thick Lassi than skip adding the ice cubes + the water while blending. You may add ice cubes later while serving.
If you prefer a lassi that's slightly on the thinner side & can easily be sipped with a straw than do add a few ice cubes & some chilled water while blending.
For best flavors Serve immediately after making the strawberry lassi.
You may strain the lassi if it's slightly on the thinner side to discard the tiny strawberry seeds.
Adjust the sweetness according to your preference.
You may skip adding the vanilla & the strawberry syrup.
Adding the strawberry syrup will make this strawberry drink recipe more intense & very berry like.
Nutrition Facts
Strawberry Lassi
Amount Per Serving
Calories 254
Calories from Fat 81
% Daily Value*
Fat 9g14%
Cholesterol 34mg11%
Sodium 127mg6%
Potassium 530mg15%
Carbohydrates 35g12%
Protein 10g20%
Vitamin A 290IU6%
Vitamin C 43.6mg53%
Calcium 342mg34%
Iron 0.4mg2%
* Read our privacy policy – Calorie information is provided as a courtesy only and should be leveraged as an estimate rather than a guarantee.Percent Daily Values are based on a 2000 calorie diet.
Nutrition
Calories:
254
kcal
|
Carbohydrates:
35
g
|
Protein:
10
g
|
Fat:
9
g
|
Saturated Fat:
5
g
|
Cholesterol:
34
mg
|
Sodium:
127
mg
|
Potassium:
530
mg
|
Fiber:
1
g
|
Sugar:
33
g
|
Vitamin A:
290
IU
|
Vitamin C:
43.6
mg
|
Calcium:
342
mg
|
Iron:
0.4
mg
Pin it for later!