No fry Indo Chinese Chilli Chicken dry in Air Fryer is a fantastic party recipe that you will make endless number of times for sure! Packed with so much flavor this Chilli Chicken Recipe is intensely easy to make in an Air Fryer. Yes, now you can skip the deep frying part & enjoy this Chilli Chicken dry recipe with negligible oil! How cool is that? Sauteed in lip-smacking sauces that infuse the tantalizing Indo-chinese taste, this recipe is a star for sure. Check out my Recipe Video and learn how to make this Chilli Chicken Recipe at home for your next party!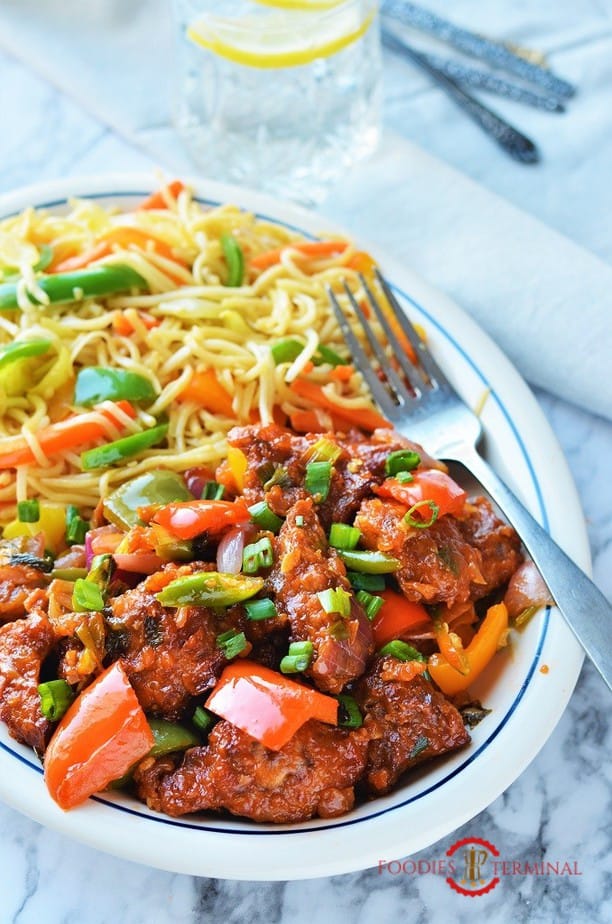 I was almost jumping with joy when I came up with this Indo Chinese Chilli Chicken Dry in Air Fryer! My Eureka moment you may say so..Lol!
The most tricky part was to hit the right temperature and the right time for air frying.
Yes, I bet that part is tricky!
You set the time a little more & your chicken pakoras will be on the stiffer side.
You up the temperature slightly in your air fryer & the pakoras will be over fried in no time!
But, hey it's tricky but not impossible!
This restaurant style chilli chicken recipe made in air fryer will make you believe that a recipe packed with high calories can be neatly transformed into a very smart, very healthy recipe.
So, are you giving it a try? Share your experiences in the comments section below 🙂F
No-Fry Indo Chinese Chilli Chicken Dry in Air Fryer popular FAQs
Watch Chilli Chicken Recipe Video
What is Chilli Chicken
Chilli Chicken is a popular fusion dish that's cooked in Indo-Chinese style.
Chilli Chicken dry is cooked with deep fried crispy chicken bites (traditional recipe). They are then tossed in a delicious mixture of sauces & onions, garlic & capsicums or bell peppers over high heat.
This chicken dish is quite a bit of a sensational hit in India & it's one of the most ordered dishes in the takeout joints.
No doubt about it! This Indo-Chinese chilli chicken dry has so much deliciousness to offer, that one serving is never enough!
You may ask any Indian this question & they'll have that drool-some moment while narrating the definition of an authentic restaurant style Chilli Chicken!
Even I am salivating right now….
Don't be fooled, because this is not that sweet kinda Chilli Chicken.
Yes, the one that you generally order in Asian takeouts or restaurants here in America!
This Chilli Chicken is very different from it's authentic Chinese cousin. This one is cooked with fried chicken bites flash coated in a blazing hot sauce.
It might be extra spicy at time but the takeouts in India does a very good job. They toss this amazing restaurant style chilli chicken in sauces right in front of you.
So, you may ask them not to add that blazing hot kick if it's too much for you to handle!
Authentically chilli chicken is a Chinese dish that ended up with Indian flavors in the Indo-Chinese restaurants.
And you know what? These restaurants came up with all sorts of good twists to transform the Chinese Chilli chicken to suit the Indian taste buds.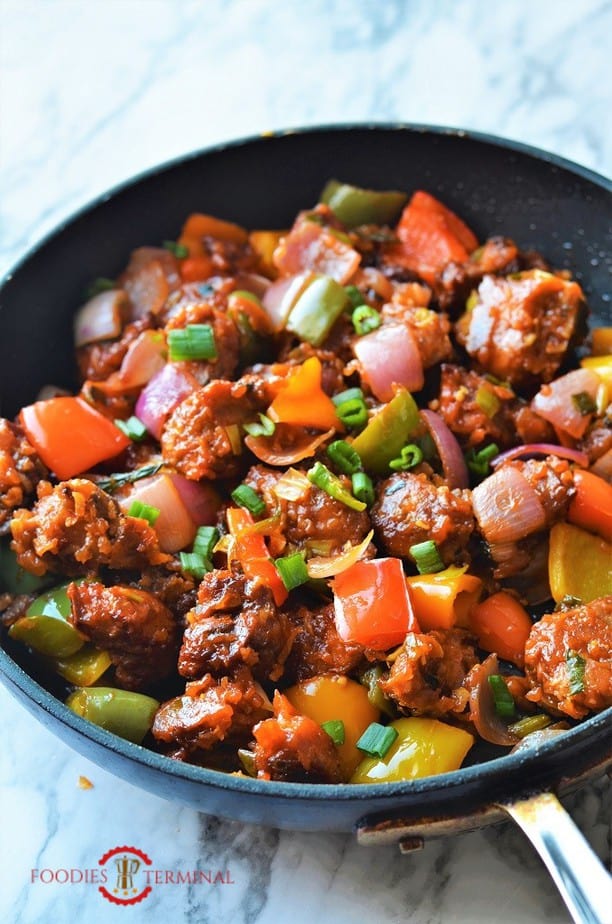 Chilli Chicken Marinade
The Indo Chinese Chilli Chicken dry marinade for air frying is very straight forward.
You'll just need a few basic ingredients from your pantry to get all sorted for this no fry chilli chicken dry recipe.
For this recipe I did the Chilli Chicken marination in two stages
This gives this Indo Chinese Chilli chicken dry recipe an extraordinary flavor & makes the meat tender, juicy.
The first stage of marination:

Add Soy sauce, vinegar, ginger garlic paste, chilli garlic paste & few spoons of water to the chicken pieces. Mix well to evenly coat them. Rest the marinade for 2 hours or more.
The second stage of marination:
Add egg white, Kashmiri red chilli powder, salt, corn starch & all-purpose flour (maida) to the already marinated chicken (from stage 1). Mix well to evenly coat the meat. Rest the marinade for 1 hour.
The marinade for this air fryer chicken recipe must be on the thicker side. It should sit or stick to the surface of the meat.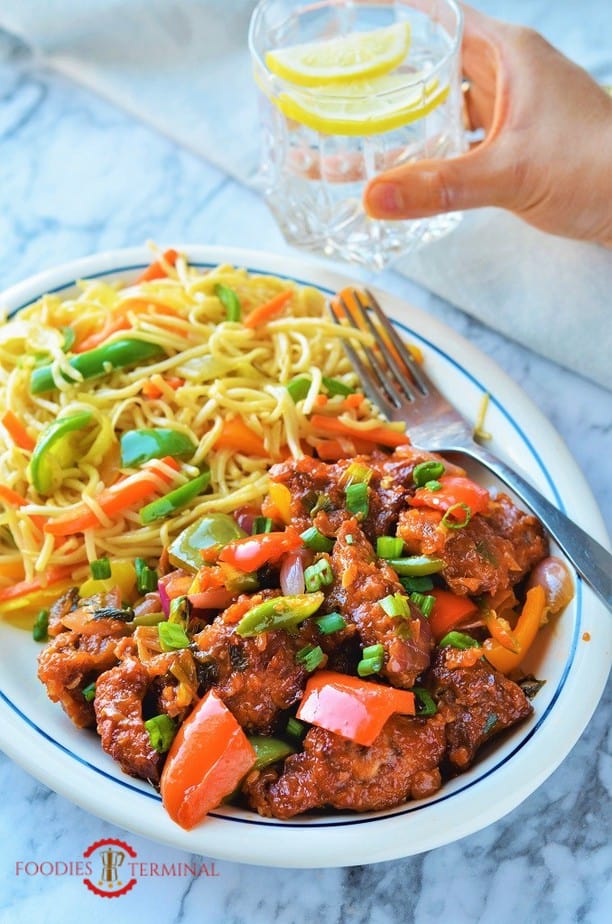 How to make Chilli Chicken in Air Fryer
Today we will be making our Chilli chicken without frying, I know I know that's the most interesting part of this Indo Chinese Chilli Chicken dry recipe.
No, you don't have to compromise on the taste or the texture part.
You'll get perfectly cooked, crispy chicken pakoras to flash toss in the sauces.
In fact the air fried chicken pakoras are so delicious that I couldn't stop myself from popping them in my mouth…Lol!
We all have that sneaky moment in the kitchen right?
Guys its easy peasy to make Chilli Chicken in Air fryer.
The air fryer does a fantastic job by frying the marinated chicken to perfection.
No more deep frying the chicken pakoras, no more fear of consuming too much calories & hey! no more baby sitting the pakoras in oil, no more tension to use up that left over oil.
Once you try this Indo Chinese Chilli Chicken dry recipe in your Air Fryer you'll be hooked!
It's so much easy & convenient to use an air fryer to fry the marinated chicken pakoras!
Toss the marinated chicken pieces in the air fryer basket in a single layer.
Set the right temperature & the right time. That's it!
The crispy pakoras are ready in minutes. Throw them in the sauces and toss them just before serving!
Guys honestly I am impressed with this super cool kitchen gadget. What about you? Share your experiences in the comments section below, would love to hear:)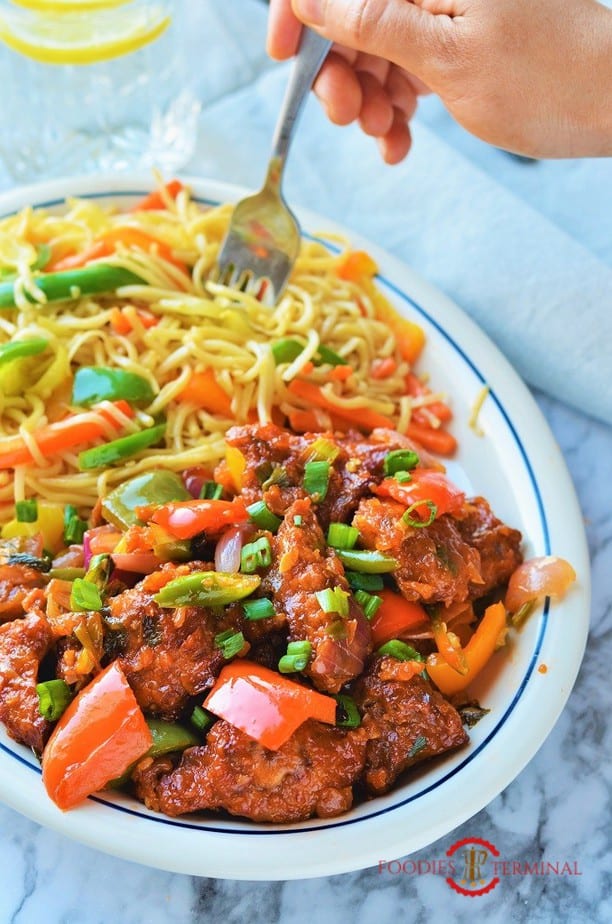 How to make Chilli Chicken Gravy
Follow this recipe and add 3 tbsp more corn starch.
Dilute 3 tbsp corn starch in about 1 cup water.
Pour this white slurry to the sauces and stir well to prevent any lumps.
Toss the air fried chicken pakoras, coat and serve hot immediately.
You can adjust the consistency and the amount of gravy by increasing the amount of the corn starch slurry!
If you love a little more gravy, just eye ball and add a little more corn starch.
Serving suggestions of Chilli Chicken Recipe
Hakka Chilli chicken or Indo Chinese chilli chicken recipe dry tastes the best with hakka noodles as you see in these pictures.
Chilli chicken and noodles are a match made in heaven
The popular snack stalls and the temporary food vans serve this combo a lot and they sell like hot cakes back in India.
Whereas, Chilli chicken gravy tastes good with fried rice.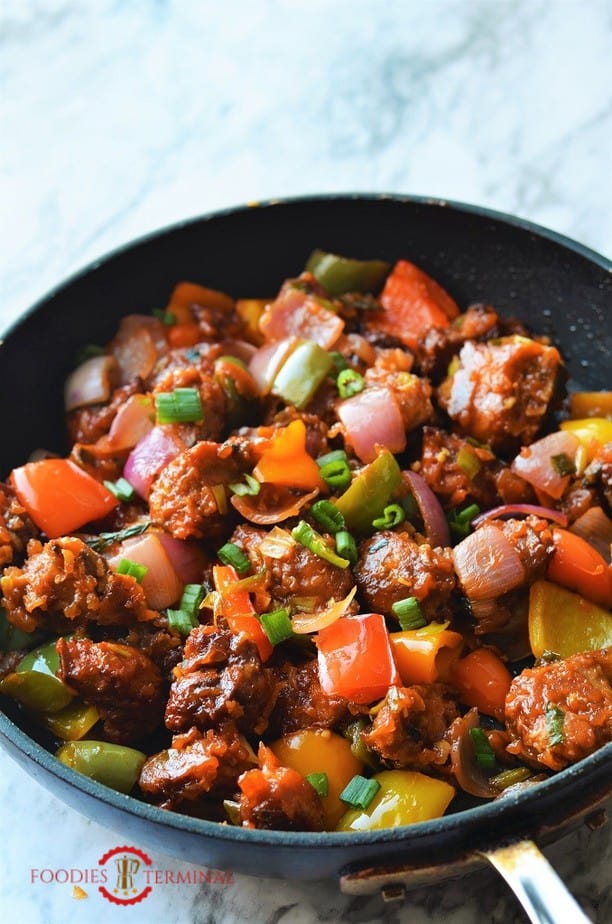 How to make Chilli Chicken Crispy
The air fryer Indo Chinese chilli chicken dry is crispy already!
But, if you keep the air fried pakoras for long time without tossing them in the sauces they will loose all the crispy-ness. I warn you here!
Also, if you allow the chicken pieces to sit much longer in the sauces before serving they will become limp & loose all the crunch as well!
So, to prevent this disaster & to preserve all the crispiness which in fact, is the beauty of this air fryer chilli chicken recipe, this is what you need to do….
Begin air frying the pakoras only when you know that you are going to toss them in the sauces right away & serve them from pan to plate at one go!
No waiting game here!
You wait, the whole Chilli chicken recipe falls apart & turns meh!
But, if you do not mind soggy Chilli Chicken then go ahead & prep whenever you want to.
We love the crispy & the dry chilli chicken always.
It's that perfect crunchy chicken pieces coated well in sweet, tangy & extra spicy sauce that gives the kick & also the flavors.
Can you freeze Chilli Chicken
Unfortunately, you cannot freeze chilli chicken.
The coating on the chicken pieces becomes soggy, they tend to fall apart, taste meh and loose all the deliciousness & texture.
This chilli chicken dry recipe is infact a make & serve immediately kinda recipe.
You wait & you loose everything!
So, if you want to cater a bigger crowd, then I would suggest you to marinate the chicken pieces well ahead of time.
Pop them in the air fryer, toss them in the sauces & serve them immediately.
Perfect party food that can be made fresh so easily with an air fryer.L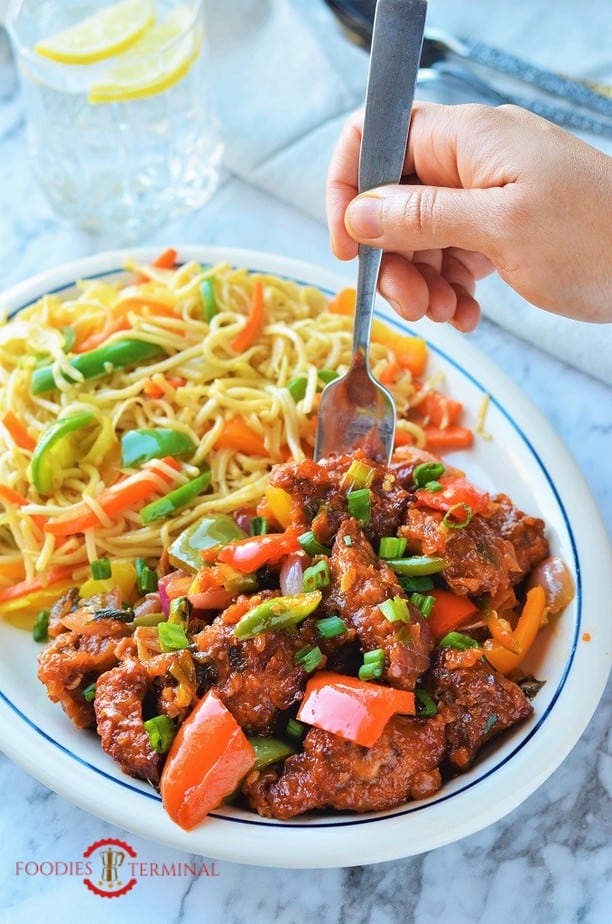 Love Chicken? Do not miss these tasty recipes from this blog:
Pro Tips from Foodies Terminal on Indo Chinese Chilli Chicken Dry in Air Fryer
We used bone-in chicken pieces for this chilli chicken recipe. If you want you may use boneless chicken pieces. The chicken breasts work well.
Marinate the chicken pieces for the suggested time. DO NOT skip this part. This helps so much to develop the right flavors. I would suggest that you marinate the chicken one day ahead. That way you won't be pressed for time.
There's one SECRET ingredient in this recipe that's a must if you want to make a restaurant style chilli chicken recipe and that is Teriyaki sauce in the marinade. Use it, you'll thank me later 🙂
Remember that the cornstarch & the Maida (all purpose flour) coating should be moist enough to sit on the surface of the chicken pieces.
Never ever over crowd your air fryer basket. An air fryer works by gushing out & circulating hot air all around the food. Thus, you must leave enough space for this to happen.
Spray your air fryer basket with oil & also spray the marinated chicken pieces with oil. They will taste good & attain perfect crispiness.
Remember that various models of air fryers vary. hence, check on with the temperature & the time settings. What might have worked for me might not work for you!
Air fry the chicken pakoras & toss them in the sauces immediately & do not delay to serve. This is very very important and I have mentioned it innumerable time in this post too. If you wait the chicken bites will loose texture & the crispiness. So act FAST!
If you love well cooked veggies in your chilli chicken dry recipe then cook the bell peppers with the onion for some more time. The recipe mentioned here is to get perfectly crunchy bell peppers & onion. Yes, we love that crunch & hate any over cooked veggie in our chilli chicken.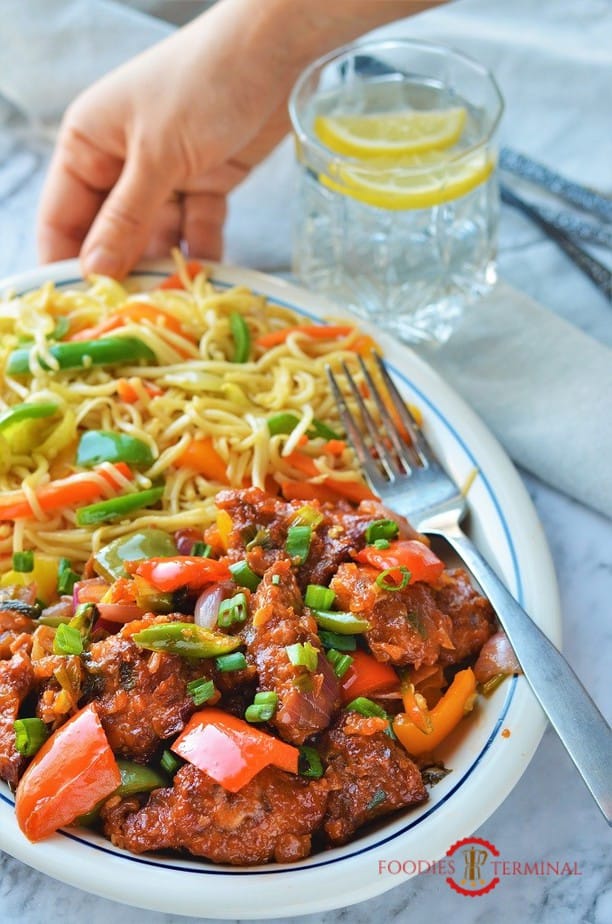 DID YOU TRY THIS RECIPE? Do Not forget to give a STAR (*) rating! Just click on the STARS on the recipe card below to rate.
Recipe Card of Indo-Chinese Chilli Chicken Dry in Air Fryer (Video)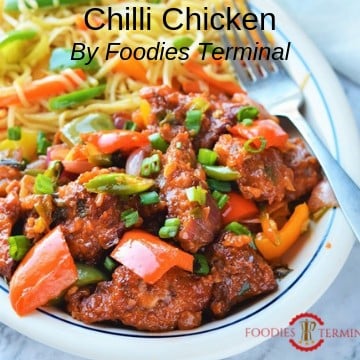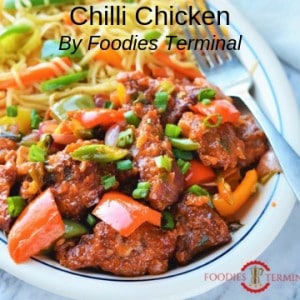 No-Fry Indo Chinese Chilli Chicken Dry in Air Fryer (Video)
Print Recipe
Pin
Rate
Indo Chinese Chilli Chicken dry is a fantastic chicken recipe to try in Air fryer. Made with air fried chicken bites flash tossed in a mixture of sauces! This chilli chicken without frying tastes just as good as it's deep fried counterpart.
Ingredients
For the Stir Fry
½

cup

yellow bell pepper

(diced into ½″ squares)

½

cup

red bell pepper

(diced into ½″ squares)

½

cup

green bell pepper

(diced into ½″ squares)

½

cup

orange bell pepper

(diced into ½″ squares)

1

cup

onion

(diced into ½″ squares & separated)

1.5

tbsp

Finely Chopped Garlic.

½

cup

chopped scallion

(the white, light green part)

½

cup

chopped scallion

(green leafy part)

¼

cup

dark soy sauce

2.5

tbsp

teriyaki sauce

2

tbsp

green chili sauce

½

cup

Tomato Ketchup

(more if needed)

¾

cup

corn starch slurry

(2.5 tbsp cornstarch mixed into water to form a slurry)

¼

cup

Canola Oil

(or any oil )
Want more Recipe Videos?
Check out our Youtube channel!
Instructions
The First Marinade
Start off by washing the ½″ bone-in chicken pieces (skin removed).

Add all the above mentioned ingredients from "FOR THE FIRST MARINADE" section. Mix well. Cover & rest for 2 hours minimum in the refrigerator.
The Second Marinade
Unwrap the bowl after 2 hours. Add all the ingredients from the "FOR THE SECOND MARINADE" section. Mix well until all the chicken pieces are evenly coated with the marinade.

Allow the marinated chicken pieces to rest for 1 hour in the refrigerator.
Air Frying the Chicken
Prep the air fryer by lightly spraying the air fryer basket.

Now, arrange the marinated chicken pieces in a single layer without over crowding. Lightly spray oil.

Put the chicken loaded basket inside the air fryer.

Press the ON button. You'll see the little screen light up with zeros.

Now press the AIR FRY button. Set the temperature to 350 F and the time to 6 minutes.

Finally, press the START button. The air frying process will begin. In case you want to check the chicken in between, just press the PAUSE button & take out the basket. Once done put it back in the machine. The air frying will begin once again from where you left it automatically.

After 6 mins take out the air fryer basket carefully. DO NOT touch the body of the basket it's VERY HOT. Flip the chickens and air fry for more 4 mins by following the same settings (350 F).

Once done, take out the chicken pieces and set them aside.

In the meantime set up your favorite skillet over high heat. Pour canola oil.

Throw the chopped garlic saute for a few seconds. Next, add the scallions (the white & light green part). Saute for a few seconds.

Next, add the onion squares. Saute for couple of seconds. The onions should remain crunchy so do not fry more. They will turn limp.

Add salt, all the bell peppers, the green leafy part of the scallion. Mix well.

Now, add the soy sauce, the teriyaki sauce, the green chili sauce & the ketchup. Mix well.

Add the corn starch slurry. Mix everything well until the whitish texture of the corn starch slurry completely disappears. It should take you a few seconds.

Finally, add the air fried chicken bites quickly. Mix over high heat, until the pieces are evenly coated with the sticky sauce.

Add the slit green chilies. Mix. turn off the flame.

Garnish with chopped scallions & serve immediately. Enjoy!
Notes
A WOK is recommended to stir fry a Chilli chicken recipe. It's thin surface is best for flash frying over high heat and incorporates the flavors extremely well. My wok is not Induction compatible. So, I had to make the dish in a regular skillet. But if you own a WOK use it. The flavors are so much better.
You may adjust the sauces according to your taste preferrences. the porportions worked well for us but you may want a little more or little less. So, do not hesitate to experiment. Same goes with the green chilies. skip them totally or add more. As you wish 🙂
Remember to toss the chicken in sauces on high flame. This is mandatory.
If you do not like crunchy veggies, cook them for some more time.
DO NOT touch the surface or the sides of the air fryer basket when it's HOT.
You may spray more oil if you like the taste. More oil, less oil both ways work extremely well in an air fryer.
If you want to check the chicken inbetween the air frying process go ahead & press the PAUSE button. Once, you insert the basket back to the machine, the cooking process will resume back automatically.
Serve the Chilli Chicken IMMEDIATELY. If you delay the crispiness will VANISH!
Measuring cup used, 1 cup = 240 ml & 1 teaspoon = 5 ml.
PLEASE NOTE: Nutrition values are my best estimates. If you rely on them for your diet or special diet, use your preferred nutrition calculator!
Nutrition Facts
No-Fry Indo Chinese Chilli Chicken Dry in Air Fryer (Video)
Amount Per Serving
Calories 245
Calories from Fat 90
% Daily Value*
Fat 10g15%
Cholesterol 75mg25%
Sodium 300mg13%
Potassium 420mg12%
Protein 6g12%
Vitamin A 500IU10%
* Read our privacy policy – Calorie information is provided as a courtesy only and should be leveraged as an estimate rather than a guarantee.Percent Daily Values are based on a 2000 calorie diet.
Nutrition
Calories:
245
kcal
|
Protein:
6
g
|
Fat:
10
g
|
Cholesterol:
75
mg
|
Sodium:
300
mg
|
Potassium:
420
mg
|
Fiber:
5
g
|
Sugar:
2
g
|
Vitamin A:
500
IU
If you try this recipe or any other recipe from this blog, let us know! Leave a comment, rate it! Hearing from you is what makes my Day!
Follow us on Facebook & Pinterest.
Tag a photo on Instagram.