Niramish Doi Potol or Dahi Parwal without Onion & garlic is cooked with pointed gourds in a subtly sweet & tangy yogurt and ginger based sauce. Doi Potol Bengali style tastes best with white rice, Poori, Chapathi or even Naan. This is the easiest & simplest Parwal recipe you'll ever make.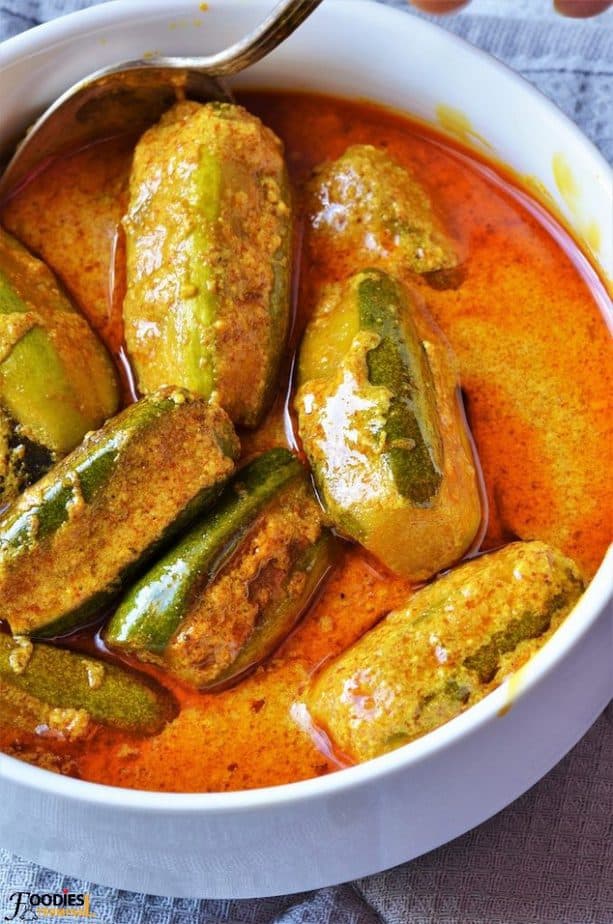 Niramish Doi Potol
Fresh luscious green Pointed gourds aka Potol or Parwal peeled, fried until golden & than doused in subtly flavored ginger, green chilies & yogurt based sauce is what exactly Doi Potol is all about.
Potol = Parwal = Pointed gourd. And Doi = Dahi = Yogurt.
Readily available in almost every Indian grocery store, this green veggie is a delight to cook and delicious to eat.
Today's easy recipe for Doi Potol hails from Bengal. Precisely it's a traditional Bengali recipe that's often cooked to get a respite from mundane recipes.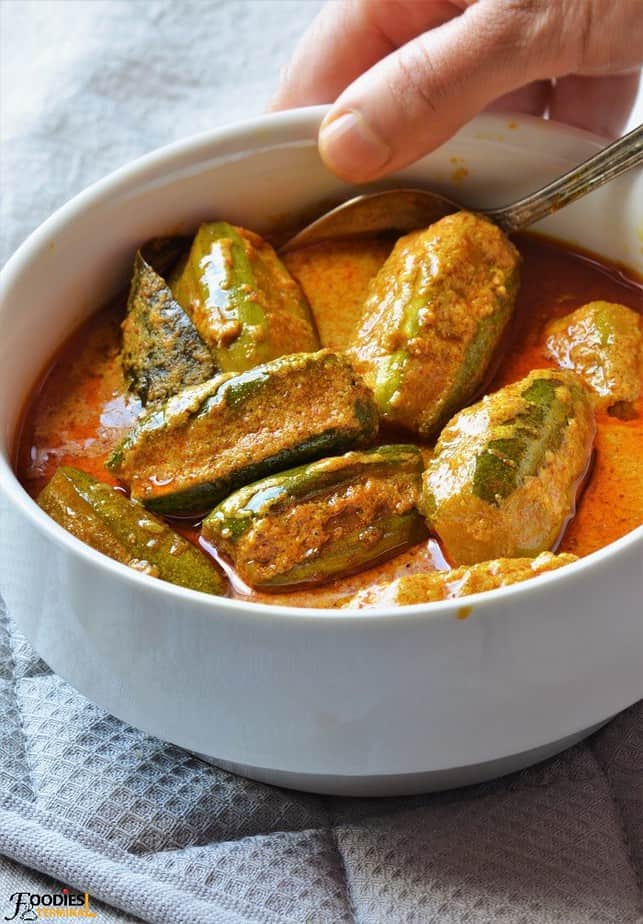 You'll love mopping it all up with either rice, chapathi, poori or even Naan.
I made today's Dahi Parwal recipe Niramish which means that I did not add onion or garlic in any form.
We love it that way but few families do love cooking it with onion and garlic . If you belong to the later group don't run away 😀 because I've shared the version with onion as well. (Read NOTES below)
Dahi Parwal Ingredients
A simple recipe with pantry staples. You'll love the set of ingredients 🙂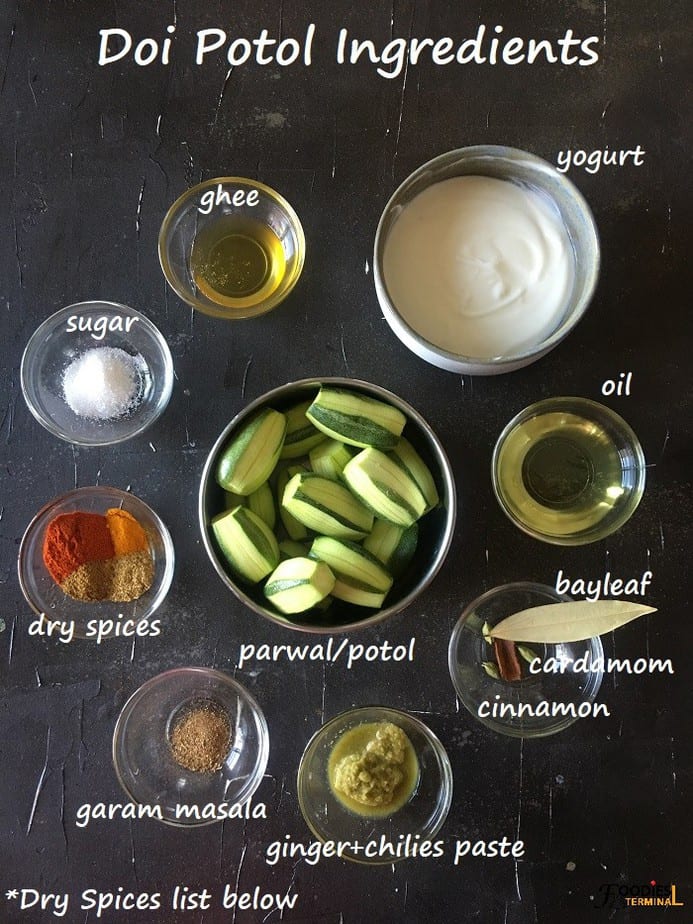 Pointed gourd aka Potol or Parwal: Tips removed and partially peeled.
Ginger: Made into paste along with green chilies.
Green Chilies: Made into paste along with ginger root. You can add a few slit ones in the sauce as well.
Yogurt: Whisked.
Dry Spices: Cumin powder, Coriander powder, turmeric powder & Kashmiri red Chili powder or Deggi Mirch (this one is optional)
Whole Spices for tempering: Cinnamon, green cardamoms.
Sugar: Imparts a subtle sweet taste and balances the tanginess of the yogurt. Feel free to skip it.
Bayleaf.
Ghee: Use it as a garnish.
Bengali Garam Masala: Used as a garnish.
Cooking oil: Any neutral white oil.
How to make Bengali Garam Masala: Dry grind equal quantities of cloves, green cardamom & cinnamon to a fine powder. Lightly skillet roast them before grinding. Store in air tight jars.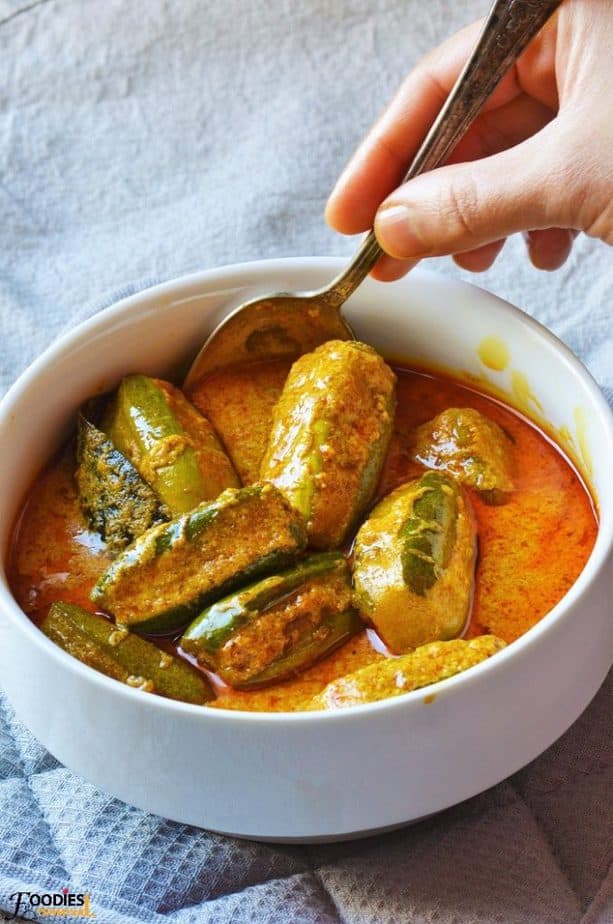 How to make Doi Potol step by step?
Steps in words below pics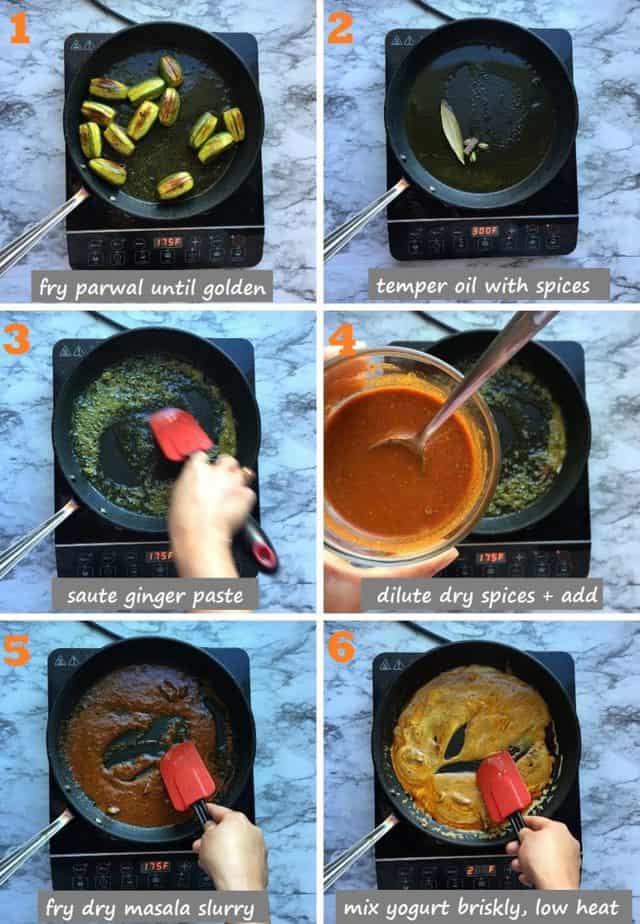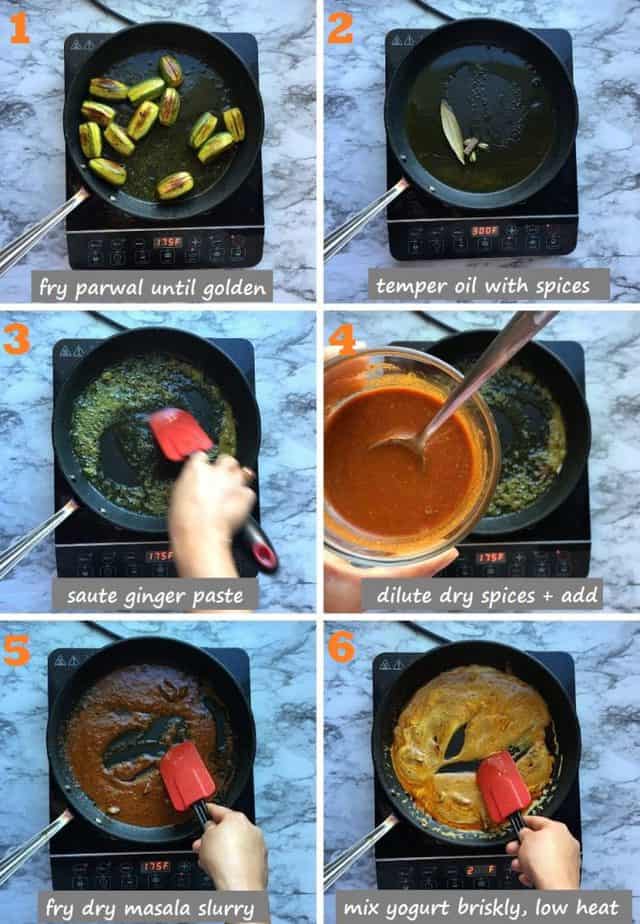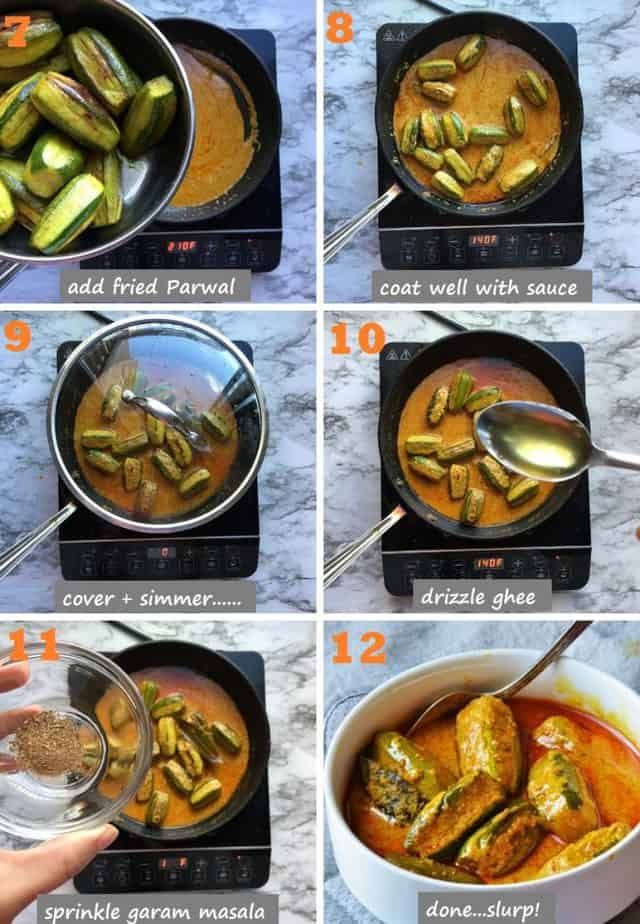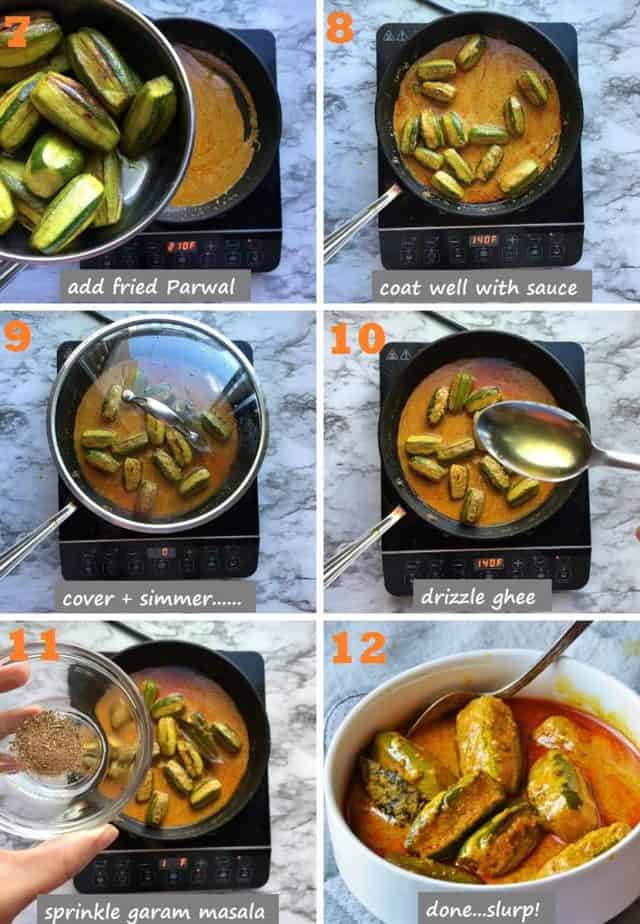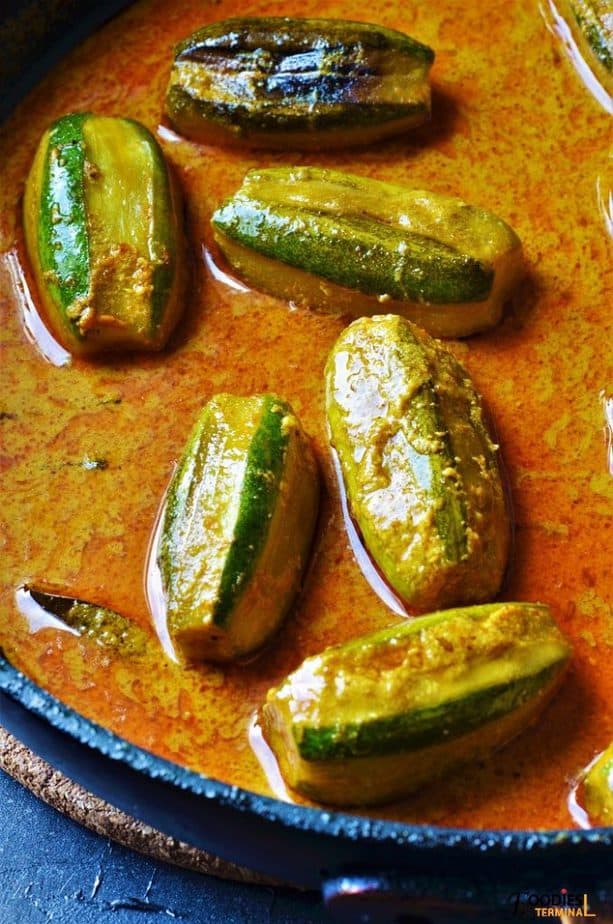 Time needed: 25 minutes.
How to make easy Doi Potol recipe?
Prep the Pointed gourd or Potol & fry them

Wash, peel the pointed gourd, smear with turmeric & salt and fry until golden over medium high heat.

Temper the oil

Sizzle the whole spices until fragrant. For a few seconds.

Sauté the ginger paste

Add the ginger paste and sauté until it loose the raw aroma.

Fry the masala slurry

Make a slurry with the dry spices & a few tbsp. water. Add it to the skillet and fry for a few mins or until the raw smell disappears.

Add yogurt & mix well

Lower heat and briskly mix the yogurt. Increase the heat and bring the sauce to boil.

Cover & cook the parwal

Add the parwal & coat well with the sauce. You may add little water (½ cup). Cover & simmer over medium low heat until the potol is cooked through.

Garnish and serve

Drizzle ghee, add homemade Bengali garam masala powder. Mix and serve hot. Enjoy!
Some more Pointed Gourd or Parwal or Potol recipes for you from Foodies Terminal.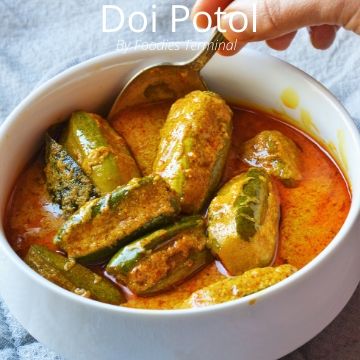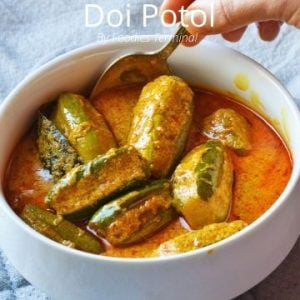 Doi Potol
Print Recipe
Pin
Rate
Bengali Style Niramish Doi Potol is easy to make & tastes so good with rice, Chapathi, Poori or Naan. You'll love making this pointed gourd curry also known as Dahi Parwal in a subtly sweet yogurt based sauce that's devoid of Onion & garlic.

Ingredients
Want more Recipe Videos?
Check out our Youtube channel!
Instructions
Prepping the Potol or Parwal or Pointed Gourd
Begin by washing the Potol or Parwal very well. It's better to keep them soaked in salt or vinegar water for 30 mins. This helps to eliminate pesticides and residual build up and also eliminates germs and bacteria.

Drain excess water from the potol and chop of the tips. Remove the skins partially leaving thin strips in between, This thin strip of skin left behind prevents the pointed gourd from becoming completely soft and limp once cooked.

Prick the peeled parwal with the help of a fork or make 2-3 vertical slits on it's surface. This helps the sauce to penerate inside the veggie. Don't cut the Pointed gourds they must remain whole.

Add ½ tsp turmeric powder and salt according to taste and coat the potol very well.

Set a non stick skillet over medium high heat. Add oil. When the oil becomes moderately hot gently release the pointed gourds or parwals. Fry them until golden in color. Set them aside.
Making the Doi Potol Bengali Style
Use the fried potol left over oil and the same skillet to cook the rest of the recipe.

Set the skillet over medium heat and throw in the whole spices along with the bay leaf. Allow them to sizzle for a few seconds.

Add the ginger and green chilies paste (READ NOTES below) and sauté for 1 min. The ginger will splutter a lot at this stage so be careful.

Now, in a small bowl add the dry spices and 2-3 tbsp. water. Whisk to make a spices slurry. Sauté until the raw aroma disappears or the spices begin to release a lovely aroma. 1-2 mins approx. Making a slurry will prevent the spices from getting burnt.

Lower the heat to the lowest setting and gently add the whisked or beaten yogurt. Stir briskly to mix with the rest of the ingredients in the skillet. Add salt and mix.

You may add about ½ cup water now. Increase the heat to medium low and bring the sauce to simmer.

Now, add fried Potol or parwal and coat well with the sauce.

Cover and simmer until the pointed gourds are cooked through. Took me another 5 mins.

Turn off the heat. Garnish with ghee and homemade Bengali garam masala powder. Give it a good mix. Serve hot. Enjoy!
Notes
Measuring Units used, 1 cup = 240 ml & 1 teaspoon = 5 ml.
How to clean Pointed gourd that's not organic? Add ½ cup vinegar in 4 cups water, submerge the pointed gourds and let them rest for 30 mins. Rinse and drain well. You can swap the vinegar with 3 tbsp. baking soda or salt. This technique helps remove pesticides, residues, germs and microbes from the potol.
Bengali Garam Masala Recipe: Skillet roast equal amounts of cloves, cinnamon & green cardamom over medium high heat for 1 min. Grind them in a blender to form a fine powder. Store in air tight container.
Ginger + chili paste: ½" ginger root made into paste with 4 green chilies and 1 tsp water in a blender jar.
Prevent the yogurt from splitting in oil: Always lower the heat to the lowest setting before adding curd. Mix briskly after adding the yogurt to the pan.
Storing Tip: Bengali style Doi Potol or Dahi Parwal keeps good for 3 days in the fridge. Store it in air tight container.
Serving Ideas: Serve this easy recipe of Doi Potol with hot white rice, Chapathi, Poori or Naan.
Don't love spicy food? Skip adding the green chilies. Add Kashmiri red chili powder and don't swap it with deggi mirch. Deggi Mirch is hot.
Don't prefer subtly sweet gravies? Skip adding sugar.
Make it with Onion & garlic: Add 2 tbsp. onion paste to the oil before adding the ginger paste. Sauté until the raw smell from onion disappears. Add about ½ tbsp. garlic paste along with ½ tbsp ginger paste. Or you can add 1 tbsp ginger garlic paste recipe made together. The rest of the recipe remains the same. 
Adjust the oil and spice level according to your preference.
Calorific details are provided by a third party application and are to be used as indicative figures only.
Nutrition Facts
Doi Potol
Amount Per Serving
Calories 120
Calories from Fat 54
% Daily Value*
Fat 6g9%
Carbohydrates 8g3%
Protein 4g8%
* Read our privacy policy - Calorie information is provided as a courtesy only and should be leveraged as an estimate rather than a guarantee.Percent Daily Values are based on a 2000 calorie diet.
Nutrition
Calories:
120
kcal
|
Carbohydrates:
8
g
|
Protein:
4
g
|
Fat:
6
g
Pin it for later!