Irresistible Kalakand Recipe that's made with condensed milk and fresh homemade Chenna. These Kalakand are not tedious as the traditional method & are so tender, ultra moist & melt-in-the-mouth delicious. Make this Quick Kalakand at home with the help of fabulous tips to get that perfect granular texture. Catch up with the Video below.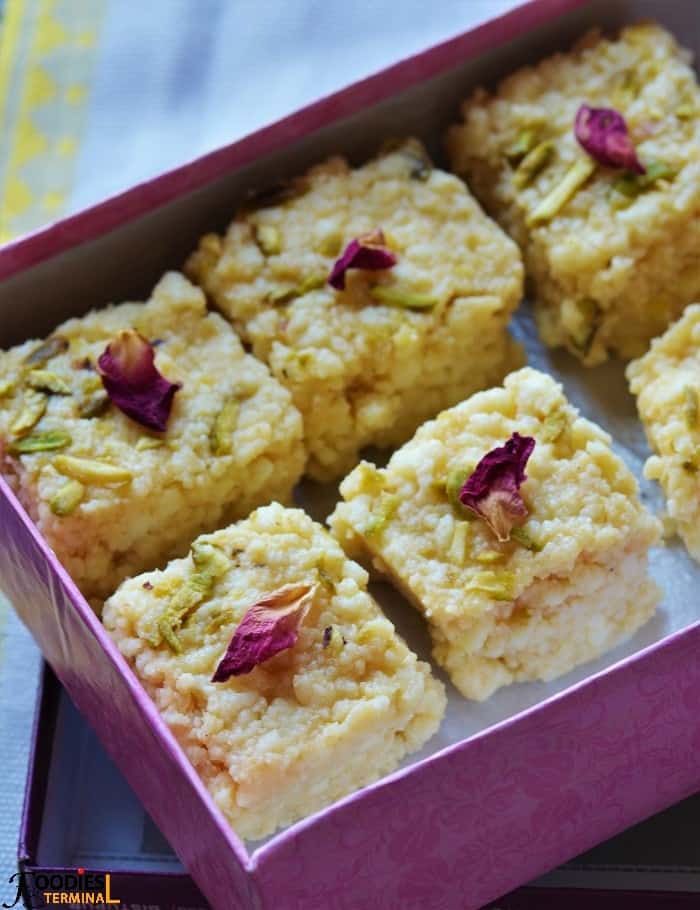 Quick Kalakand Recipe Video
Kalakand with condensed milk
Kalakand recipe can't get easier and better than this one. Comes together under 30 mins.
They have the goodness of fresh homemade Chenna or cottage cheese, the sweetness from the condensed milk, a drizzle of ghee to mimic the khoya flavor (there's no khoya in the recipe).
These Kalakand with condensed milk are incredibly moist, tender & absolutely melt-in-the-mouth tasty.
They are so good & so easy to make that anyone can make it & you'll never miss the Indian Sweet Shops back at home anymore.
I must say it's a tricky sweet to nail at home. That perfect "Danedaar" Kalakand texture is not easy to achieve but it's certainly attainable with a few handy tips & tricks.
Kalakand that has a smooth texture, more like a burfi or peda is never authentic. This Indian sweet is famous for it's granular texture, what we call "Danedaar" in Hindi. It's never smooth!
Trust me guys today's recipe will give you the perfect "Danedaar" Kalakand just like your favorite Mithai vendor only if you follow the tips 😉
Once you try today's easy & quick Kalakand recipe there's no looking back.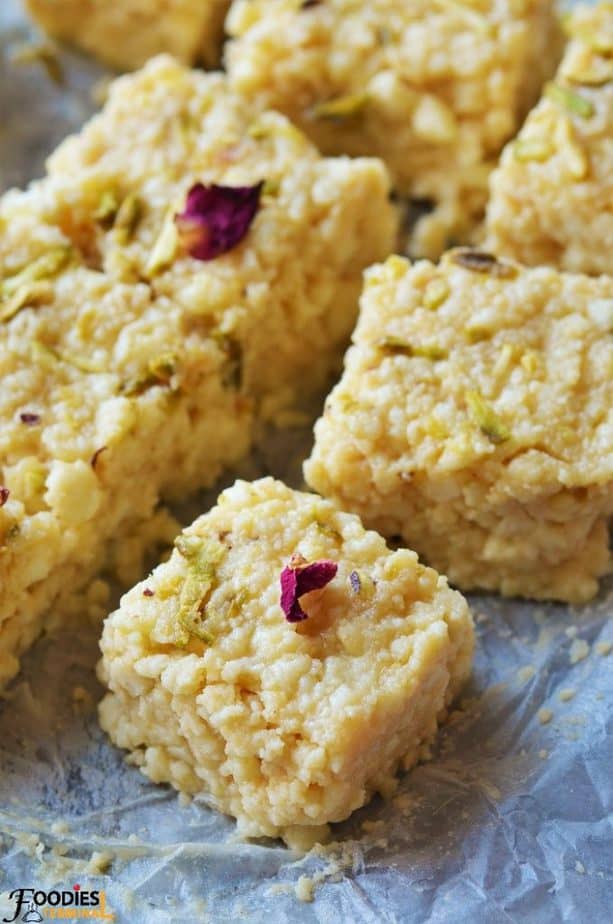 What is Kalakand made of?
Traditionally Kalakand is made of Milk and Sugar. It's a tedious process that takes lots of time.
But, you can definitely cut back on the tedious process and the longer time and try making Kalakand quickly with just 2 ingredients – Chenna or cottage cheese and condensed milk.
Quick Kalakand tastes as good as the Traditional recipe but you can make it with much less effort.
You can also make instant Kalakand in microwave with store bought Ricotta cheese and condensed milk. I'll share that recipe too in the recent future 🙂
Today's recipe is a quick Kalakand recipe made on the stove top using fresh homemade chenna & condensed milk.
Quick Kalakand Recipe Ingredients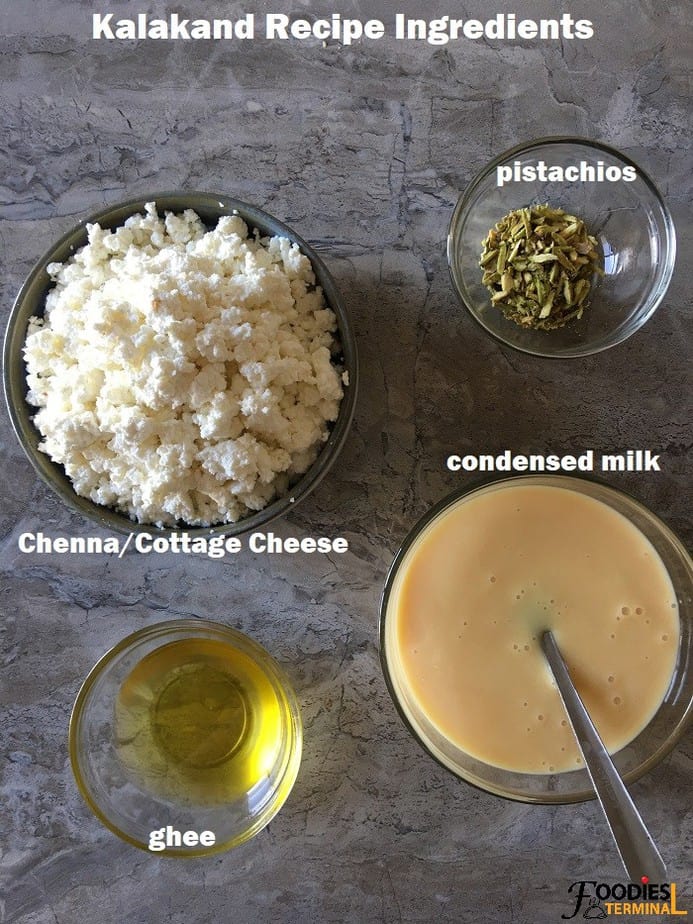 Homemade Chenna also known as Cottage Cheese.
Sweetened Condensed Milk.
Chopped nuts like Pistachios or Almonds (totally optional).
Green Cardamom powder (I missed it in the above picture but you can find it in the recipe video. It's an optional ingredient).
Ghee.
Tips to make Kalakand Recipe with Condensed milk
Always use fresh homemade chenna or cottage cheese to make the best, moist and soft Kalakand. Grab the recipe "How to make Chenna from my blog."
The only secret to achieve the Danedaar or granular texture is NOT to briskly stir the chenna when in the pan. Stir it often but gently, taking care not to mash up the chenna into a paste. Refer the Recipe Video.
Always cook the Chenna with the milk maid over medium heat: This heat will slowly caramelize and cook the chenna lending the Kalakand an absolutely intense Khoya or mawa flavor. So GOOD.
Ghee will certainly elevate the flavor of today's easy & quick Kalakand recipe. Do not skip it ever!
Set the Kalakand immediately after bringing it out from the heat.
Do not forget to grease the Kalakand setting tray or box: This certainly helps to pop out the whole Kalakand slab easily without breaking it.
Allow the hot Kalakand mixture to set completely and cool down before slicing it into pieces: This is so important. Do not rush and never try to pop out the hot kaland mixture from the tray. It will fall apart. Once cold the mixture sets properly and forms great pieces that hold shape.
Grease the knife before slicing: This helps to slice the kalakand slab easily and does not break it too.
Do not use frozen Paneer to make todays Kalakand Recipe: You get frozen paneer blocks sold in the Indian grocery stores in the USA or any other country outside India. They result in awful Kalakand.
Note: Green Cardamom powder lends a subtle sweet aroma to the Kalakand recipe made with cottage cheese. It's totally optional.
Click to grab the Homemade Fresh Chenna Recipe.
How to make Kalakand with Condensed Milk?
Steps in words below pictures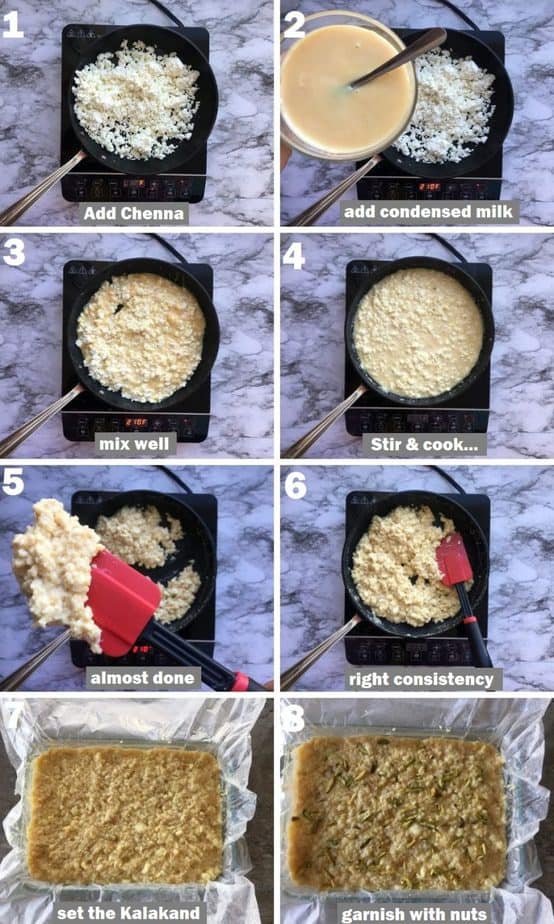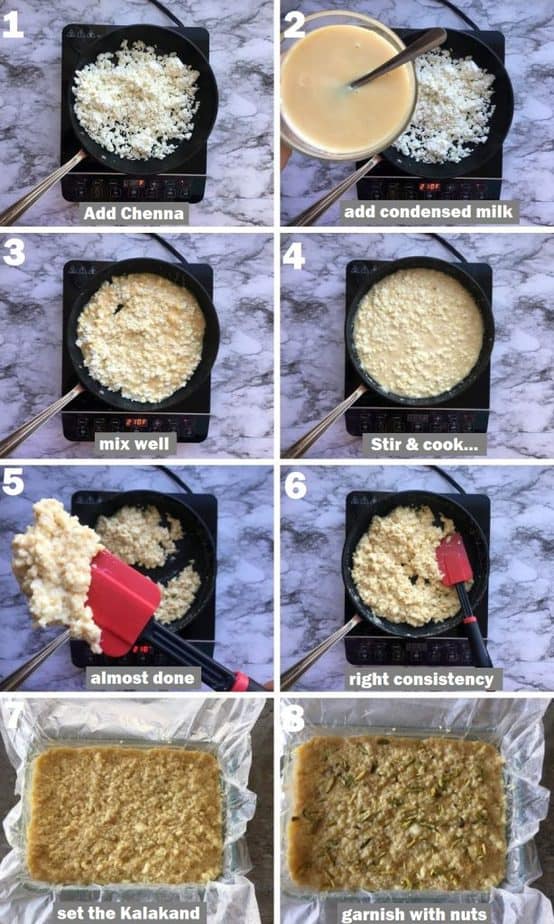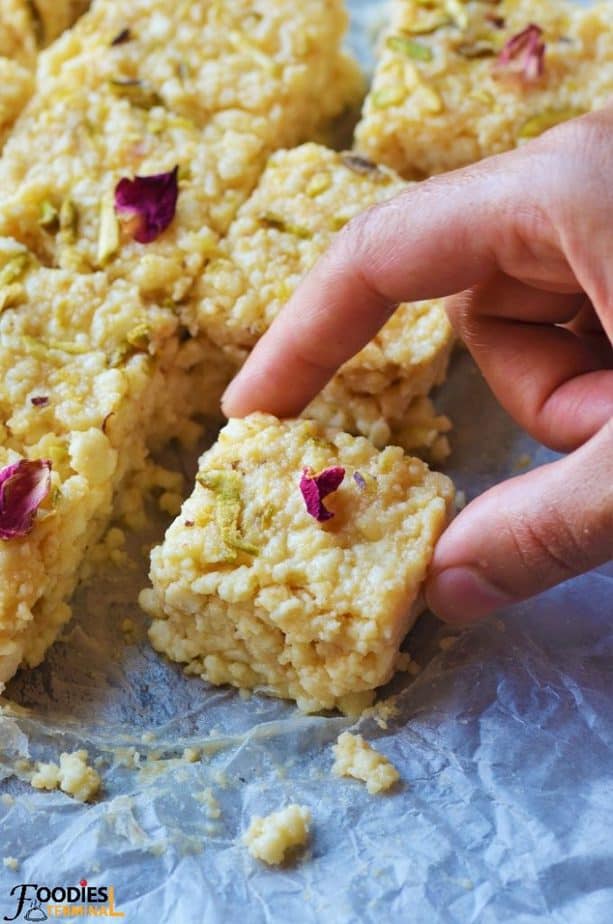 Time needed: 25 minutes.
How to make Kalakand?
Add Chenna in a greased skillet

Set a nonstick skillet over medium heat. Grease it with ghee and add the Chenna.

Now add the condensed milk

Pour the condensed milk on the Chenna and gently mix with the help of a spatula. Do not mix briskly.

Cook the mixture stirring frequently

Allow the mixture to simmer and cook until the right consistency is achieved. The consistency should be thick yet moist and the texture granular.

Set the Kalakand Mixture

Grease a rectangular container with ghee and transfer the hot kalakand mixture into it. Spread it evenly by pressing gently with a spatula. Garnish with chopped nuts and press the nuts gently so that they stick well. Allow the mixture to cool down completely and set.

Cut Kalakand mixture into shapes and serve

Pop out the well set Kalakand mixture from the container and cut into desired shapes. Enjoy.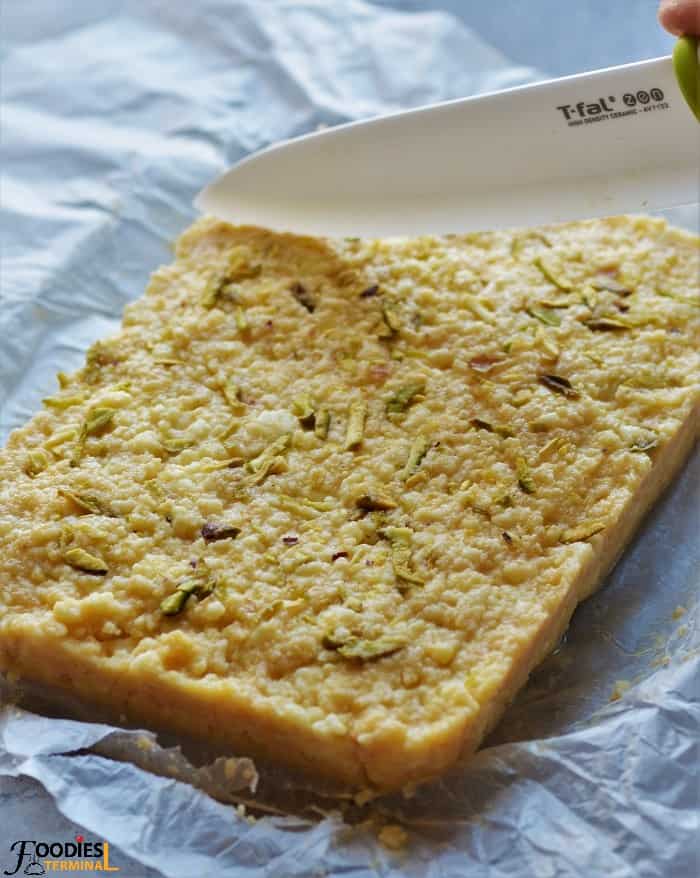 Storing Tips of Kalakand Recipe
In cold climates you can keep them at room temperature for 2 days.
Quick Kalakand recipe stays good for 7 days in the refrigerator when you store it in a clean, dry and air tight container.
Note: If you stay in a hot and humid climate zone store it directly in the fridge.
How does Kalakand taste?
Kalakand tastes sweet with a slightly intense flavor of khoya.
Cooking the Chenna or cottage cheese with condensed milk stirring frequently lends it a depth of flavor.
It's tender, moist, granular & absolutely melt-in-the-mouth tasty.
Is Milk cake and Kalakand same?
The process of making milk cake and Kalakand are very similar but they are not the same. They are entirely different Indian sweets that tastes and looks different.
Kalakand has a very soft, light, crumbly and melt-in-the-mouth texture whereas Milkcake on the other hand has more intense flavors, texture, it's slightly stiff & not that tender.
Milkcake and Kalakand also have different look.
Kalakand has a light color whereas an authentic milk cake has a caramelized color.
What is Kalakand called in English?
Kalakand is called an Indian Cottage Cheese Fudge in English language.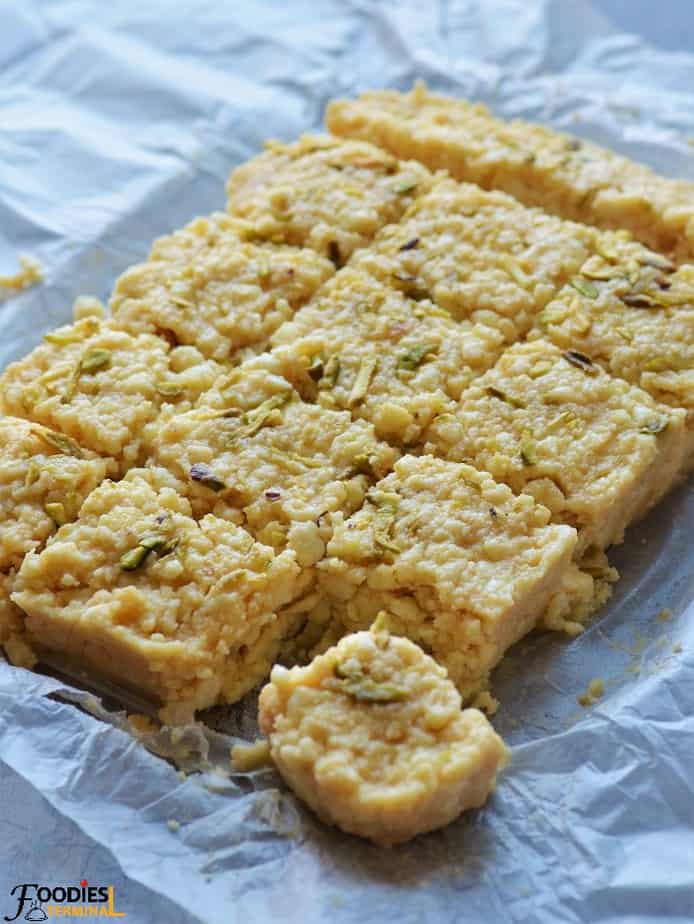 What is Kalakand Sweet?
Kalakand is a popular Indian Sweet that's made traditionally by simmering milk for a long time until it reduces and forms a granular texture.
The sweet shop vendors use alum to achieve that granular texture, it's sweetened with sugar and flavored with ghee.
But, the tenacious process of making this sweet is replaced by quicker methods and today's recipe is just that.
Quick Kalakand is made under 30 mins by using chenna & condensed milk. Optionally flavored with a dash of cardamom powder & garnished with chopped nuts.
Can we eat Kalakand in fast?
The fasting rules varies all over India.
Normal fasting rules refrains one from eating Non vegetarian foods, onion, garlic and rice in some cases.
So, in that case sweets are absolutely fine to consume.
It's better to check with the fasting rules of your region or community.
A few more Indian Sweets from Foodies Terminal.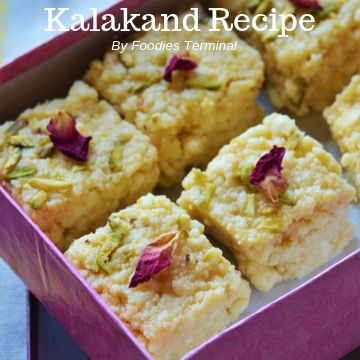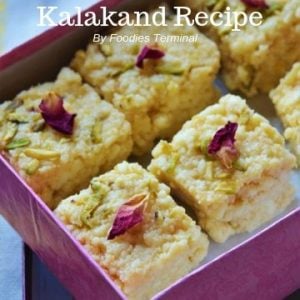 Kalakand Recipe
Print Recipe
Pin
Rate
Quick Kalakand Recipe with condensed milk is so easy to make anytime at home and under 30 mins. This Kalakand is made with fresh homemade cottage cheese or Chenna and has the perfect granular or danedaar texture. It's moist and so soft.
Ingredients
400

gms

Homemade Chenna

(also known as cottage cheese)

400

gms

sweetened condensed milk

(14 OZ roughly)

1

tbsp

chopped Pista or Almond

(You may use both varieties)

1

tbsp

Ghee

(melted (you will a few drops more ghee to grease the container ))

1/2

tsp

green cardamom powder

(Optional)
Want more Recipe Videos?
Check out our Youtube channel!
Instructions
How Kalakand is made?
Set a non stick skillet or pan over medium heat and add about 1/2 tbsp ghee to grease the pan.

Add the Chenna or cottage cheese and the condensed milk and cook over medium heat stirring gently from time to time. Cook the Chenna until it thickens. Refer the Video. Add the rest of the ghee, green cardamom powder and stir gently to mix it well with the chenna.

When the chenna comes to the right consistency which is moist yet thick turn off the heat immediately.
How to set the Kalakand?
Grease a square or rectangular container with ghee. You may layer the container with parchment paper and than grease the paper.

Gently transfer the hot Kalakand mixture into the container and spread it evenly with the help of the spatula or your hand pressing gently.

Sprnkle the chopped nuts evenly on top of the kalakand slab and allow the mixture to cool down completely and set at room temperature.
How to slice Kalakand?
Once the Kalakand mixure is well set and cold lift the ends of the parchment paper and bring it out from the container.

Grease a knife with ghee and make desirable pieces (squares or diamonds). Enjoy.
Notes
Measuring units used, 1 cup = 240 ml & 1 teaspoon = 5 ml.
The recipe yields 15 pieces Kalakand in total (10 square pieces and 5 not so square edge pieces).
Do not stir the chenna briskly. Stirring it gently will guarantee a granular or danedaar texture.
Calorific details are provided by a third party application and are to be used as indicative figures only.
Nutrition Facts
Kalakand Recipe
Amount Per Serving (1 piece)
Calories 66
Calories from Fat 20
% Daily Value*
Fat 2.2g3%
Cholesterol 8mg3%
Sodium 47mg2%
Potassium 60mg2%
Carbohydrates 8.8g3%
Protein 3.2g6%
* Read our privacy policy – Calorie information is provided as a courtesy only and should be leveraged as an estimate rather than a guarantee.Percent Daily Values are based on a 2000 calorie diet.
Nutrition
Serving:
1
piece
|
Calories:
66
kcal
|
Carbohydrates:
8.8
g
|
Protein:
3.2
g
|
Fat:
2.2
g
|
Saturated Fat:
1.2
g
|
Cholesterol:
8
mg
|
Sodium:
47
mg
|
Potassium:
60
mg
|
Sugar:
8.3
g
Pin it for Later!