Pudina Ki Chutney also known as Mint Coriander Chutney or Pudina Dhaniya Chutney will get you hooked forever. Spicy, tangy, & refreshing is what describes this Pudina chutney the best. The Mint Chutney is the best companion to every Chaat, Samosas, Pakodas, Pani Puri & Bhajiyas. Watch the Video below & learn how to make Mint Coriander Chutney at home.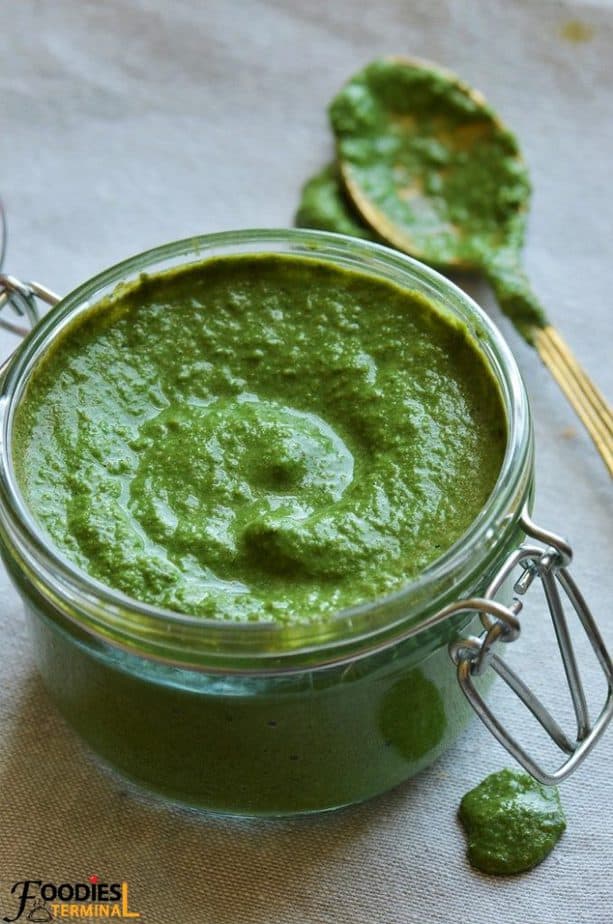 How to make Pudina Chutney?
Mint Coriander Chutney
This Pudina Chutney Recipe or Mint Coriander Chutney needs no introduction.
It's one of the most loved condiment like this Imli Ki Chutney in any Indian household and also the most sought after Chutney in the Street Food stalls in India and in the restaurants.
The smell & the thought of it is enough to make one drool.
This Pudine ki Chutney is simple, easy, quick & addictive.
Made with fresh Mint leaves (Pudina in Hindi) & Coriander leaves (Dhaniya in Hindi), garlic, peanuts, green chilies (oh! it's spicy), cumin & salt. This is one such Indian mint chutney that's hard to resist.
The bursting minty taste & fragrance is so refreshing in this Mint Chutney. And the subtle aroma of the Coriander leaves is even more gripping.
Not to forget that Chili kick and the garlicky taste. This outstanding blend of flavors makes this Indian condiment so desirable.
Chaat (Indian street snack) lovers gorge on this vibrant green chutney endlessly and Samosa lovers are never tired dunking their Samosas and mopping off the last bit 😀
Recipe of this Pudina Dhaniya Chutney varies from household to household and no two recipes are similar. Each family have their own precious recipe to treasure & boast.
And today's Pudina Chutney Recipe is what I boast about 😀 My family loves it & I've been making it since eons in my kitchen.
It's Vibrant green, lip-smacking good, "Chatpata", spicy (yes, we love the chili kick), well balanced, not too minty.
In one word I won't try any other Mint Chutney Recipe ever, this one is a keeper.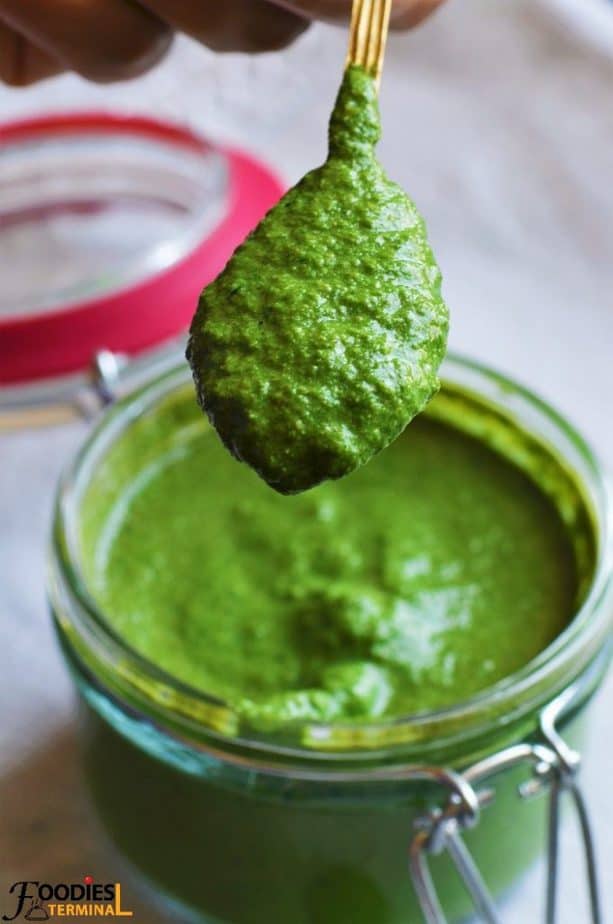 What is Pudina Chutney?
Pudina Chutney also known as Mint Chutney is a popular Indian condiment that's made with fresh mint leaves, coriander or cilantro leaves & a few other flavorings.
Mint Coriander Chutney or Pudina Dhaniya Chutney is the most loved & used Indian Chutney in the restaurants, street food joints & also at home.
It's the most common chutney that's served with Samosas, Indian Chaats, Pakodas (Indian fritters), Pani Puri (Indian street food), Bhel Puri etc.
This Pudina ki Chutney has a vibrant green color & looks almost similar to Cilantro Chutney also known as Hari Chutney or Dhaniya Chutney.
It's very refreshing, minty & addictive and can be made in various ways. In fact every household in India has their own recipes & they might not always be the same.
Pro Tip: Pudina Ki Chutney is also known by other names like Mint Chutney, Pudina Chutney, Mint Coriander Chutney, Dhaniya Pudina Chutney, Cilantro Mint Chutney, Pudina Dhaniya Chutney, Mint and Cilantro Chutney. They are all the same.
Pudina Ki Chutney Ingredients
This is exactly what you'll need for today's Mint Chutney recipe: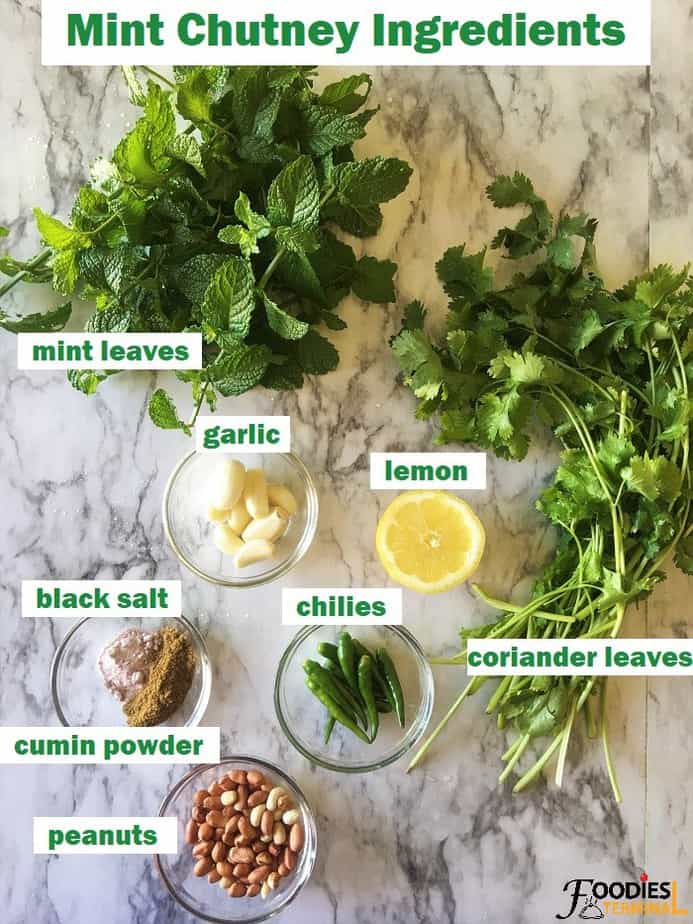 Fresh Mint Leaves: Use fresh and tender Pudina leaves for best flavors, color & taste. Discard the stems & use only the leaves. Wash them very well.
Coriander Leaves: Use fresh & tender. You may also use the stems.
Fresh Garlic pods: Adds that garlicky kick to the Pudina chutney & boosts the flavor.
Green chilies: Make the Mint Coriander Chutney spicy. If you do not prefer the heat from chilies skip adding them.
Roasted peanuts: Adds body to the Mint chutney & makes it creamy. You may roast the peanuts in oven or on a skillet.
Roasted Cumin seed powder: Also known as Bhuna hua jeera powder in Hindi. Do not add raw cumin powder.
Black Salt & Regular salt (regular salt is not shown in the above picture).
Lemon Juice: Adds tang to the Pudina Dhaniya Chutney.
Pro Tip: Adding too much peanuts will lighten the color of the chutney. Do not add too much, just a few to add body & creaminess. You may also sub the peanuts with grated coconut. Add about 1 tbsp. grated coconut for todays recipe. You can also sub the lemon juice with a few pieces of raw mango known as Kairi. Add according to your liking.
5 Tips to make the best Pudina Chutney
Use fresh tender Mint & Coriander leaves: Tender leaves will give the best flavors to your Pudina ki Chutney or Mint Chutney. Whereas, mature leaves are more pungent, might lack the best fragrance & lacks the fresh taste. Tender leaves are more refreshing & slightly sweeter with more fragrance.
Never add lemon juice directly to a metal blender jar while blending the chutney. Lemon juice reacts with metal & might make the Pudina Chutney bitter. If your blender jar is made of stainless steel add the lemon juice after transferring the blended chutney in a glass bowl.
50:50 ratio of Mint:Coriander tastes best: Though you may alter the ratio but I would highly recommend to stick to the 50:50 ratio for best results.
Do not add too much peanuts: Adding too much peanuts will make the chutney loose it's refreshing flavors & also diminish the vibrant green color. Peanuts adds body to the chutney & makes it creamy. So, less is more here.
Garlics are a must: Do not skip adding the garlic pods. They give a slight garlicky kick to the chutney and boosts the flavor manifold.
Pro Tip: You may adjust the amount of green chilies in this Mint Coriander Chutney recipe. We love it spicy & that's how I made it. Add less or more chilies according to your preference.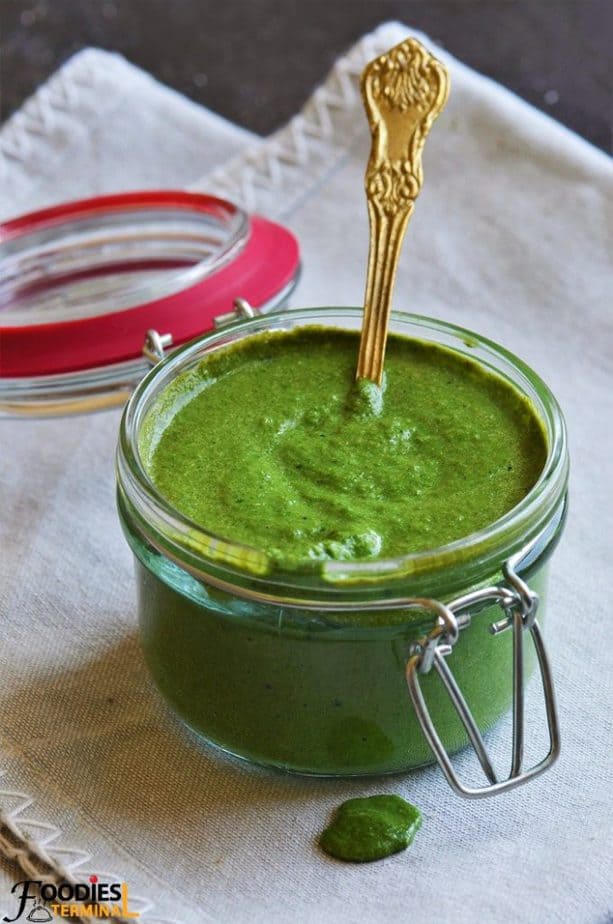 Mint Chutney uses
Coriander Mint Chutney or Pudina Ki Chutney is such a great recipe that's super versatile.
It's uses are manifold, you won't feel limited with this Mint Chutney recipe ever. And you'll never get bored eating it 😉
This is how we love using it at home:
Mint Chutney goes extremely well with Chaats like Ragda Pattice, Aloo Tikki Chaat, Aloo Chole Chaat, Dahi Puri etc.
We are huge fans of Kababs. And this Mint Chutney recipe is a must with any Kabab. Don't forget to check out the delicious Kabab recipes from my blog.
Dunk your Samosas in this Pudina Chutney & you'll love it.
If you love Sandwiches slather a generous amount of this Mint Coriander Chutney on the bread slices before you fill them up with your favorite filling.
Do you love Dhoklas? Than make this Pudina ki Chutney instantly. It goes extremely well with Dhoklas.
Who doesn't love hot crispy Dosas. Mop this Cilantro Mint Chutney with Dosa.
This Pudina Ki Chutney also goes well with Idli.
You can even lick this delicious Chatpata Pudine Ki Chutney with morsels of Dal rice.
Pani Puri or Golgappa is incomplete without this Mint coriander chutney.
We love to spread this chutney in wraps like Kabab rolls or Kathi rolls. So Yum!
Now, we would love to hear how you and your family loves eating Pudina Chutney. Share your thoughts in the comments below 🙂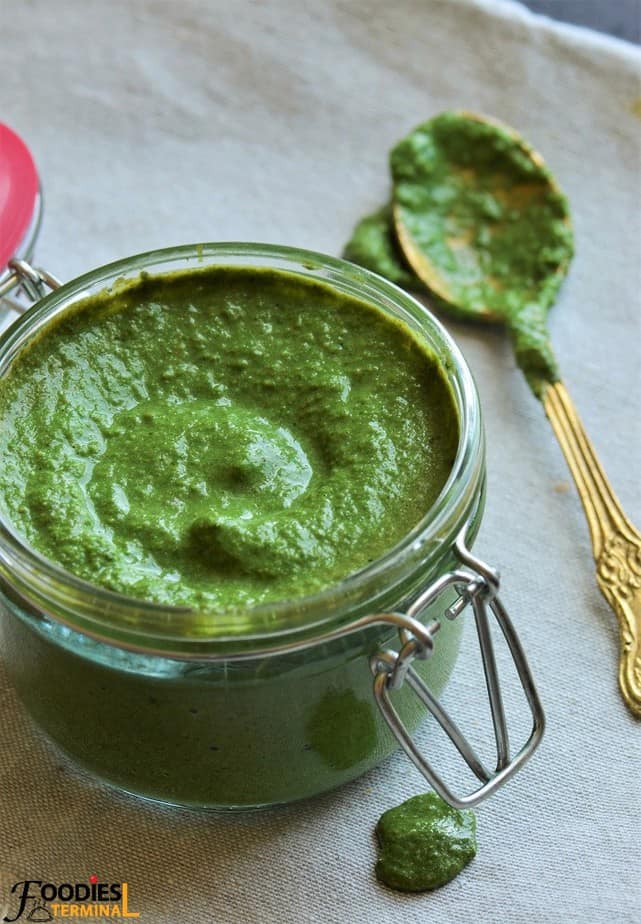 How to store Mint Coriander Chutney?
You can store Mint Coriander Chutney or Pudina Dhaniya Chutney in two ways:
In the fridge: Store it in clean, dry & air tight glass containers for 3-4 days. Avoid metal containers.
Freeze it: You may freeze this Mint Chutney in small freezer safe pouches or you may even freeze it in ice cube trays. Pop the frozen cubes and store them in a zip lock bag in the freezer. Keeps good for 2 long months.
Pro Tip: Do not store Pudina Chutney or Mint Chutney in metal containers. It contains lemon juice & this reacts with metal. This in turn might make the chutney bitter & change its color.
How long will Mint Chutney keep?
Mint Chutney or Pudina Chutney keeps good for 3-4 days in the fridge when stored well in clean, dry & air tight glass jars.
You may preserve it more 2 months by freezing it.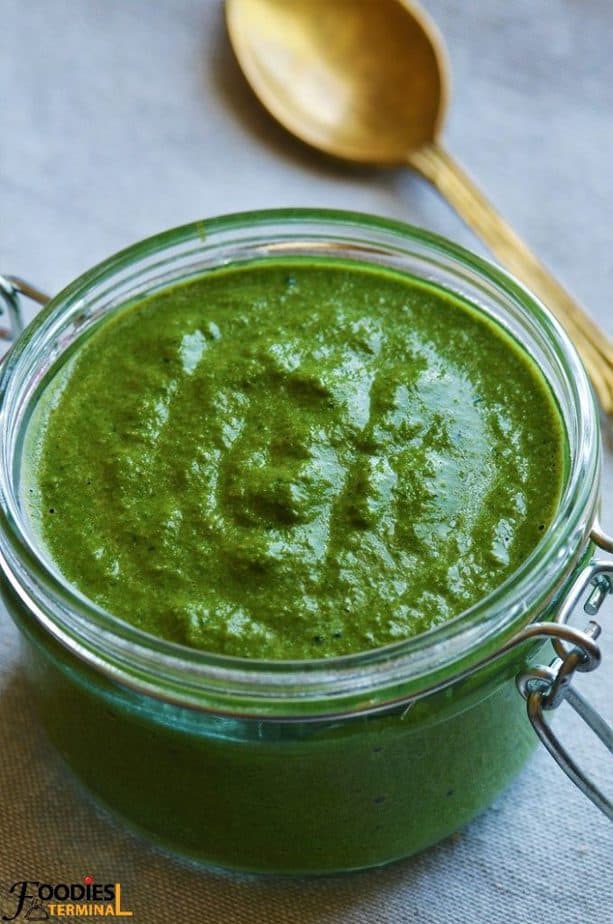 Pudina Chutney Or Mint Chutney-FAQs
Why is my Mint Chutney Bitter?
Mint Chutney sometimes might turn bitter due to a few reasons. If you grind the Chutney for too long in an electric blender the chutney might turn bitter because the essential oils from the mint leaves becomes rancid with too much grinding. Using mint stems in the chutney also makes the chutney bitter. Use only the leaves & discard the stems. Mixing lemon juice with the chutney in a stainless steel blender jar might also make the Pudina Chutney bitter.
How do you remove bitterness from Mint Chutney?
You may try removing the bitterness from the Mint Chutney or Mint Coriander Chutney by adding some more mint & coriander leaves to the chutney along with some lemon juice. Blend the chutney along with them. You may also try adding yogurt & sugar to disguise the bitterness. Avoid mint stems, do not grind the chutney for too long in a mixer grinder, avoid adding lemon juice to a metal blender jar. These are a few things that makes the Pudina Dhaniya Chutney bitter.
What happens if salt is more in chutney?
The best way to balance off excess salt in Pudina Ki Chutney is to add more coriander & mint leaves to the chutney and blending it one more time. Add lemon juice as well.
What to serve with Pudina Ki Chutney?
You can serve Kabab, Samosa, Chaat, Pakoda, Dhokla, Dosa, Idli, Pani Puri, a regular meal like Dal & Rice with Pudina Ki Chutney.
Don't miss these recipes from Foodies Terminal.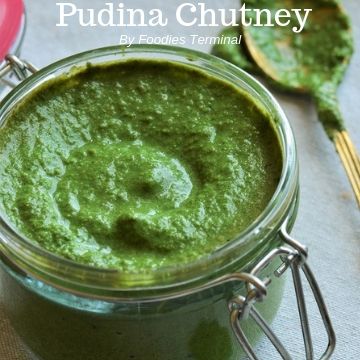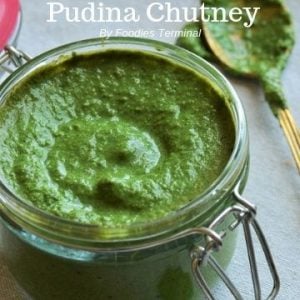 Pudina Ki Chutney
Print Recipe
Pin
Rate
Pudina Ki Chutney or Mint Coriander Chutney is a delicious Indian Condiment that's made with fresh mint & coriander leaves. This Mint chutney or Pudina Chutney is an integral part of some most popular Indian street foods like chaat, samosa, pani puri etc.
Want more Recipe Videos?
Check out our Youtube channel!
Instructions
Begin by washing the fresh mint & coriander leaves under running water several times.

Add the washed & cleaned leaves to the blender jar along with the rest of the ingredients. Add the lemon juice too only if the blender jar is non-metal. If your blender jar is made of metal add the lemon juice later once you are done grinding the Pudina Chutney. Grind everyhting to a smooth paste. You may add a few tablespoons water while grinding the chutney.

Do the taste test and if needed add some regular salt according to your taste preference.

Store the Mint Coriander Chutney or Pudina Chutney right away in a clean, dry & air tight jar for future use. Store it in the fridge.
Notes
Measuring Units used, 1 cup = 240 ml & 1 teaspoon = 5 ml.
Today's recipe of Pudina Chutney yielded about 1.5 cups Chutney approximately.
Do not use the mint stems, discard them completely. The stems might make the chutney bitter. You may use the tender leaves of the coriander.
Never add lemon juice directly to a metal blender jar. Lemon reacts with metal & this in turn will make the chutney bitter. Mix the lemon juice later.
Do not grind the leaves in an electric blender for too long. The essential oil from the mint will turn rancid and shall make the chutney bitter. 
Wash the leaves very well, several time under running tap water.
Do not add too much peanuts to the chutney. It will make the chutney taste bland & also light the gorgeous green color. Less is more.
You may also sub the peanuts with grated coconut. In that case use just about 1 tablespoon for todays recipe.
The Chutney will darken if kept exposed to air for a long time. To preserve that lovely green color store it right away.
Always store it in clean, moisture free, air tight glass jar to increase it's shelf life.
Use less or more chilies according to your preference. 
Always use a clean moisture free spoon to scoop out the Pudina chutney from the jar. Any contact with moisture will reduce its shelf life.
You may also increase or decrease the amount of roasted cumin powder according to your likings.
I would highly recommend that you use the 50:50 ratio or mint:coriander for best flavors.
Calorific details are provided by a third party application & are to be used as indicative figures only.
Nutrition Facts
Pudina Ki Chutney
Amount Per Serving
Calories 20
% Daily Value*
Sodium 80mg3%
Potassium 90mg3%
Carbohydrates 4g1%
Vitamin A 700IU14%
Vitamin C 10.7mg13%
Calcium 30mg3%
Iron 0.7mg4%
* Read our privacy policy - Calorie information is provided as a courtesy only and should be leveraged as an estimate rather than a guarantee.Percent Daily Values are based on a 2000 calorie diet.
Nutrition
Calories:
20
kcal
|
Carbohydrates:
4
g
|
Sodium:
80
mg
|
Potassium:
90
mg
|
Fiber:
1
g
|
Sugar:
1
g
|
Vitamin A:
700
IU
|
Vitamin C:
10.7
mg
|
Calcium:
30
mg
|
Iron:
0.7
mg
Pin it for later!