Quinoa Paneer Cutlet is crispy, loaded with nutrients, has the goodness of broccoli, orange beet & shall make your toddlers very happy. Pan roast them with drizzles of extra virgin olive oil for that extraordinary crispy outer crust. Kids & adults will equally fall for these delicious easy quinoa patties that are perfect for snacks, appetizers or mini quinoa patty burgers.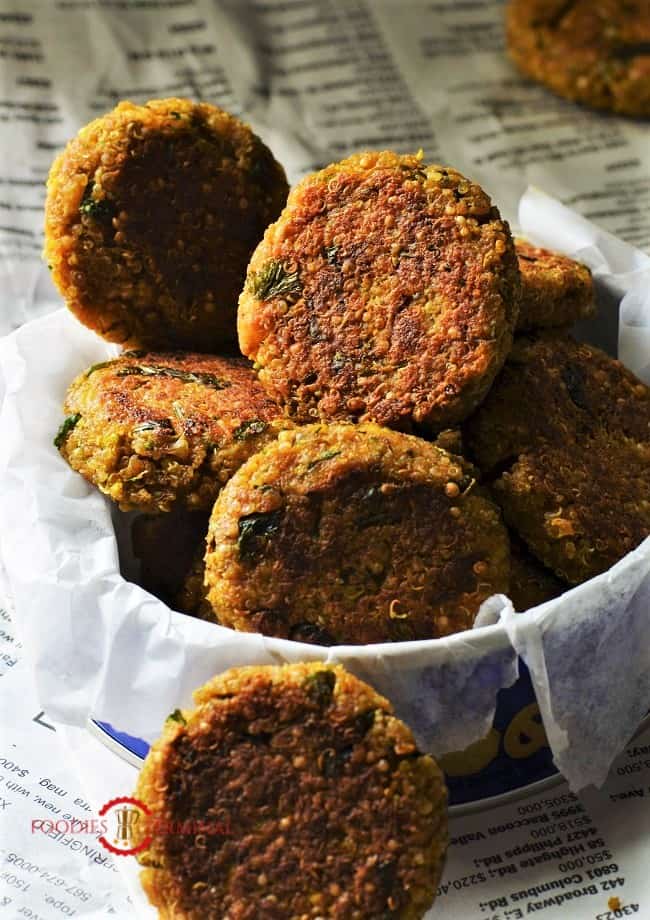 Quinoa Paneer Cutlet
Guys, if you love Patties or cutlets you'll love today's crispy quinoa Paneer Vegetable Cutlet. They are:
Damn Easy
Packed with Nutrients – They contain the goodness of quinoa, veggies like broccoli, orange beet & dairy protein of paneer (Indian compressed cottage cheese)
Tastes awesome: The crispy outer shell & the soft fragrant interior with a hint of nutritional yeast is everything that you'll love about these Quinoa Patties.
Customizable: Don't worry if you don't have a few ingredients handy, swap them with your best choices and make the recipe your very own. You'll love it.
Freezer Friendly: A perfect candidate for make-ahead recipes. Hence, you can cater to a huge crowd.
Toddlers Favorite: They will never know that these Quinoa cutlets contain grated Broccoli, orange beet etc.
Healthy: Loaded with everything healthy + you'll be pan roasting the Quinoa patties with drops of extra virgin olive oil.
A terrific Lunch box Candidate.
A perfect snack, appetizer, breakfast or brunch recipe: You can make incredible mini Quinoa patty burgers or sliders with these Indian Quinoa cutlets. Perfect for Sunday brunches or even hot breakfast.
I curated today's Quinoa Paneer Vegetable Cutlet recipe keeping in mind my 5 years old fussy eater who also happens to be a big time Foodie 😀 Hence, I skipped adding green chilies or any heat to the recipe.
But if you love spicy food, you can add cayenne pepper, jalapenos, Indian green chilies or chili powder for that kick.
The addition of Paneer also makes these Quinoa Patties Indian.
But, you can totally swap it with boiled & grated sweet potato if you do not have paneer handy or if paneer is an alien ingredient to you. I will share some fantastic swaps and ideas. So, read on to find more.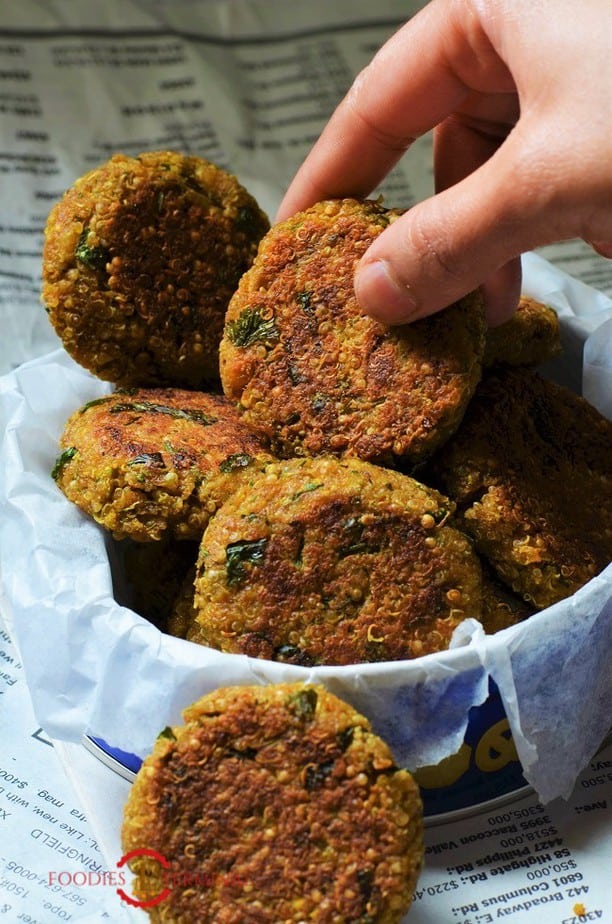 Ingredients for Quinoa Patties Indian
Here's a complete list of what you'll need to make these perfect crispy quinoa cakes on a skillet or tawa or griddle:
Cooked White Quinoa: This is the star ingredient of today's Quinoa Paneer Vegetable Cutlet recipe. You may just add about 1 tbsp of cooked red quinoa or black quinoa for a little crunch. In that case you need to cook them separately because they have a different cooking time than white quinoa. For more Quinoa facts you may read this Warm Quinoa Salad with Kale, Chicken & Veggies.
Grated Paneer: Paneer is a compressed slab of Indian cottage cheese that looks like Extra firm tofu but tastes very different. This enhances the protein Quotient of the Quinoa patties. You can easily find Paneer at Costco & Indian grocery stores.
Veggies: Grated orange beets, grated broccoli. This is such an incredible way to make the quinoa cutlets nutrient dense & feed your toddlers some veggies. They'll never know, I promise 😉
Herbs: Cilantro with twigs. Don't discard the tender stems, chop them roughly & add they have the maximum aroma.
Spices: Onion powder, ginger powder, garlic powder, crushed black pepper.
Lemon Juice: Adds that most wanted tang.
Toasted Oats Flour: Helps to bind the quinoa cutlets or quinoa patties.
Eggs: For binding the quinoa paneer vegetable cutlet.
Oil: Extra virgin olive oil.
Optional Ingredients: Cayenne pepper or red chili powder or chopped jalapenos or Indian green chilies, Paprika, turmeric powder, Nutritional Yeast. Nutritional yeast will provide a yummy cheesy flavor that's so desirable. Want to know more about Nutritional Yeast read this Easy Tofu Scramble with Nutritional Yeast.

Pro Tip: How to make oats flour? Toast oats on a skillet over medium flame. When they slightly change color & becomes fragrant switch off the flame. Allow them to cool down. Than, grind to a fine powder.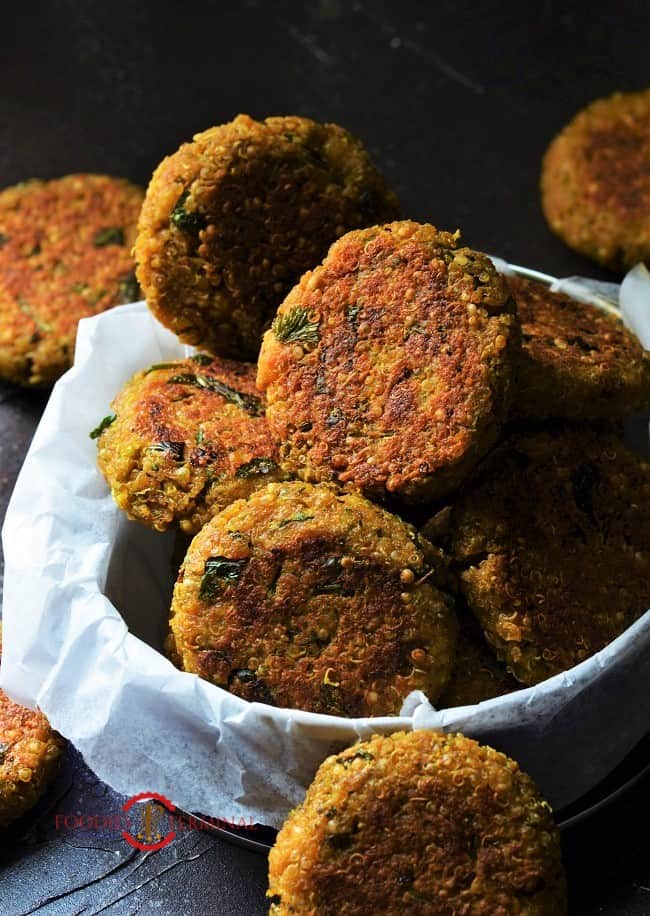 Ingredients swapping ideas for Quinoa Patties for Toddlers
In many cases we do not have a few ingredients handy or we do not prefer the taste of certain ingredients in the main recipe. In that case, you can find this list of easy swaps handy & useful.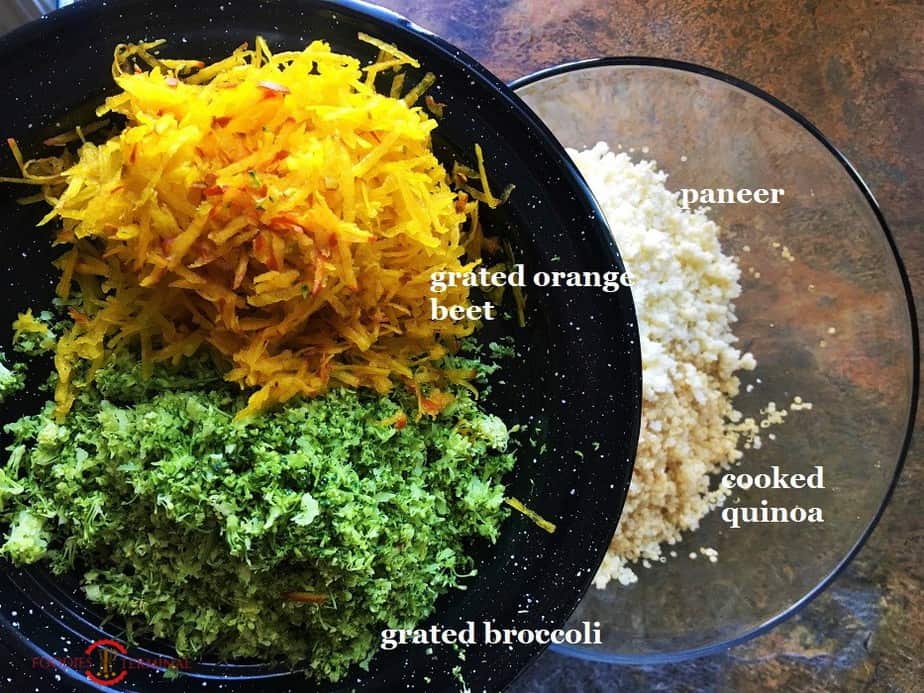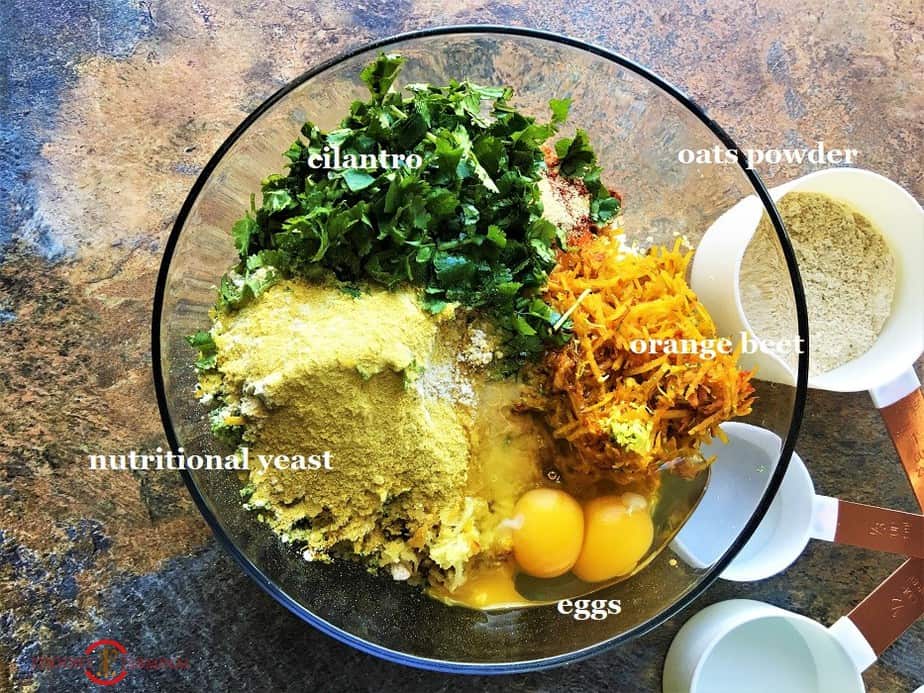 Paneer: Swap it with cooked & grated sweet potato or regular potatoes. Make sure that the cooked potato should not contain any water. Before grating drain the excess water & soak in the extra moisture with the help of a paper towel.
Eggs: You may try to swap them with flax eggs. I have not tried it out as yet but you may try & share your experiences with us in the comments below.
Onion powder, garlic powder, ginger powder: You may swap these with finely chopped onion, minced or grated fresh garlic & ginger.
Grated Broccoli & orange beet: You can swap them with veggies like grated carrot, finely chopped spinach, cooked green peas, chopped scallions. Or you may include these veggies in this recipe along with broccoli & orange beet. The choice is yours 🙂
Extra Virgin Olive oil: You may swap it with canola oil, vegetable oil, avocado oil.
Pro Tip: How to make a flax egg? 1 flax egg = 1 tbsp flax meal + 2.5 tbsp water. Soak the flax meal in water & stir, allow it rest for 5-10 mins until it thickens. Use it in place of egg.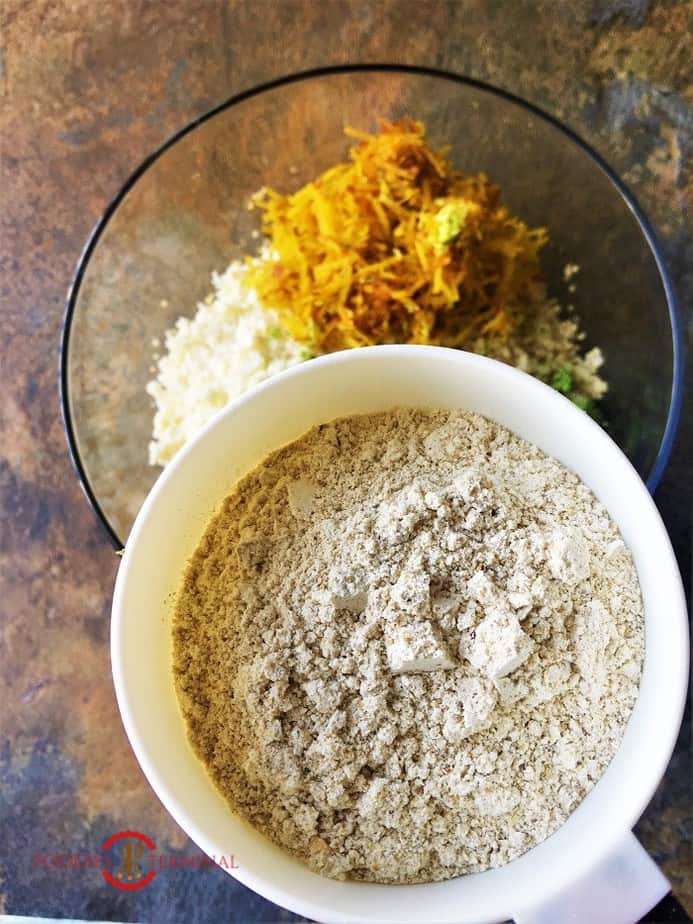 4 Tips to make the Best Quinoa Paneer Cutlet
Get rid of any excess moisture: Make sure to drain the cooked quinoa well, wash & completely dry the cilantro & the veggies before chopping & grating them. Any excess moisture will make the Quinoa cutlets sticky & it will be very difficult to give them a patty shape.
The magic of Nutritional Yeast: I would recommend you to use some if you have it in your pantry. It will make the quinoa cutlets cheesy, tasty, & nutty. Nutritional yeast does contribute a lot to a recipe.
Always grate broccoli, orange beet & carrot (if using): Do not be tempted to chop them. Grating the veggies will cook them evenly while shallow frying the patties.
Wet your hands before shaping the Quinoa Cutlets: They won't stick to your hands when you wet them with few drops of water.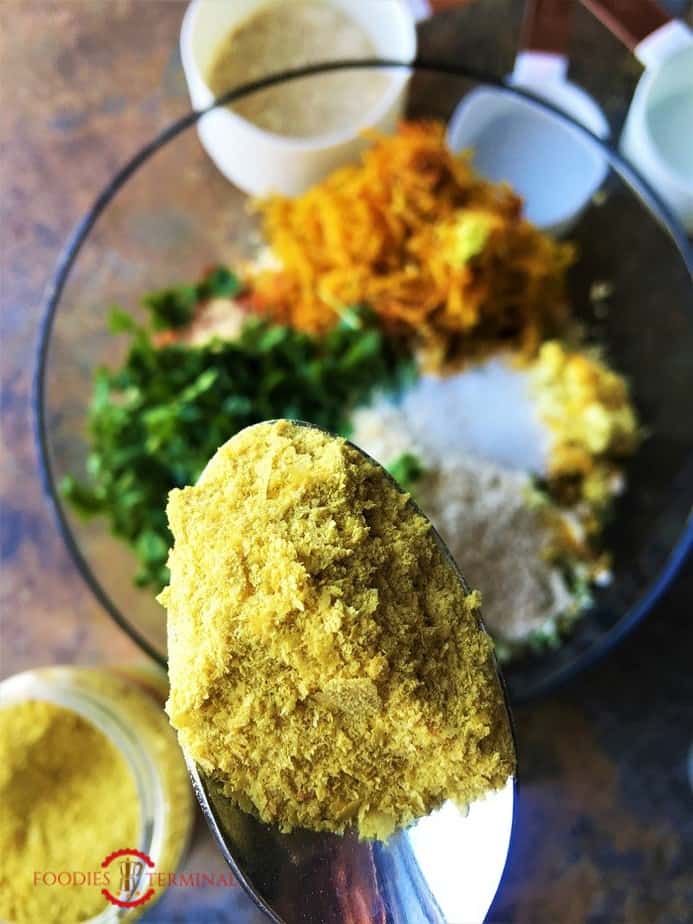 How to bind Quinoa Patties?
Use eggs to bind the quinoa patties.
How to make Quinoa Patties without eggs?
You may try to replace the eggs with flax eggs. I have not yet tried making them this way but you may try to do so & share your experiences with us in the comments below.
Flax eggs are good egg replacements & are wonderful binding agents.
Can you freeze Quinoa Patties or Quinoa cutlets?
Yes, you can freeze Quinoa patties or quinoa cutlets. They will keep good for 1 month in the freezer.
This is how you can freeze them:
Place them individually on a parchment lines baking tray. Freeze them that way first.
Next, once they are frozen transfer them to a freezer safe bag and store them in the freezer.
That way they won't stick with each other. Whenever you are ready to eat you may take out individual portions, thaw & reheat. You don't have to thaw the whole packet.
What to serve with Quinoa Patties?
Honestly, we love to enjoy them as such dipped in ketchup, mayo, or a simple aioli dip.
Want an amazing Ailo Recipe? Find it here Shrimp Pattie Recipe with Aioli.
You can totally snag a meal out of your crispy Quinoa panner vegetable cutlet or dress them up for a mini brunch.
Make them into a Lunch Menu: Lay them over a bed of your favorite salad, pop them inside pita pockets with loads of Tzatziki Sauce .
Make a mini brunch or a hot breakfast out of them: Slide them into sliders, or make some cute mini burgers with sliced cheese, tomatoes. We also love them inside our sandwiches with loads of dijon mustard, mayo & sliced buttery avocados.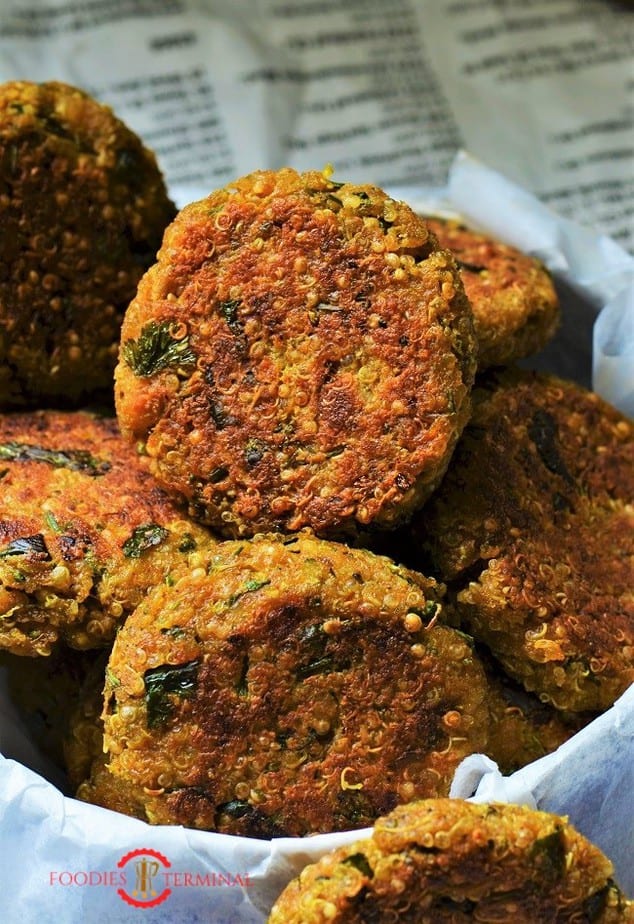 How to make Quinoa Patties Vegetarian & Vegan?
Vegetarian Option: Replace the eggs with flax eggs. Follow the same recipe.
Vegan Option: Replace the eggs with flax eggs & the paneer with cooked grated sweet potato or regular potato.
How to make Quinoa Patties with Paneer & Vegetable? Step by Step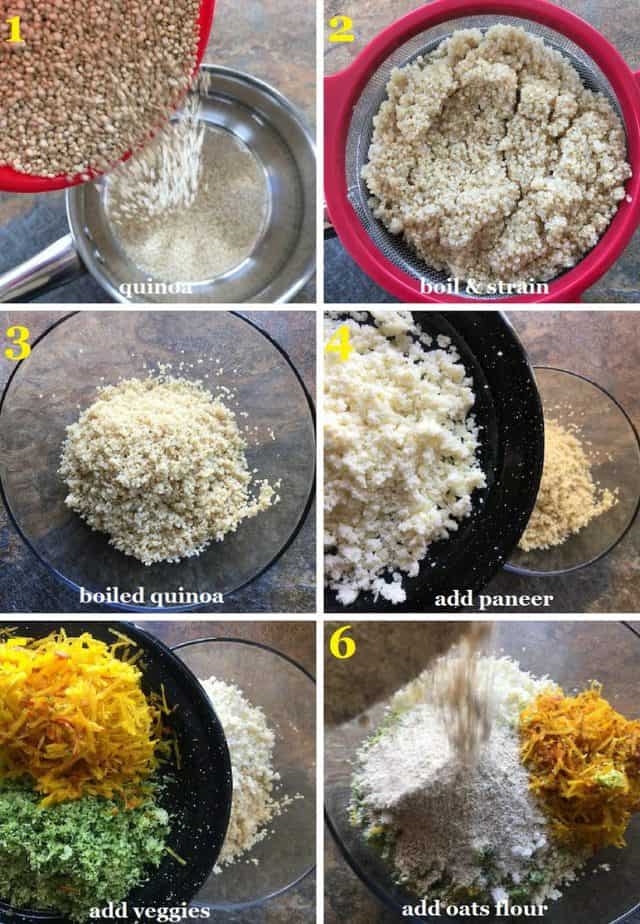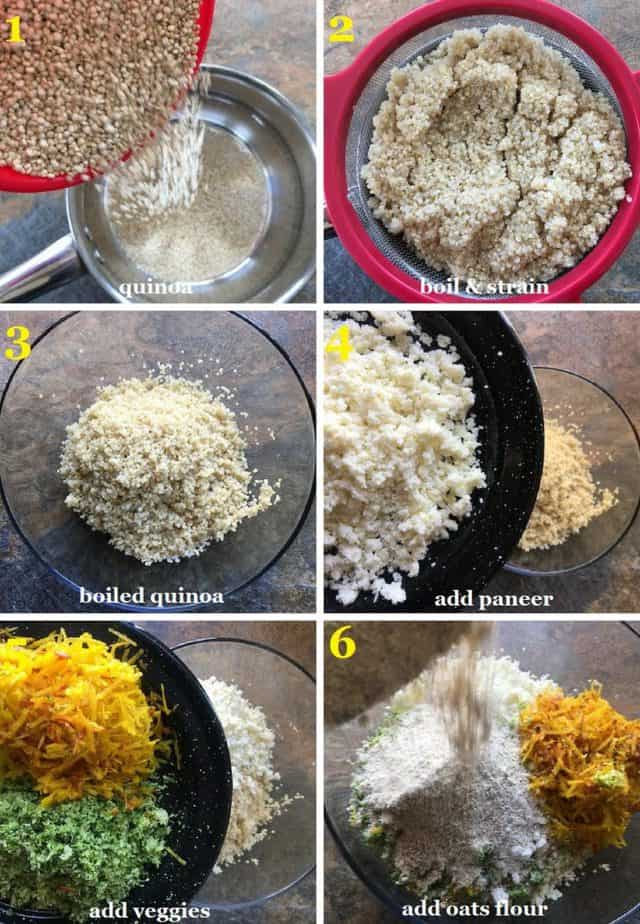 Begin by rinsing the quinoa well. Than boil it until done in sufficient water, cover & cook. It should take you 10-15 mins.
Strain the cooked quinoa & fluff it with a fork. In the meantime crumble the paneer either with the help of your fingers or with a fork.
Add the paneer to the boiled quinoa.
Than throw in the grated orange beet & the broccoli to the bowl. Add the roasted oats flour too. (Read the notes below for how to make oats flour at home).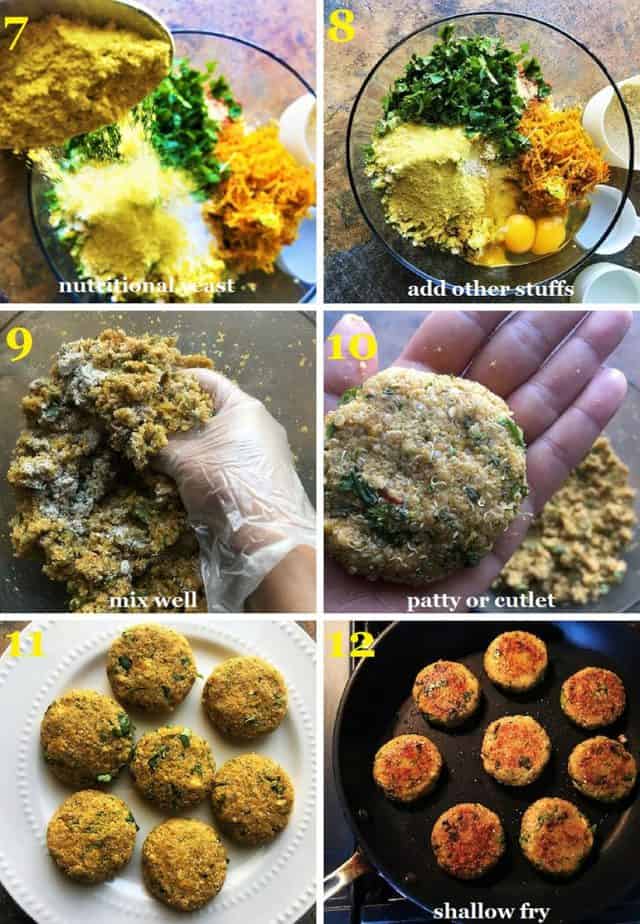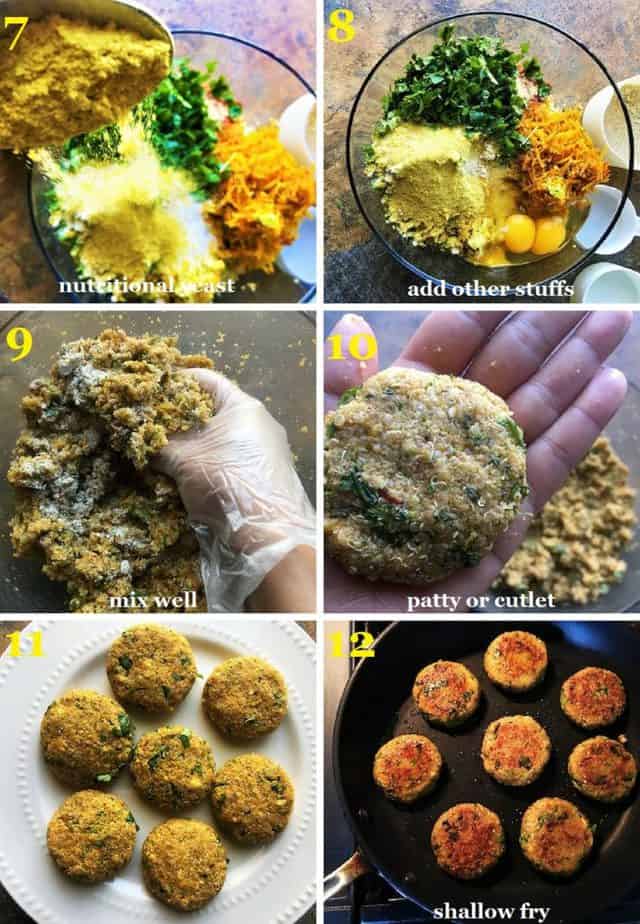 It's time to add the nutritional yeast and the rest of the ingredients like chopped cilantro, egg, the spices, salt.
Give them a good mix with the help of your hand. It should have a soft dough like consistency. But not sticky at all.
If you feel that the dough is not coming together or a little to soggy add a little more oats flour & adjust the consistency.
Scoop out a lime size ball & give it a flat patty shape that's round or looks like a disc.
Repeat the same until your are all done with the dough.
Grease a skillet with drops of oil & set it over medium heat. Arrange the quinoa patties in a single layer without over crowding.
Fry until golden. Enjoy the crispy quinoa paneer cutlets.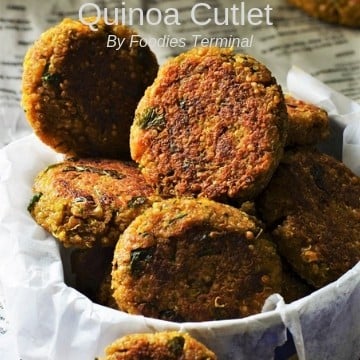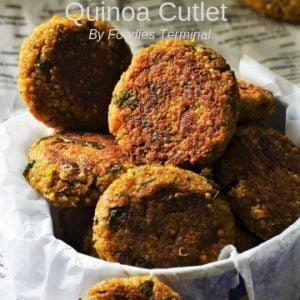 Quinoa Paneer Cutlet
Print Recipe
Pin
Rate
Servings:
12
small cutlets
Quinoa Paneer Cutlet is slightly crispy from the outside with the goodness of veggies, paneer (Indian cottage cheese), quinoa & oats. These Quinoa patties make an incredible filling breakfast, snack or appetizer. Make them easily on a skillet with just drizzles of oil.
Want more Recipe Videos?
Check out our Youtube channel!
Instructions
Boil the white quinoa over medium high heat. Strain and set aside. (How to boil Quinoa, read the NOTES below)

Grate the broccoli & the orange beet. Set aside.

Crumble or grate the Paneer. Set aside. (how to crumble paneer read the NOTES below)

In a clean dry bowl add all the ingredients accept the oil.

Mix everything very well until you get a soft cookie dough like consistency. The dough should not be sticky or slimy at all. If need be add a some more oats flour to bring everything together. ( How to make Oats flour, read the NOTES below)

Grease your palms and scoop out about a lemon size ball. Roll into a smooth ball and flatten it slightly with the help of your fingers to give it a round patty shape. Repeat this step until you are done with the dough.

Set a skillet over medium heat and brush oil or drizzle oil. Place the Quinoa cutlets arranging them in a single layer and cook on both sides until golden.
Notes
How to boil Quinoa? Add white quinoa to a deep bottomed saucepan, add enough water and boil over medium heat covered. It should take you about 10-15 mins. Strain and keep aside.
How to make Oats Flour? Dry roast old fashioned oats or quick oats over medium flame on a skillet until slightly golden & fragrant. Turn off the flame & allow them to cool down. Grind to a fine powder in a mixer grinder. Set aside or store in an air tight jar for future use.
How to Crumble or grate paneer? If useing paneer directly from the frezzer, boil the slab in water for 3-4 mins. This will make the slab soft. Crumble it either with your fingers or a fork. You may also grate it with a regular grater.
Add more oats flour if need be: If you find the dough to be sticky or slimy just add some more oats flour. 1 tsp at a time and adjust the consistency of the dough.
Measuring cup used, 1 cup = 240 ml & 1 teaspoon = 5 ml.
Nutrition Facts
Quinoa Paneer Cutlet
Amount Per Serving
Calories 333
Calories from Fat 135
% Daily Value*
Fat 15g23%
Cholesterol 96mg32%
Sodium 336mg15%
Potassium 362mg10%
Protein 13g26%
Vitamin A 295IU6%
Vitamin C 4mg5%
Calcium 186mg19%
Iron 2.6mg14%
* Read our privacy policy – Calorie information is provided as a courtesy only and should be leveraged as an estimate rather than a guarantee.Percent Daily Values are based on a 2000 calorie diet.
Nutrition
Calories:
333
kcal
|
Protein:
13
g
|
Fat:
15
g
|
Saturated Fat:
4
g
|
Cholesterol:
96
mg
|
Sodium:
336
mg
|
Potassium:
362
mg
|
Fiber:
4
g
|
Sugar:
4
g
|
Vitamin A:
295
IU
|
Vitamin C:
4
mg
|
Calcium:
186
mg
|
Iron:
2.6
mg
Pin it for Later!