Instant Pot Drunken Noodles (Pad Kee Mao) is a 15 mins recipe that contains juicy chicken, lots of basil, a fabulous sauce & a few soft veggies. Master the tricks to saucy, glossy rice noodles in the Instant Pot that's no less than wok made ones & gazillion times better than Asian take-out.
Don't miss our huge collection of easy Instant Pot Recipes & Air Fryer Recipes!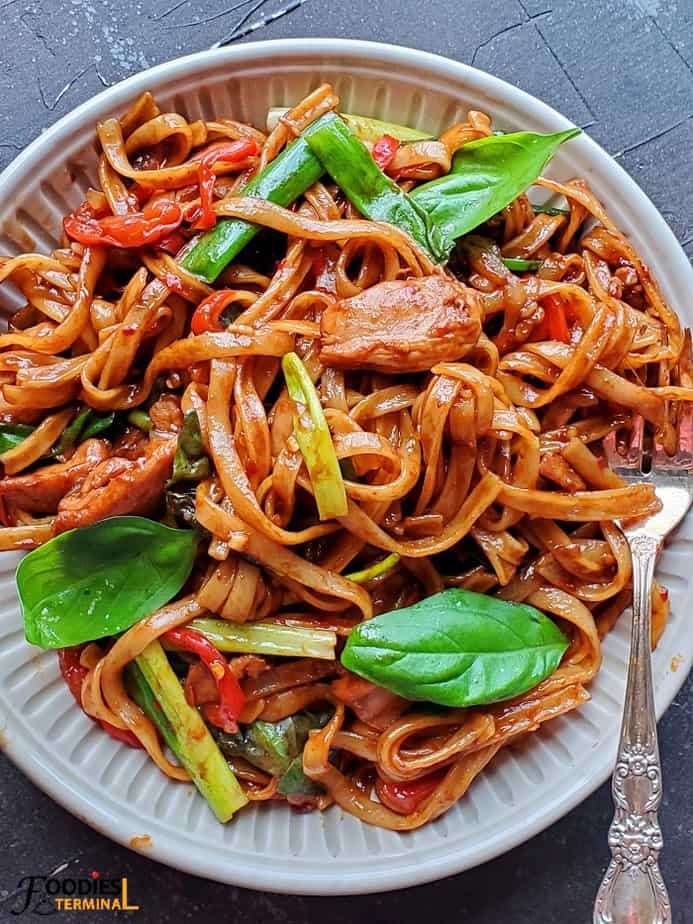 Note: This post has been updated with reader friendly content, FAQs, serving ideas.
Drunken Noodles Recipe
You'll love this easy drunken noodles recipe, it's packed with authentic Asian flavors and get's ready so quickly in the instant pot. You can make this Thai noodles recipe even during busy weeknights!
Thai Drunken Noodles also know as "Pad Kee Mao" are meant to be very spicy, but, today's recipe is not overwhelming - I made it "everyone-friendly" (at least I think so!)
We substituted the fresh Thai chilies with red pepper flakes. Also substituted the Thai Basil (hard to find) with regular Basil. If you prefer extra spicy noodles add fresh finely chopped red Thai Chilies according to your spice tolerance level.
Pad Kee Mao - Ingredients & substitutions
Find the Ingredients with actual measurements way below the post on the "Recipe Card". The list below is just a reference.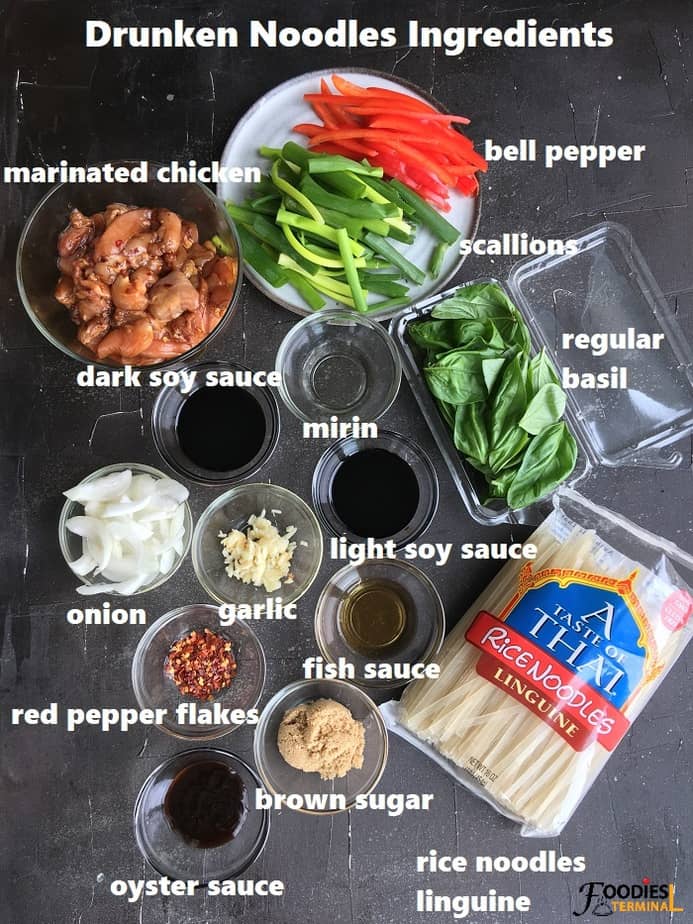 Chicken: Use either boneless and skinless chicken breasts or thighs and dice them into 2 inch long strips.
Rice Linguine Noodles ( the flat wide ones): I used "A Taste of Thai" gluten free Rice Linguine Noodles. You can also use Rice Pad Thai Noodles. Rice noodles are naturally gluten free.
Aromatics: Yellow Onion and garlic. You can also use red onion instead of the yellow onion.
Veggies: Red Bell Pepper. You can use any color you want or choose a mix of colors. You can also use baby corns and carrot juliennes.
For the Sauce: Light Soy Sauce, Dark Soy Sauce, Oyster Sauce, Fish Sauce, Mirin, Brown Sugar.
Red Pepper Flakes or Red Thai Chilies (finely chopped): You can also use Birds eye chilies. I used only red pepper flakes. Red Thai Chilies will make the dish extra spicy so use it accordingly. Skip the red pepper flakes if you are making this drunken chicken noodles for kids.
Garnish: Regular Basil or Thai Basil, green onion (use only green part).
Any Neutral oil: Like avocado oil, canola, sunflower or vegetable oil, extra light or light olive oil.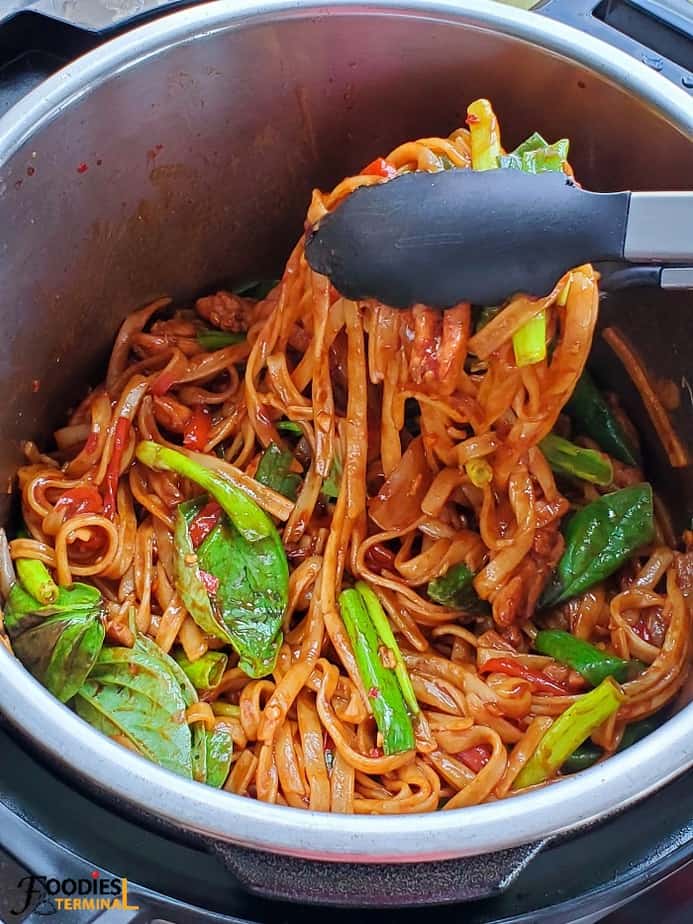 Tips & Tricks
Cooking Gluten free Rice Noodles: Al Dente Noodles = 2 mins High Pressure / 3 mins NPR (Natural Pressure Release). Soft Noodles = 4 mins High Pressure / QR (quick release).
Pressure cook noodles first: You can achieve the wok flavor in the pressure cooker only by cooking the noodles first & than tossing them with the sauces. The taste is just amazing! Do not pressure cook noodles along with the sauces.
De-tangle the noodles: Once the noodles are pressure cooked de-tangle the noodles very well with the help of a pair of forks. Gluten free rice noodles takes a little longer to de-tangle than regular spaghetti noodles like this Pork Lo Mein.
Softer veggies: We prefer softer veggies in our drunken noodles & that's why we added the veggies while pressure cooking the noodles.
Crisp tender veggies: Add the veggies later while mixing the sauces. Cover & rest for 5-10 mins. The trapped heat will help tenderize the veggies.
The Sauce: The sauce is meant to be spicy. Back in Thailand Drunken Noodles is always served extra spicy. The heat comes from the Thai Red Chilies in the recipe. We made this recipe more palatable by adding red pepper flakes instead of extra spicy Thai red chilis. However, you can add both or either or none.
Mirin: This extraordinary sweet & tangy ingredient adds tons of flavor. Use it if you can. Sub mentioned in the NOTES at the bottom of the post.
Basil: Traditionally Thai Basil is used in the recipe. If you can find them in the store do use them. However, regular Basil works just as well. We used regular Basil in this Thai drunken noodles recipe.
Method
**Steps in words below pictures.
Find the detailed step by step recipe along with measurements way below the post on the "Recipe Card".
Step #1 Saute Chicken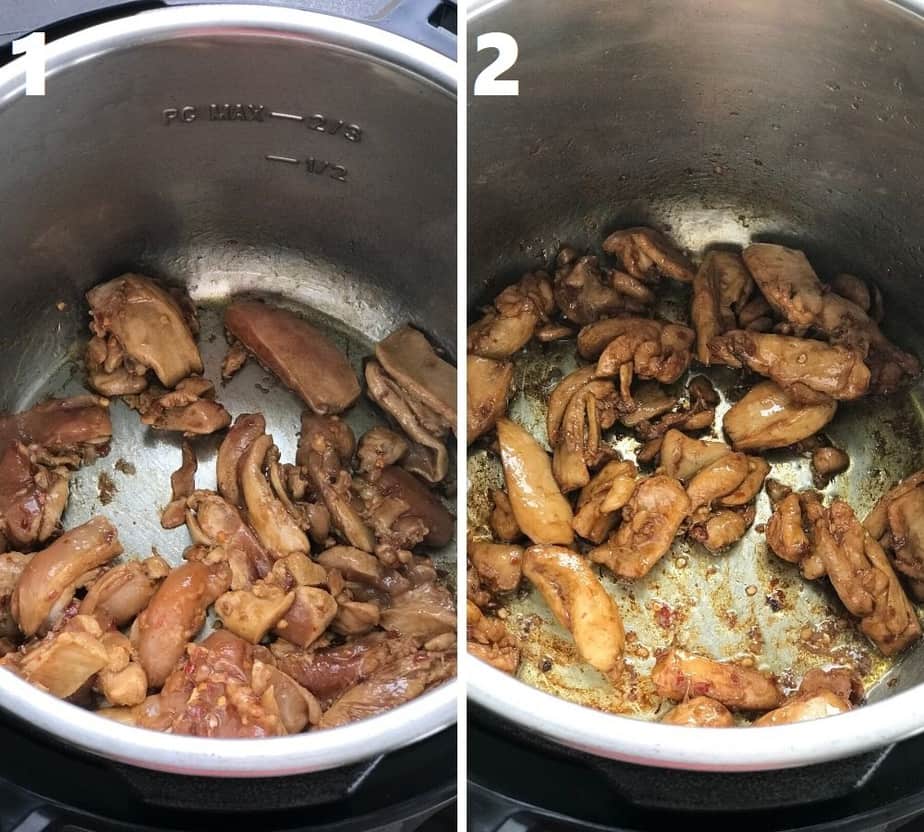 SAUTE the soy doused chicken until light golden around the edges over LOW setting and set aside. The sauteed chicken adds a great depth of flavor and the process keeps the chicken so juicy.
Step #2 Pressure Cook Noodles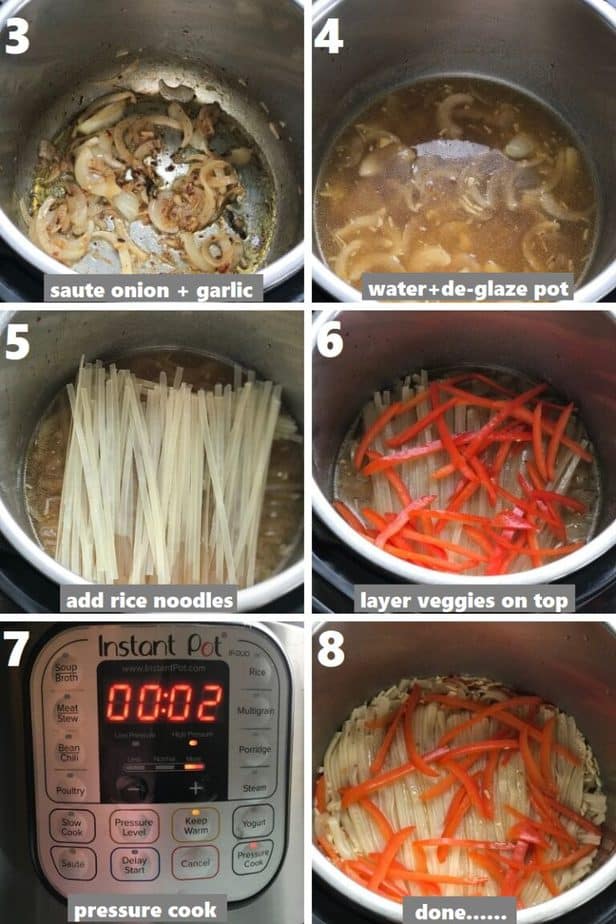 Saute the onion & the garlic. Add liquid and de-glaze the pot very well scraping the sides & the bottom of the pot with the help of spatula. This will prevent the BURN.
Add the wide rice noodles in a zig zag or bird nest pattern (watch the recipe video way below the post, it's so helpful). Gently press them down with the spatula so that they get a nice coat of water. This is important.
Layer the veggies on top if you prefer softer veggies in the dish. PRESSURE COOK on HIGH for 2 mins followed by 3 mins of Natural Pressure Release. Release the rest of the pressure manually and open the pot.
The cooked noodles will have some amount of liquid left, do not worry the noodles will suck up all the extra liquid as you de-tangle them in the nest step.
Step #3 De-tangle Noodles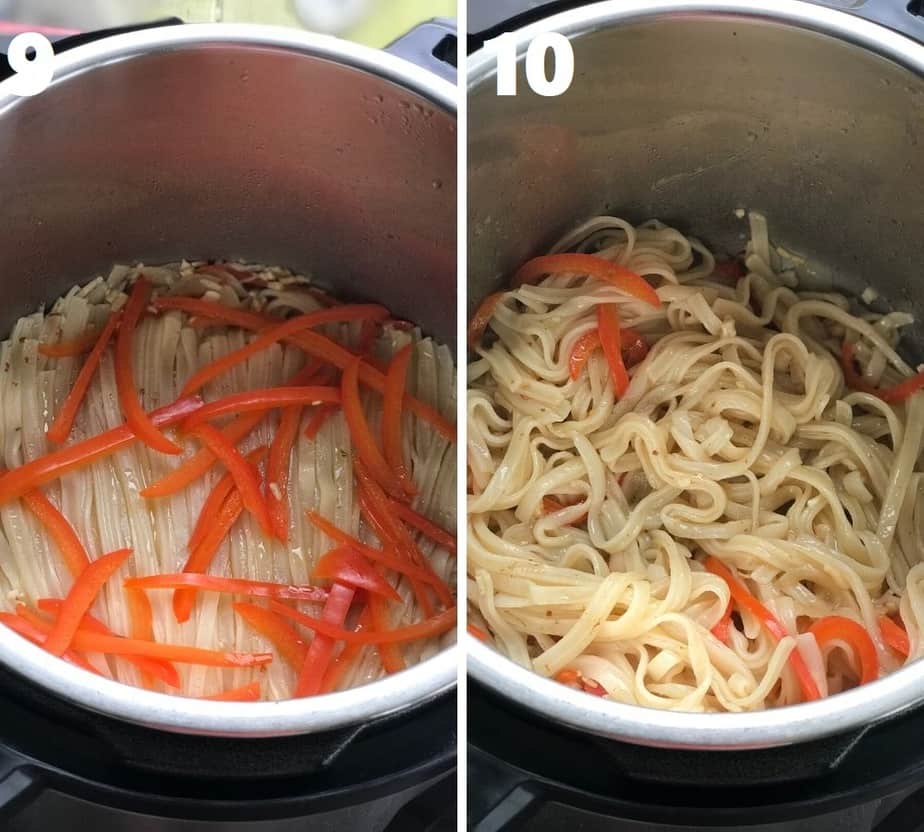 With the help of a pair of forks gently de-tangle the noodles immediately once you open the lid of the pot. You need a little more patience and time to de-tangle rice noodles that are gluten free as compared to wheat noodles.
Once done the noodles will look just like the above picture.
Foodies Terminal Tip: A pair of forks help de-tangle cooked noodles beautifully and easily without breaking the noodles strands. Try to avoid spatula or a tong. Once, the noodles are de-tangled you can use a spatula or tong to mix things up.
Step #4 Toss Noodles with Sauces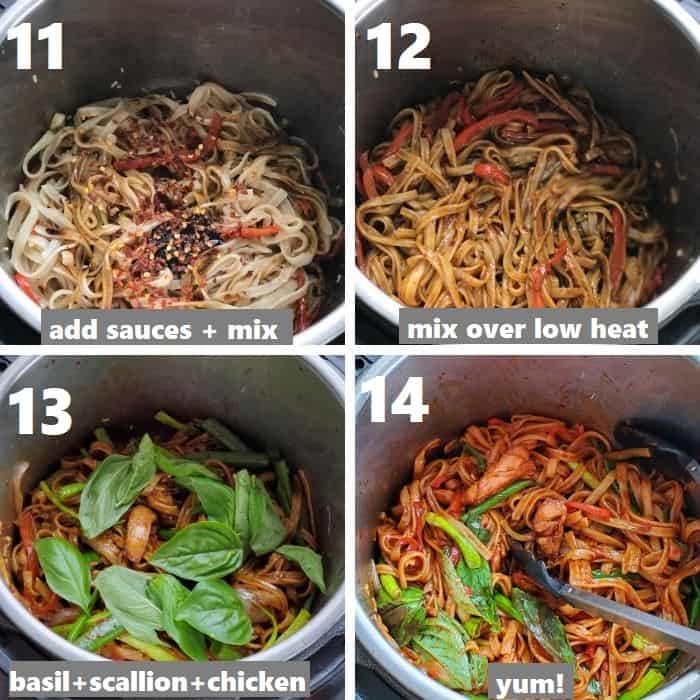 Add the sauce ingredients and the red pepper flakes ( non-spicy food lovers kip the red pepper flakes). Hit back the SAUTE function in your Instant Pot and set it on LOW.
Gently toss the noodles in the sauces over low heat until the strands and beautifully coated with the sauces. This recipe is meant to be saucy and oily. Yum!
Add back the sauteed chicken, basil & the scallions and mix once again. Serve hot, enjoy!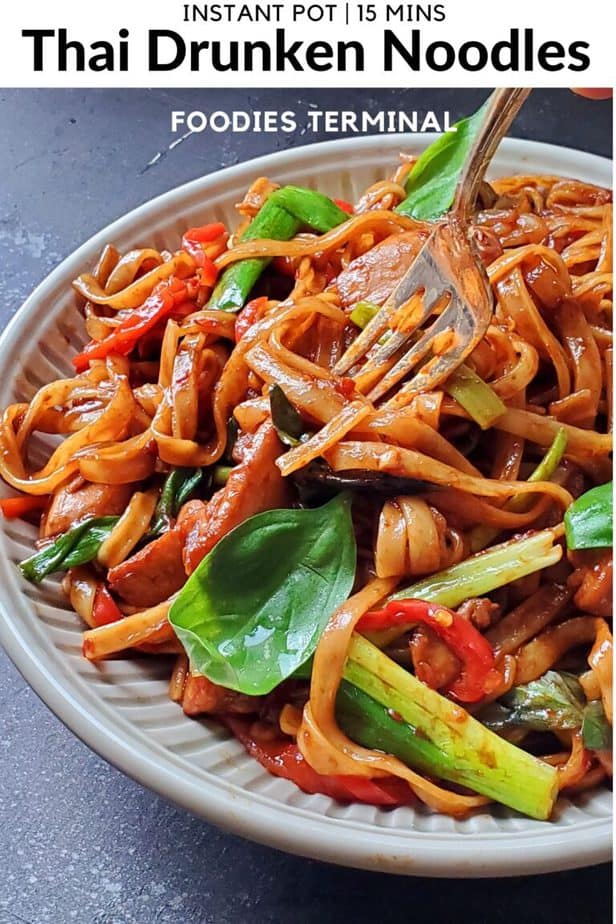 Serving Ideas
Drunken noodles with chicken makes a scrumptious meal as such. However, you can serve the following to make it an even wholesome meal:
Thai cucumber salad.
Asian baby bok choy.
Crispy brussel sprouts.
Any light salad.
Stir fried Asian veggies.
Storing Tips
Fridge: You can store this Instant Pot Drunken noodles with chicken for upto 5 days in the fridge. Store the noodles in airtight container.
Freezer: You can freeze the Drunken Noodles for upto 1 month. Choose individual portion control freezer safe bags or containers. Skip the basil and the scallions. You can add these while re-heating the noodles.
Re-Heating Tips
From the Fridge: Sprinkle a few drops of water on the fridge cold noodles & re-heat in the microwave oven or on a lightly greased non-stick skillet. You can add few fresh basil leaves and scallions for a little flavor boost.
From the Freezer: Thaw the Drunken Noodles Thai recipe in the fridge over-night or on the counter top and re-heat following the #No.1 technique above. Add the basil leaves and scallions while re-heating.
FAQs
What kind of noodles are used in drunken noodles?
Traditionally, Drunken noodles are made with rice noodles that are wide or extra wide. You can easily find wide or extra wide rice noodles in Asian supermarkets or some American supermarkets like kroger, walmart. Rice pad thai noodles are also a great option.
Are drunken noodles similar to lo mein?
Drunken noodles are not similar to lo mein. Drunken noodles is made with wide rice noodles whereas, lo mein is made with thin spaghetti like noodles. Drunken noodles is also spicy than lo mein and lots of fresh basil is used to garnish Thai drunken noodles.
What does drunken noodle sauce taste like?
Thai drunken noodles sauce tastes intensely savory and spicy. It's packed with bold flavors from the garlic, red pepper flakes and the soy sauces. The mirin and the oyster sauce adds a layer of subtle sweetness and brine taste to the sauce which is perfect to compliment and balance the spicy flavors of the sauce.
What makes drunken noodles drunken?
There's no alcohol used at all in making drunken noodles. The catchy name might have been phrased because Thai drunken noodles are authentically very spicy. Sometimes, the spiciness is so intense that someone might have the feeling of being drunk.
More Asian take-out recipes you might like
Recommended
I LOVE HEARING FROM YOU! If you try this Pad Kee Mao recipe, please let me know! Leave a comment and rate it below. I would love to hear how it turned out for you, or any changes you make. You can also follow me on Pinterest or subscribe our free NEWSLETTER for new recipes every week!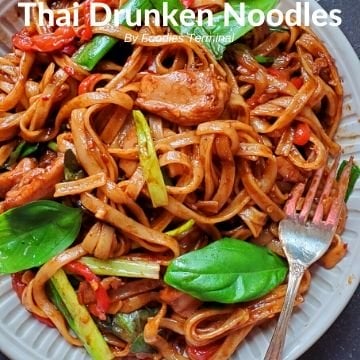 Ingredients
8

oz

Wide Rice Linguine Noodles

(**I used A Taste of Thai Brand, pic shared in post - 227 gram)

½

red bell pepper cut into thin strips

1

tbsp

finely chopped garlic

½

medium

onion sliced

(**use yellow onion & NOT red onion)

½

tsp

red chili flakes

(** non spice lovers skip it, also read NOTES below)

5

tbsp

Avocado oil

(divided into 2 equal parts)
For Flash Marinating Chicken
Liquid (Water or Chicken Broth)
2

cups

Water

(or chicken broth)
For Garnish
1

cup

loosely packed Basil leaves

(**Use Thai Basil if you can)

5

scallions into 2 inch long pieces

(** use only green parts)
Want more Recipe Videos?
Check out our Youtube channel!
Equipment Used
Instructions
Flash Marinating the Chicken
Rub the chicken with dark soy sauce and red pepper flakes and allow it to rest while you prep the other stuffs.
How to make Instant Pot Drunken Noodles (Pad Kee Mao)
Set the Instant Pot on SAUTE & keep it at NORMAL. Add 2.5 tbsp oil & when the oil becomes moderately hot add the flash marinated chicken and saute until they become lightly golden around the edges. The chicken should be well cooked by now. Set them aside.

In the same pot add more 2.5 tbsp oil and gently release the garlic and the onions. Saute for 1 min. CANCEL the SAUTE function.
Deglaze pot
Add the liquid (either water or chicken broth) to the pot and de-glaze very well scraping the sides and the bottom of the pot very well with the help of a spatula. This is to avoid the BURN error.
Pressure cook
Add the rice linguine noodles in a zig zag or bird nest pattern (watch the recipe video ABOVE, it's so helpful). DO NOT add the noodles all at once. Gently press down the noodles with the spatula so that they get a nice coat of water. This is IMPORTANT.

Now, layer the bell peppers on top of the noodles (for crisp tender veggies **read NOTES below). Secure the lid of the Instant Pot and SEAL the valve. PRESSURE COOK on HIGH for 2 minutes for al dente noodles. **Read NOTES below for softer noodles.

Once, the cooking cycle is over the Instant Pot will begin to beep. Wait for Natural Pressure Release for 3 mins and then, release the rest of the pressure manually by moving the valve from the SEALING to the VENTING position. Carefully open the lid of the pot. You will have a little amount of liquid left. Don't worry the noodles will suck up all that liquid while de-tangling them.
Detangle noodles
With the help of two forks gently den-tangle the noodles (refer the recipe Video ABOVE). You'll need a little more time and patience to de-tangle gluten free rice noodles as compared to regular wheat noodles.
Mix sauces
Now, hit the SAUTE function and set it on LOW.

Add all the sauce ingredients mentioned above in the "For the Sauce" section above. Also, add red pepper flakes (for extra spicy read notes below). Gently toss the noodles in the sauces over low heat until the noodle strands are well coated with the sauce. Transfer the sauteed chicken and mix well with the drunken noodles. Finally, CANCEL the SAUTE function and add the fresh Basil leaves and the scallions. Mix them with the noodles and serve hot!
Notes
Measuring Units used, 1 cup = 240 ml & 1 teaspoon = 5 ml.
Today's Recipe: Mildly Spicy. That's what I think. However, everyone's spice tolerance level varies. So, adapt the recipe according to your taste palate.
Controlling Spice Level: You can totally controlling the spice level by decreasing the amount of red pepper flakes or by totally skipping it from the recipe. However, they add a nice touch to the recipe and Drunken Noodles are meant to be spicy and very spicy back in Thailand. 😀
Extra Spicy Drunken Noodles (Pad Kee Mao) : Add chopped red Thai Chilies or Birds eye chilies. You can add as many as you want.
Basil: Originally Thai Basil is used in the recipe. It has a slight hint of aniseed flavor and is difficult to trace in stores. I used regular Basil which made the recipe just as delicious. You can add more or less Basil as mentioned in the recipe.
Noodle Variety: Use wide rice noodles. I used gluten free rice linguine noodles from "A Taste of Thai".
Al Dente Noodles: 2 mins / 3 mins NPR.
Softer Noodles: 4 mins / QR.
Softer Veggies: Today's recipe.
Crisp Tender Veggies: Do not pressure cook them along with the noodles instead add along with the sauces. Cover and rest for 5-10 mins.
Sweeter Noodles: Add 2.5 tbsp brown sugar.
Mirin Sub: Add same quantity rice vinegar + the sugar in the recipe will some what balance the flavors.
Veggies that you can add: Different color bell peppers, carrot julienne, baby corns halved or sliced thinly. That's all we prefer and nope we don't like broccoli, mushrooms, cabbage, snow peas etc in Drunken Noodles they are not meant to be there, they best compliment a Lo Mein recipe 😀
Calorific details are provided by a third party application & are to be used as indicative figures only.
Nutrition Facts
Instant Pot Drunken Noodles
Amount Per Serving
Calories 740
Calories from Fat 270
% Daily Value*
Fat 30g46%
Cholesterol 144mg48%
Sodium 2796mg122%
Potassium 628mg18%
Carbohydrates 78g26%
Protein 37g74%
Vitamin A 1427IU29%
Vitamin C 33mg40%
Calcium 75mg8%
Iron 3mg17%
* Read our privacy policy - Calorie information is provided as a courtesy only and should be leveraged as an estimate rather than a guarantee.Percent Daily Values are based on a 2000 calorie diet.
Nutrition
Calories:
740
kcal
|
Carbohydrates:
78
g
|
Protein:
37
g
|
Fat:
30
g
|
Saturated Fat:
4
g
|
Cholesterol:
144
mg
|
Sodium:
2796
mg
|
Potassium:
628
mg
|
Fiber:
3
g
|
Sugar:
9
g
|
Vitamin A:
1427
IU
|
Vitamin C:
33
mg
|
Calcium:
75
mg
|
Iron:
3
mg